This campaign is compensated by CLEAN & CLEAR. All opinions are my own.
We're now officially back in school! Everything so far has gone off without a hitch, which means a lot to me because I'm still waking up with Lauren for feedings and Olivia who's teething. I was a little nervous and thought the first week would be a bit more hectic but thankfully everything went as planned. I'd like to say it was because I was super organized, and while I tried, I've actually been super busy with work, and all the credit goes to Dylan who's now in his sophomore year of  high school and Robert who just started 7th grade. They have been amazing and staying on top of everything, like reminding each other to set their alarms. Scroll down to read all about their new back to school skin care routine.
Back To School Skin Care Routine
They may wake up and get ready all on their own but the boys need me now more than ever. Robert has discovered his style and constantly asking me if his outfit looks ok and Dylan is now beginning to worry about skin. I don't tell them but I love when my boys come to me asking for my opinion and I take it to heart, so I'm really trying to help them look and feel their best. This is exactly why I jumped at the chance to partner with CLEAN & CLEAR®  a brand that I also use and love!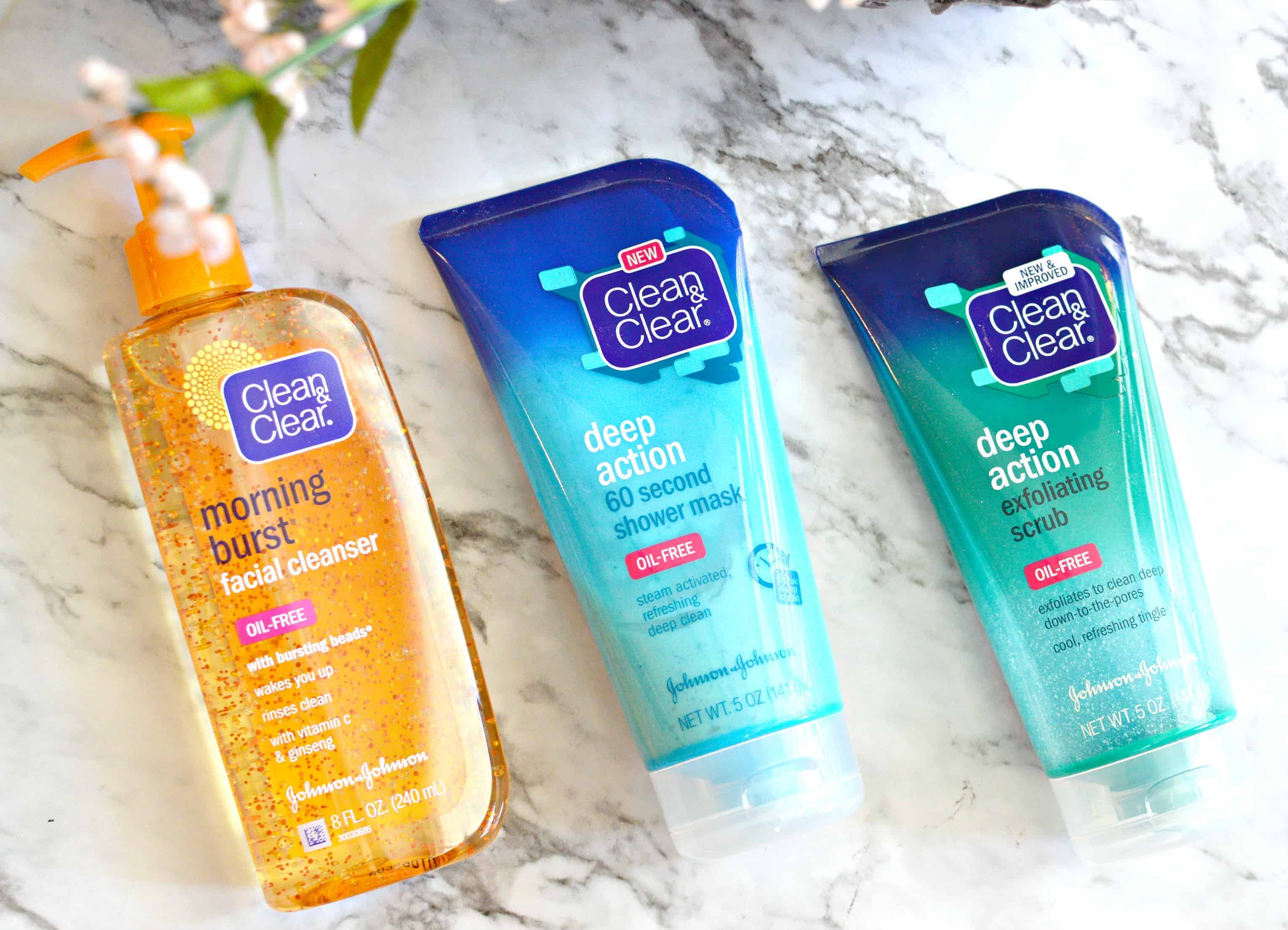 Starting your morning off the right way is everything, so the first thing I did was introduce Dylan to CLEAN & CLEAR® MORNING BURST® Facial Cleanser for only $5.49 (the scent is amazing). It's a unique, essential gel cleanser specifically formulated with effective cleansers and vitamin-enriched BURSTING BEADS® to awaken skin.
Directions:
Start with clean hands
Use those clean hands to splash water on your face.
Squeeze a small amount of cleanser onto wet palms – a dime-size should do it.

Work into a lather. Place the now foamy cleanser onto your face and use your fingertips to gently swirl it around…circles, figure eights…that type of thing.

His exact words while using it were: "you can feel the BURSTING BEADS® start to break apart"! This is the exact reason why MORNING BURST® Detoxifying Facial Cleanser is a great way to help jump-start the day.
The CLEAN & CLEAR® MORNING BURST® Facial Cleanser along with the CLEAN & CLEAR® Deep Action 60 Second Shower Mask (only $6.89) and the CLEAN & CLEAR® a refreshing Deep Action Exfoliating Scrub (only $4.99 in stores) is now part of Dylan's daily morning routine! Both are made to work along with the steam of their shower to gently (and deeply) exfoliate away any traces of dirt, oil and dead skin that eventually clog pores.
Want to give these CLEAN & CLEAR®  products a try? Well you're in luck! Simply comment below why or for whom you'd like to win for a chance to win! Winner will be chosen at random on 8/31. (must be a 18 to enter and be a U.S. resident to particpate and enter).