I have received information and materials from ©Johnson & Johnson Consumer Inc. 2017.The opinions stated are my own. This is a sponsored post. #ForBetterTomorrows #BetterTomorrows #FallBack #CollectiveBias
With daylight savings, days are shorter. That means making the most of the day is even more crucial. Sometimes there are days where Franklyn will be working 12 hours shifts and I'm at home with the babies while working about the same amount of hours. Those days can be a struggle. On most days though, I crave the challenge of tackling a busy day and feel satisfied when I sit down with my laptop after everyone has gone to bed knowing that I got it all done. It's who I am! I love my job, and I love that I get to do it from home, but during the holidays, it can be physically exhausting to pull off.  Scroll down to read how I'm changing my bedtime routine + DIY nightstand tray.
Hover over image below to shop!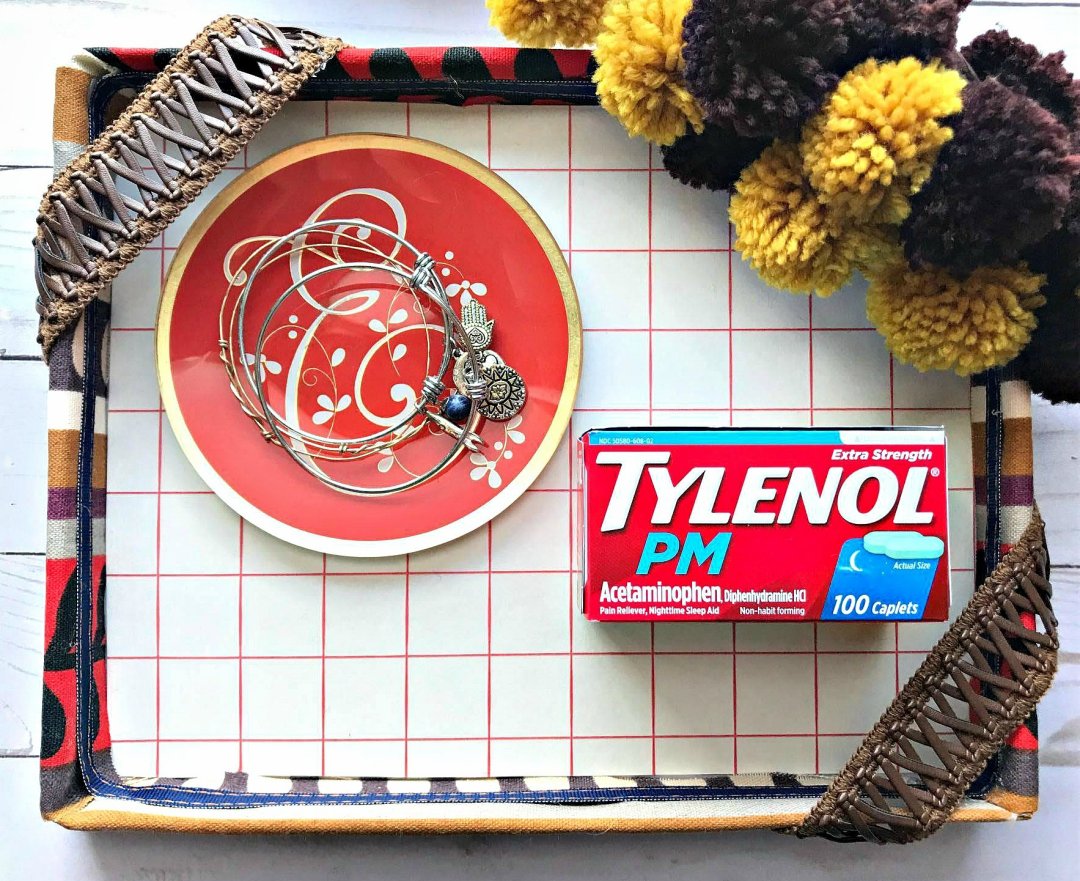 Normally I would just fuel up on my favorite coffee, but on nights where I'm working late, it's left me wide awake and unable to fall asleep at night. Those nights lead to a day of mental fogginess and even aches and pains while working all day. It can all very quickly turn into a vicious circle, but I have found the perfect remedy right before the happiest and busiest time of the year. I found a way to get it all under control with TYLENOL® PM (relieves minor aches and pains while helping you fall asleep and is non-habit forming when used as directed) to help me get a good night's rest and relieve those minor aches and pains for a full day of doing what I love! This, along with a brand new routine that consists of getting my desk and room tidy before I go to bed, has helped me immensely!
To help me get organized I decided to add a DIY tray to my night stand using a shoe box lid and some fabric with a stylish trim. Everytime I'm at a craft store I pick up fabrics and stylish trims that are on clearance so I can keep them handy for projects like this DIY tray and the DIY nursery organizer I made last week. The prettier the fabric and more ornate the trim, the more finished a project looks! See pictures of my DIY tray and the easy tutorial below!
How I'm Changing My Bedtime Routine + DIY Nightstand Tray
What You'll need:
Shoe box lid
1/2 yard of sturdy fabric *You can also use wrapping paper.
Glue gun and sticks
Trim for the inside of the lid and a large more detailed trim for the outside.
Contact paper for easy wiping down.
How To:
Measure and cut fabric to size. Add clue to lid and attach to fabric, flip over and smooth.
Cut fabric from the lid's corner of the box outward.
Glue the overlapping pieces over the sides and firmly hold in place.
Glue on your trim to the inside of the box
Cut and trim your contact paper to size and place inside lid.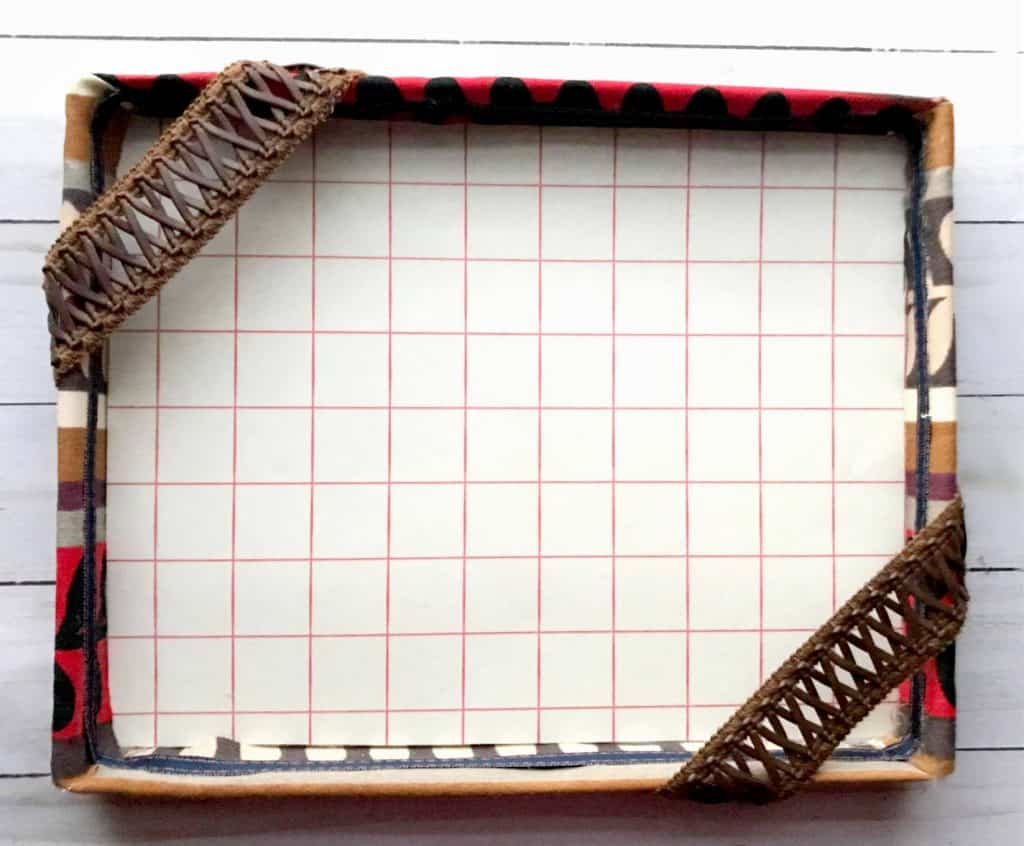 Finish off with your trim on both corners of lid.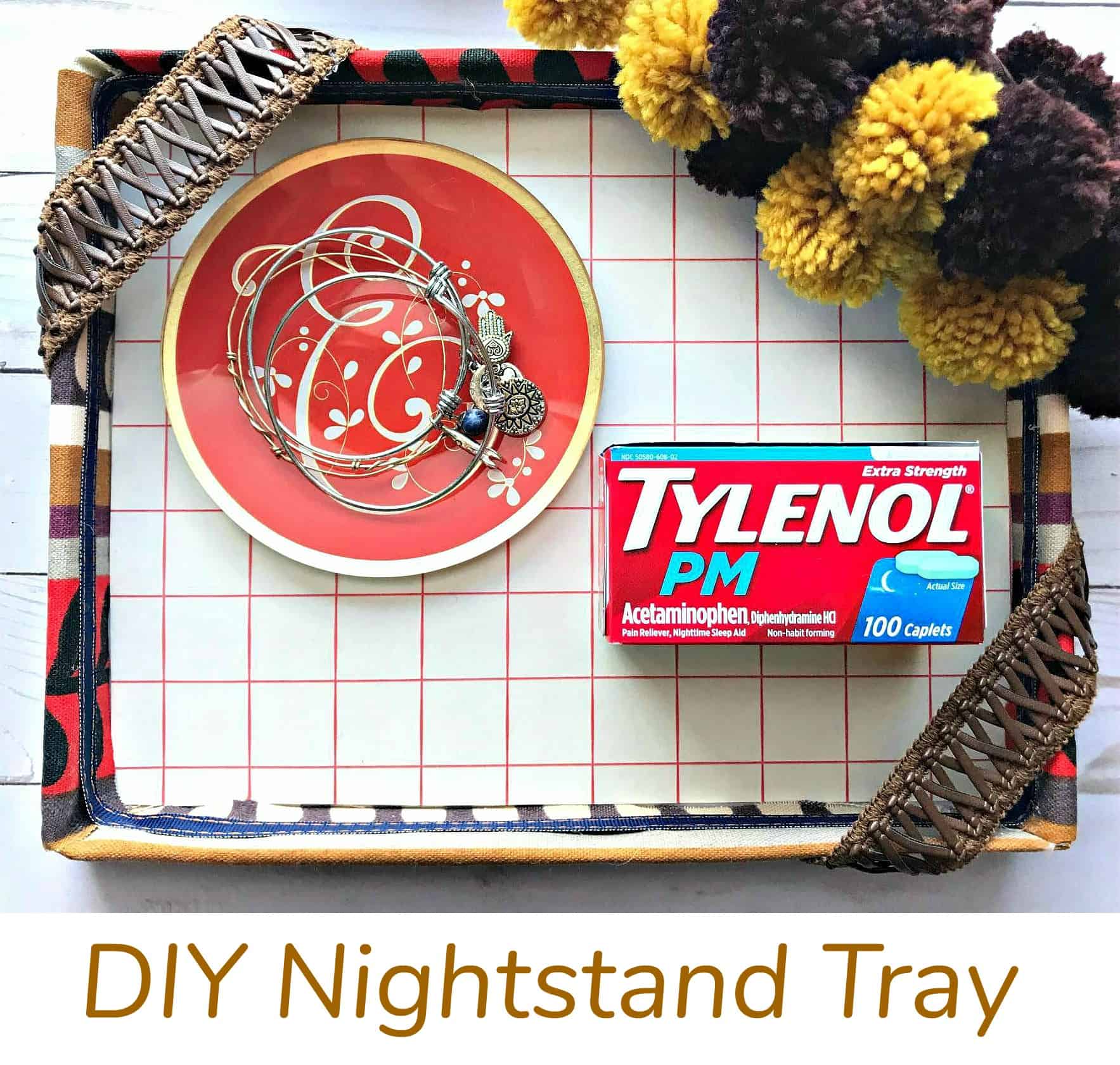 Isn't it pretty!? This DIY tray is the perfect catch all for your nightstand (you can even place it inside the nightstand draw) or you can add a little dish for your jewelry, and use it to hold your bottle of TYLENOL® PM. I buy mine at Walgreens where you can get $1.50 off the $11.99 price with a Walgreens card. **valid 11/5-11/11
How I'm Changing My Bedtime Routine + DIY Nightstand Tray
How do you treat times when you're having interrupted sleep as a result of pain?
Get social and like TYLENOL® on Facebook or watch their latest videos on Youtube.
TYLENOL® PM contains a pain reliever and nighttime sleep aid. ©Johnson & Johnson Consumer Inc. 2017 The third party trademarks used herein are trademarks of their respective owners