This shop has been compensated by Collective Bias, Inc. and its advertiser. All opinions are mine alone. #AnytimeIsPickleTime #CollectiveBias
Craving a burger? This low carb cheeseburger salad has all the classic burger toppings like tomatoes, onions, cheese, lettuce, and even some pickles!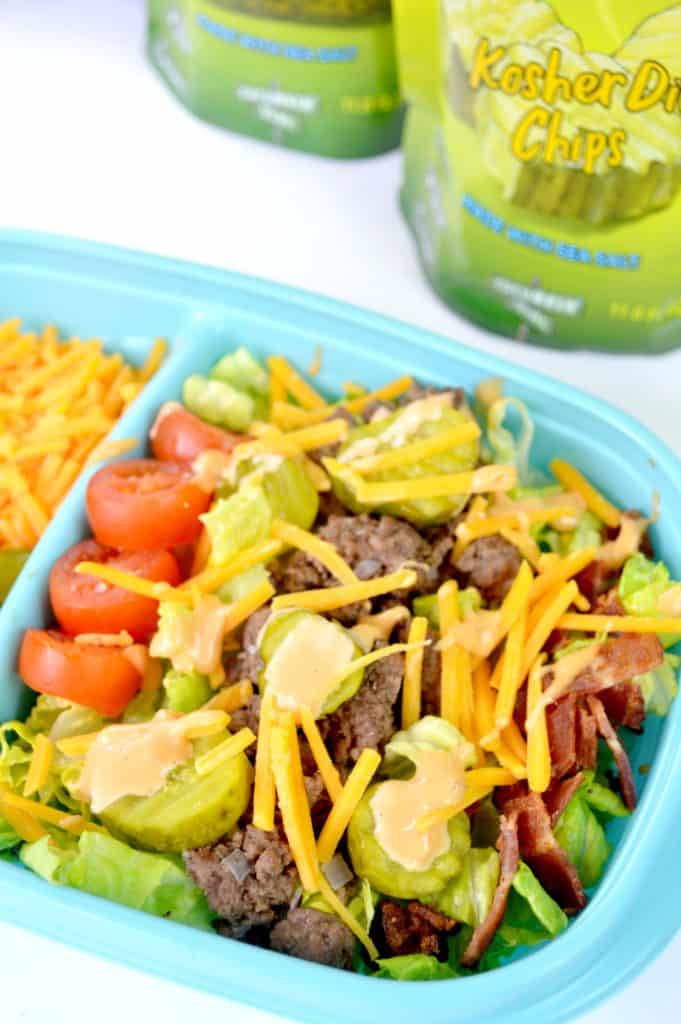 I'm a huge believer in taking the extra time to make batches of recipes that I love and using them for lunch and dinner. It's one of the easiest ways to stay on track with a low carb lifestyle. Whether it's meant for losing weight or simply to cut time and save money, meal planning is beneficial!
Low Carb Cheeseburger Salad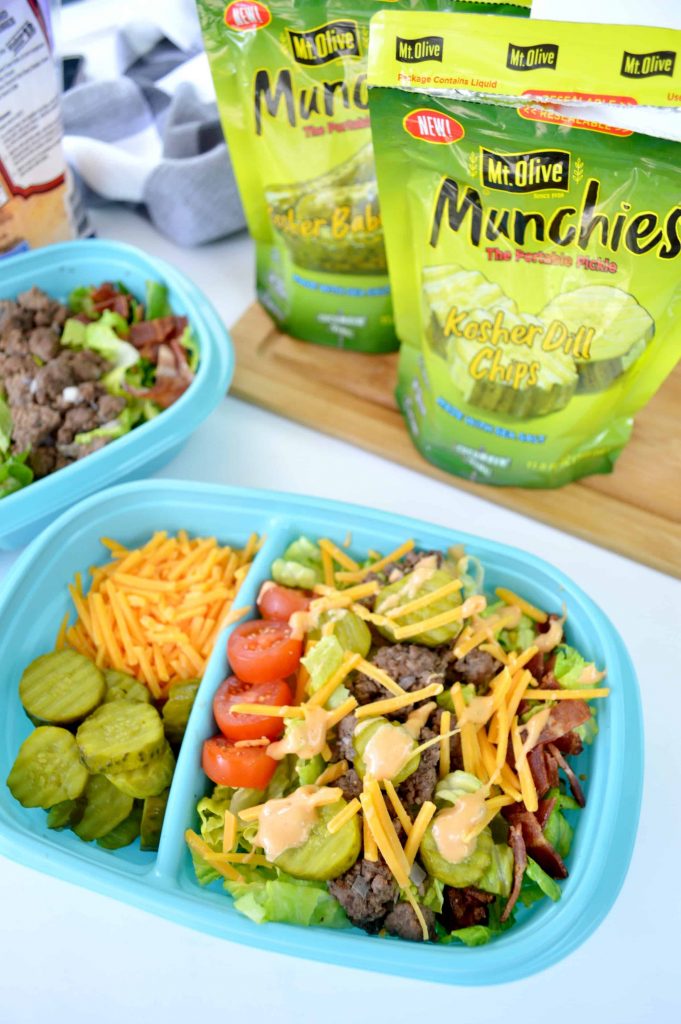 Thankfully, I'm a creature of habit and I tend to make the same meals very frequently, so that makes things a lot easier. I do, however, like to keep things fun by having versatile snacks always readily available. One of my favorite low carb snacks is pickles!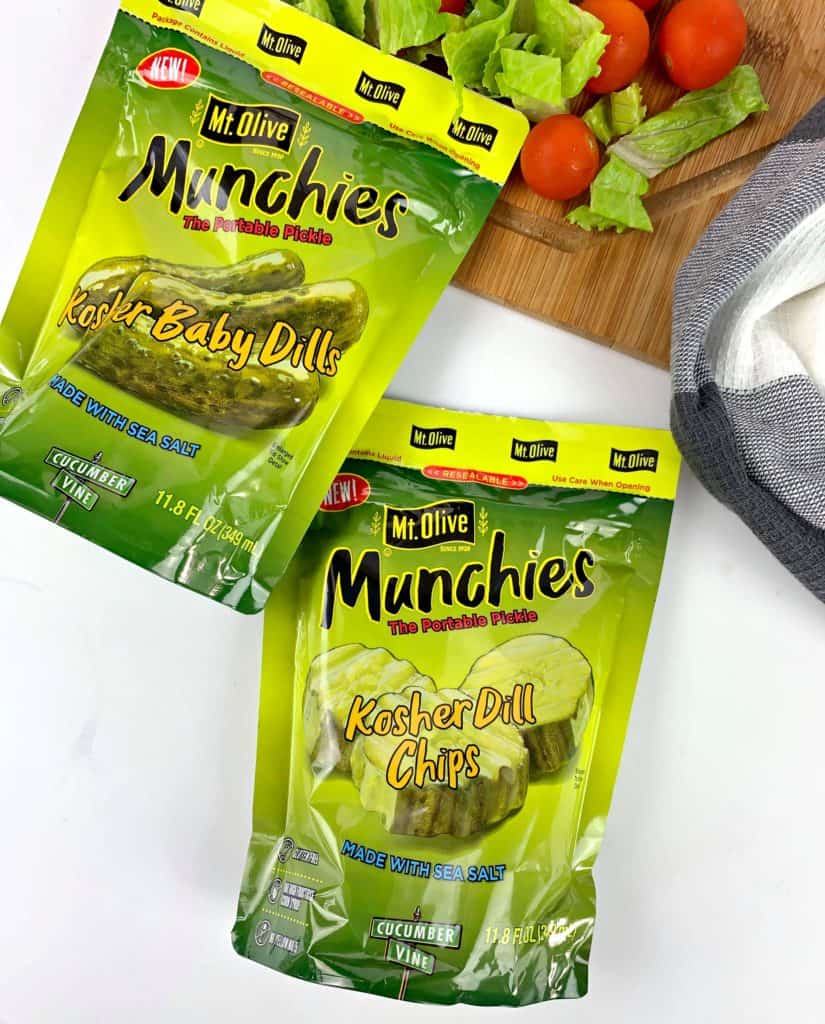 I snack on them all the time and use them for this low carb cheeseburger salad, in egg salads and even for this ham and pickle dip!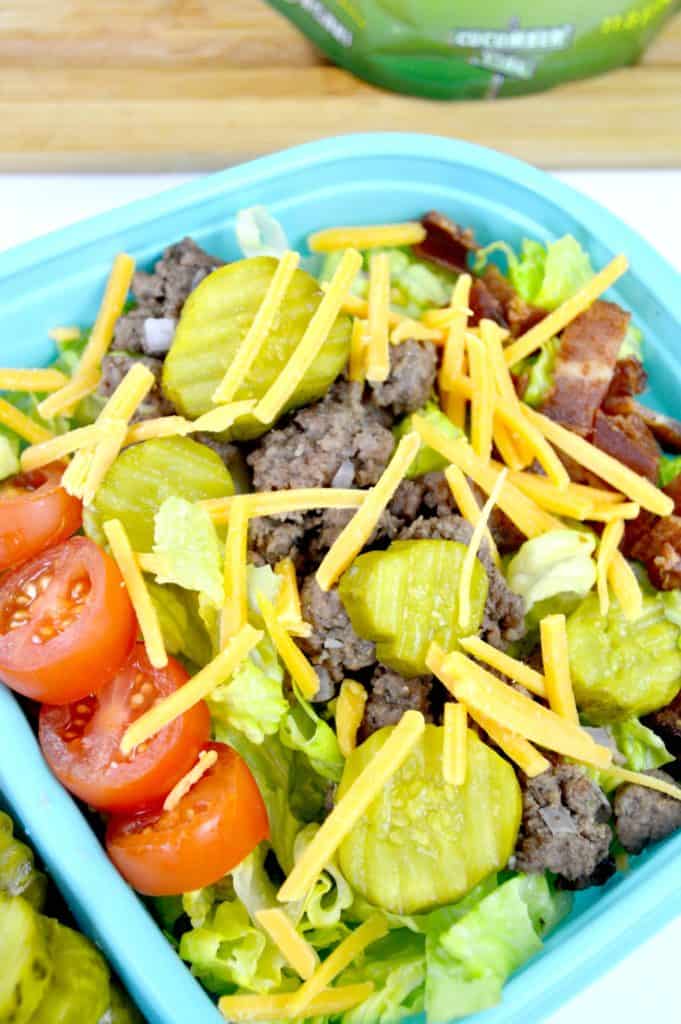 During my last food shopping trip to Publix, I discovered Mt. Olive (the #1 pickle, peppers, and relish brand in the country) Pickle Pouches! That's right, my favorite Mt. Olive Kosher Dill Chips in Pouches!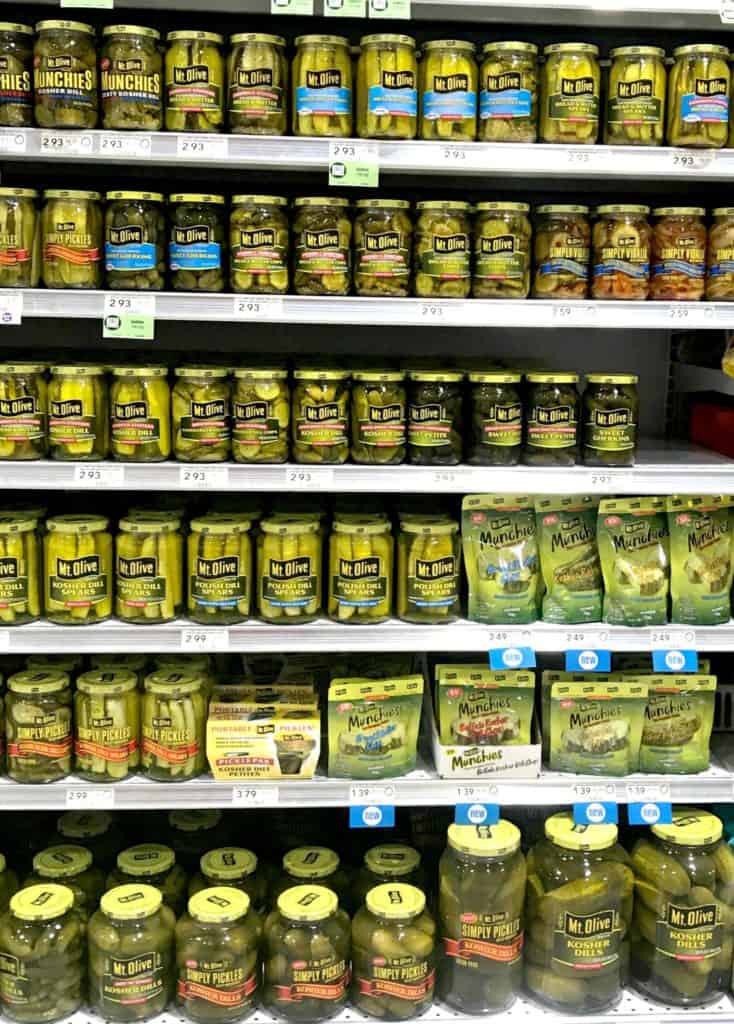 It's incredible how they're still bringing new innovations to the world of pickles, even though Mt. Olive's been around since 1926! Mt. Olive's new, the resealable bag makes pickles not only portable (genius), but they're also handy for meal prepping as I used them here!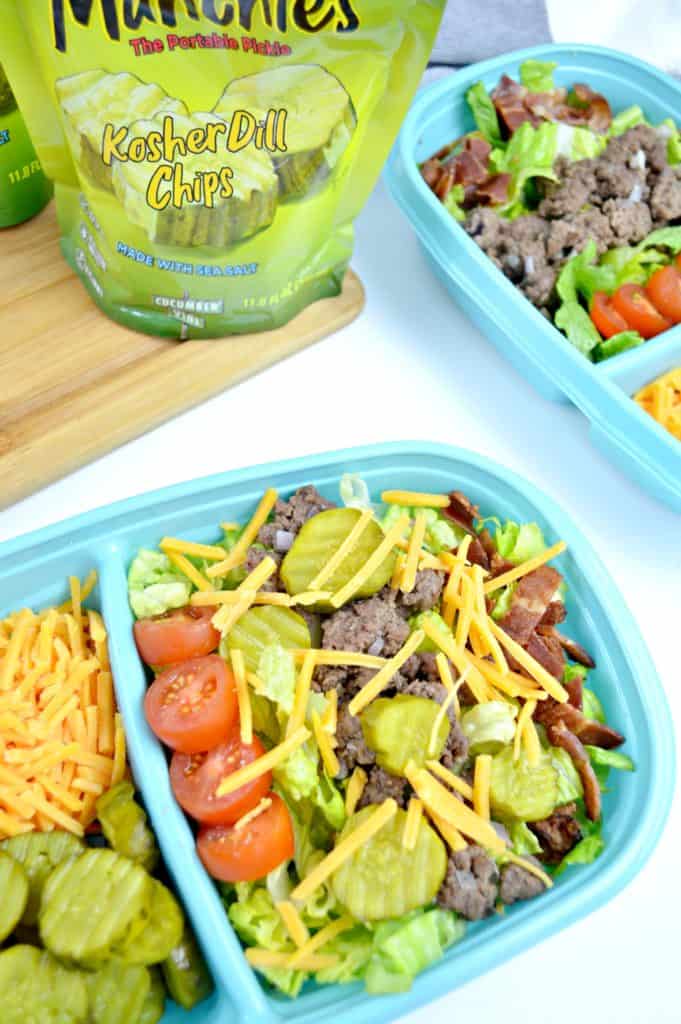 With summer arriving, Mt. Olive's Kosher Dill Chips in Pouches are perfect to take to the beach, a picnic, or even to work as my husband did with the extra bag I bought!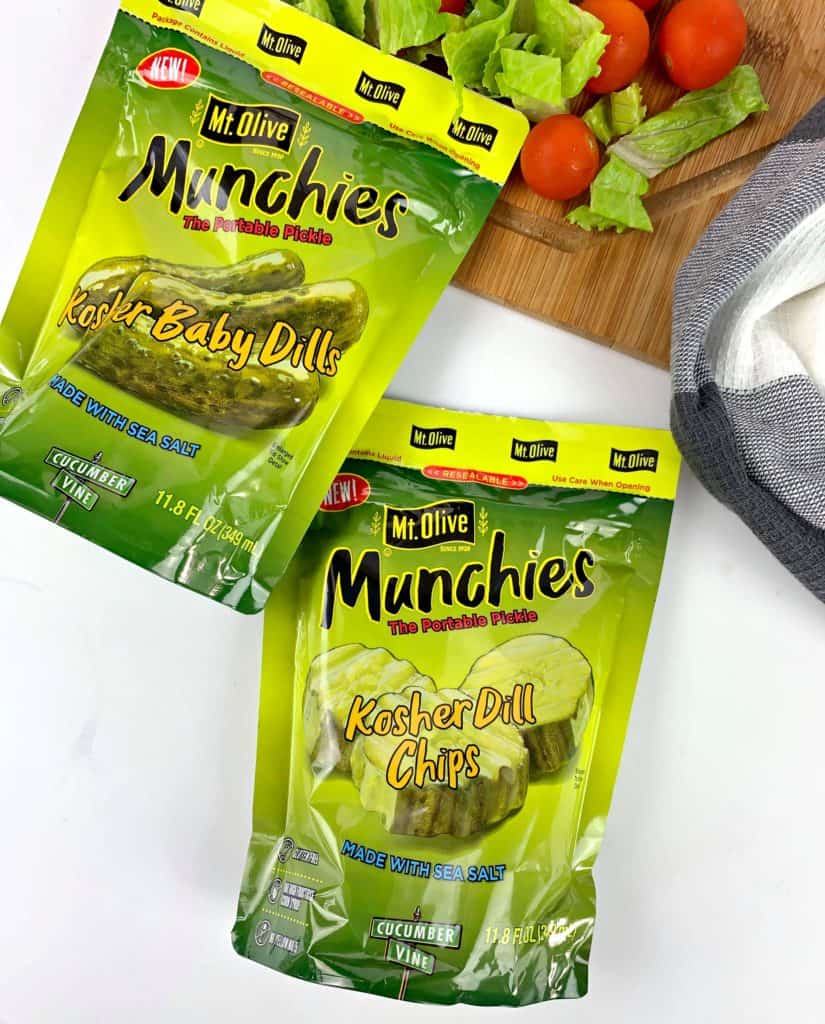 To make this cheeseburger salad, you'll need lean ground beef, romaine lettuce, shredded cheddar cheese, tomatoes, red onion,  and of course, the ultimate burger toppings – bacon and pickles!
More optional toppings:
Mt. Olive Kosher Baby in Pouches (see above)
Jalapeños
Green onions
Hard Boiled Eggs
For your dressing, just use your favorite low carb thousand island dressing.
Ingredients:
Meat:
1 lb lean ground beef
1/2 tsp salt
1/2 tsp pepper
1 cup of diced red onions
Salad:
2 1/2 heads of sliced romaine lettuce
1 cup of cherry tomatoes
1/2 cup of pickles
8 sliced of crispy bacon
Add onions to skillet and cook until soft. Set aside.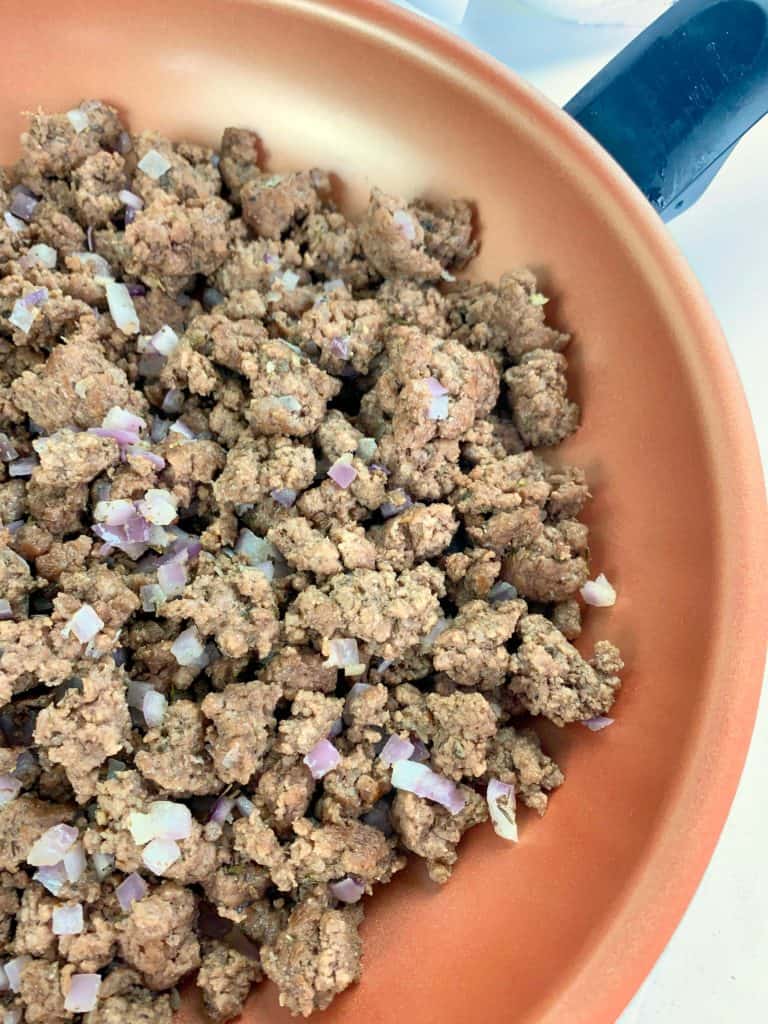 Cook beef until no longer pink and add onions.
Add two cup of lettuce to each meal prepping container, top with your beef, tomatoes, and bacon.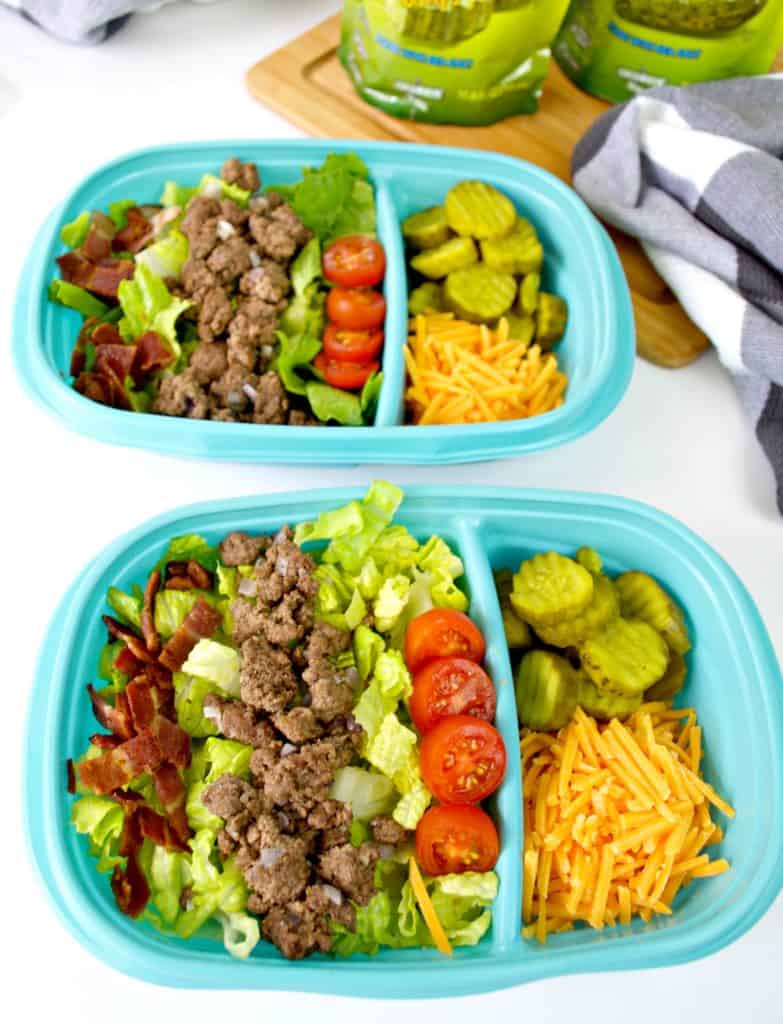 If your meal planning container has two sections in it, add your pickles and cheese. If not, add your cheese to the salad and grab your handy Mt. Olive pickle pouch!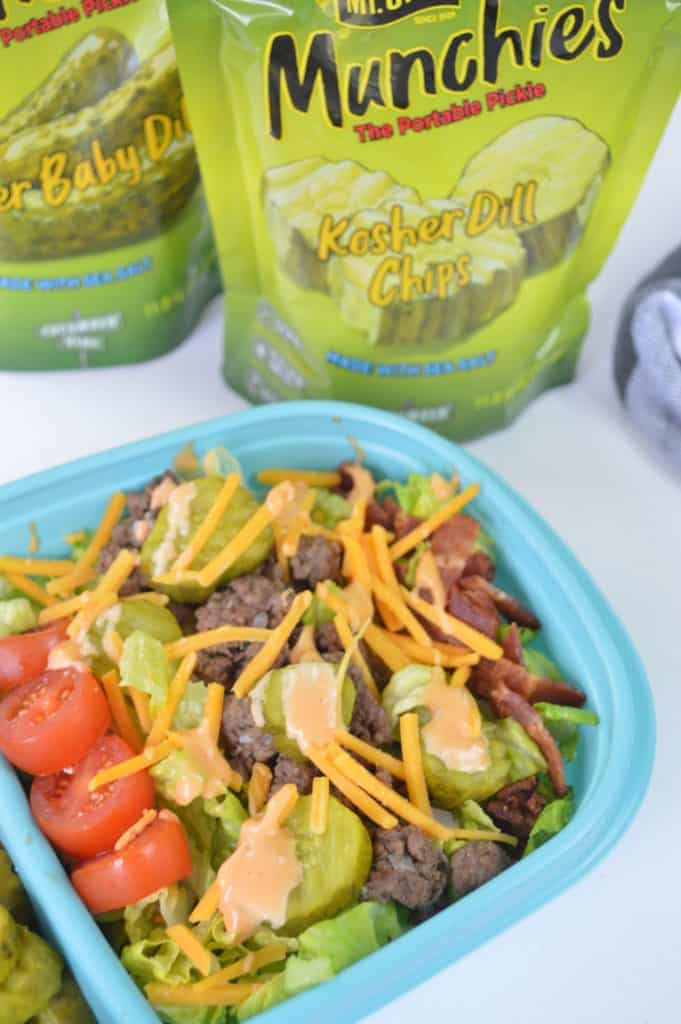 Top it with your dressing when you're ready to eat and enjoy!
Pin for later!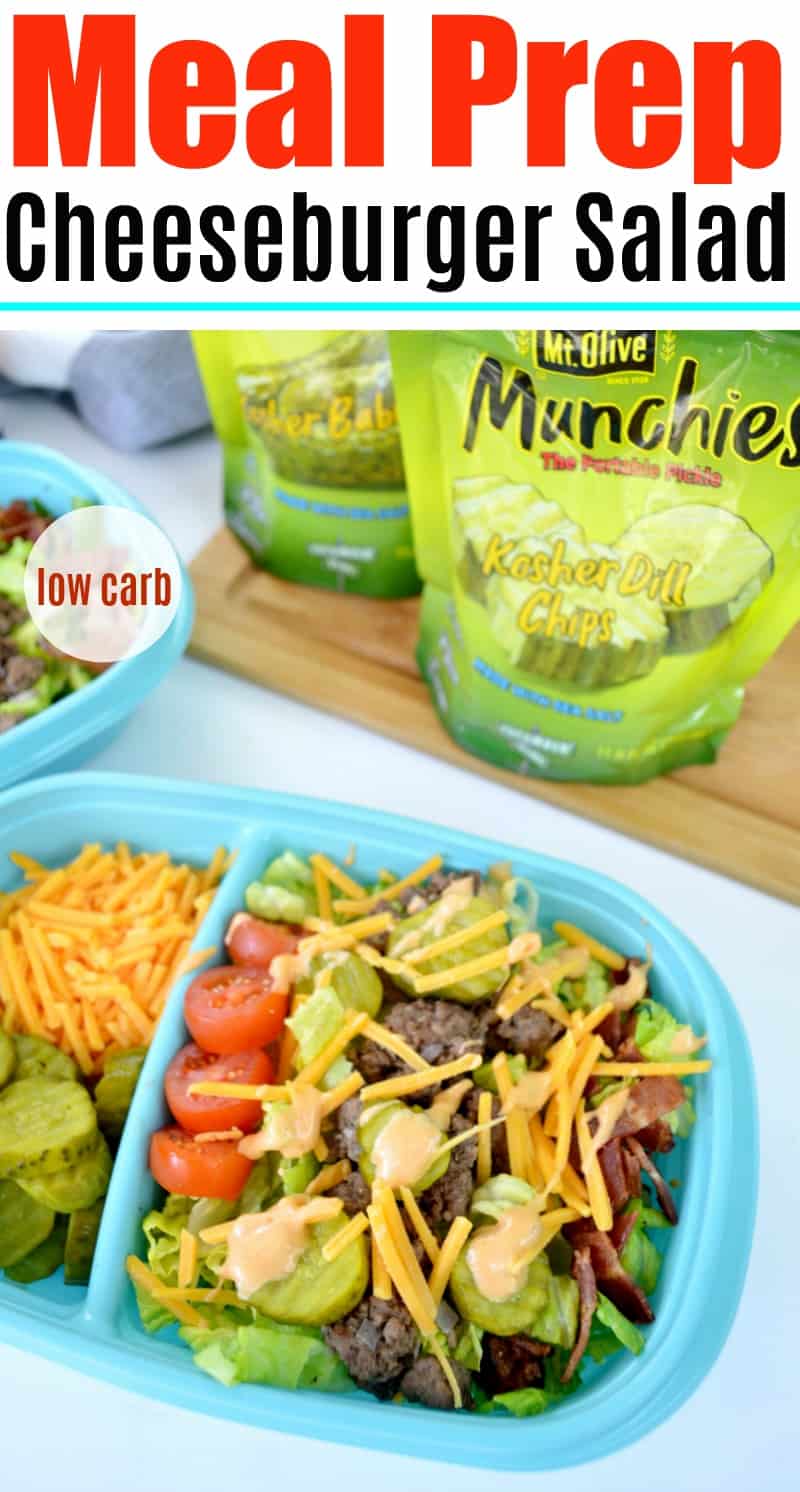 Stock up and save on your favorite Mt. Olive Pickles at Publix! Click here for a money savings coupon. Offer ends on 6/15, with an expiration date of 6/30.