This post was sponsored by Nabisco as part of an Integrated Activation for Influence Central and all opinions expressed in my post are my own.
Fall is finally here! Even though it may not feel like it is on the outside (down here in Florida it's still feels like summer), we're still pulling out our light sweaters and trying to enjoy typical fall activities like apple picking or hay rides. This is my favorite time of the year and I'm extra excited because we have our two princesses with us to celebrate everything! Lauren is almost six months old and is so curious about everything. She is even trying to play with Olivia. It's still pretty surreal to see them together, I never thought I'd have two girls!
With all the fall activities comes lots of planning because going out with a toddler, a three year old preschooler, and a baby means you always have to be prepared for anything! Thankfully, it is getting a little easier because now Joseph and Olivia are a little bigger and require less items to lug around. Before I had Lauren I thought that I had this whole baby bag thing all mapped out but once she was here I quickly realized that I needed an extra bag (I use a small backpack) just for Joseph. He can use it for preschool when he starts but for now it's what I call his big boy bag. Scroll down to see what to pack in the big boy bag.
1. Wipees are a must and they always will be! Grab a smaller travel so you can hand them to your preschooler or toddler if they need them. It helps them be independent and mama still has her hands free!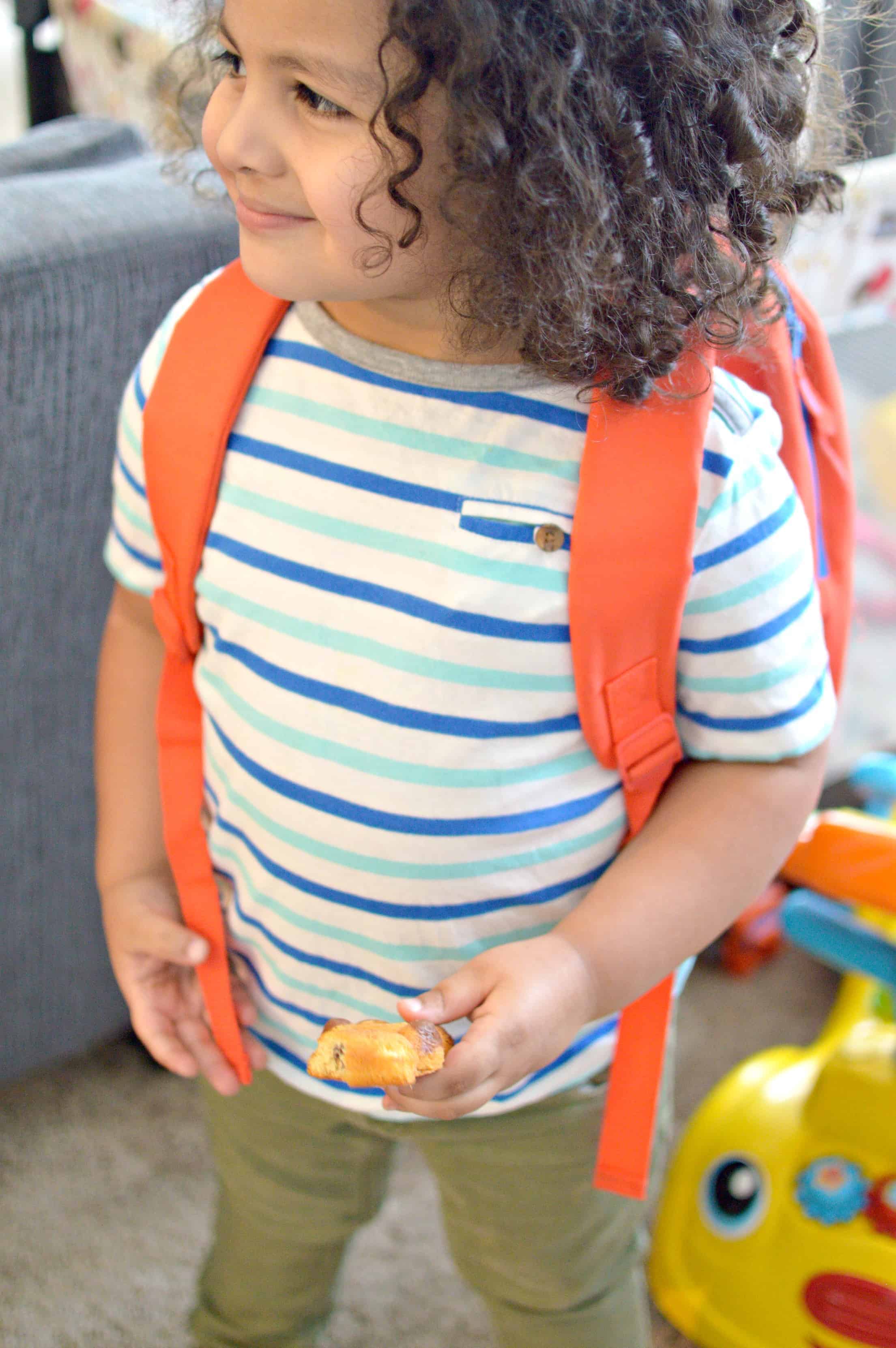 2. An extra set of clothes for all of the kids. Maybe this is obvious for some, but for me it took an entire cup of water being dumped on Joseph right before a doctors appointment for me to relaize that I still needed to have one handy not just for the baby and Olivia, but for him as well.
3. Snacks are always a good idea! Even if I'm just going for a quick post office run I bring a snack and a drink. Joseph has been a fan of the TEDDY SOFT BAKED Filled Snacks with the vanilla filling for some time now (they also come with chocolate filling and are available at Walmart in the Cookie/Cracker aisle). He loves it, and to be honest I do too. The loveable bear-shaped snacks are made with quality ingredients such as milk, eggs and chocolate. We normally have them during our reading time but that's the great thing about the TEDDY SOFT BAKED Filled Snacks, they're individually packaged making them the perfect anytime snack that you can grab and go. And even better; they contain no high fructose corn syrup, no artificial flavors, and no artificial colors.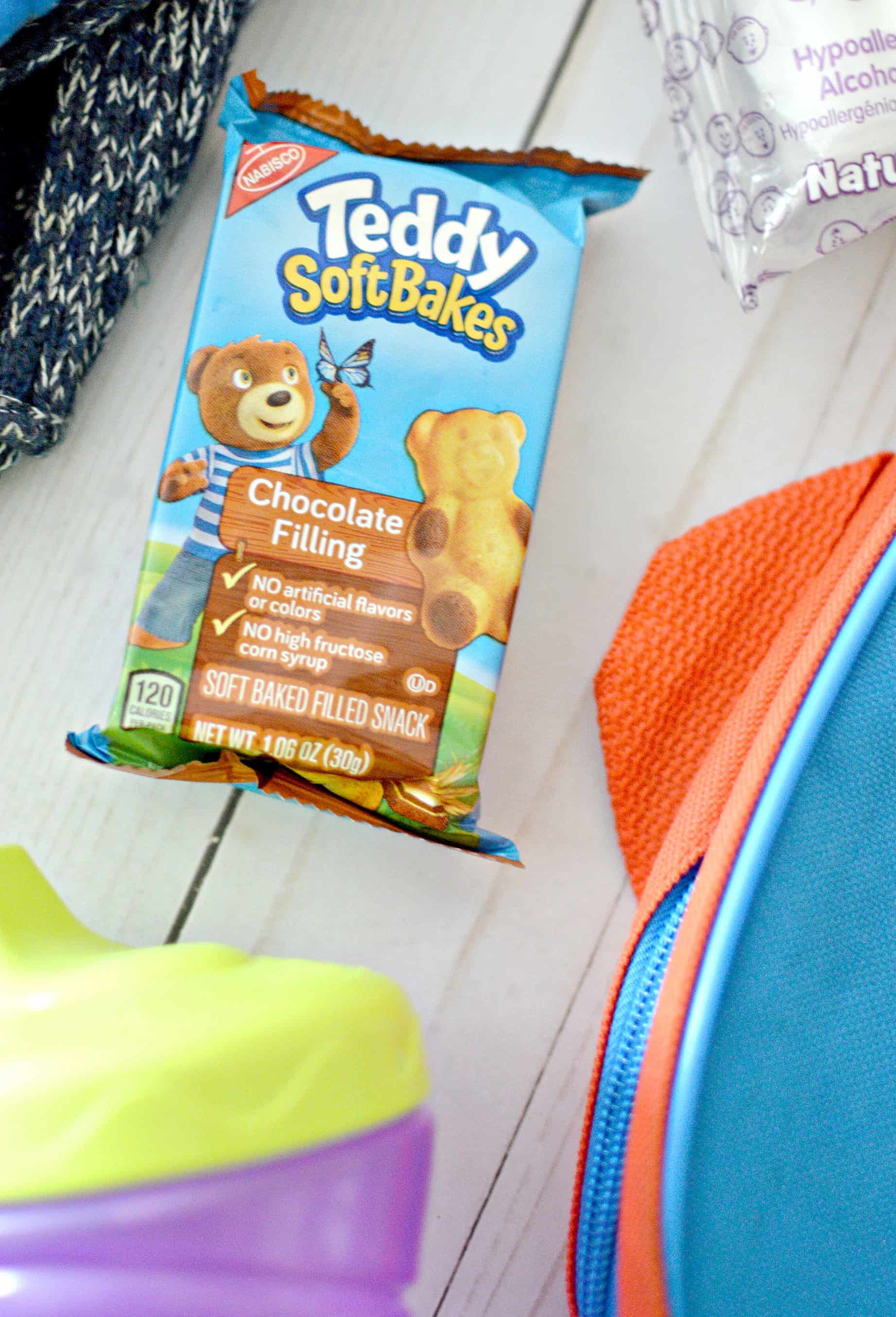 4. Something to drink. It's pretty much always hot down here in Florida so packing a drink is essential. What I do to ensure the kids have a cold drink readily available is freeze a few drinks over night and full out first thing in the morning. By the time we get to our destination, their Sippy cups filled with water and/or juice boxes are perfectly thawed and ready to drink.
5. A light sweater in case the temps drop or, in our case, the air conditioner is too cold.
What To Pack In The Big Boy Bag + Giveaway!
Preschoolers want independence, and with a well packed bag they can indepdnetly grab what they need and have a fun snack like TEDDY SOFT BAKED Filled Snacks that we buy at Walmart. Want to add some fun snacks to your Walmart cart? You can if you win 1 of 14 Walmart gift cards that are being given away! 12 winners will receive a $50 Walmart gift card and 2 grand prize winners will get a $200 Gift Card! Enter below using the giveaway form. This contest ends September 29th.**I-C will randomly select 14 winners from all program entries and will facilitate fulfillment of the winning prizes. Good luck!!
Get social and like TEDDY SOFT BAKED on Facebook or follow on Twitter or visit Discoverteddy.com.