This shop has been compensated by Collective Bias, Inc. and its advertiser, MARS Incorporated. All opinions are mine alone. #SpringMoments #CollectiveBias
Is it me or this year just flying by? I'm officially 32 weeks in my pregnancy and I'm trying to prep for anything and everything in advance. I'll most likely be having baby girl right before Easter and I'm looking to find ways to still have our Easter egg hunt even though I will be exhausted. We've been having Easter egg hunts since I had Evan (my oldest) and the boys (plus now Olivia) have always loved the thrill of finding the eggs and gathering as much candy as they possibly can. In an effort to continue the tradition, I decided to make a DIY Easter Bunny basket filled with MARS® Mixed Mini Bags (available at Sam's Club now). I always head to Sam's Club early to prep for any special occasion, just as I am with Easter.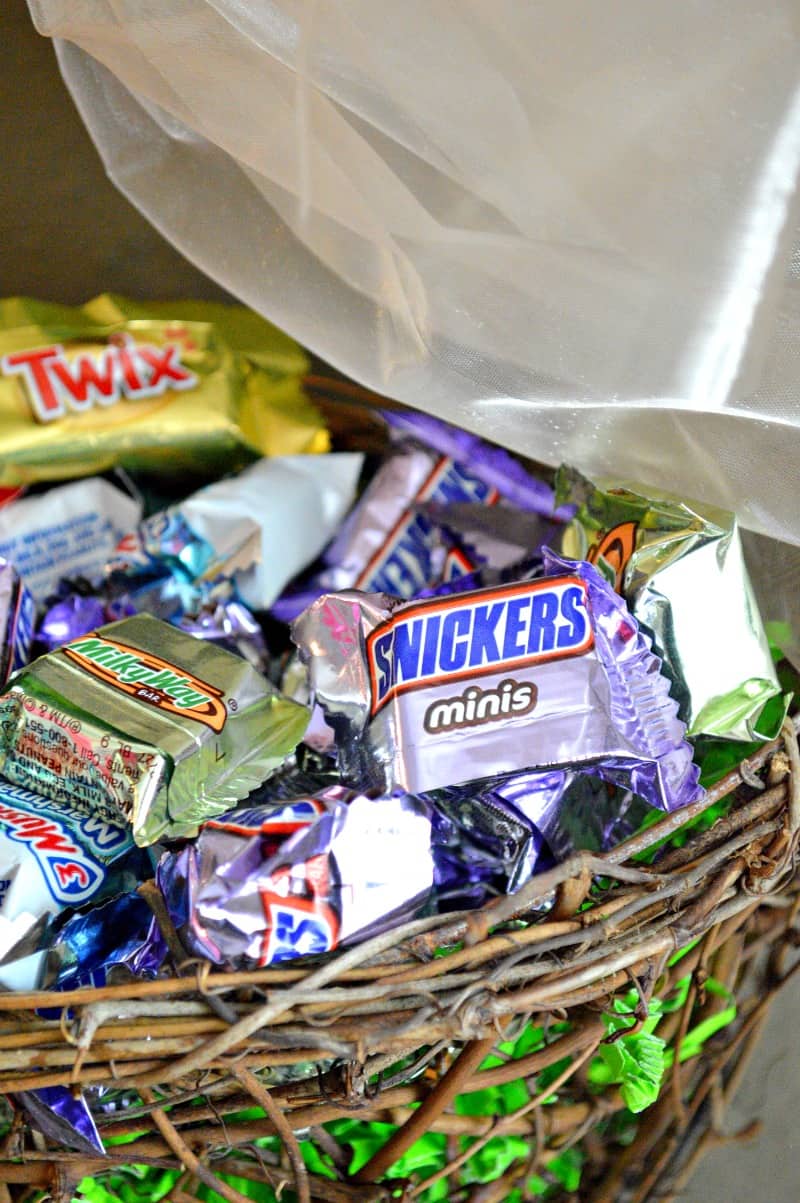 The MARS® Mixed Mini Bags 165ct Spring themed bags  are perfect to build Easter basket and will be more than enough to fill the DIY Easter bunny basket. It's enough candy for an early treat and then later when we do the Easter egg hunt! I love that the MARS® Mixed Mini Bags has such a great variety of everyone's favorite chocolate candy like M&M'S®, TWIX®, SNICKERS®, MILKY WAY®, and 3 MUSKETEERS® that I might even make a basket for each one of the kids to store all their goodies! This Easter will be a lot of fun to watch the big guys run around with Joseph and Olivia and include them in their egg hunt.
I had a lot of fun making the DIY Easter Bunny basket. It's easy enough to even make with kids!
Supplies:
Small round wreath
Medium pointed wall basket
Pipe cleaners
Scissors
Glue
Wired bow
Large pom pom
Easter grass
Instructions:
Take two pipe cleaners, wrap around the bottom of the small wreath and attach to the pointed wall wreath.
Hang baskets and tie bow onto the same spot and cover pipe cleaners.

Take two pipe cleaners, attach and bend into the shape of bunny ears. Repeat. **Don't worry about bunny ears being even I purposely left mine two different sizes. Attach to the top of small wreath.
Adjust ears and bow. Glue on your pom pom.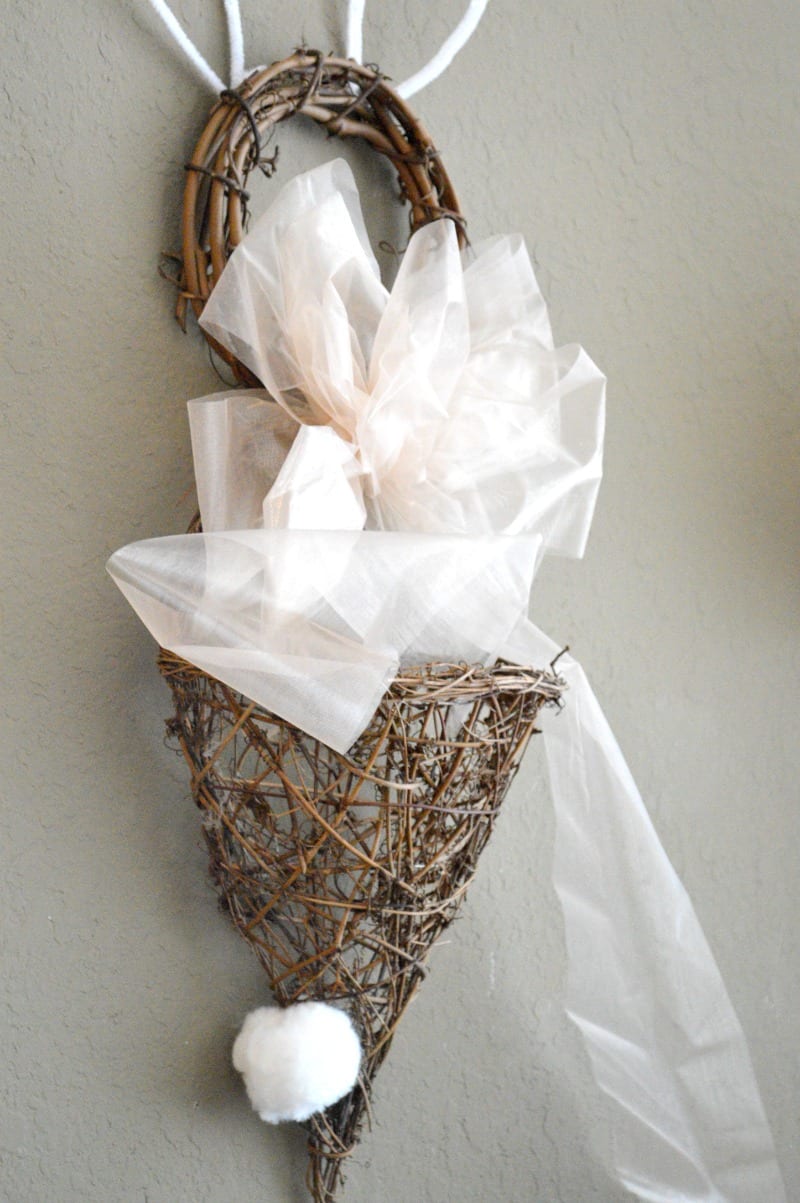 Add a pretty flower, stuff with Easter grass and candy from the MARS® Mixed Mini Bags and you're good to go!
Pin this DIY Easter Bunny Basket for later!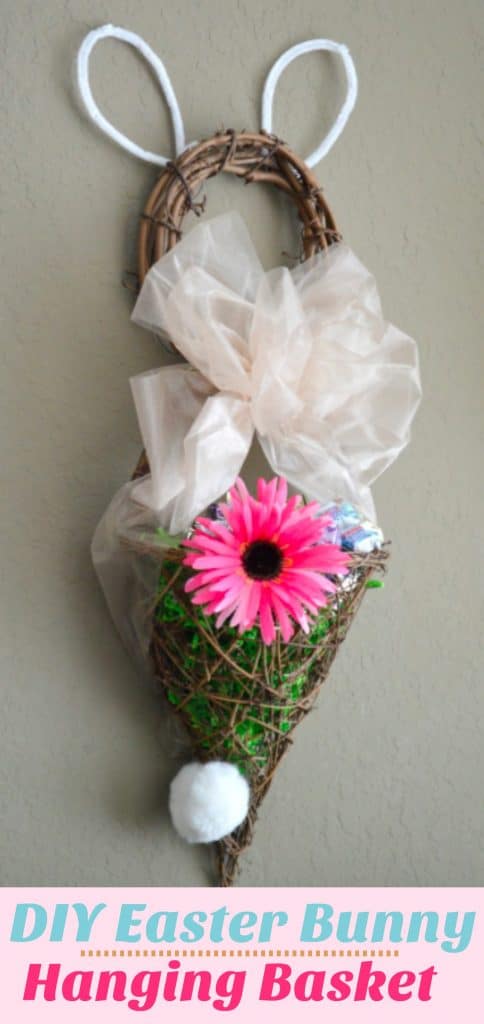 Add a sweet treat to any room with this DIY Easter bunny basket filled with M&M'S®, TWIX®, SNICKERS®, MILKY WAY®, and 3 MUSKETEERS® from MARS® Mixed Mini Bags on a door, in the kitchen or even a play room. Then after Easter, you can even use the DIY Easter Bunny basket for hanging a plant or pretty flowers!