This is the easiest quick bread you'll ever make! Whip up this keto strawberry bread recipe and enjoy this sweet keto treat all week.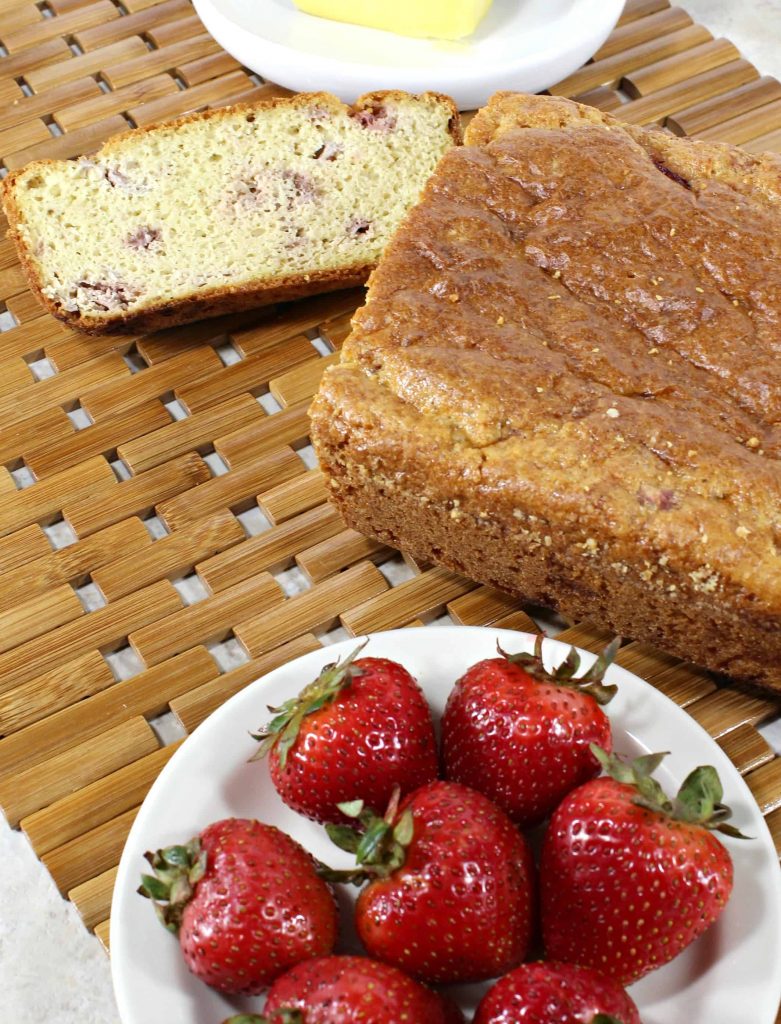 This is one of my favorite recipes. It makes the perfect snack, breakfast or dessert. It tastes so delicious that my kids and family don't even know it's low-carb!
Keto Strawberry Bread Recipe
One of the most difficult things about following the keto diet is how alienating it is to have to eat completely different food from my family. That's why I've been on a mission to recreate recipes that my entire family enjoys. That way, we can all eat the same food together.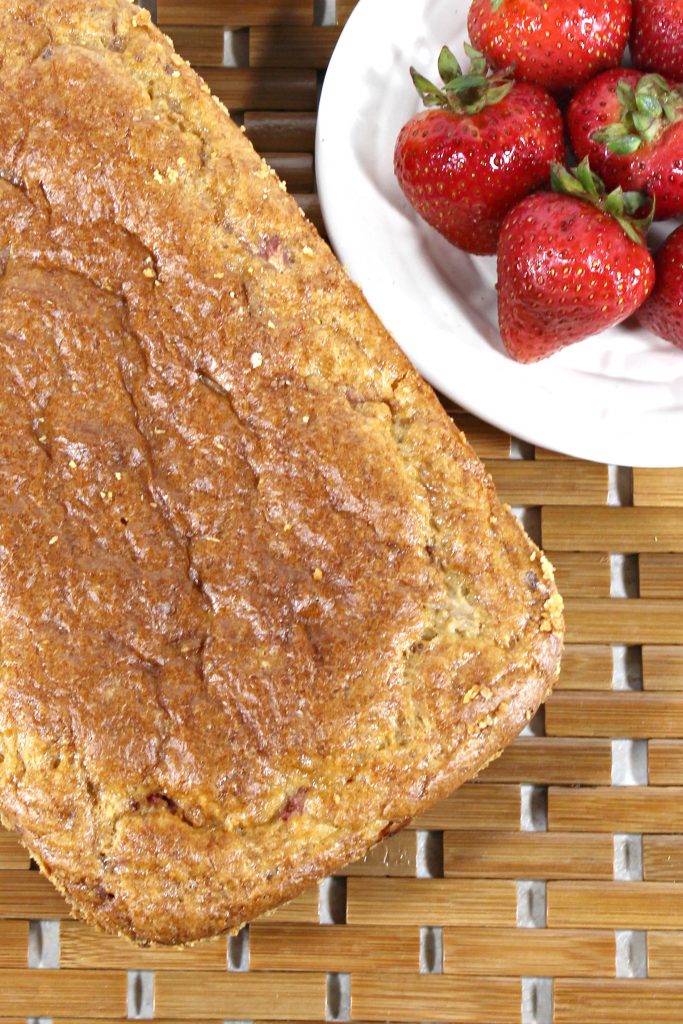 Bread is one of the most difficult things on the keto diet. Typical breads are nothing but carbs. Sweet breads like banana bread or pumpkin bread are even worse. That's why I set out to create this recipe. It's a sweet bread that my family and I can all enjoy together.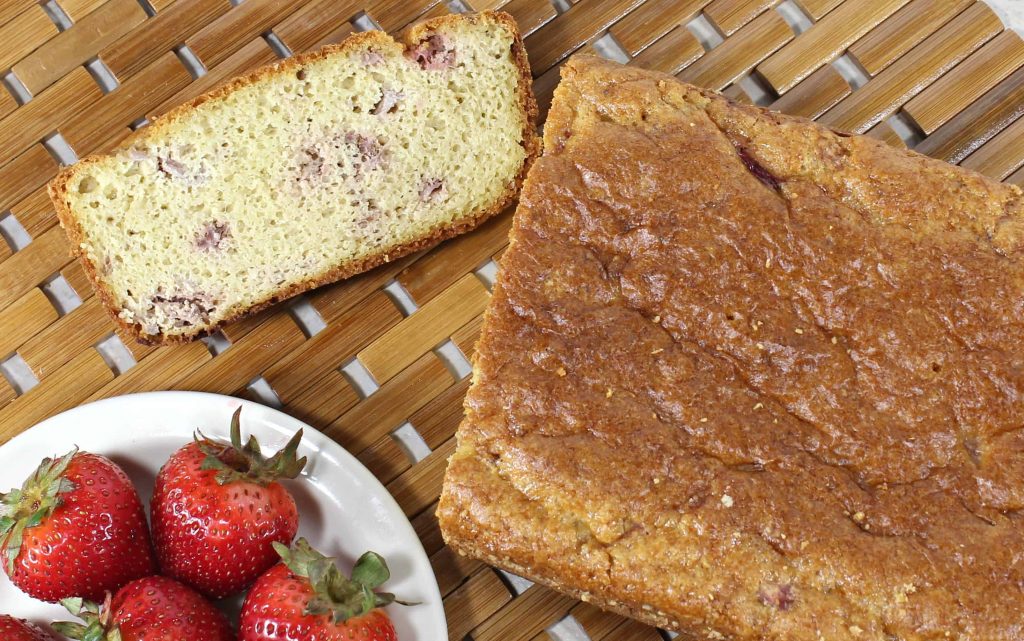 This keto bread recipe is perfect snacking for breakfast. I love grabbing a slice on busy mornings when I don't have time to sit down to an entire breakfast.
It's also the perfect side for a healthy lunch too!
Effortless Keto Strawberry Bread
This easy keto strawberry bread is easy to make with simple ingredients right from your pantry. You probably already have all of the ingredients in your kitchen. I'll take you through the entire recipe so you can see how simple it is to make your own keto bread.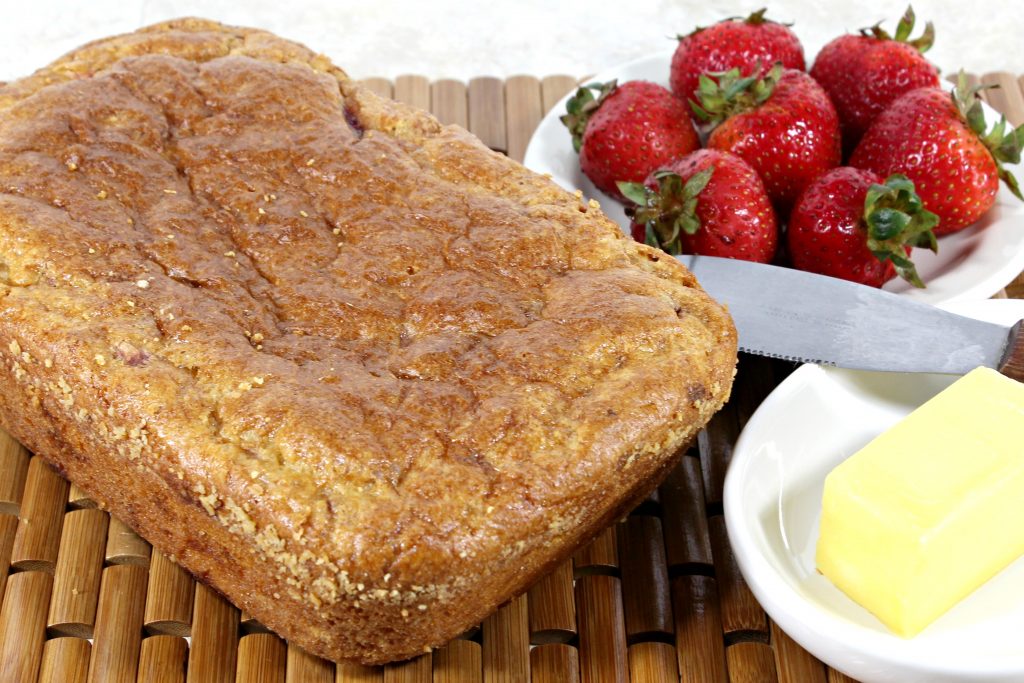 How To Store Strawberry Bread
Before we get into the recipe, I have some pretty important info to share about how to store it. Not that you'll have any extra leftover. We eat it up pretty quickly every time we make it. Just in case you do you have some leftover or want to freeze it, here are some tips.
If you want to make a large batch of bread and freeze it, let it cool off completely first. Then, wrap each loaf of bread in foil and store it in a zippered freezer bag. Strawberry bread will last about 3 months in the freezer.
To store leftover bread, just keep it in a zippered bag in the refrigerator. It will last about a week in the fridge. Keep it covered and sealed so it doesn't get stale.
How To Make Strawberry Bread With Almond Flour
This keto strawberry bread is made with almond flour and stevia, which cuts the carbs and gives it a boost of protein. The amazing thing about this recipe is that even though it's low-carb and keto-friendly, it is still super easy to make.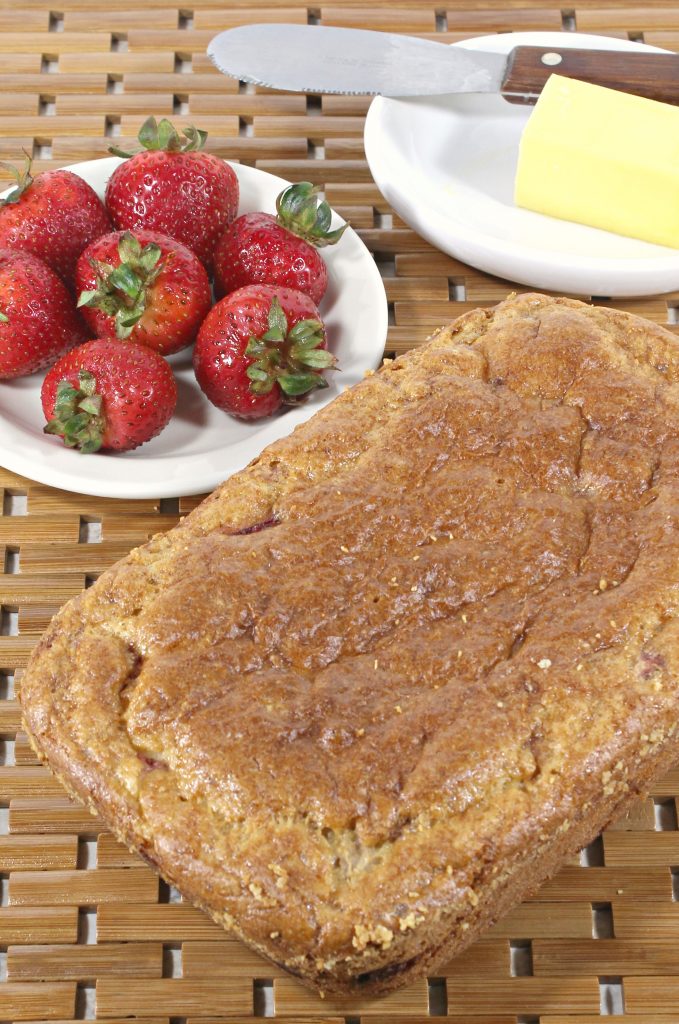 If you can bake chocolate chip cookies, then you can make this quick bread. It really is that simple.
Ingredients
Here is what I used in my strawberry bread to keep it low-carb, along with any substitutions and replacements, in case you need them.
Eggs – The size of the eggs doesn't matter. There really isn't a substitute for eggs in this recipe, they are vital to making the bread light and flaky.
Vanilla Extract – I prefer pure vanilla because it has a rich flavor, but imitation vanilla extract works in a pinch.
Butter – Try to use unsalted butter. Use real butter, it has healthy fats that are better for you than margarine.
Heavy Cream – I recommend sticking with heavy cream if you have some. If you don't, you can mix ⅔ whole milk with ⅓ cup butter.
Strawberries – You can also make blueberry bread by using blueberries instead.
Almond Flour – Do not use almond meal. It will make your bread have a grainy texture. Use blanched almond flour, it's ground up finer.
Baking Powder – This is essential for the bread, there isn't a substitute for it that works.
Erythritol – If you don't have erythritol, you can use stevia or monk fruit extract as a sweetener instead. Use your favorite keto sweetener in this bread.
More Keto Baking Recipes
Keep the baking going! Here are some more of my favorite keto baking recipes.
Keto Blueberry Muffins
No Bake Keto Blueberry Cheesecake
Easy Keto Chaffle bread
Keto Strawberry Bread Recipe
Here's the simple recipe! I hope you enjoy it – don't forget to pin it so you can find this recipe later.
Strawberry Bread
Ingredients:
Wet ingredients:
5 eggs
1 tsp vanilla extract
3 Tbsp butter, softened
3 tbsp heavy whipping cream
1/2 cup of strawberries, chopped coarsely
1/2 cup erythritol
Dry ingredients:
2 cups of blanched almond flour
2 cups coconut flour
1 1/2 tsp baking powder
Preparation:
Preheat oven to 350F
Grease loan pan (I used this one) with butter.
In a bowl add eggs, vanilla extract, erythritol. Mix until frothy.
Add heavy whipping cream to bowl and mix.
Combine coconut and almond flour along with baking powder into a separate bowl.
Combine wet and dry ingredients and mix.
Add butter and mix.
Fold in strawberries and add batter to greased loaf pan.
Bake for 45 minutes or until cooked through.
Cool down before serving.
Pin for later!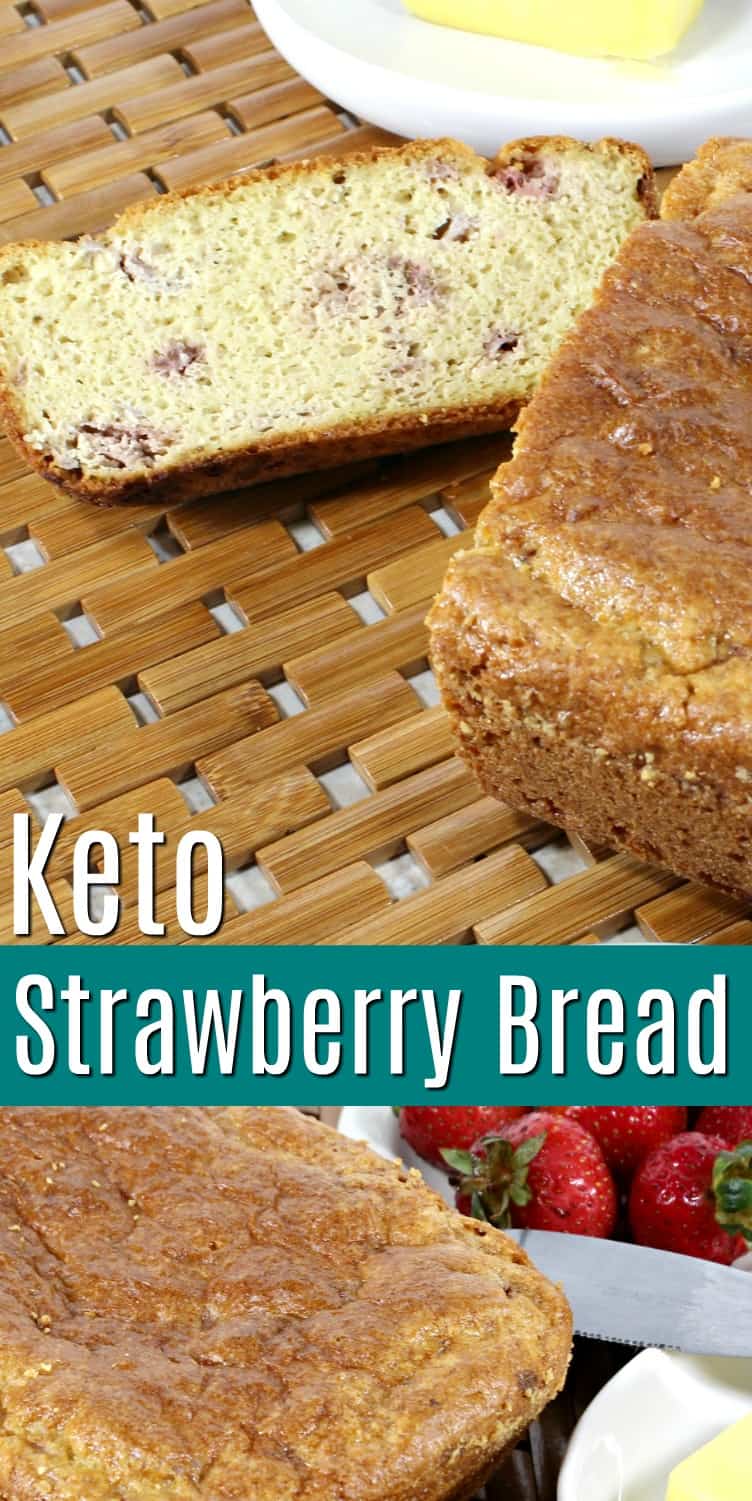 Follow me on Pinterest!