Consideration was provided by Starbucks Refreshers.
The weather down in Florida can be summed up in pretty much three words: hot, rainy and humid. There is no fighting it, there is no escaping it and there is certainly no changing it. Yes, there's air conditioning and yes, it cools you off, but after a while, the a/c becomes just as suffocating as the heat was when I lived up north. It's constantly running, which means it costs an arm and a leg to cool down a house. Also, you can never get the right temperature and you start to forget what a breeze feels like. Can you tell I don't like the heat yet?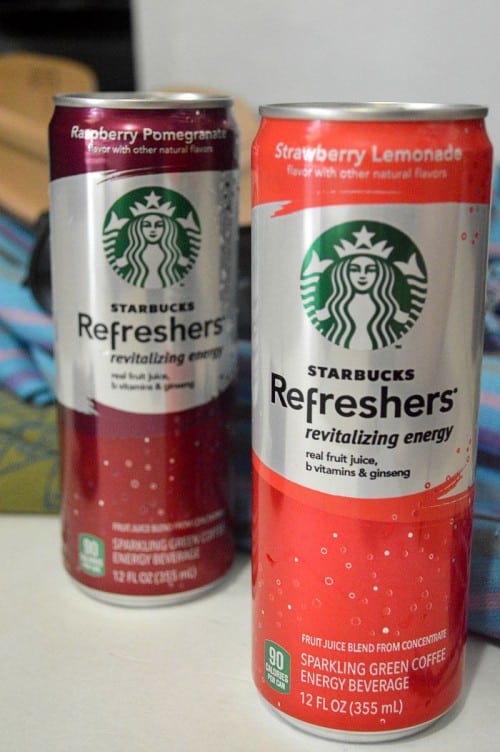 After ten years of living down in Florida I've found ways to cope with the heat and they've become things I look forward to, sort of the same way the first sight of snow excited me back up north. Okay, maybe not that excited, but I'll take what I can get.
Flip flops: They've become a way of life for me. I love them as much as I loved wearing boots up north. They're so easy to slip in and out of and keep me cool. I've become a whiz at being able to wear them with everything, for day or night.
Hair Clips: I have really long hair and I have no intention of cutting it anytime soon, so hair clips are essential in keeping me cool. Instead of pulling all my hair up I use tiny hair clips in playful colors to pin up my hair throughout the day.
Refreshing drinks: I'm a caffeine addict but during the summer I need something a little lighter and sweeter than coffee. A drink that's not only revitalizing but also rich in taste and Starbucks Refreshers does just that! My favorites are the sweet Strawberry Lemonade and the tangy Raspberry Pomegranate, both of which contain natural caffeine with an amazing, invigorating boost of energy. Starbucks Refreshers™ Strawberry Lemonade is also fortified with three B vitamins and Vitamin C. All for just 90 calories. It's literally the perfect summer drink to grab, get up and go!
Get moving: The last thing I want to do when it's unbearably hot outside is workout, but after a few sips of my Starbucks Refreshers my body begs to get moving. A walk always wakes me up and even after all the sweating, I instantly feel a million times better.
Hose Down: There's something so old school summer about breaking out a hose and just spraying yourself down. Sometimes during busy work days I'll go outside, pull out the hose and just spray my feet down and I'm instantly refreshed!
Bronzing Powder: Every year I say I'm going to get that perfect tan, but it never happens! I just can't bear to sit still under the beaming sun and bake enough to get that summer glow. Instead, I slather on a light refreshing moisturizer and apply bronzing powder along my temple and in the hollow of my cheeks.
With a revitalizing blend of sparkling fruit juices, b vitamins and ginseng, Starbucks RefreshersTM has all the goodness you need to get the most out of today.
How do you stay refreshed during the summer?