This garlic butter Italian sausage sandwich is packed with flavor! A classic recipe your whole family will enjoy!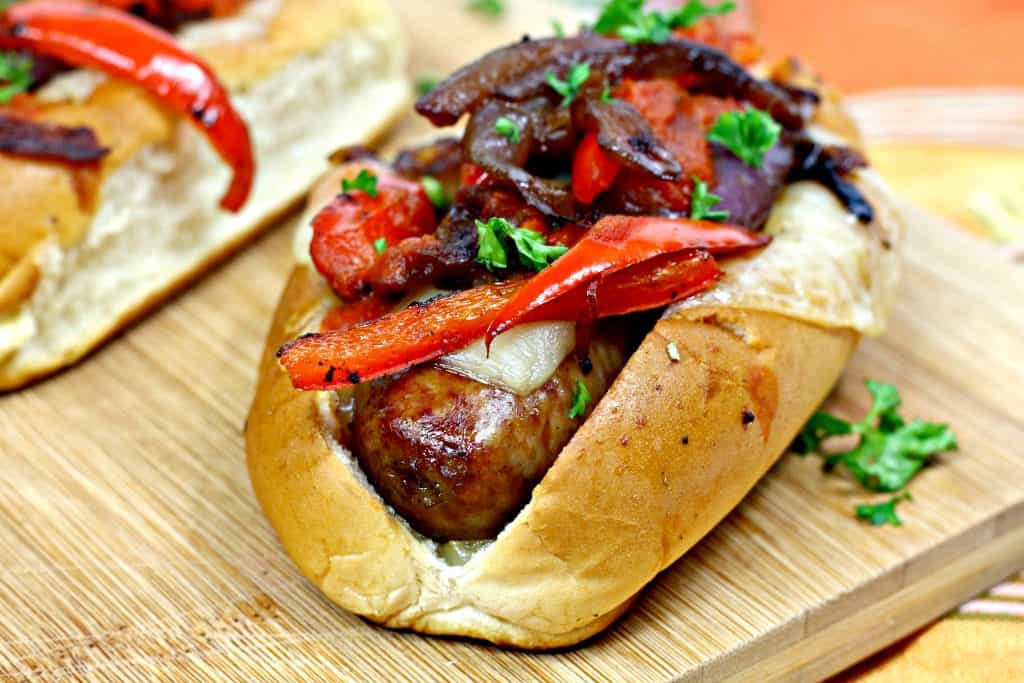 Our weekends aren't very fancy, we spent the majority of our time running around with the kids or whipping up new a recipe like the garlic butter Italian sausage sandwich.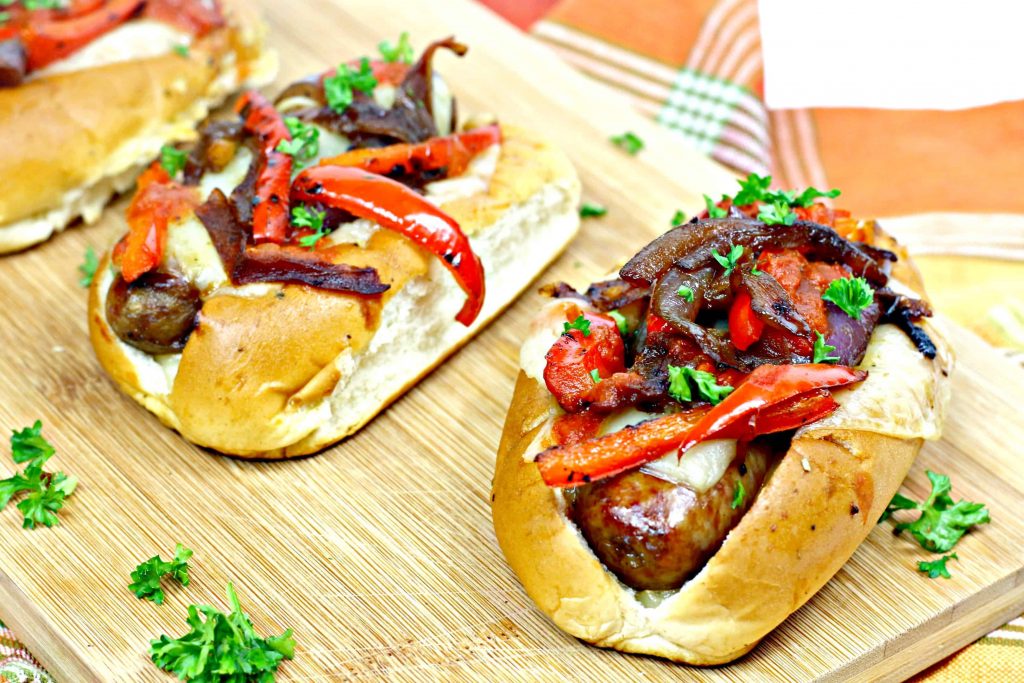 Tip: If you're watching your carb intake you can ditch the bread and eat the yummy sausage and peppers on their own, with romaine lettuce or even tossed with zoodles! While This isn't an ideal low carb recipe it is great for a cheat day!
Sausages can be made in a stockpot, a slow cooker or an Instant Pot like I did with this Italian Sausage and peppers recipe.
More Recipes You'll Love:
Instant Pot Stuffed Peppers
Air Fryer Buffalo Chicken Wings
GARLIC BUTTER ITALIAN SAUSAGE 
Serves: 4-6
Prep: 20 min
Cook: 30 min
Total: 50 min
Ingredients: 
Garlic butter
½ cup unsalted butter, room temperature
¼ cup finely chopped basil
¼ cup finely chopped parsley
1 tsp garlic paste (or 2 garlic cloves, chopped finely)
4-6 Italian Sausage links
1 cup Italian marinara sauce
1/2 onion sliced and caramelized
Sautéed red peppers – 1 cup
Beef broth – 1 cup
Beer – 1 cup
Water – 1 cup
Sandwiches
Hot Dog Buns – 4
Mozzarella cheese – 4 slices
Provolone cheese – 4 slices
Directions:
For the butter, combine the ingredients in a bowl and mix until fully incorporated.
Set aside until ready to use
For the sausage:
Add the broth, beer, and water to a stockpot.
Heat on med to high
Add your sausage to your pot and cook for 10-15 minutes until done.
Remove from the stockpot and set to the side.
Add the sliced onions and sliced peppers to a saute pan and cook until tender.
Set to the side
Buns:
Pre-heat oven to 350 degrees.
Slather the butter over the inside and tops of buns.
Toast in the oven until slightly browned and butter has melted.
Remove from the oven and place 1 slice of mozzarella cheese into each bun followed by the marinara sauce and then add the Italian sausage mixture.
Then top each sandwich with 1 slice of provolone cheese and place under the broiler under cheese starts to bubble. Remove from oven.
Top with onions and peppers along with fresh basil and serve!
Pin for later!