Hailey Baldwin's style is always hit or miss for me. Either I love her outfits or I'm a bit confused by them. This particular outfit is giving me mixed signals for one painful reason: her boots! I get that they're trendy, but I just don't understand how anyone would think her cut-off denim shorts and oversized sweater would make a good match with these modern white boots! I do, on the other hand, think her bag and sunglasses are wardrobe staples but even they look a bit too normal for her outfit. Maybe it was all intentional? Scroll down to see Hailey Baldwin's look for less!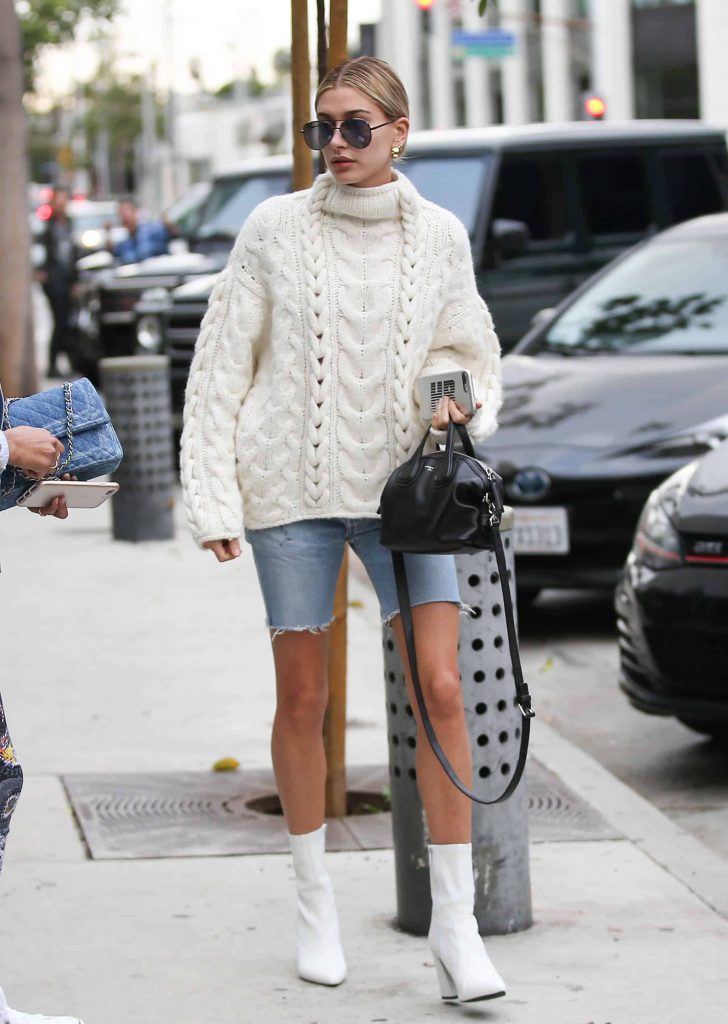 Image credit: PRphotos.com
Celebrity outfits like this are the most fun to recreate! I love the challenge of tweaking their looks for a better version. Finding their accessories for a cheaper price is my favorite part! Take her sunglasses for example. Why buy a super expensive pair when you can get an almost identical pair for less and then stock up on sunglasses? Especially if you wear contacts, a great copycat pair like the ones featured here from Discounglasses.com, an online optical retailer that's dedicated to making the savviest shoppers look amazing, would make a great option (their sister site is Discountcontactlenses.com where they carry name brand contacts for less) and want to have different style sunglasses handy instead of getting costly prescription sunglasses.
Hailey Baldwin's Look For Less
In this outfit, I keep the oversized sweater and shorts (the Florida in me loves the combo), but instead of those boots I added slides. The idea with the flats was to give her super casual look a more polished feel. Knee boots would be another great alternative but I like to keep celeb looks for less on the more relatable side and I don't think over the knee are an everyday pair of boots.
Sweater|Shorts | Boots |Slides |Sunglasses| Crossbody Bag
Scroll down to see Hailey Baldwin's boots styled my way
For the outfit with the boots, I chose a pretty skirt and sweater because I wanted to give the modern boots a softer, more feminine look.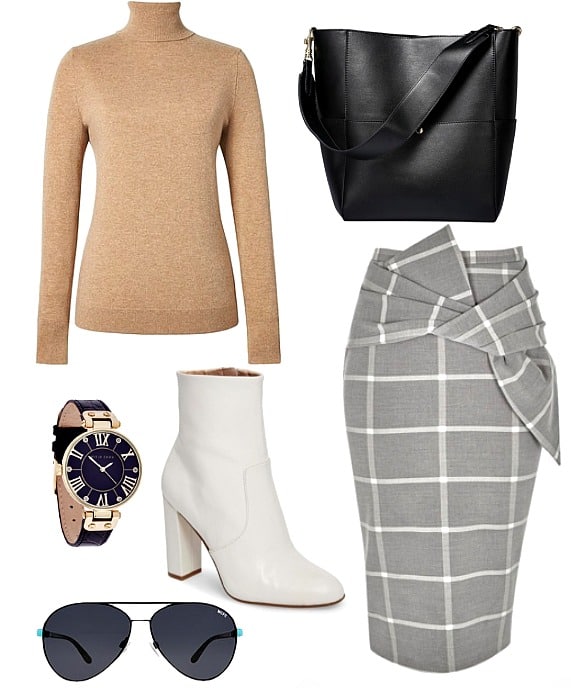 Turtleneck | Skirt | Tote Bag | Sunglasses |Boots
Invest in clothing items that have a stylish andtimeless (like Hailey's sweater) and go for more affordable accessories to add to your outfits. It's just as the DiscountGlasses motto says – life is short, mixx it up!
Hailey Baldwin's Look For Less!
Disclosure: This post is sponsored but all opinions are my own.