This simple Keto Cauliflower Cheeseburger Casserole is one of my favorite low carb dinner recipes! A healthy cauliflower casserole with a yummy bacon cheeseburger topping that everyone including the kids will love!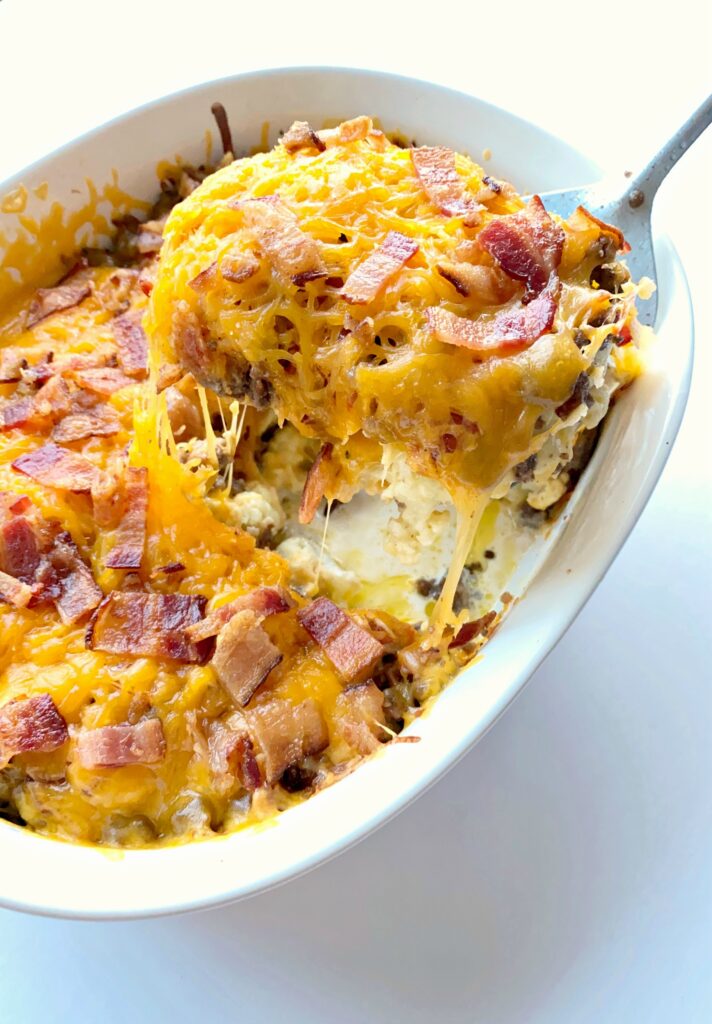 If it were up to my kids we'd be eating burgers pretty often. I don't actually mind because burgers are so easy to customize and adjust for my low carb lifestyle but I when I do want to sneak some more veggies into our diets my go-to is this keto cauliflower cheeseburger casserole!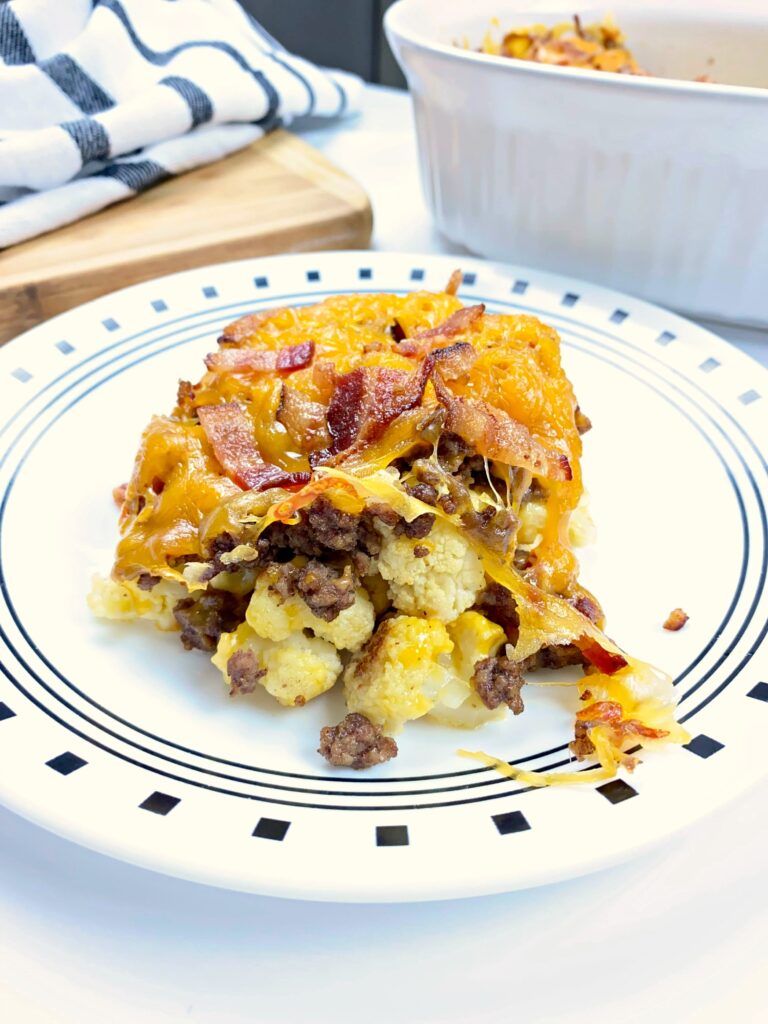 It's one of my very favorite keto recipes to make because everyone, even my pickiest eaters enjoy this low carb casserole! Other keto casseroles we love are this Keto Cabbage and Beef Casserole and this Keto Reuben Casserole is always a big hit!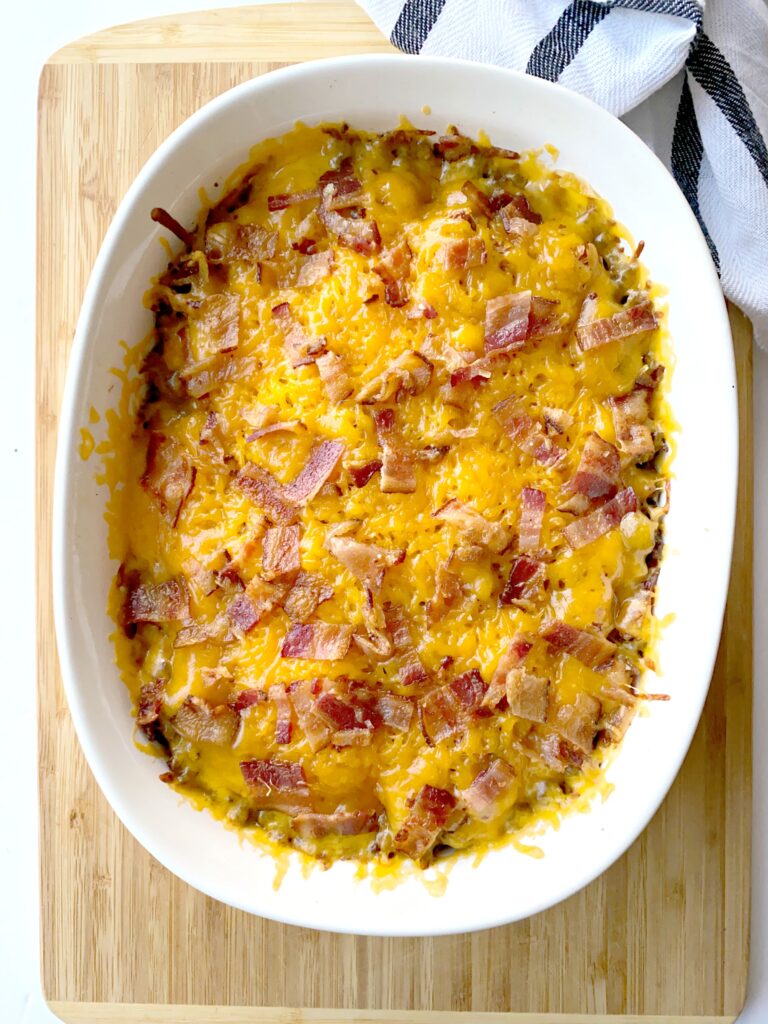 What's not to love about this low carb casserole? It's a deconstructed bacon cheeseburger in the form of a casserole with cauliflower! It's literally the perfect low carb casserole and it's actually really easy to make too!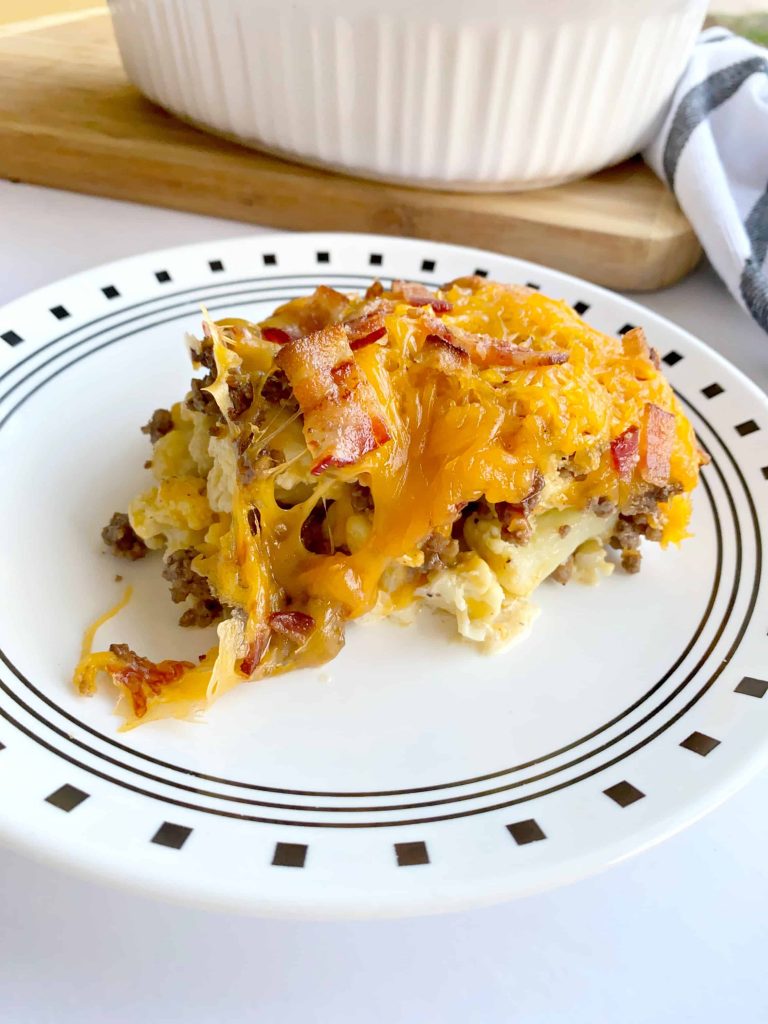 The key to this cauliflower casserole is to first roast cauliflower. This will make them crispy and blend wonderfully with the remaining ingredients!
Can you use cauliflower rice instead of cauliflower florets?
Absolutely! In fact, you can use pre-riced cauliflower rice to save you some time. I choose to use florets which take little more time to roast because my girls enjoy grabbings the florets and dipping them into ketchup. Whatever works! 🙂
Does ketchup contain sugar?
Ketchup does contain sugar but you can choose to buy store buy sugar-free ketchup or making your own with my recipe below!
More Bacon Cheeseburger toppings
You can choose to top or add into your casserole any burger topping you like! I kept it simple and added a layer of sugar-free ketchup and topped the casserole with bacon but you can also add pickles and even onions!
After the casserole is done you can either top your burger casserole with shredded lettuce and tomatoes or serve it on the side!
Can this bacon cheeseburger be made in advance
Absolutely! Another reason I love to make This ket bacon cheeseburger casserole is that it can easily be assembled ahead of time and you can also choose to freeze it for later!
To meal prep, this casserole simply add your cauliflower and beef into a casserole dish, cover and refrigerate until ready to cook. When ready to serve this keto casserole you can then proceed to add the mustard, ketchup, cheese, and bacon.
If you've already made the casserole you can just cover and refrigerate.
How To Freeze Low carb Bacon Cheeseburger casserole
To freeze this casserole simply follow the instructions and allow to cool down when cooked. Once the casserole has cooled down you can then cover and freeze.
How To Make Bacon Cheeseburger Casserole
Ingredients:
Cauliflower
1 Cauliflower chopped into florets
Salt
Pepper
Olive oil
1 cup shredded cheddar cheese
1/4 heavy cream
Beef
Ground beef – 2 pounds
2 tsp Salt
1/2 tsp of pepper
Ketchup
6 oz tomato paste *No sugar added
1 cup of water
1/4 powdered low carb sweetener
3 tbsp apple cider vinegar
1 tsp salt
3/4 tsp onion powder
1/4 tsp garlic powder
1/4 tsp paprika
1/8 tsp ground cloves
1/8tsp mustard powder
Toppings
Ketchup – 1/2 cup
1 cup shredded cheddar cheese
Bacon
Instructions:
Preheat over to 400.
Place cauliflower in bowl and drizzle with olive oil and toss.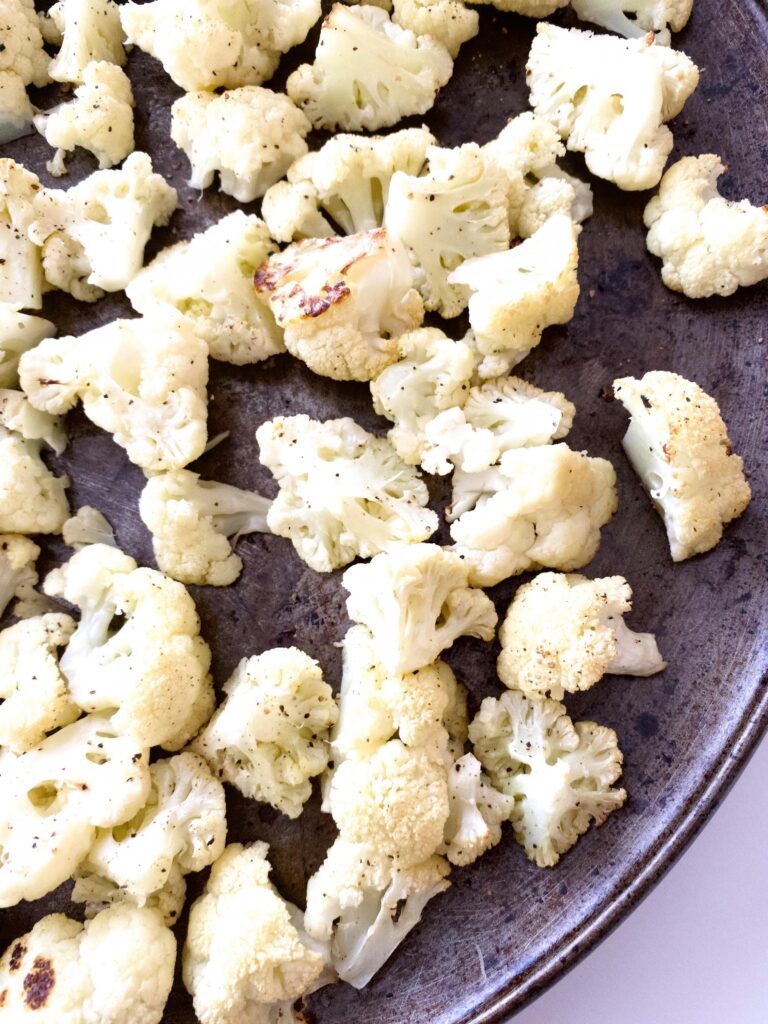 Spread cauliflower on baking sheet and sprinkle with salt and pepper.
Roast uncovered for 20-25 minutes.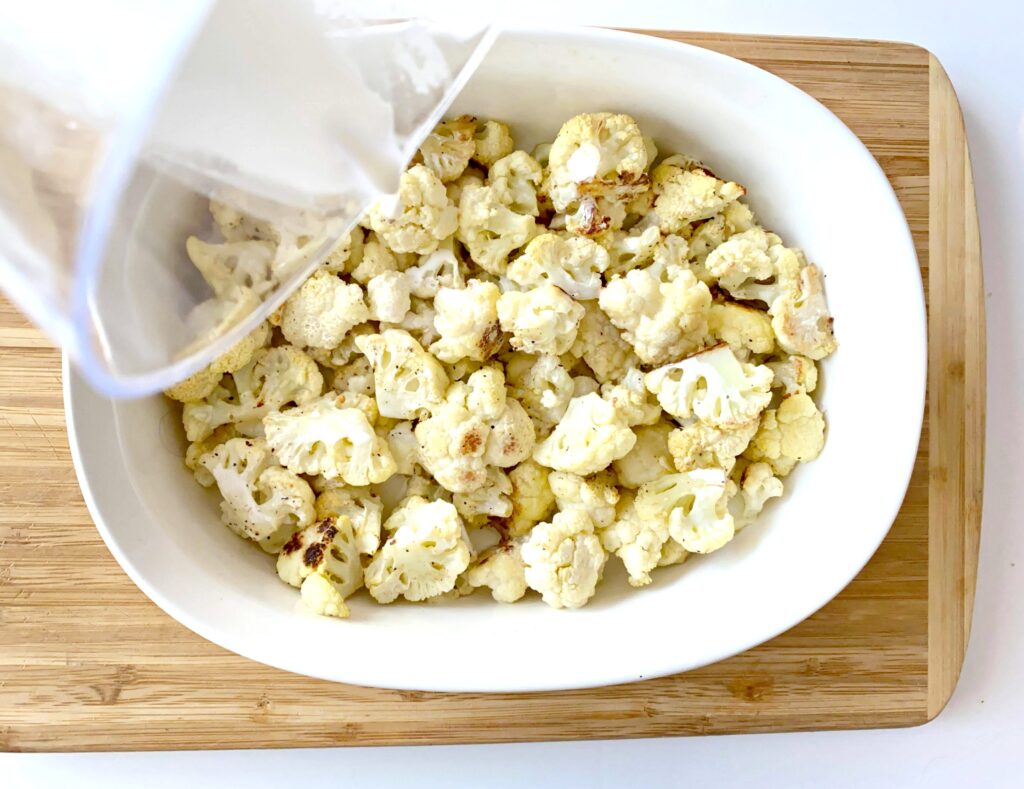 Remove cauliflower from oven and place casserole dish.

Top with heavy cream and cheese.
Add ground beef to pan and season with salt and pepper. Cook until browned and add to the casserole dish.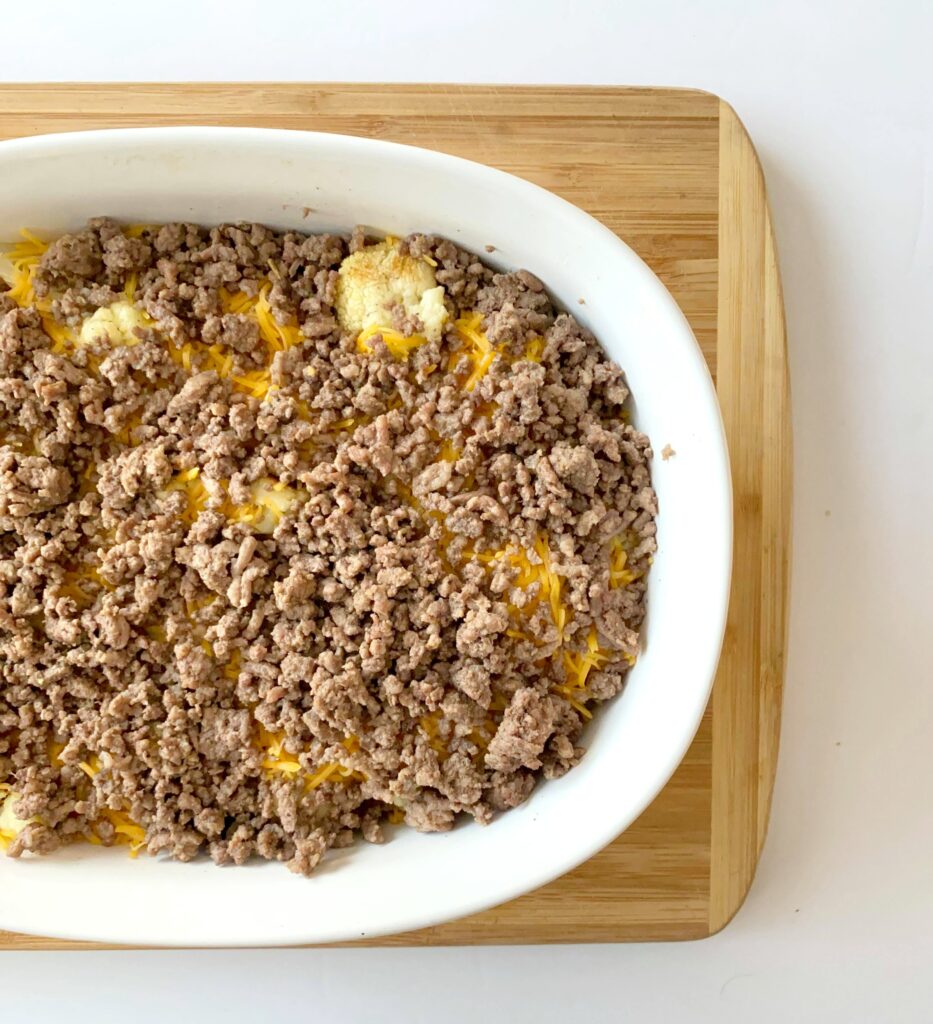 Top with ketchup.
Sprinkle with cheese and bacon.
Bake for 10-15 or until cheese melts.
Pin for later!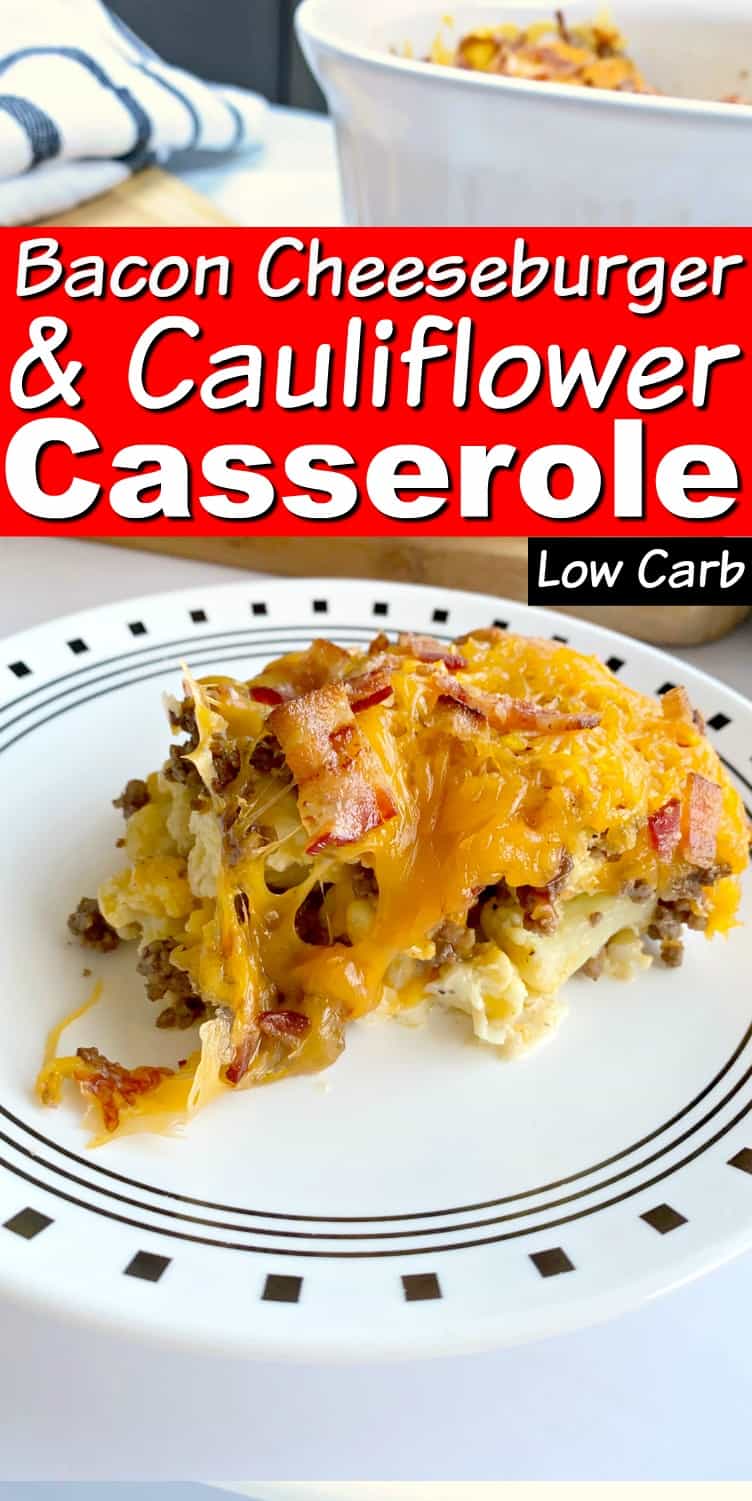 Follow me on Pinterest!