This Low Carb Crustless Taco Pie is the perfect recipe for your next taco dinner night! It's easy to make with plenty of leftovers that the whole family will most definitely love!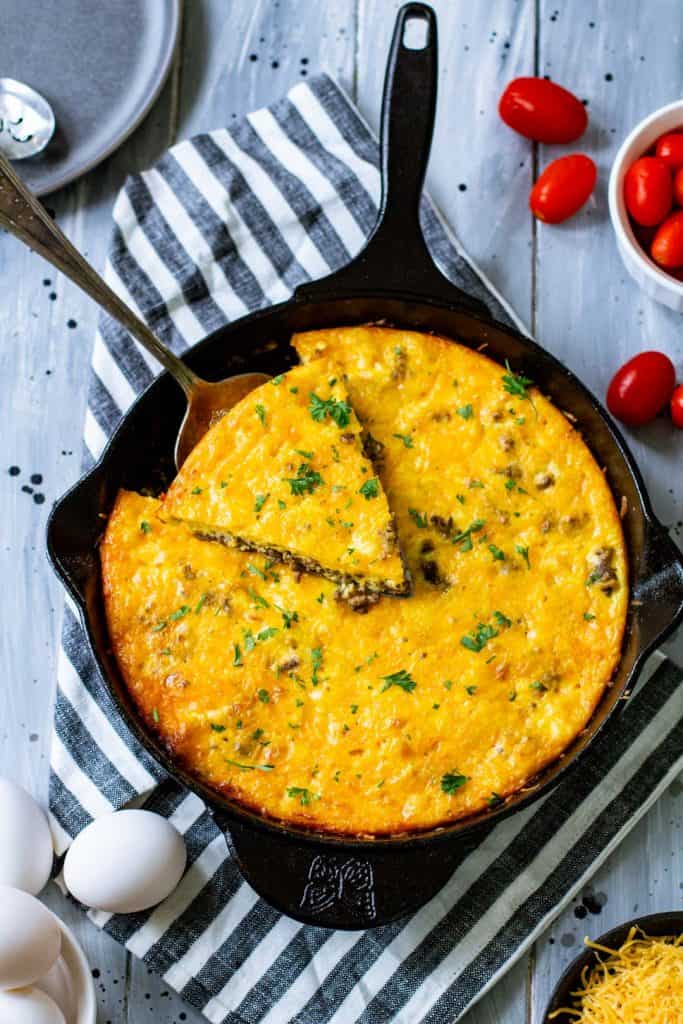 Never feeling deprived of the foods and recipes my family and I love is what's most important to me when gathering ideas for meal planning. I look for ways to incorporate the recipes we already love into low carb versions that everyone will genuinely enjoy.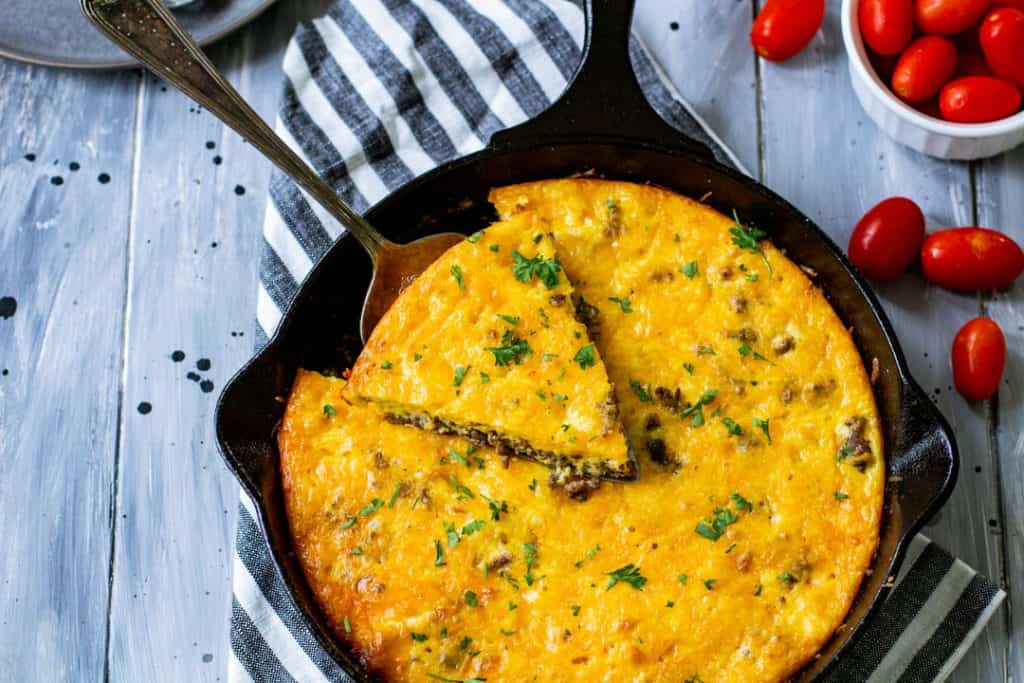 It's important for me because I don't want to be so restrictive that I'm miserable, but I also want the kids to learn and see healthy eating habits.
Crustless Taco Pie
I do have cheat days, and I even share our favorite recipes here, but for the most part, it's recipes like this low carb taco pie that make living that low carb life effortless and delicious!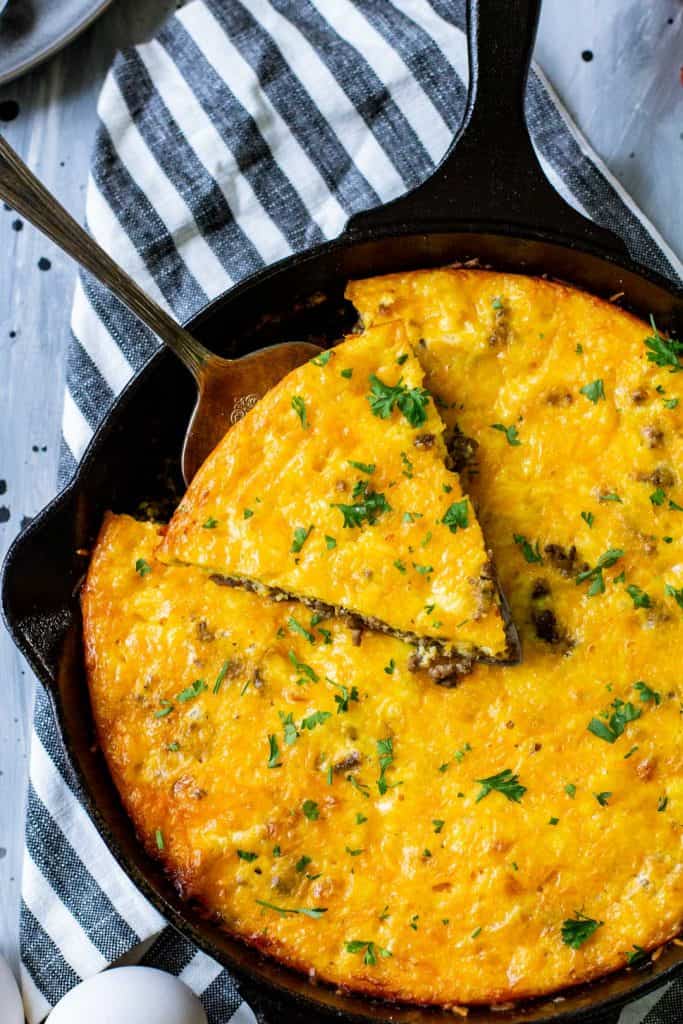 Like most families, we have dinner themes for the week, like meatless Monday, taco Tuesday, wacky Wednesday (where we normally have breakfast for dinner), takeout Thursday's, and pizza Friday's.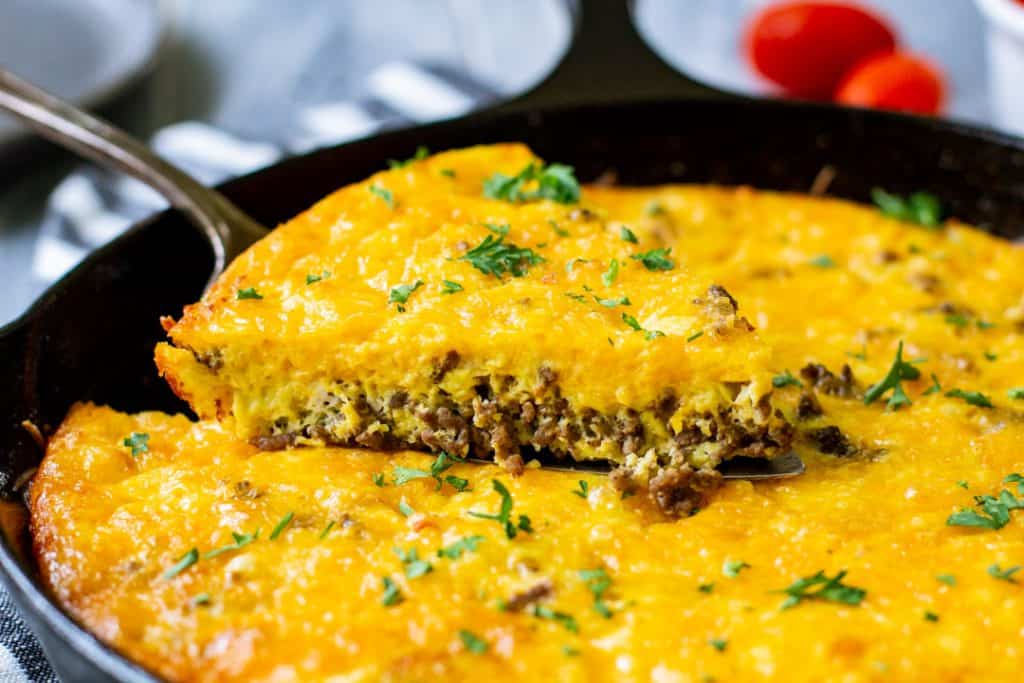 Hands down, our favorite is taco Tuesday! The kids love this taco lasagna, these Instant Pot street tacos are also a big hit, and my favorite is this taco chicken that I serve on cauliflower rice and make taco bowls.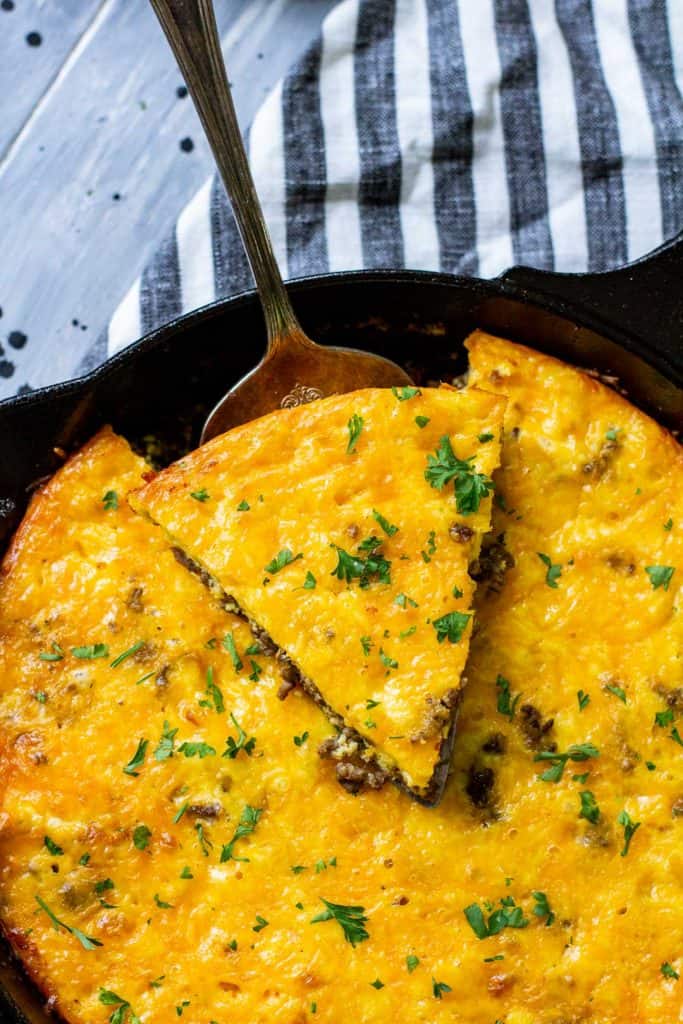 Our latest favorite: this insanely easy and delicious low carb crustless taco pie – look at that beauty! What is a taco pie, you may ask? A taco pie is a yummy cheesy pie that's filled with your favorite taco fixings that's all thrown together in one skillet and cooked in just 30 minutes!
Making this low carb taco pie is super easy! You can make yours in a pie tin, a skillet, or even a sheet pan! My personal favorite is the skillet, for no reason other than the fact it just looks pretty and it's perfect for serving guests!
Looking for another Taco night dinner idea? This delicious Keto Fathead Taco Pizza is easy to make and it's also grain free, sugar free and nut free! 
Crustless Taco Pie
Ingredients:
Taco seasoning
Chili powder – 2 tbsp
Paprika – 1 tbsp
Salt – 1 tbsp
Ground black pepper – 1 tbsp
Ground cumin – 2 tsp
Garlic powder – 1 tsp
Onion powder – 1 tsp
Dried oregano leaves – 1 tsp
Red pepper flakes – 2 tsp
For some added kick – 1/2 tsp cayenne pepper
Toppings:
Green onions
Sour Cream
Taco Pie
Ground beef – 1 pound
Taco seasoning – 3 tbsp
6 eggs
Heavy cream  – 1 cup
2 cloves of minced garlic
1 cup of shredded cheddar cheese
Instructions:
Combine all taco seasoning in a bowl and stir.
Preheat oven to 350.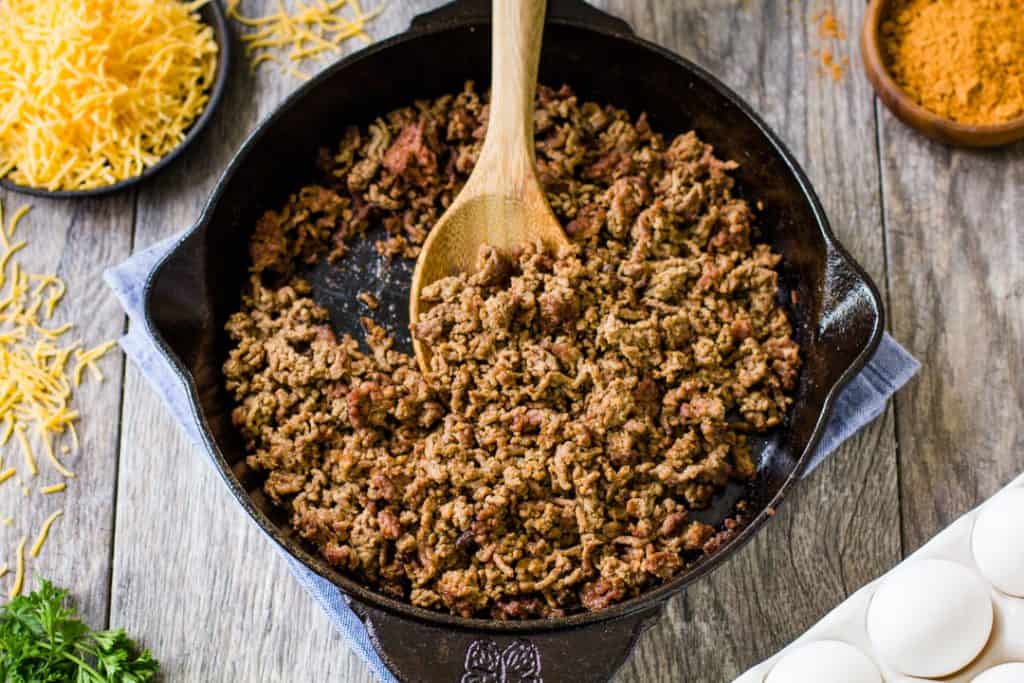 Brown ground beef until no longer pink. Add taco seasoning to beef and stir until combined.
Spread ground beef mixture into a skillet.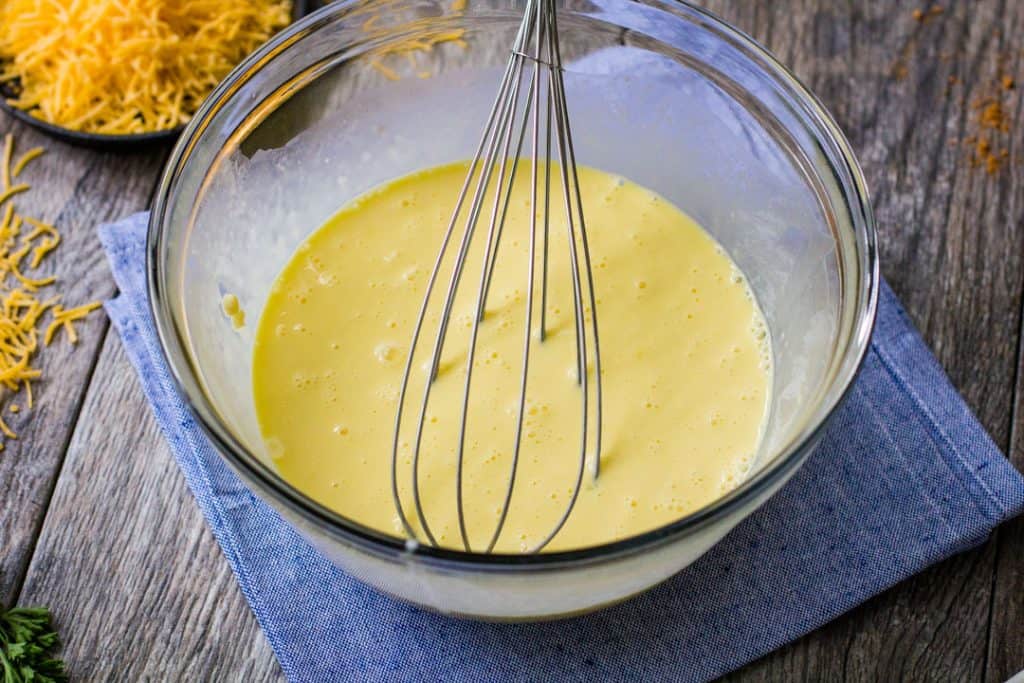 Combine eggs, cream, and garlic into a large bowl and whisk together. Pour egg mixture over ground beef and sprinkle with cheese.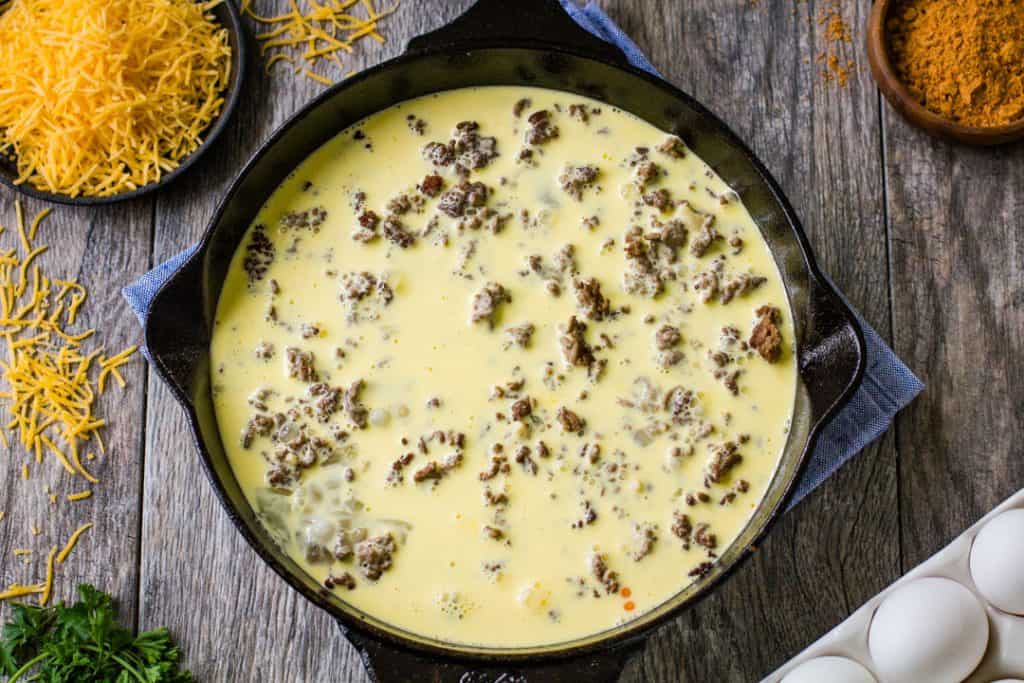 Bake for 35 minutes. Pie is done when the center is set and cheese is starting to brown around the edges.
Remove from oven, allow to sit for a few minutes before serving.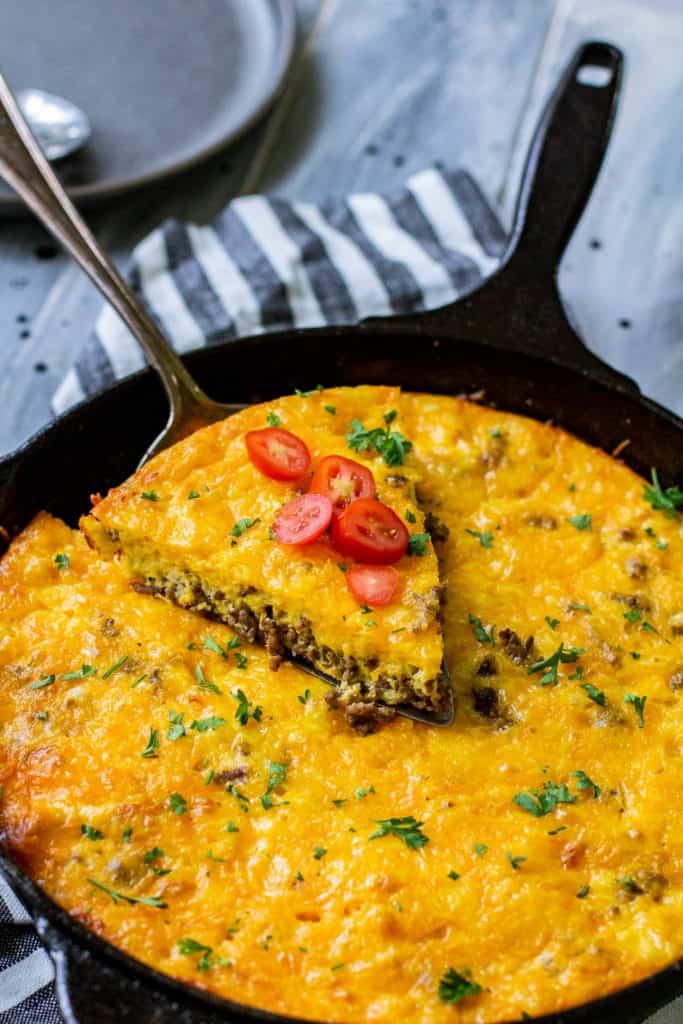 Serve and top with sour cream and green onions.
Other optional toppings:
Jalapeno
Avocado
Guacamole
Tomatoes
Olives
Lettuce
It tastes just as amazing as it looks and it's almost hard to believe that you can make it low carb AND keto friendly. You can top your taco pie with sour cream, guacamole, shredded lettuce, tomatoes, and of course, jalapeños!
Pin for later!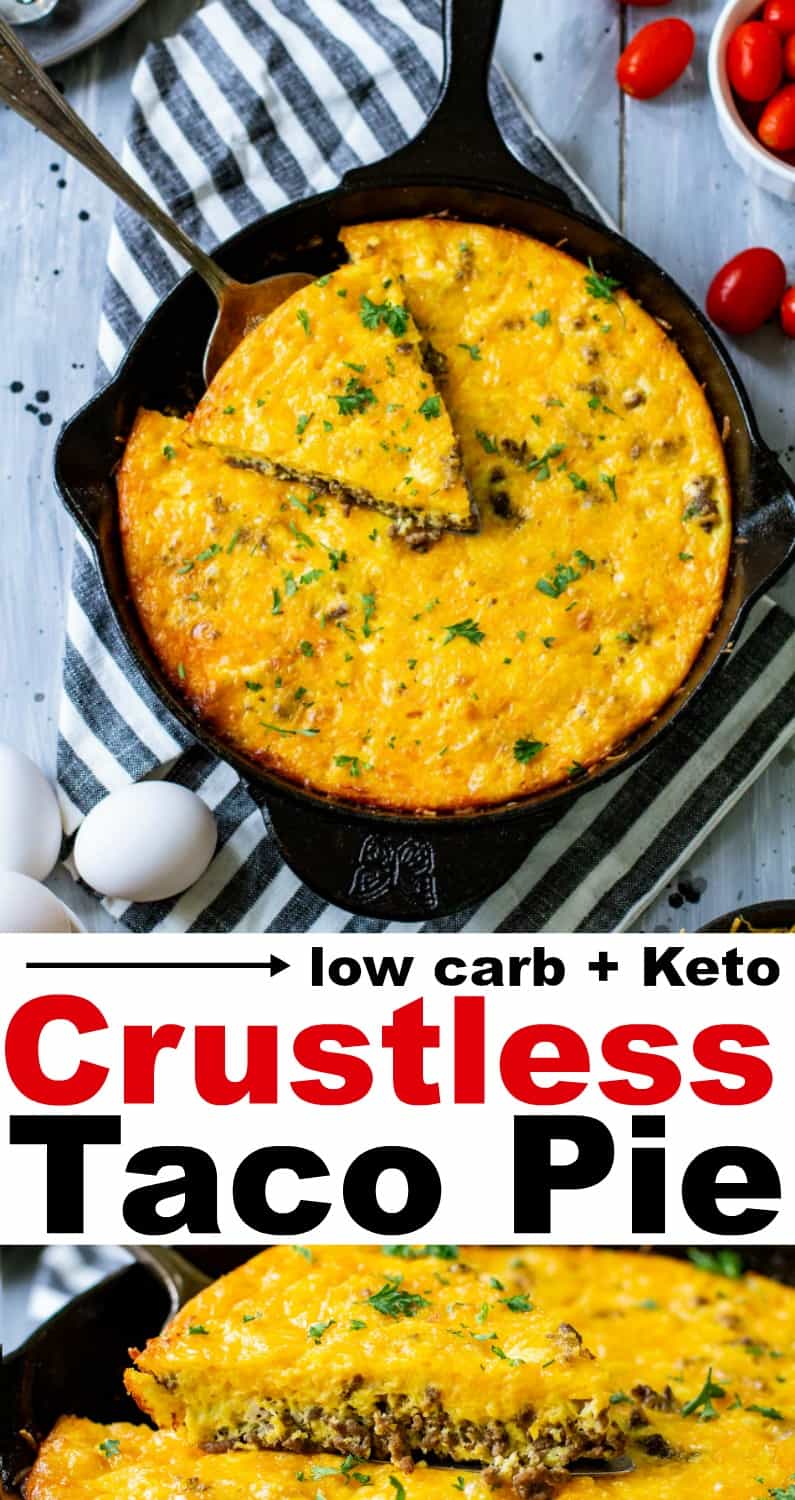 Click here to follow me on Pinterest for more dinner ideas!