This post is brought to you by TeacherLists.com and The Motherhood. All opinions are my own.
There's just about a month left before my kids head back to school. I'd like to say I'm excited that they're headed back but the truth is, I like them being around all day. After having my two oldest move out to start college it made me painfully aware of how fast they are growing up. For now, I will cherish the start of the back-to-school shopping for the perfect outfits, shoes, backpacks and haircuts (my kids are SO picky with their hairstyle)! The one thing I usually dread the most when they head back to school is shopping for is shopping for school supplies. I'm always the last minute shopper and can never find what I need in one store. I usually end running around trying to find everything, so when I heard about TeacherLists.com , a website that drastically cuts down the time it takes to shop for kids school supplies, I was immeditely intrigued. Scroll down to see how shopping for school supplies made easier with TeacherLists.com
TeacherLists.com was launched with my favorite adage "work smarter, not harder"  to make back-to-school supply list shopping easy in just three simple steps: 1) Find, 2) Buy, 3) Receive. Since TeacherLists.com  provides immediate (free!) access to your child's exact school supply list, I signed up right away (it takes about two minutes if that) to see how easy it would actually be when I go to use it. First, I created my account online but because I'm literally always on the go I swapped over to my phone to see if I can login just as easily with access, and just as thought it was (TeacherLists is completely mobile-friendly)! My first thought while using TeachersList.scom – it is suprrisingly easy to use! Below are the easy steps.
Shopping For School Supplies Made Easier With TeacherLists.com
First you enter you zip code and then choose your school.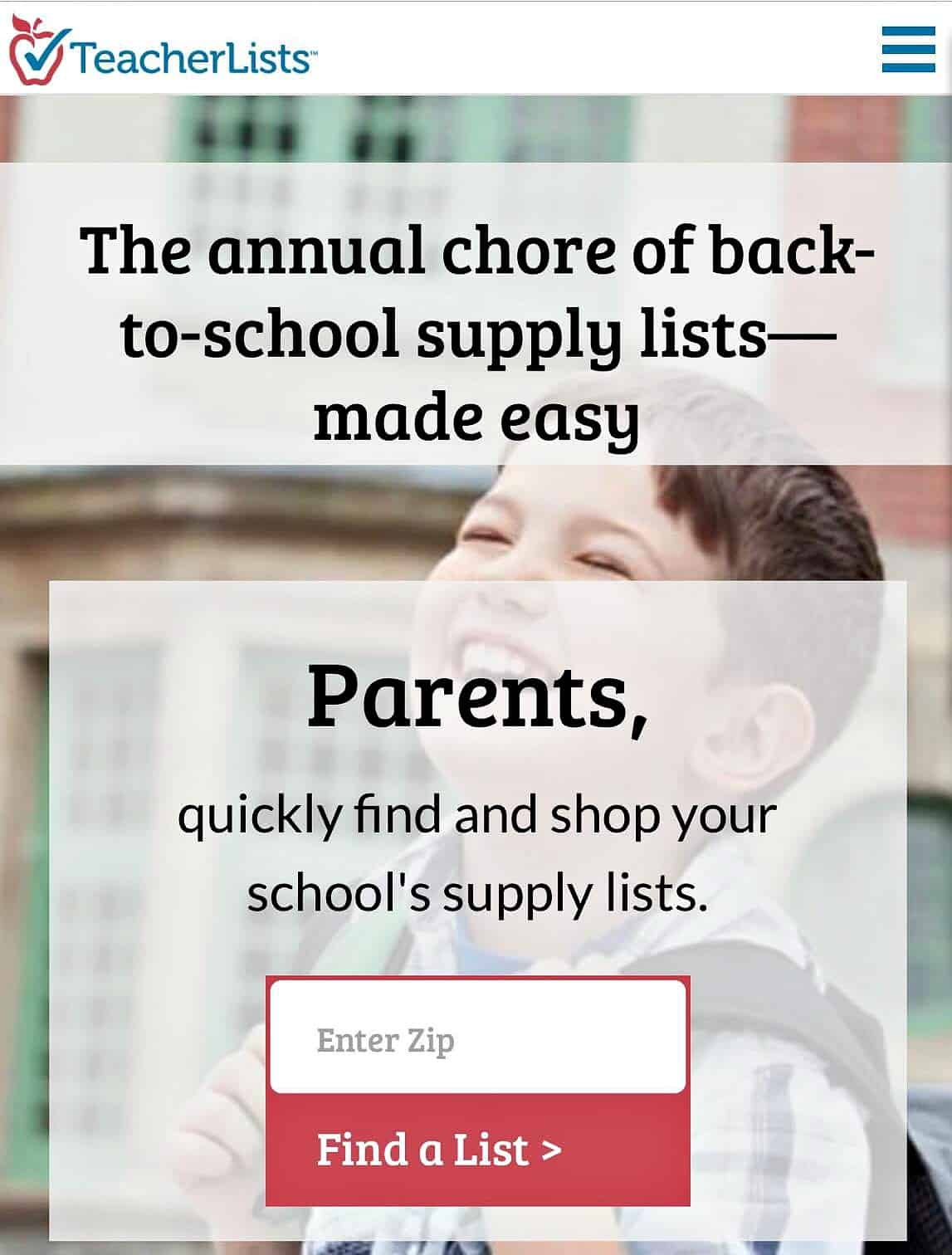 Pick the grade (my school supply list goes by grade) and search your Childs school supply list. **if it's not posted, sign up for the convenient reminder notification service.

At this point you have the option of printing your list or click to purchase the entire school supply list and have it waiting for pick up at one of their partnered stores. With 7 kids you know click to shop and pick up was my obvious options!
The entire process took me maybe 10 minutes, compared to the 1-2 hour ordeal of driving around town looking for each item. TeachersLists.com is beyond priceless! With just a few clicks you can be done shopping for school supplies all in one spot! Visit TeacherLists.com for a quick and convenient way to shop for your child's school supplies, you will love it. I promise!
SaveSave
SaveSave