This post was sponsored by SwimWays as part of an Activation for Influence Central. I received products to facilitate my review.
~ Summer Fun With SwimWays ~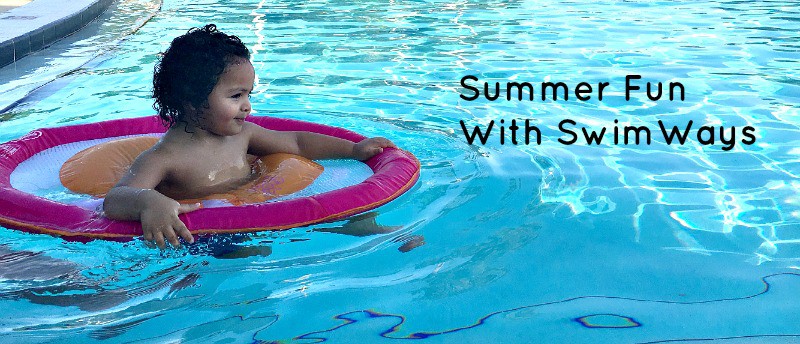 Did you know that National Learn To Swim Day is May 21st? I didn't! You'd think that with 6 kids I'd know that there's a day dedicated to learning how to swim, especially since I live in Florida, where it is so important to know how. All of my boys are decent swimmers and now we're working on Joseph. He has yet to make the transition. If we hold him, he's fearless and tries to jump out of our arms, but once you try and teach him, he hesitates. It's products like those from SwimWays and the SwimWays Baby Spring Float that make summer fun with SwimWays and make the transition easier and safer. It is, after all, a life saving lesson that is extra important when you live in Florida, since it's almost always pool or beach weather. It's an essential skill that allows kids to have fun while staying safe.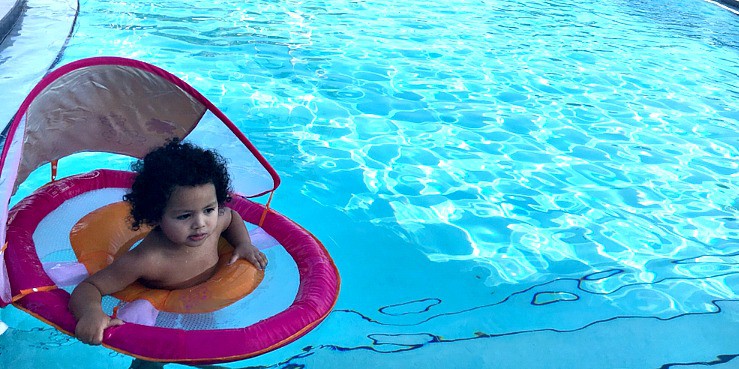 SwimWays actually started the National Learn to Swim Day in 2012. They're a company that is dedicated to educating parents and children about water safety and the importance and benefits of learning to swim. The SwimWays Baby Spring Float is the single best float on the market today and for good reasons; It's fun and easy to use and the SPF 50+ canopy feature is genius. It helps keep kids safe from the strong Florida sun rays, something that is exactly what Joseph needs because he has extremely sensitive skin.
SwimWays Swim Steps 3 level Program :
1. Introduction to water is all about keeping your baby safe, comfortable and balanced in SwimWays baby floats, just like the one Joseph is using above.
2. Toddlers love to be independent and Swim Step 2 is designed to work with kids who desire to explore with the perfect swimming aids like Swim vest, Swim Sweater and Swim Shorties.
3. Swim Step 3 products are like training wheels for the water. They make the final step in learning how to swim even more fun with their Power Swimmer Swim Trainers and the Sea Squirts Swim Assist Vests.
SwimWays has been teaching kids how to swim for over 40 years and I wish I had known about all these products sooner. This weekend we made our first step in transtioning Joseph into the pool with confidence and the SwimWays baby spring float made the process fun and easier for me to help Joseph yet still be able to balance baby Olivia (who's next in line in a few short months) on my hip.
For more information, check out SwimWays at Toys R Us or visit TeachMeToSwim.com