It's amazing how many delicious recipes you can find on Pinterest (you can find my pins here). During the holidays, Pinterest is chock-full of every holiday recipe and crafts you can think of. I love to see everyone's spin on classic recipes we all know and love, like the cajun pasta recipe I came across the other day. I'd say that most of our favorite recipes have some type of a spicy kick to it, so I knew I had to give cajun pasta a try! I can't remember where exactly I saw this particular version, but I did give it my own twist buy adding sautéed mushrooms, spinach, and diced tomatoes. It's perfect if you're looking for a meatless meal. Scroll down for my cajun mushroom & spinach rigatoni recipe!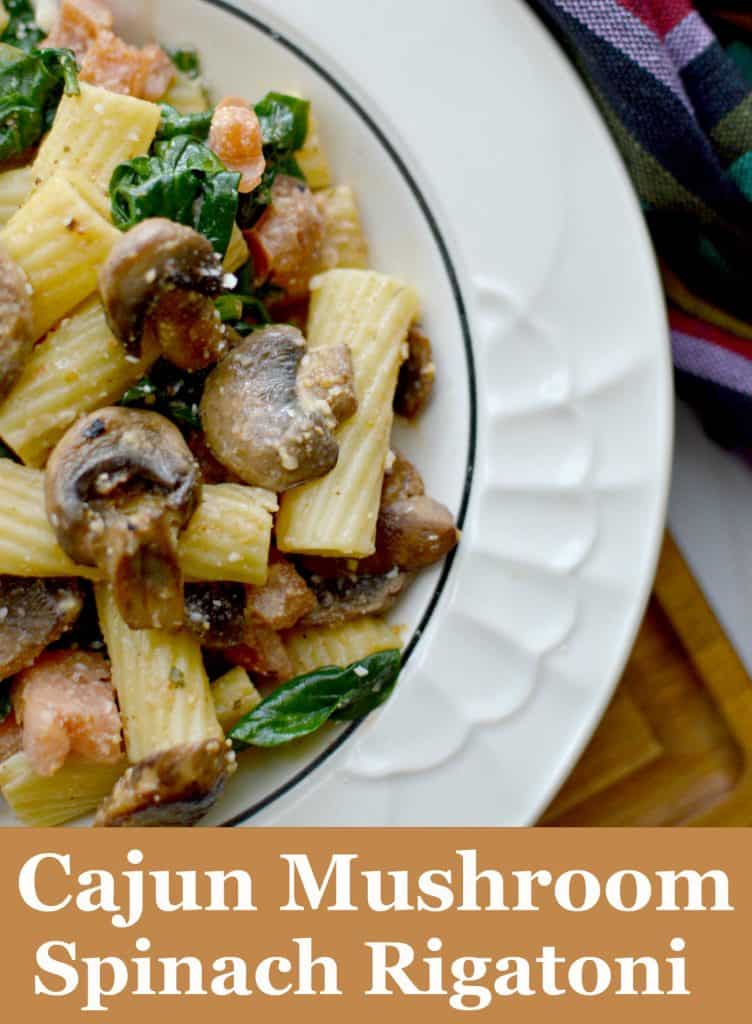 We enjoyed this cajun mushroom & spinach rigatoni so much that we've made it more than a few times in the past couple of weeks. I love that its actually pretty versatile and we've added chicken, salmon, and even meatballs! This mushroom and spinach cajun pasta is definitely a filling meal. A small portion goes a long way, making it perfect to have for leftovers, which is something I've been utilizing a lot more lately. With a busy family like mine, serving leftovers saves me a lot of time (not to mention money too) and I plan on sharing these time-saving tips and recipes in the next coming months, so stay tuned!
cajun mushroom & spinach rigatoni
Ingredients:
1 box of Rigatoni
4 tbsp butter
2 tbsp garlic powder
2 tbsp of cajun seasoning
1/2 cup white wine
2 tbsp lemon juice
1/2 cup heavy whipping cream
1/2 cup half & half
Olive oil
1 cup of mushrooms
1 cup of spinach
Salt & pepper
Instructions:
Cook your rigatoni according to the instruction on box.
Sautee mushrooms in olive oil until soft. Add in diced tomatoes and cook until soft. Set aside.
In a sauce pan ment butter, add garlic, cajun seasoning, lemon juice and white wine. Cook for 2-3 minutes. **Make sure to stir frequently.
Stir in heavy whipping cream and half & half. Cook for about 5 minutes (make sure to stir) and then lower heat to low and allow sauce to thicken. Once sauce has thickened you can add parmesan cheese, stir.
In a large pot add rigatoni, cajun sauce and veggies. Toss, add salt and pepper, and some extra parmesan cheese.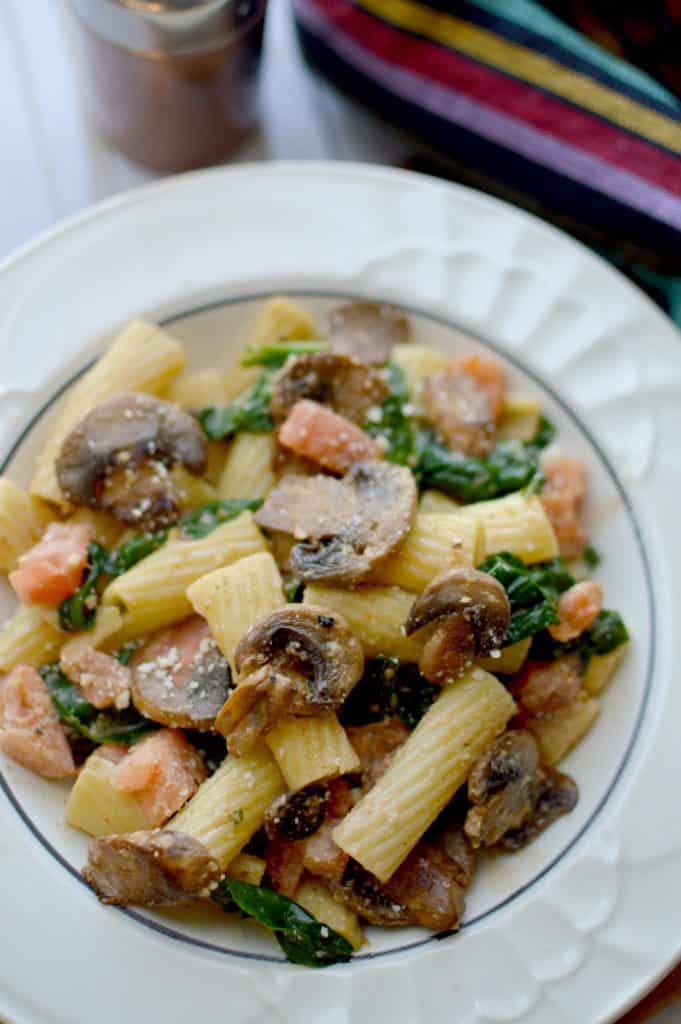 Serve with garlic bread and a glass of wine!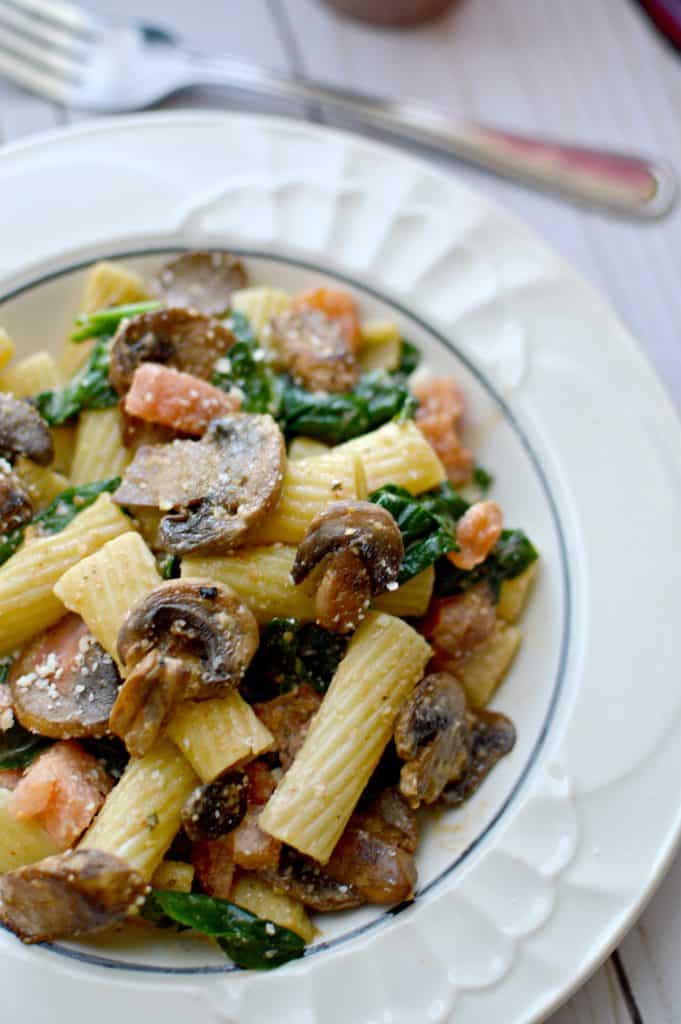 Pin this cajun mushroom & spinach recipe for later!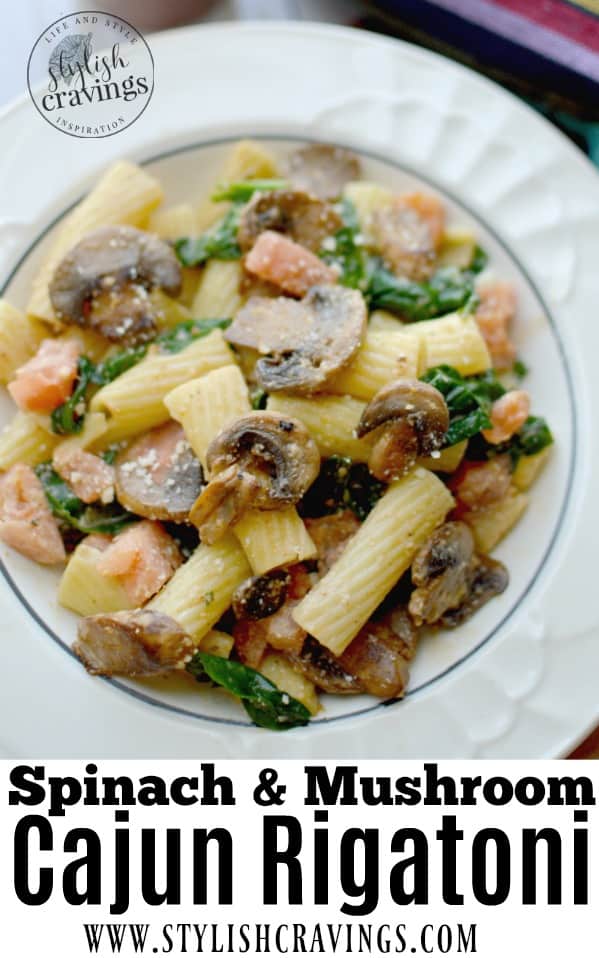 I'm sure most of you guys have had cajun pasta before, what do you normally add to it?
Click on images for more recipes!