Need a fresh idea for a low-carb side dish? Make this low carb cheesy squash casserole for dinner. It's a keto recipe the entire family will chow down on.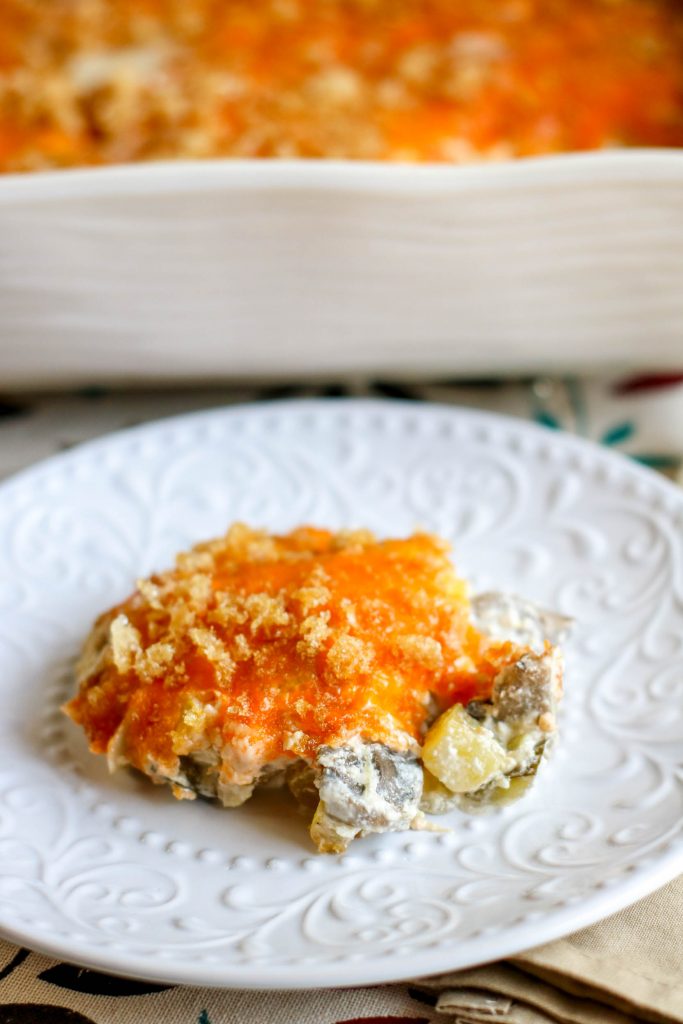 I love low-carb recipes that use fresh, seasonal ingredients. Zucchini and squash are some of my favorites. They are colorful and have so many nutrients. Plus, the cream cheese adds a layer of creamy goodness.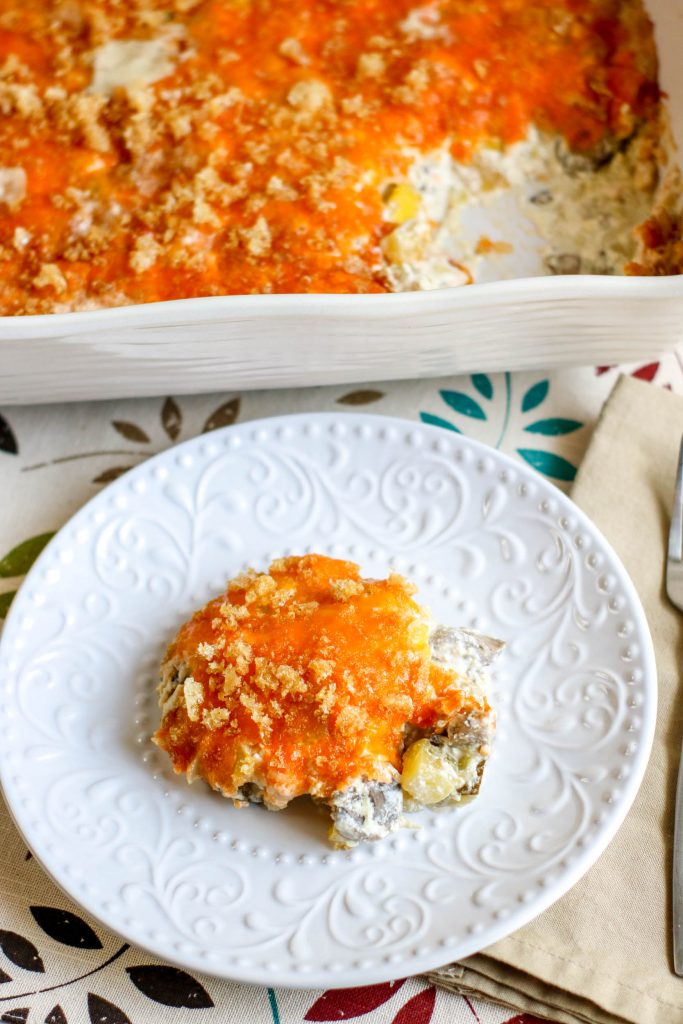 You won't be able to wait to sink your teeth into it.
Low Carb Cheesy Squash Casserole
When I started eating low-carb, I knew that I wanted to create recipes that my family can eat with me. It isn't fun to eat different foods that everyone else all the time. That's why I created something full of fiber and vitamins that will keep me in ketosis and be good for my kids too.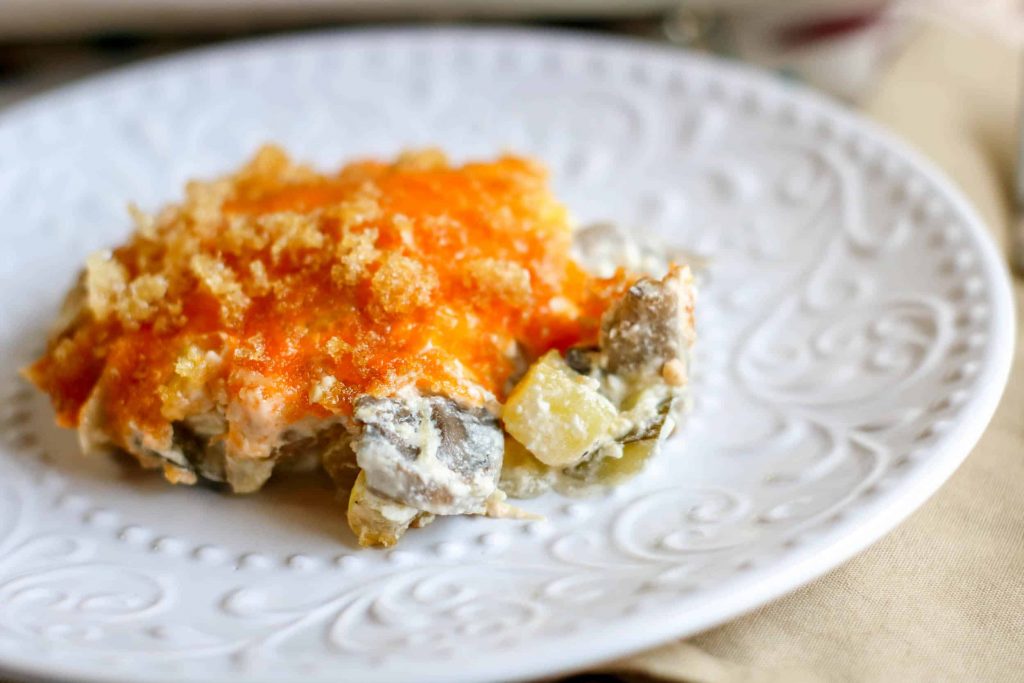 What's In this Low Carb Cheesy Squash Casserole
There are only a few really easy-to-remember ingredients in this recipe. You might already have most of them in your refrigerator.
Squash
Zucchini
Cream Cheese
Shredded cheddar cheese
Pork rinds
Onion
Sliced mushrooms
Sour cream
Garlic powder
The Crunchy Low Carb Topping
Bread crumbs are obviously not low carb, so for this recipe, I used ground pork rinds for the crunchy topping. They add the perfect amount of crunch to the casserole without any additional carbs. Plus, this makes the recipe gluten-free too. You can ground them yourself by crushing them in a plastic storage bag or you can use these Pork Rind Breadcrumbs.
How to Avoid Cutting Up An Onion
I don't blame you, I don't like chopping up onions either. I've heard that using a really sharp knife will lessen the number of tears you get but that's just not enough for me.
If you really want to avoid chopping up an onion, just use an onion chopper or buy frozen diced onions at the store. Saves you lots of time – and tears. Win-win!
Can you use diced garlic?
I prefer to just use garlic powder in this recipe. But if you want, you can use diced garlic too. You can use the same amount for the same taste.
How Long Will Low Carb Squash Mushroom Casserole Last?
Honestly, zucchini and squash recipes that I make with cream cheese don't reheat very well. I'd only keep this in the refrigerator for about a week, max. Try to eat it all up at dinner though, it just tastes a lot better when you eat it fresh.
How to Freeze It
Before you bake it, put the casserole dish in the freezer, sealed tight with a lid. Then, when you are ready to bake the casserole, take it out the night before and let it thaw in the refrigerator. Bake it the next day.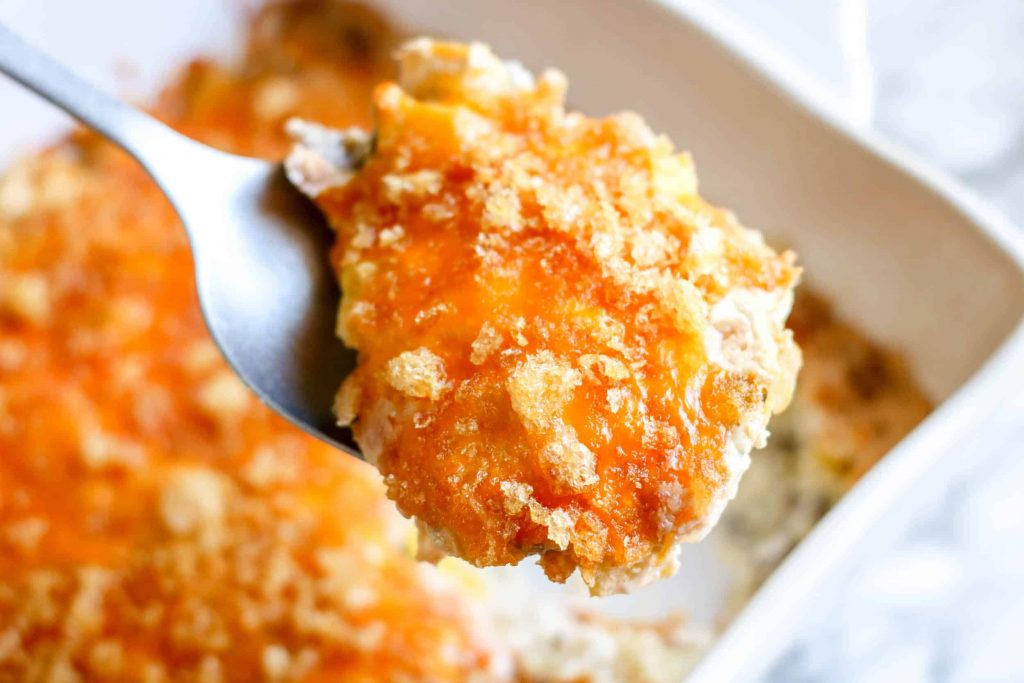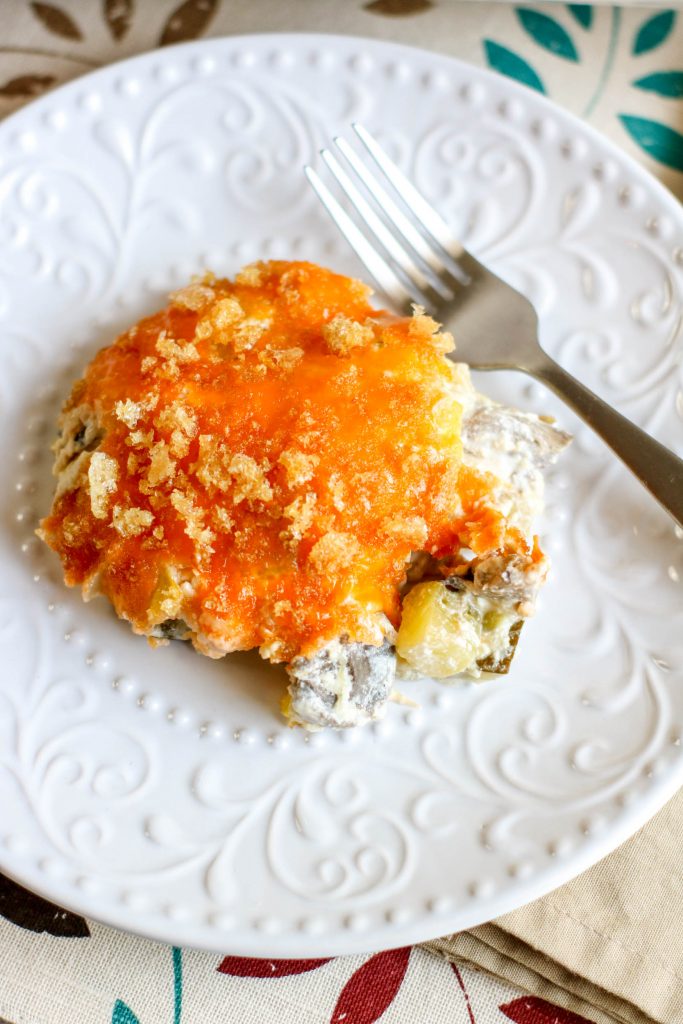 This low carb cheesy squash casserole will last about 3 months in the freezer.
More Low Carb Recipes You'll Love:
Low Carb Beef Cabbage Casserole
Keto Green Bean Casserole
Other Veggies To Add to the Casserole
This is a really basic casserole that will taste amazing with other vegetables too. Try mixing in some of these.
Fresh chopped green beans
Broccoli Florets
Cauliflower Florets
Jalapenos
If you're not on a low carb you may even choose to toss in some corn!
Make It A Main Dish
If you want to turn this casserole into a one-dish meal, just add some shredded chicken, or pork. You will love how this turns out. The shredded meat just melts right in with the veggies and cheese.
Ingredients:
1 yellow squash, diced in 1 inch pieces
1 zucchini, diced in 1 inch pieces
Sliced mushrooms – 8 ounce Package
1 onion, chopped
Salt and pepper as desired
2 tablespoons olive oil
8 ounce package cream cheese, room temperature
½ cup sour cream
½ teaspoon garlic powder
2 cups shredded sharp cheddar cheese
1 cup crushed pork rinds
Instructions:
1. Preheat oven to 350 degrees. Spray a casserole dish with non-stick cooking spray.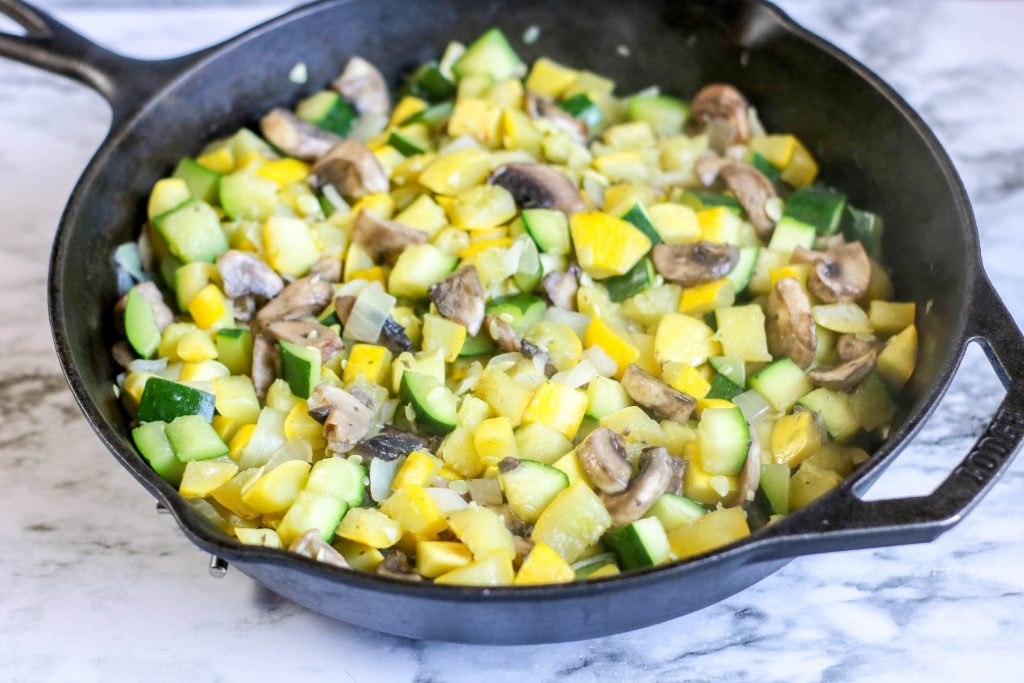 2. In a large skillet, heat olive oil over medium-high heat. Add vegetables and cook until tender but not falling apart. Drain well.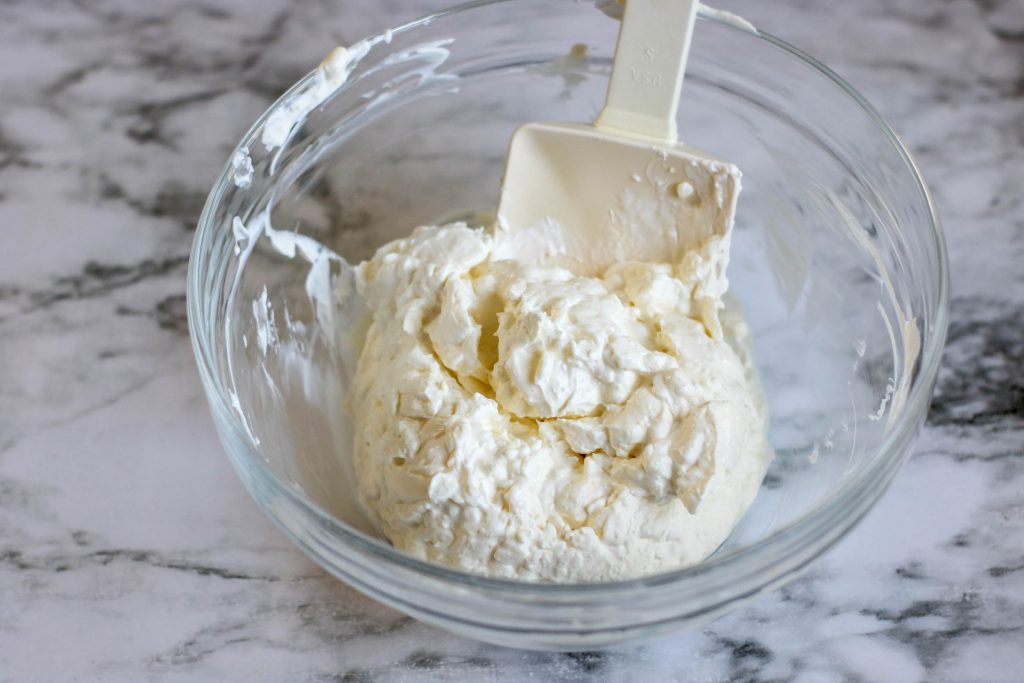 3. In a large bowl, stir together cream cheese, sour cream, and garlic powder. Mix well.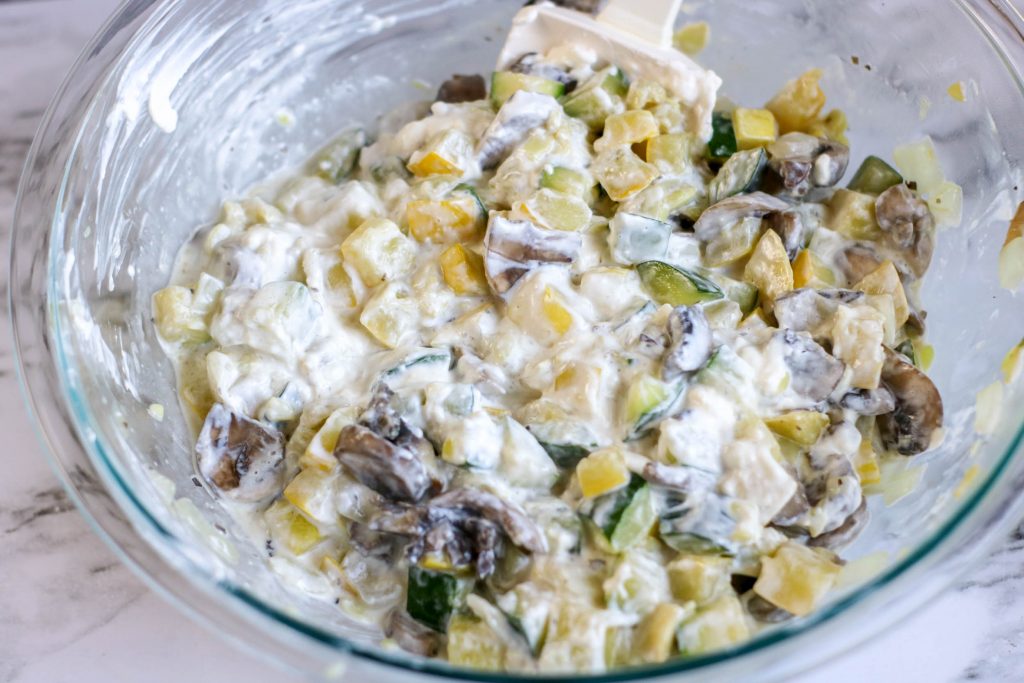 4. Fold in vegetables and stir gently to combine. Transfer mixture to casserole dish and spread evenly.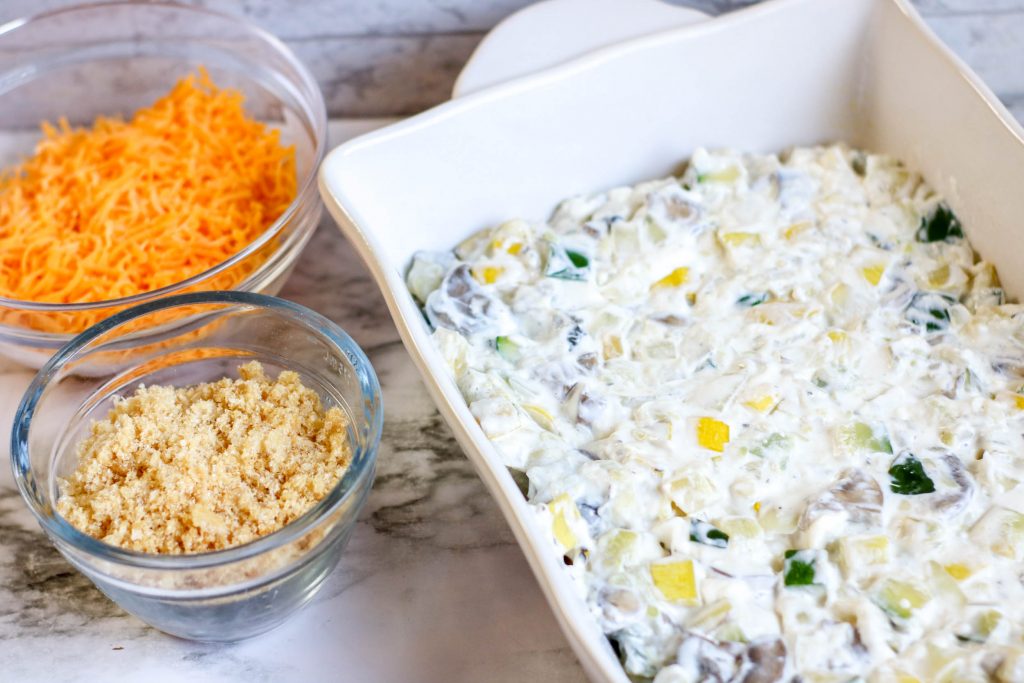 5. Top casserole with shredded cheese and pork rinds.

6. Bake until cheese has melted (around 30 minutes).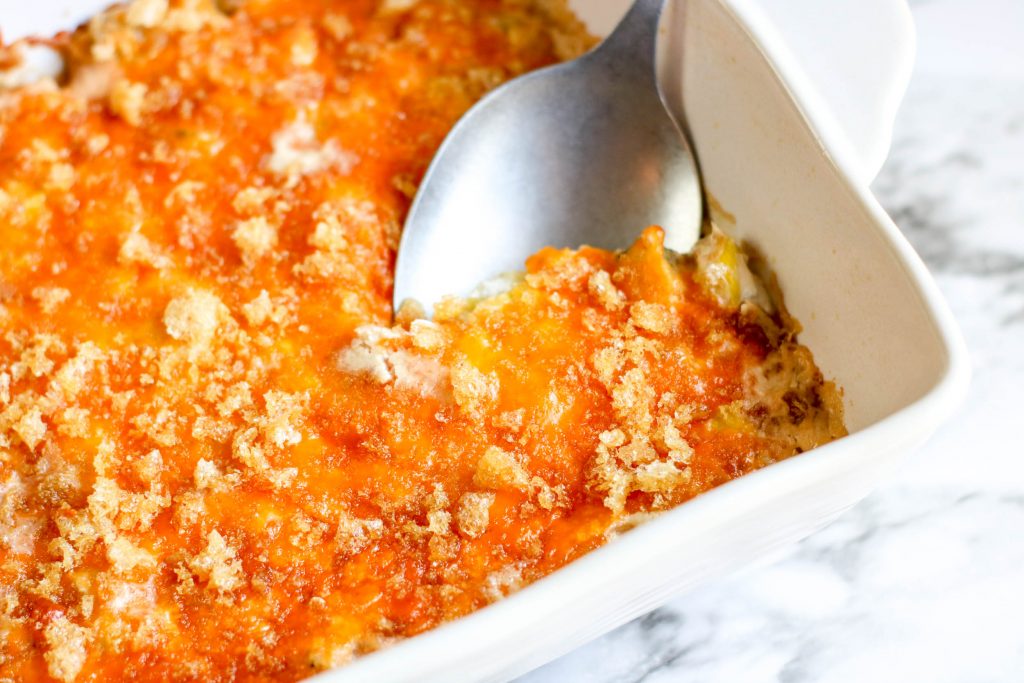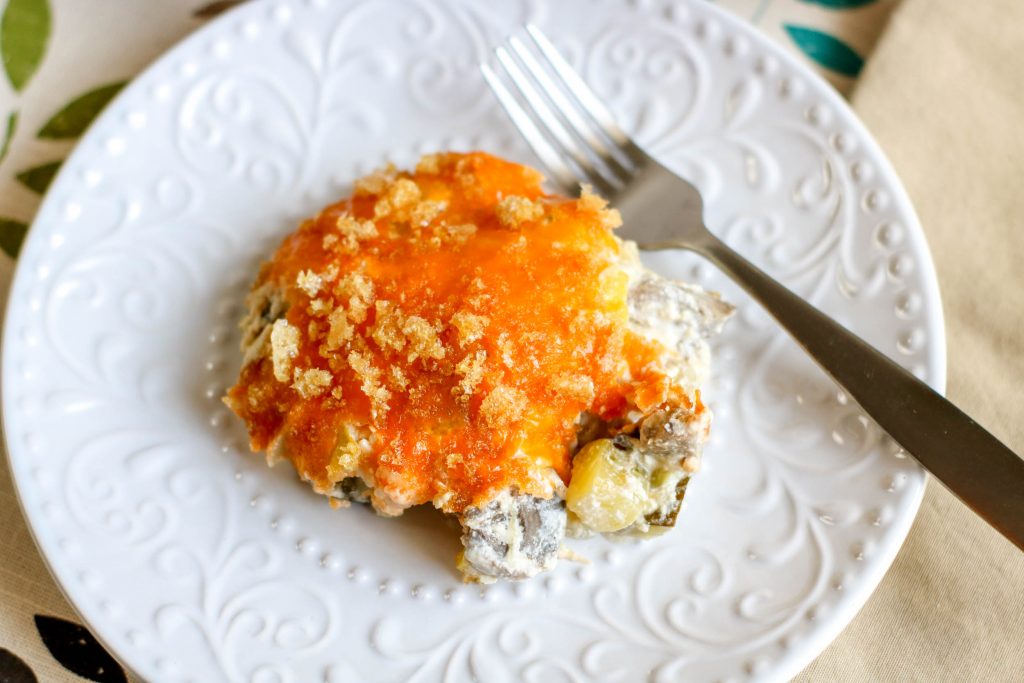 Pin for later!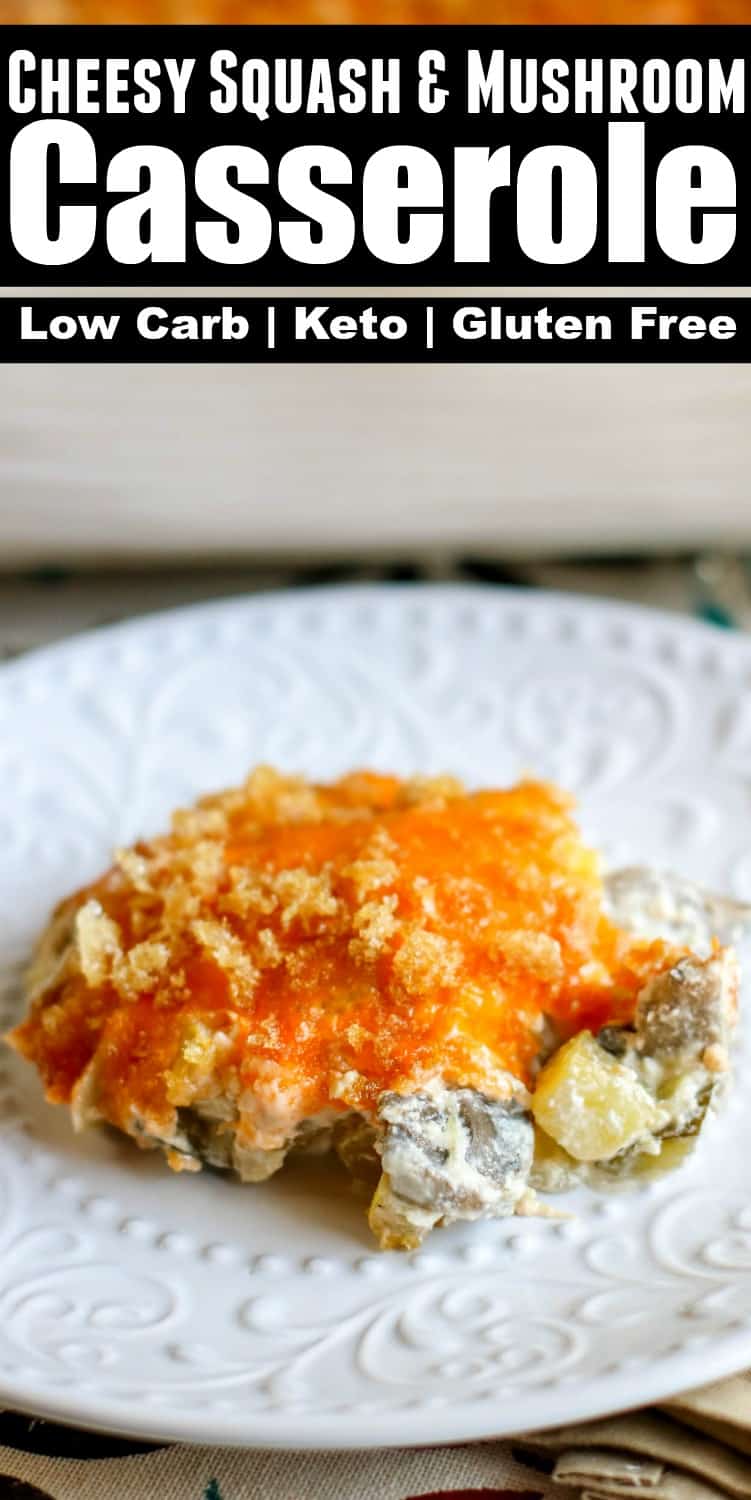 Follow me on Pinterest!