This low carb zucchini frittata recipe has tons of flavor without hardly any of the carbs. It's the perfect low carb brunch recipe.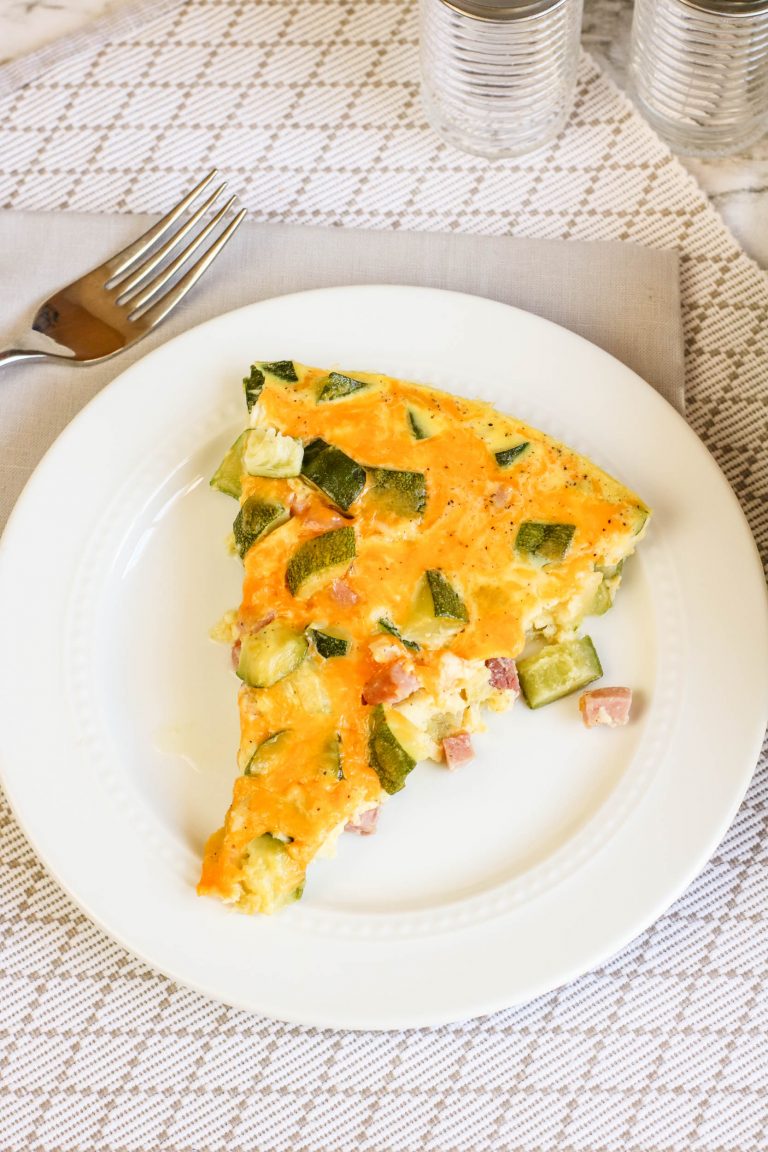 It's so easy to want to cheat when you are having a brunch with your friends. All those rolls and breakfast foods always have so many carbs. This recipe was made out of necessity.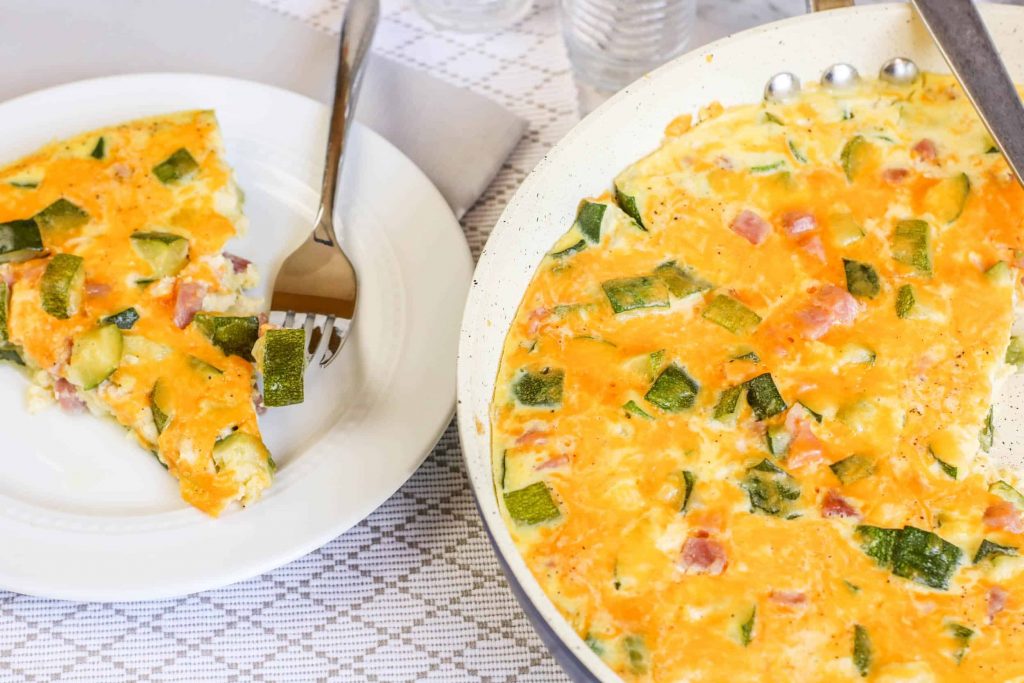 I love breakfast so much and knew there had to be a way to make something that tastes amazing, looks even better, and is low-carb too.
More Keto Brunch Recipes
Want more low-carb breakfast and brunch recipes? Here you go! Make these next, you'll love them.
Zucchini Fritters

Keto Blueberry Muffins

Easy Keto Bread
What Is A Frittata?
People also call frittatas crustless quiche. It's basically an Italian baked egg dish. There are lots of different ways to make it. My way uses veggies including zucchini.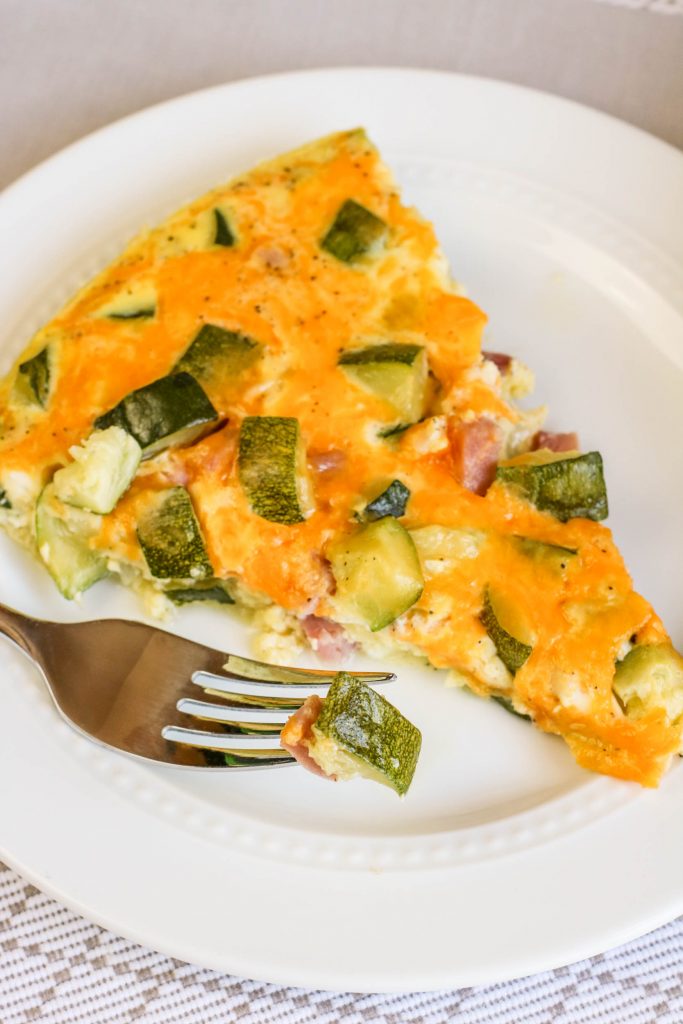 How To Make Low Carb Zucchini Frittata
This recipe is packed with whole foods that will fuel your body and keep you full until your next meal. In fact, it's so easy to make that you'll want to whip this up for breakfast during the week too!
Ingredients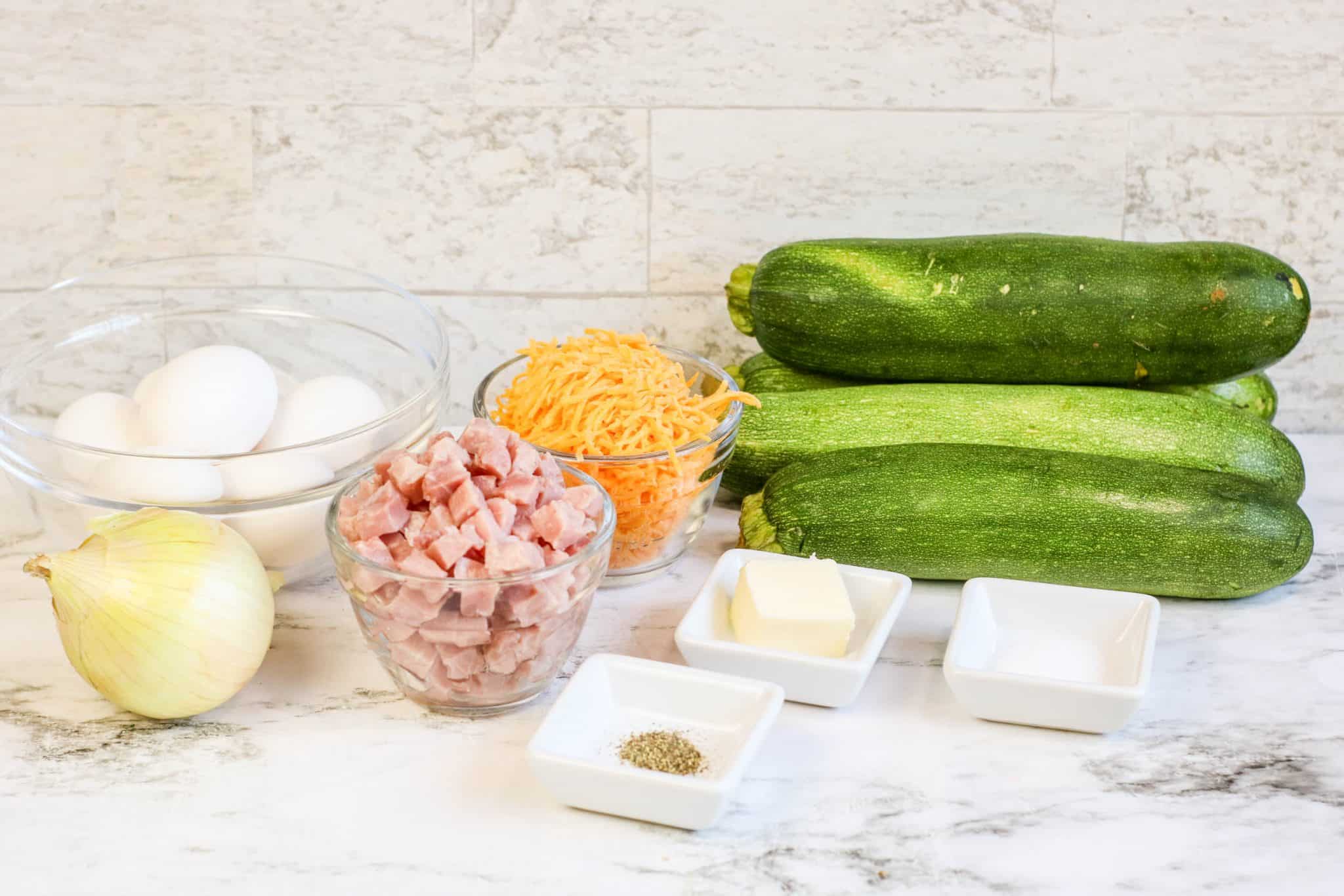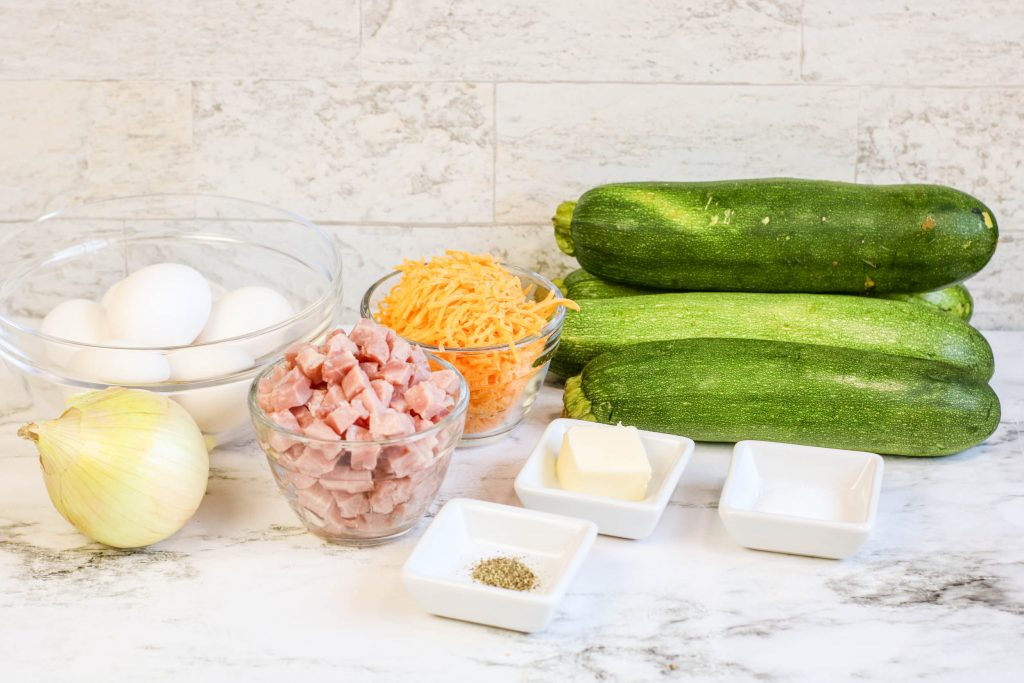 I used simple ingredients that are found right in your refrigerator. Here's what I used, including other substitutions you can make.
Zucchini – I diced my zucchini. If you don't have time, you can buy frozen diced zucchini too. You can also substitute yellow squash for it.
Butter – Real butter is much better for your body than margarine, but margarine can work in a pinch.
Onion – I diced up white onion. A purple onion will have a stronger flavor. You can also save time and buy diced onion in the freezer section.
Eggs – The size of the eggs doesn't matter, just use whatever eggs you have in your refrigerator.
Milk – If you are lactose intolerant, you can use any non-dairy milk that you have instead.
Ham – Dice up any ham that you have in your fridge. You can use leftover holiday ham, country ham, or even deli meat.
Cheddar Cheese – Substitute with pepper jack cheese if you want to add a little bite to your frittata.
How To Store Low Carb Zucchini Frittata
This is a fantastic recipe for meal prep because you can store it in both the refrigerator and freezer. It's easy to reheat it in the oven when you need it.
If you want to freeze it, cook it and let it cool completely. Then, store it in an airtight container and put it in the freezer. It will last about 2-3 months in the freezer.
Frittatas will last about a week in the refrigerator. They really taste the best fresh out of the oven.
Low Carb Zucchini Frittata Recipe
Here's how to make the low carb zucchini frittata. Don't forget to pin this post so you can find it later!
3 to 4 zucchini, cubed
1 tablespoon butter
Small white onion, diced
6 large eggs
2 tablespoons milk
¾ teaspoon salt
¼ teaspoon black pepper
Cooked ham – 1 cup cubed
1 cup shredded cheddar cheese
1. In a large (12 inch), non-stick skillet over medium-high heat, melt the butter. Add the zucchini and onion. Cook, stirring often, until the zucchini and onion are softened.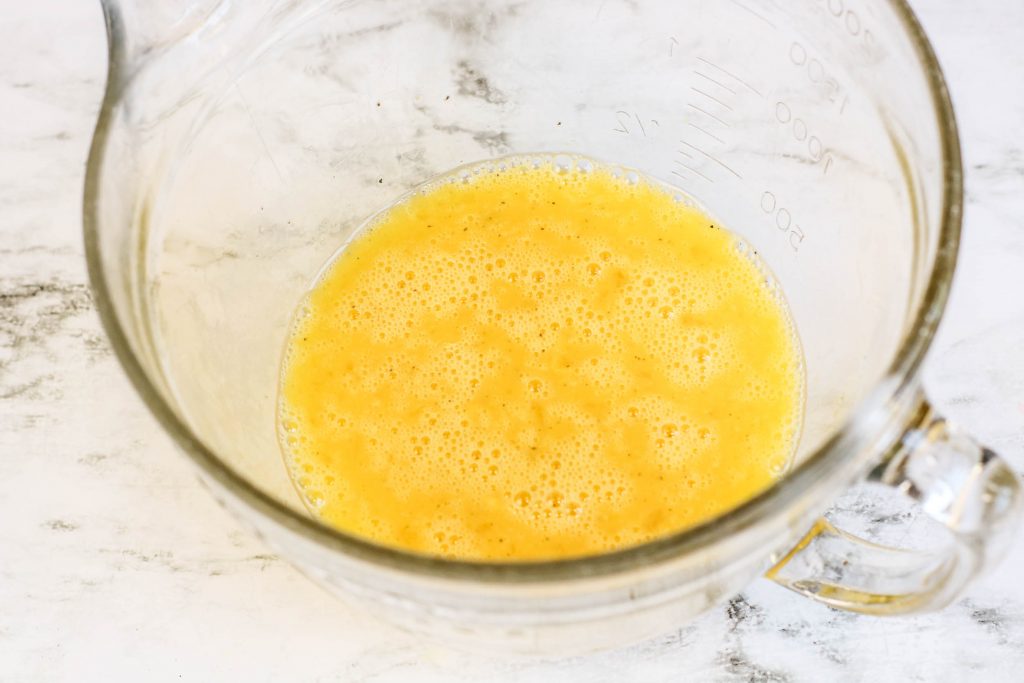 2. Stir in the ham and heat through. Drain off any liquid.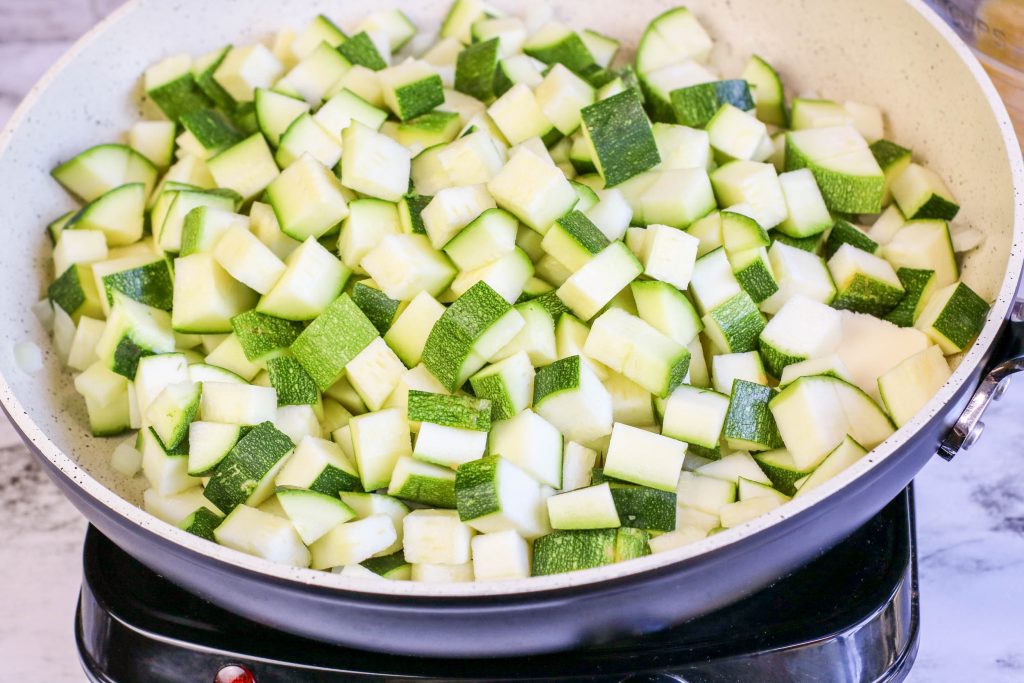 3. In a large bowl, whisk together the eggs, milk, salt, and pepper.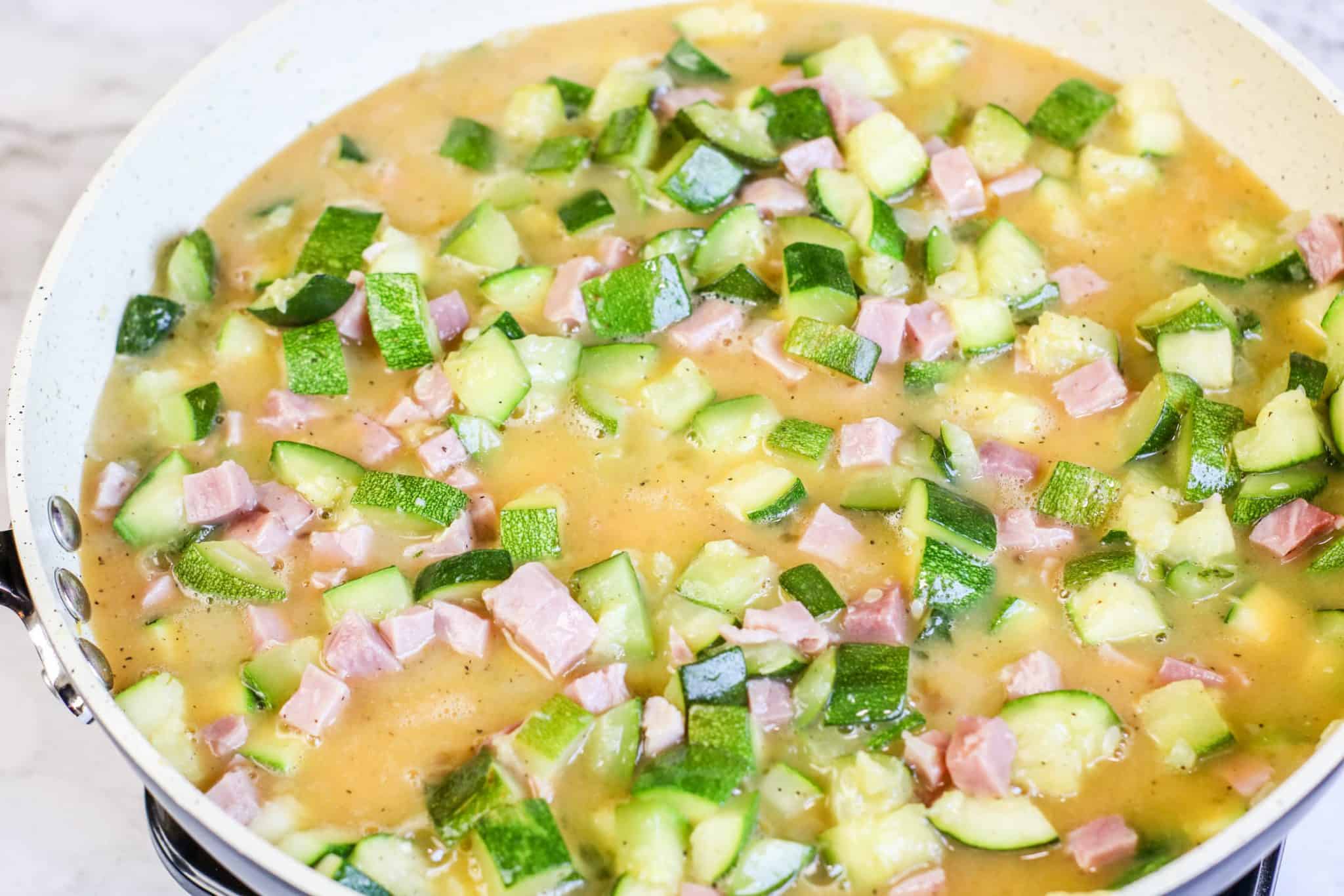 4. Pour the egg mixture evenly over the ham and vegetables. Cover the skillet and reduce heat to low.

5. Cook until the eggs are set and begin to puff in the middle of the pan. Remove from heat.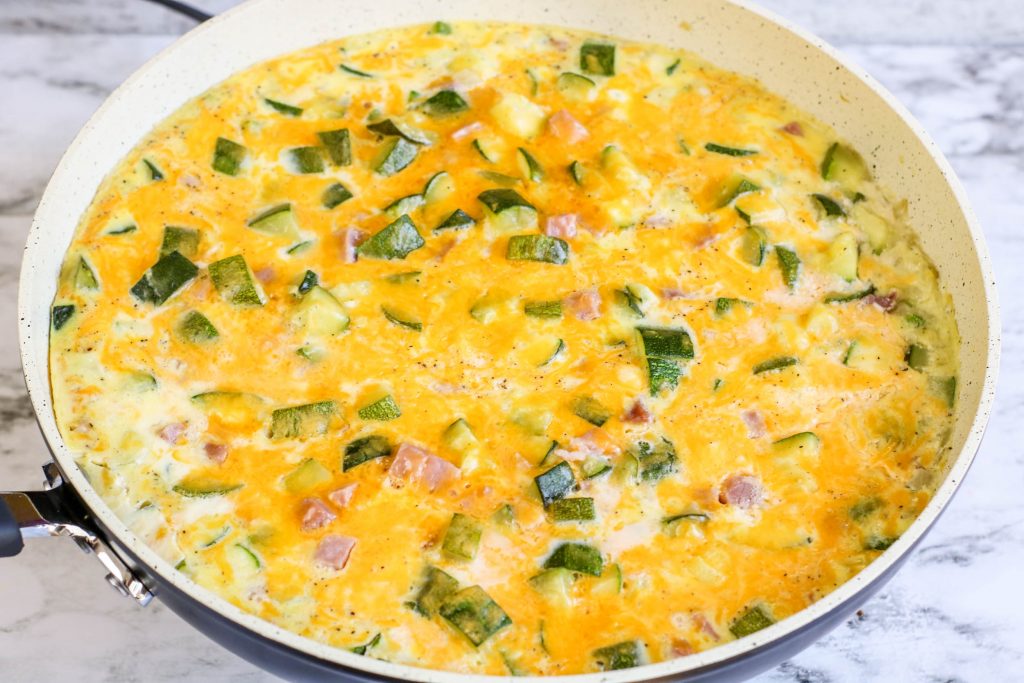 6. Top with the cheese and cover until the cheese has melted.
Pin for later!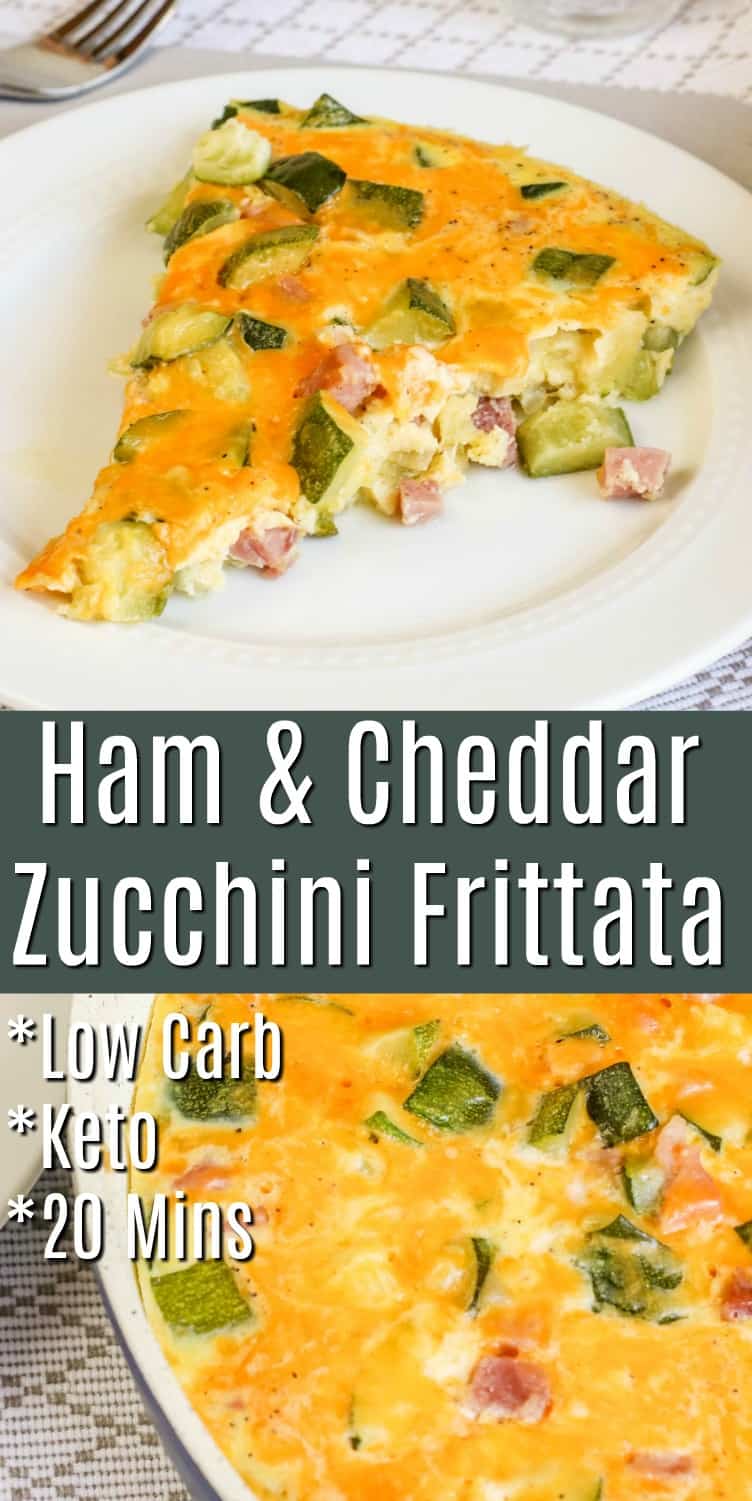 Follow me on Pinterest!