These classic stuffed peppers are easily made in the Instant Pot! No prep work needed just stuff peppers, and cook! Scroll down for the Instant Pot stuffed peppers recipe!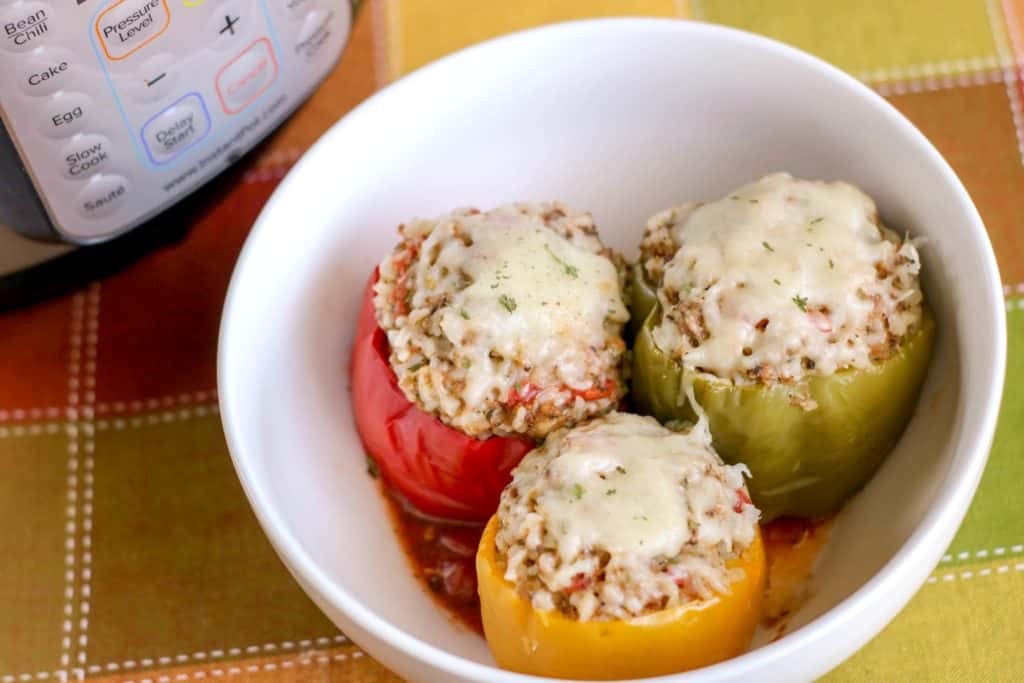 I'd like to say that dinnertime is less hectic during the summer but in reality, it's just as busy as any other time. In fact, I think in some ways it's busier because there's always some type of activity going on. I try to keep takeout to a minimum and instead rely on easy tasty recipes that everyone loves.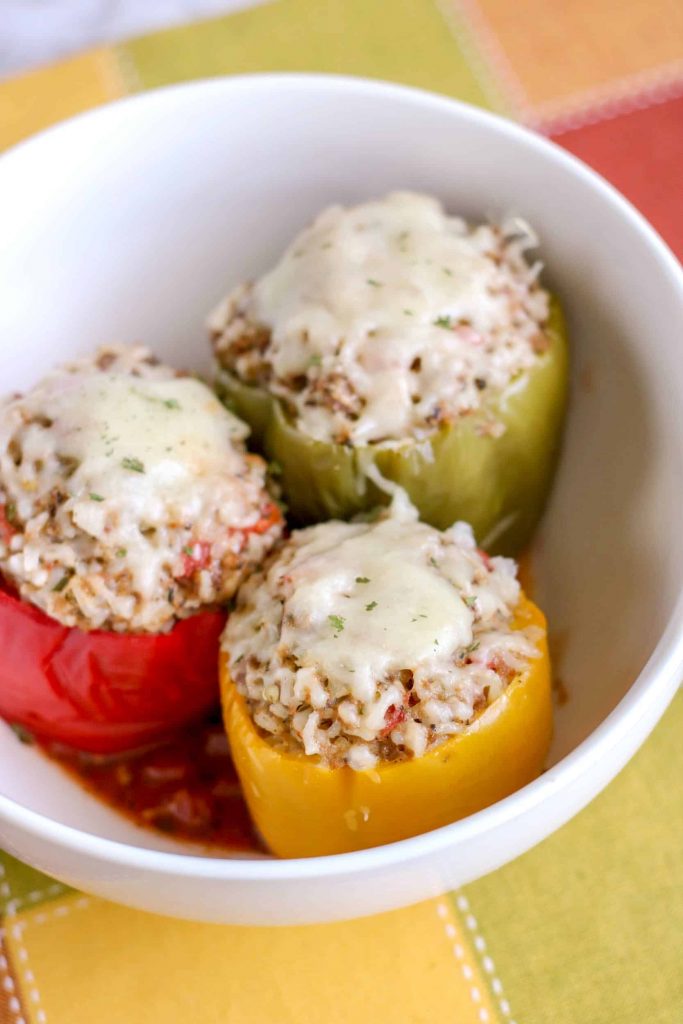 Our latest favorite: Instant Pot stuffed peppers! I'm not sure what took me so long to make instant pot stuffed peppers! It seriously doesn't get any easier or more delicious! This classic stuffed peppers recipe has a cheesy beef and rice mixture that's full of flavor!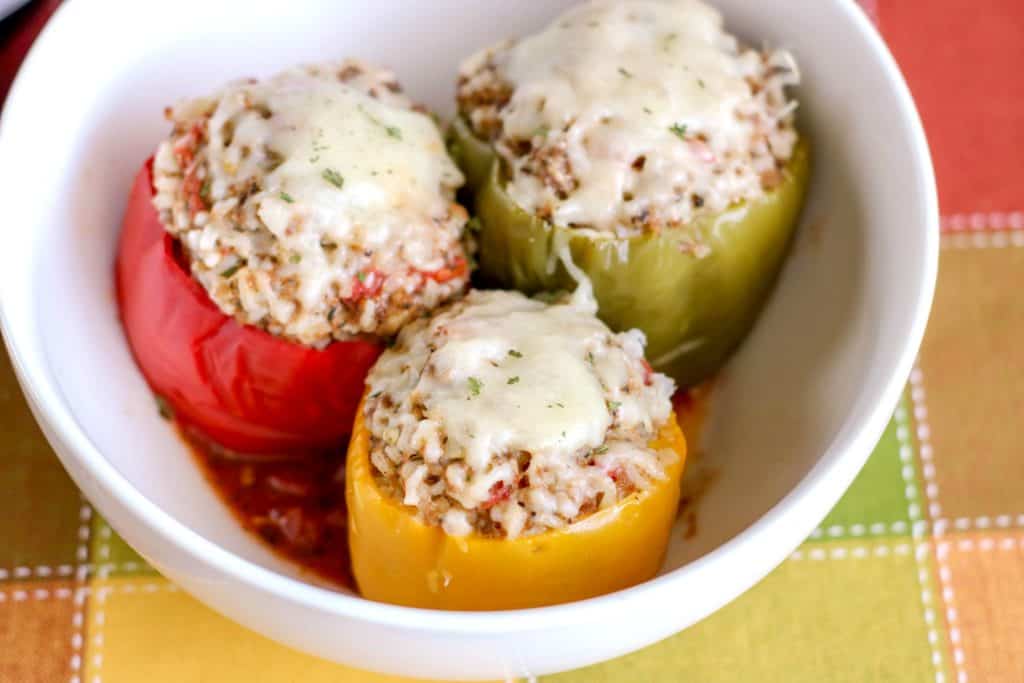 Low carb option
For my family I use rice but these stuffed peppers can easily be made low carb by swapping rice with cauliflower rice (microwavable cauliflower rice saves time and taste just as good as homemade) and using pork rinds in place of bread crumbs!
Want to make this recipe and still have a low carb serving for yourself? Follow step 4 below and before adding rice scoop out a small portion of the mixture and mix with cauliflower rice.
More Instant Pot Recipes You'll Love:
Instant Pot Asparagus Soup
Street Taco Instant Pot Recipe
Easy Instant Pot Italian Sausages & Peppers
Keto Instant Pot Beef Stew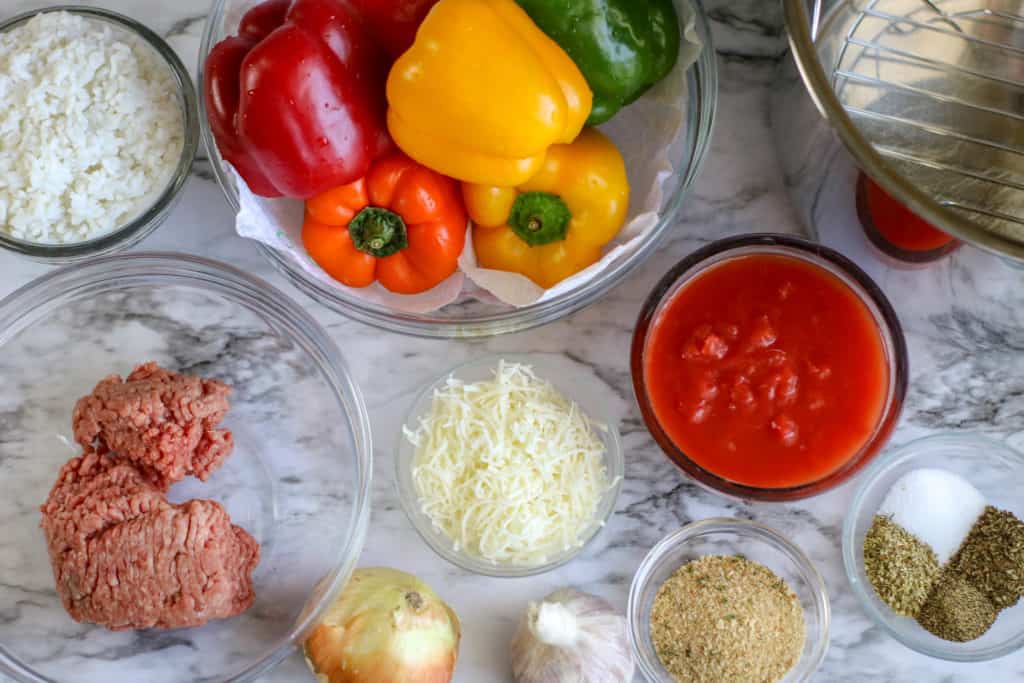 Ingredients:
Medium bell peppers – 4 to 6
Cooked rice – 2 cups
Ground chuck – ½ pound
Water – ½ cup
Can diced tomatoes, divided – 1 (14 ounce)
Onion, finely diced
Garlic, 1 minced cloves
Italian bread crumbs – 3 tablespoons
Shredded mozzarella, divided – 1 cup
Seasoning
Salt – 1 teaspoon
Black pepper – 1 teaspoon
Basil – 1 teaspoon
Dried oregano – 1 teaspoon
Instructions:
1. Remove the tops, core, and seeds from each bell pepper.
 Tip: poke holes into peppers before stuffing to allow fat to run out.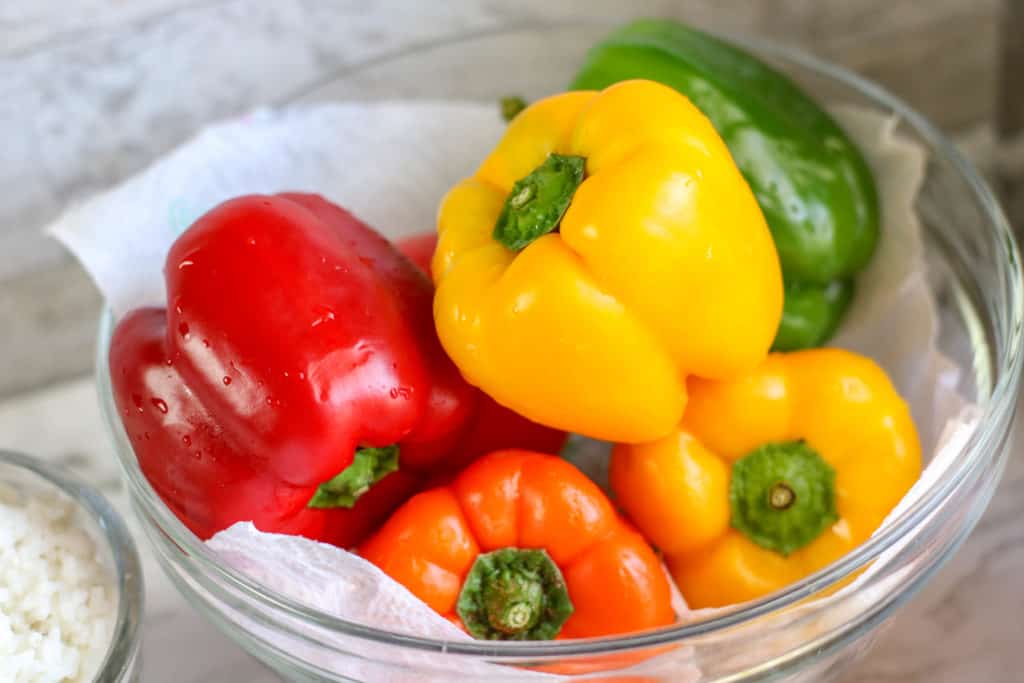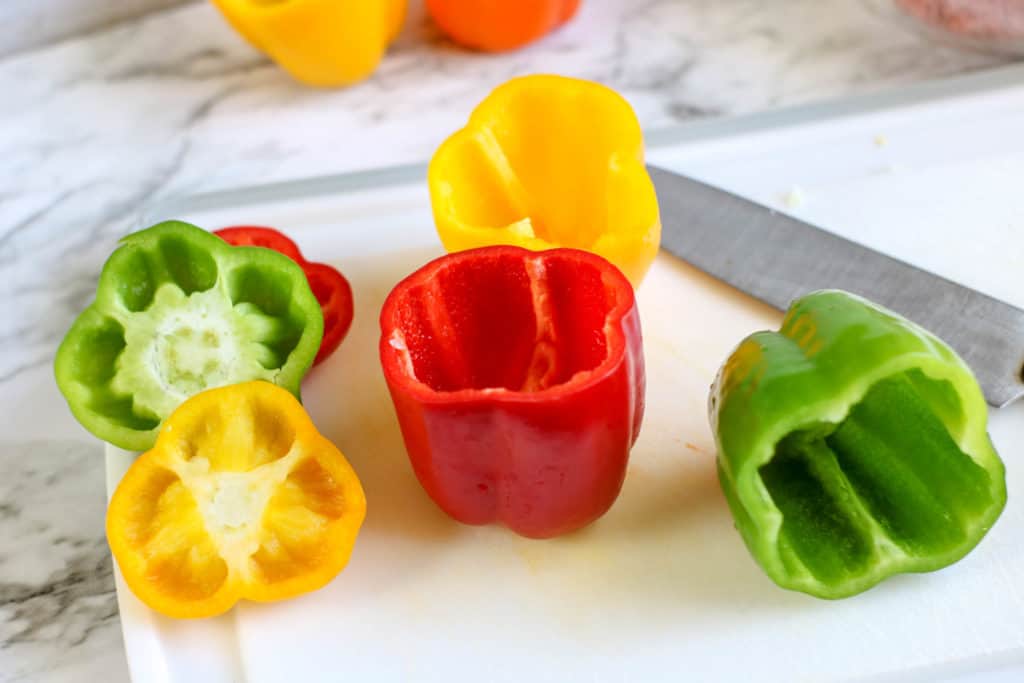 2. In a small bowl, stir together salt, black pepper, basil, and oregano. Measure 1 teaspoon and set aside for the sauce.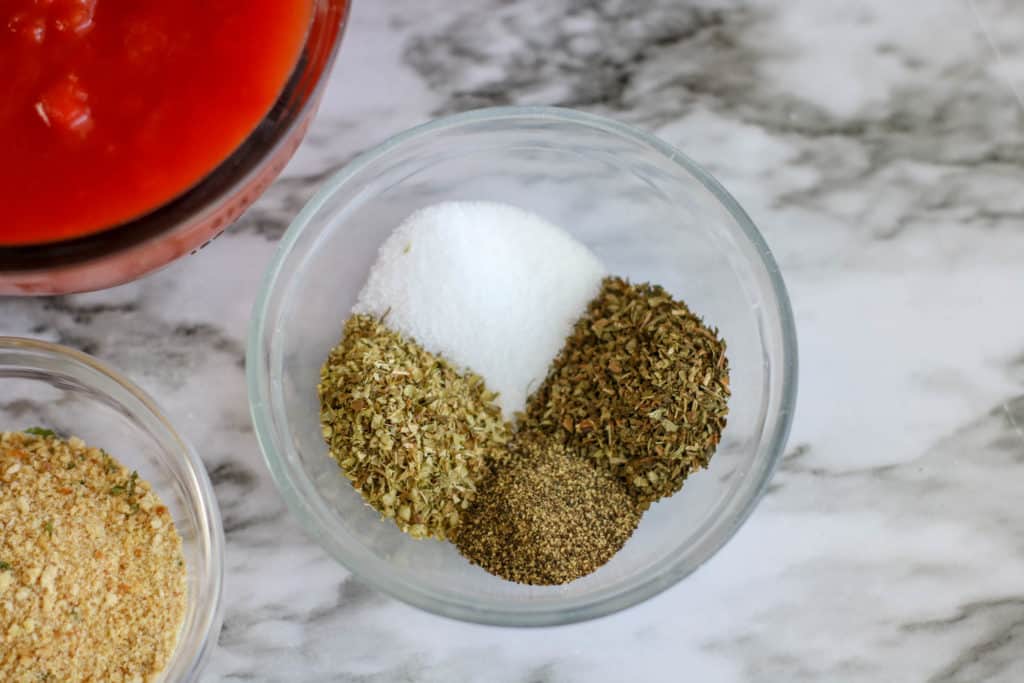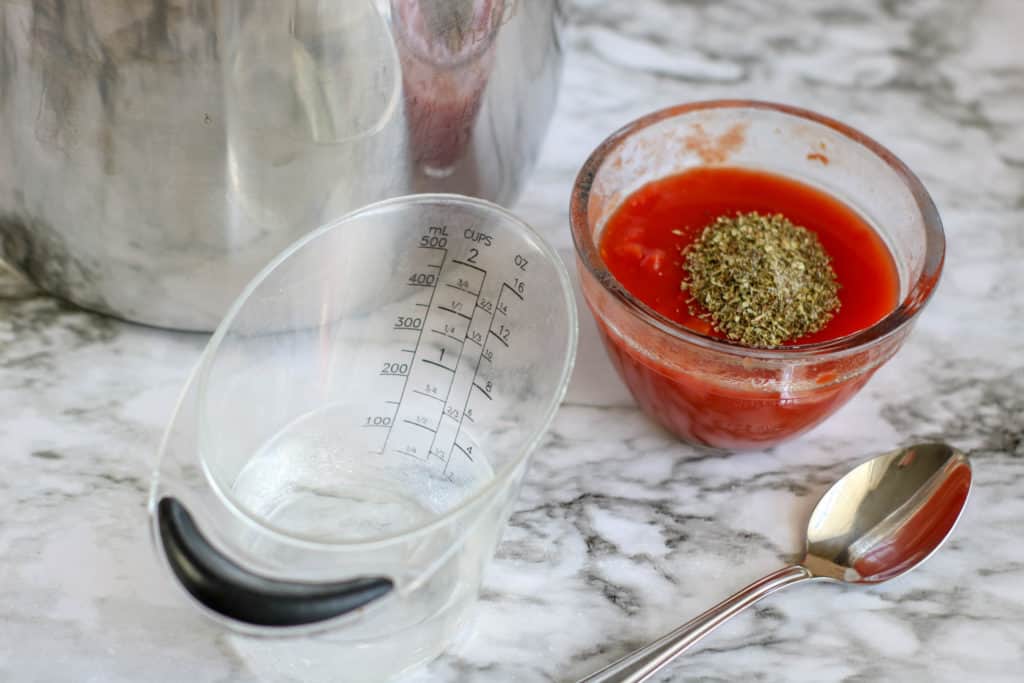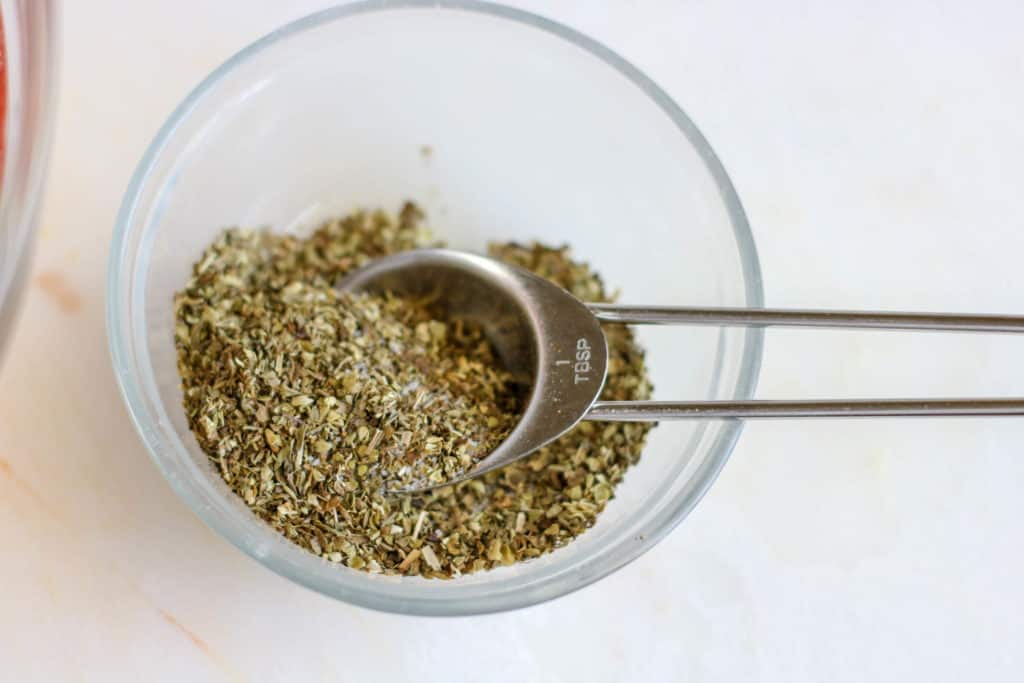 3. Using a slotted spoon remove about ¼ cup of the diced tomatoes from the can and place in a large bowl. Pour remaining tomatoes and juice into the liner of the electric pressure cooker. Stir in water and 1 teaspoon dried seasonings. Add the trivet over the sauce.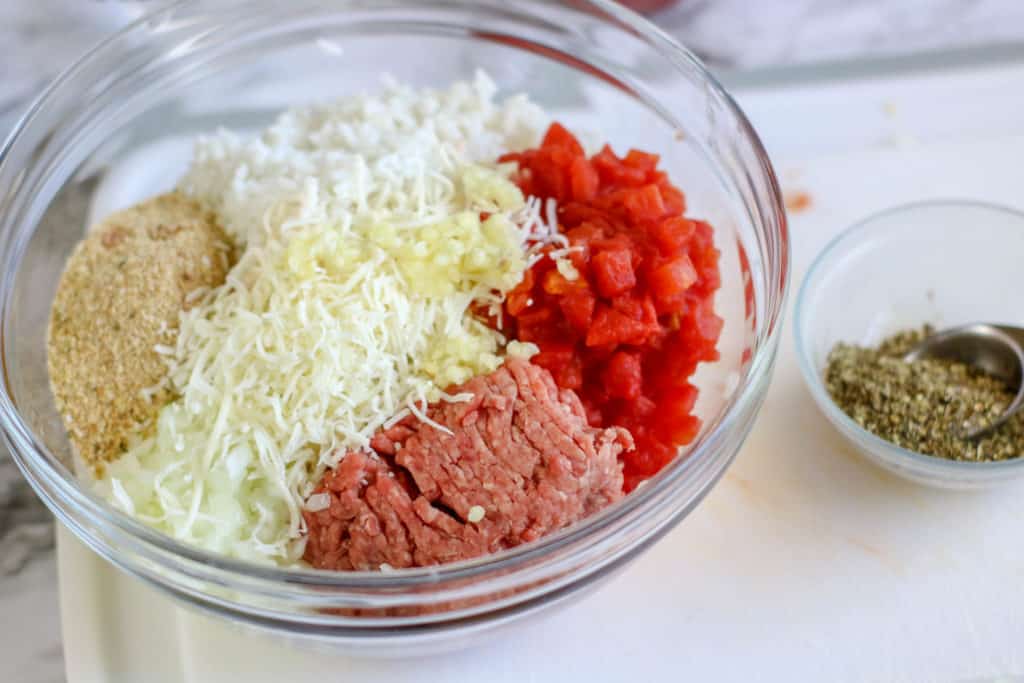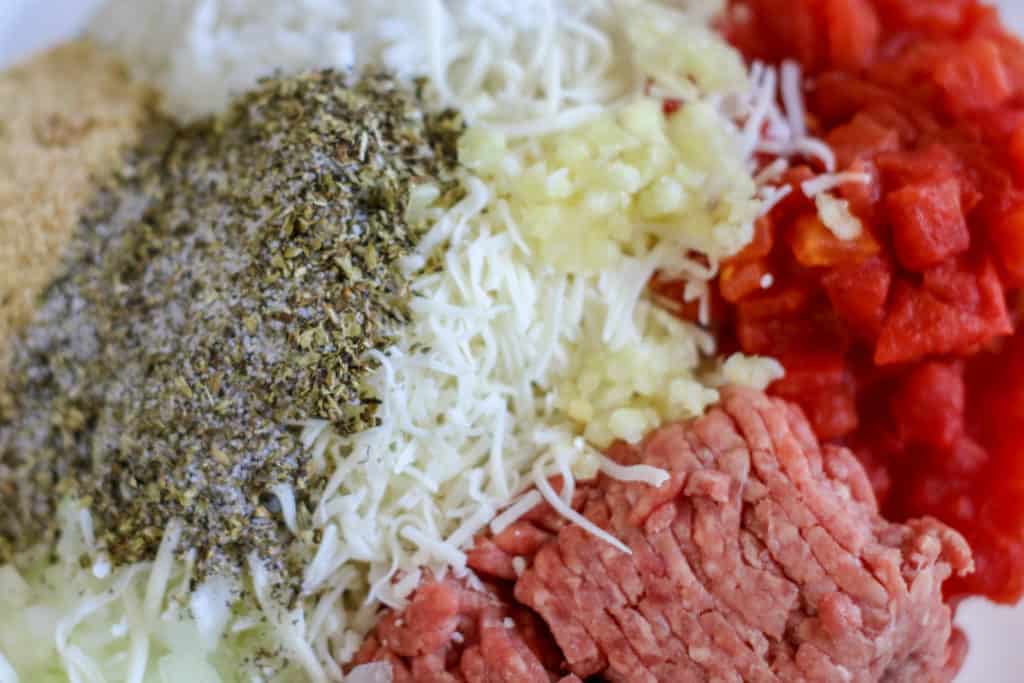 4. In the large bowl with the strained diced tomatoes, add the ground chuck, onion, garlic, remaining, dry seasonings, rice, bread crumbs, and ½ cup mozzarella cheese. Blend together well with hands. Divide into equal portions according to the number of bell peppers.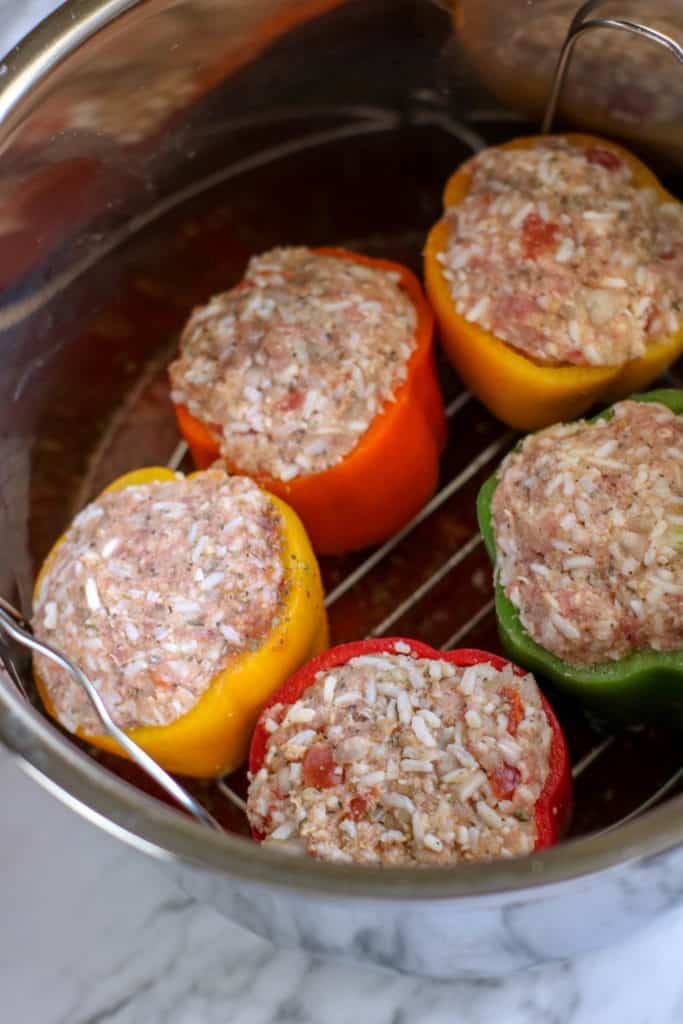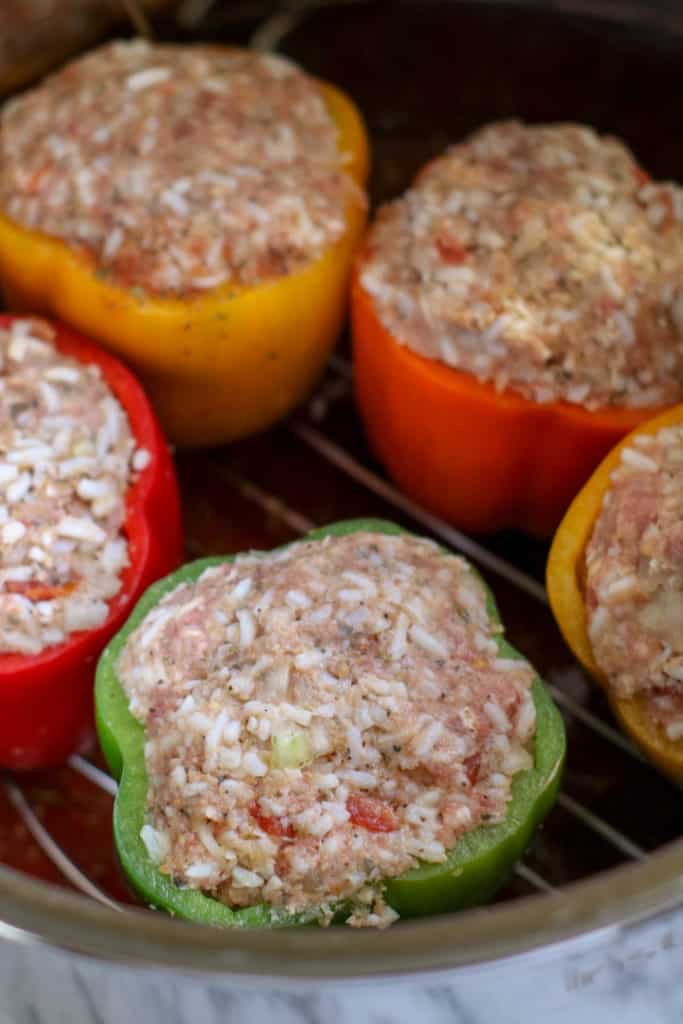 5. Stuff the meat mixture into each bell pepper. Position bell peppers on the trivet inside the electric pressure cooker.
6. Close the pressure cooker and set the value to sealing. Set the pressure cooker to manual or pressure cook on high for 8 minutes. When the cycle is complete, allow the electric pressure cooker to release naturally for 6 to 8 minutes before quick release.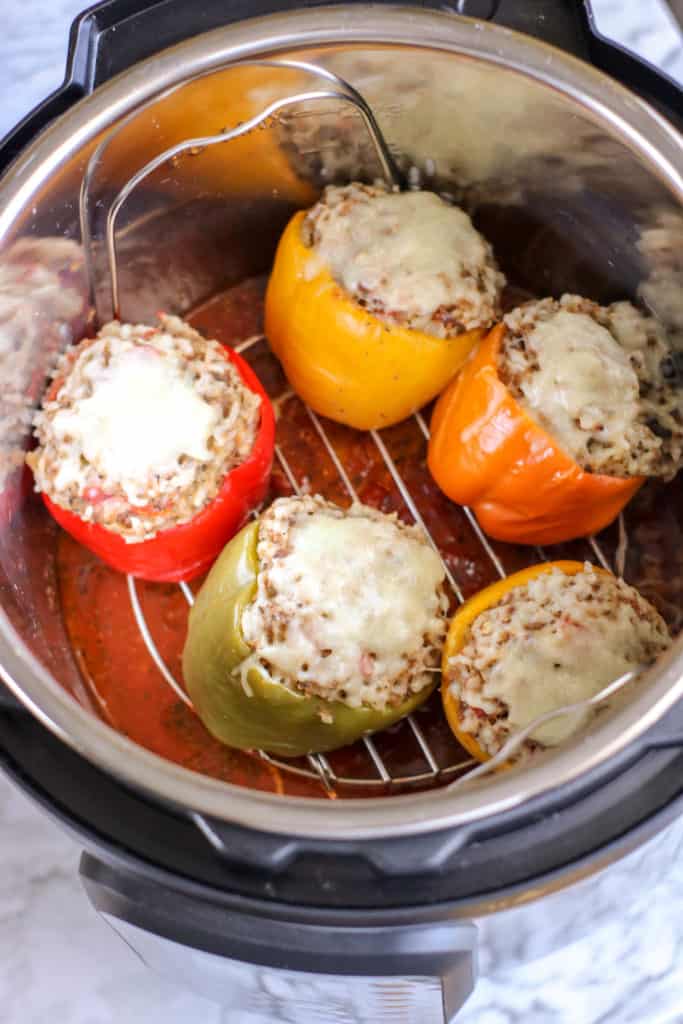 7. Top each pepper with remaining cheese and cover until melted.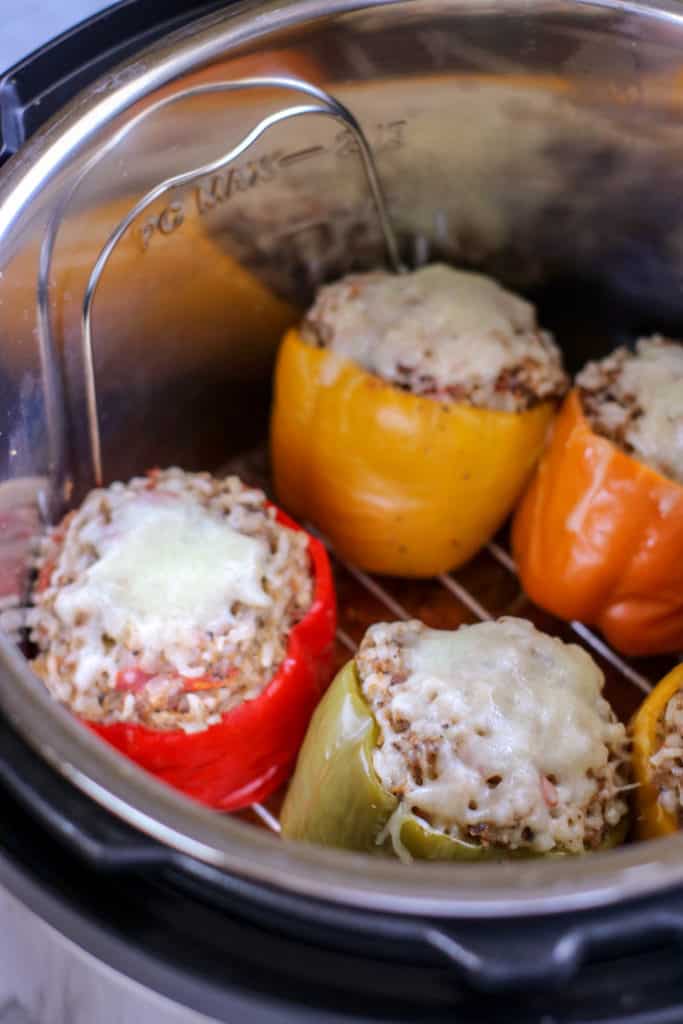 8. Carefully remove the bell peppers from the pressure cooker. (Long handled tongs are especially useful.) Spoon sauce over peppers and serve.
Pin for later!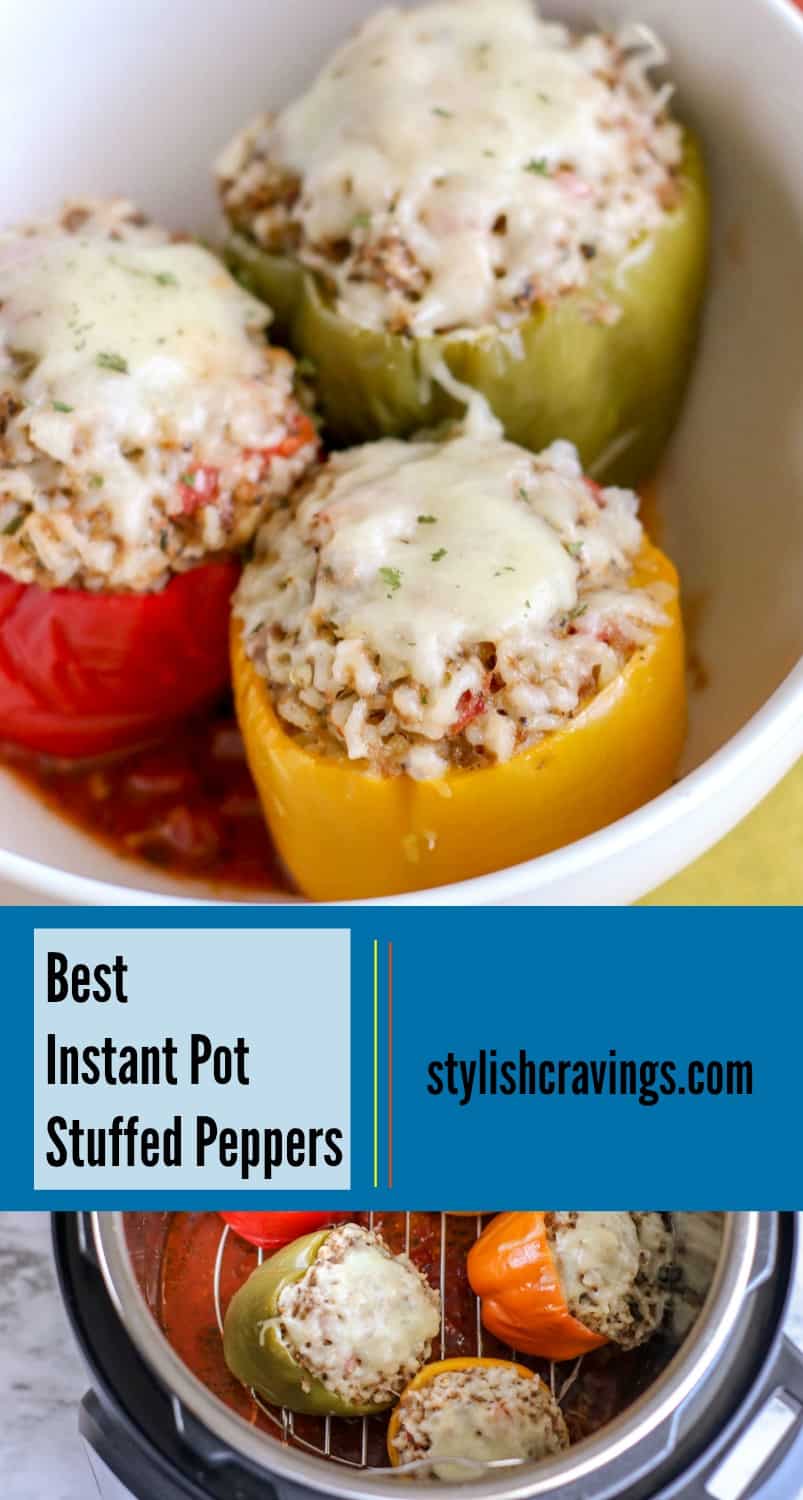 Are you following me on Pinterest? Click here to follow me! I share tons of easy Instant Pot recipes and much more!