With the kids back in school, I find myself relying more and more on easy to make ahead casseroles. This easy low carb broccoli egg bake is perfect for meal planning, and even for a holiday breakfast gathering! Scroll down for the easy Keto Broccoli Egg Bake recipe!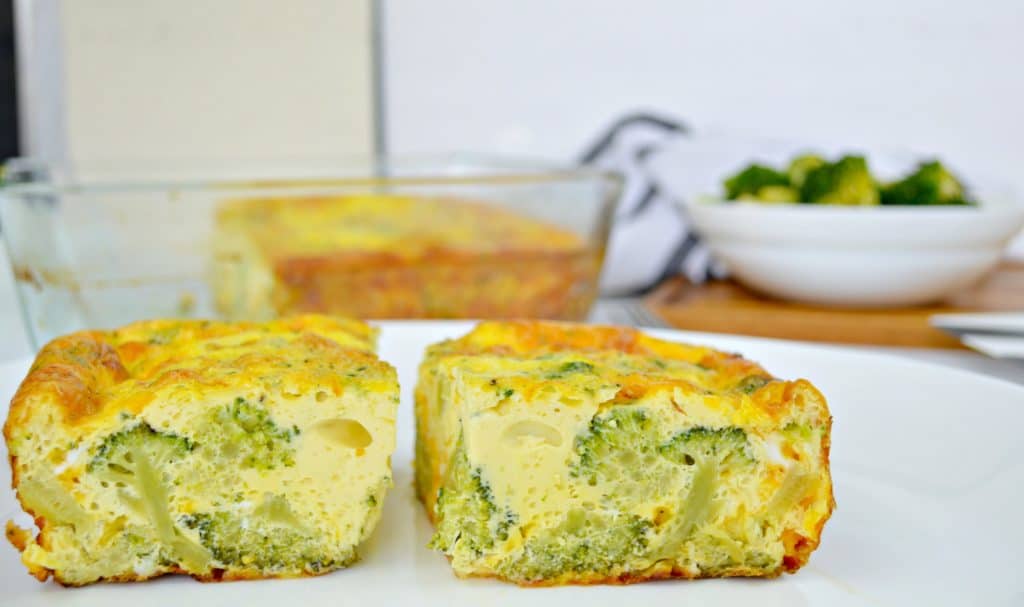 I probably say this every year, but I feel like time is just flying by! I'll be meal prepping for the next couple of busy holiday months. It's such a huge time saver, and it also makes it easier for me to stay on track.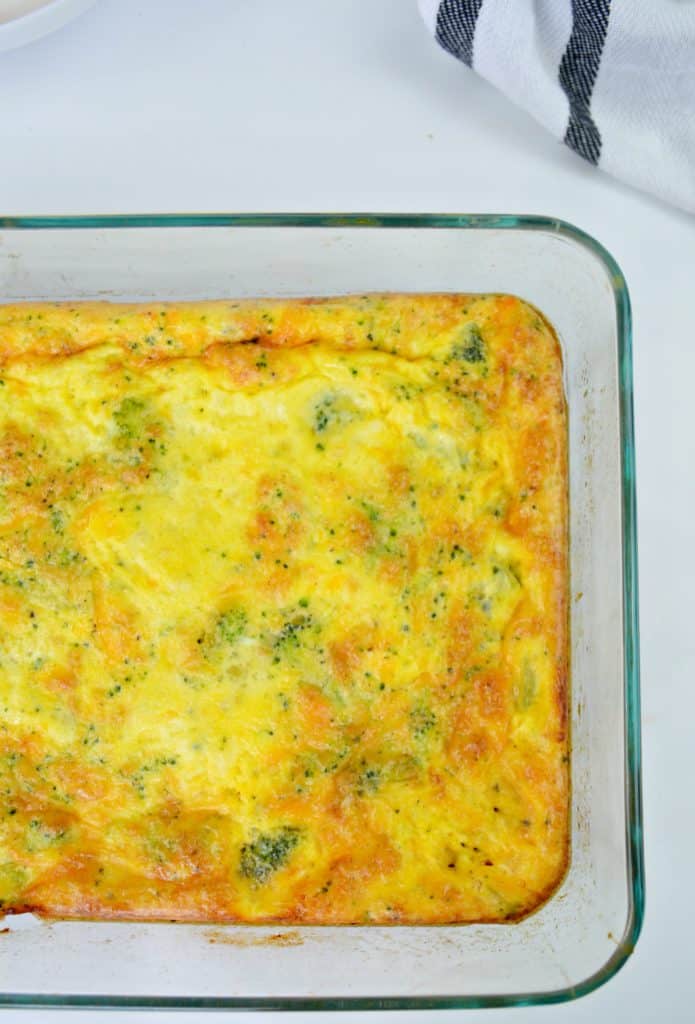 I've finally pushed past my plateau and started losing weight again and I don't want the holidays months to deter me from hitting my goal of losing another 20 pounds.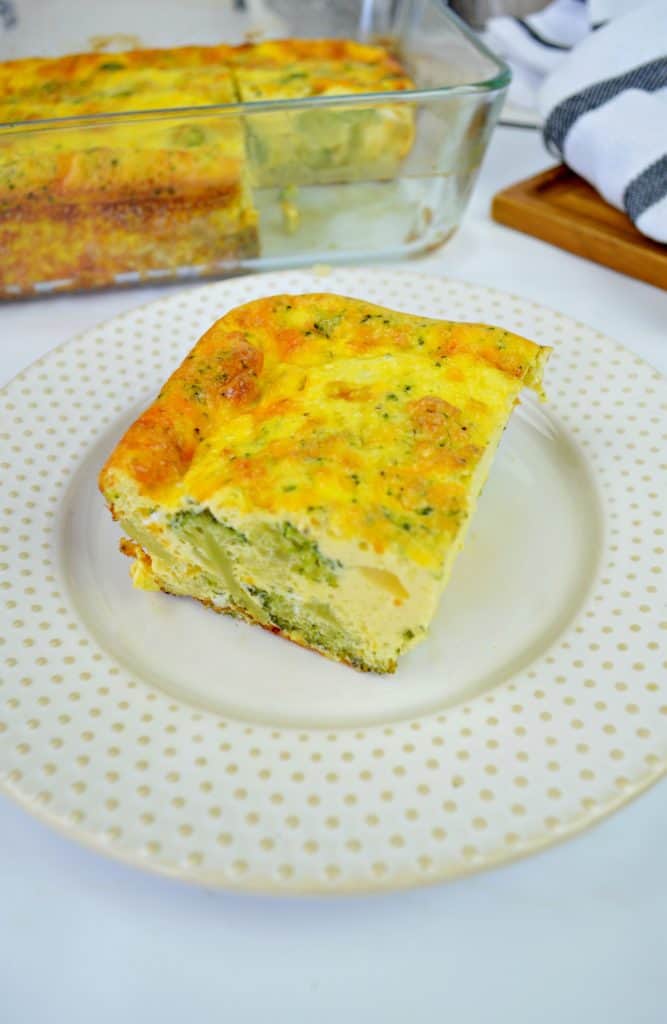 Easy Keto recipes like this Keto Broccoli Egg Bake are so convenient to have made and stored in the fridge! It easily gives me almost a week's worth of breakfast and when I'm having a busy workday I even grab a slice for lunch!
More Keto Recipes You'll Love:
Blueberry Keto Muffins
Fluffy Keto Ricotta Pancakes With Pecans
Looking for another Keto Breakfast idea? Check out the five different ways you can make these dairy free  Keto waffles!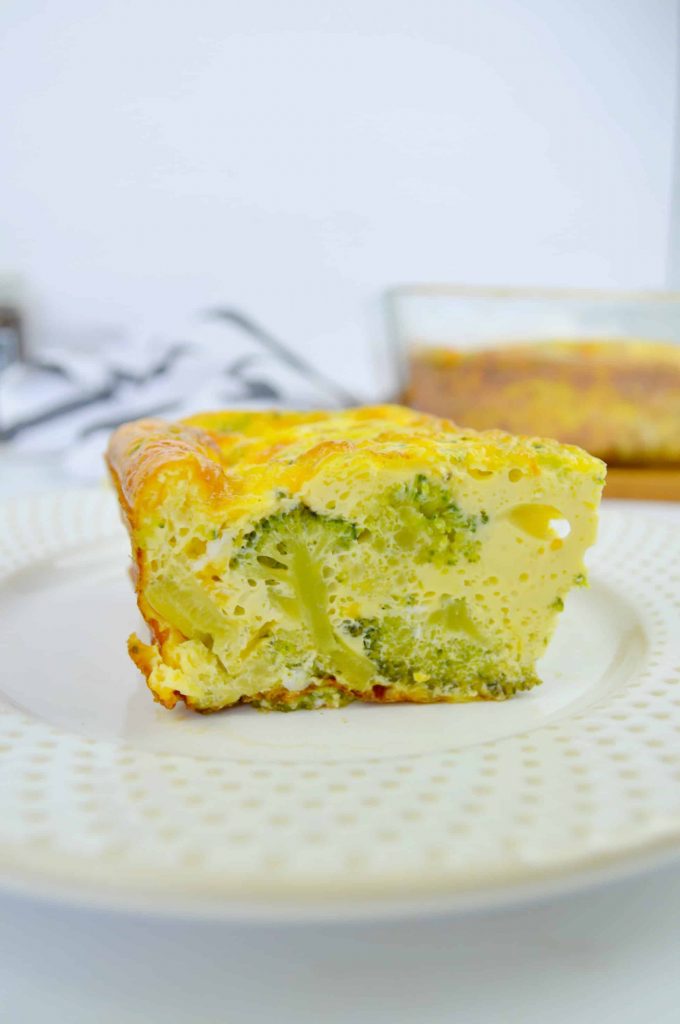 Can this keto egg bake be made ahead of time?
You can prep this egg bake, cover, and store for up to 3 days.
How To Freeze Keto Egg Bake
You can bake it then freeze or you can prep it and then wrap and freeze. To freeze after baking simply follow all the instruction below, bake and then allow to cool, wrap in plastic followed by foil and place in the freezer.
To freeze before baking, follow all the steps 1-4 and then cover in plastic and foil and freeze.
This Keto egg bake can be frozen for up to 3 months. When ready to use simply thaw overnight in the fridge and place in oven and bake.
Make it yours
Add ground sausage, bacon or even ham.
Swap out cheddar cheese for pepper jack cheese.
Instead of broccoli, you can use kale, broccoli or even peppers.
Make your egg bake easy to grab and go by baking in a muffin pan.
Looking for another easy to make Keto breakfast? Try these Keto Bacon Egg Cups!
How to Make Keto Egg Bake
Ingredients:
12 eggs
1/2 cup of coconut milk or almond milk
Sea Salt and pepper to taste
3/4 tsp onion powder
1/2 cup shredded cheddar cheese
2 cups of broccoli
Directions:
Preheat oven to 350 degrees
Grease 9×13 baking dish with cooking spray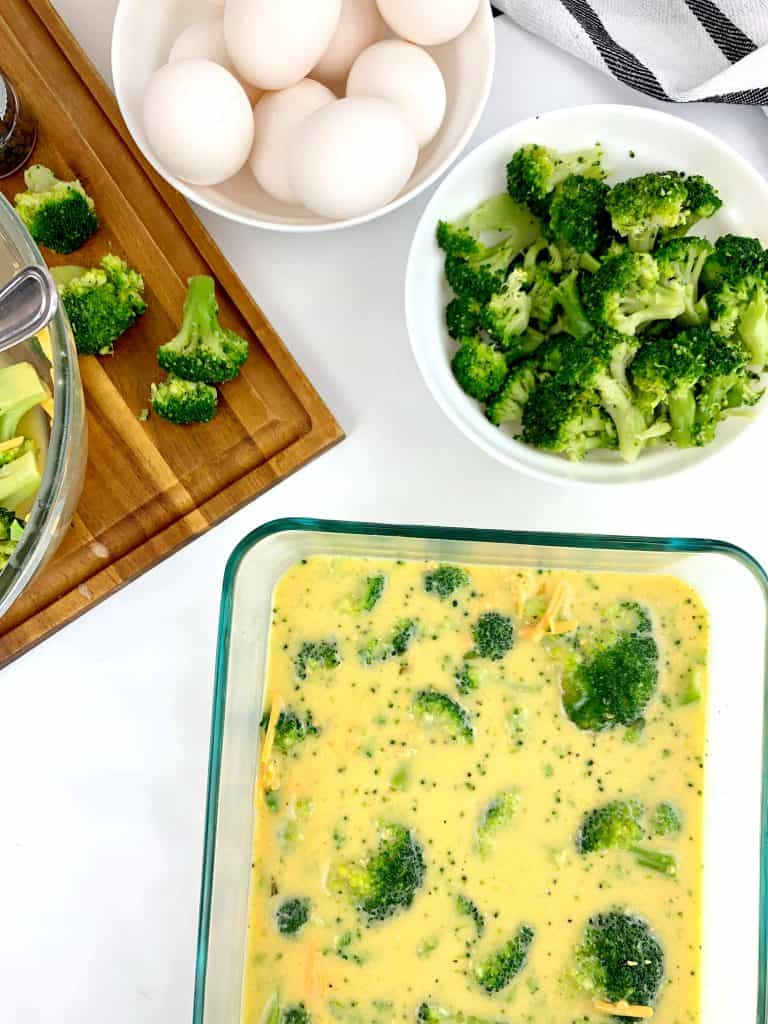 In a large bowl add eggs, milk, broccoli, cheese, garlic powder, and salt and pepper to taste.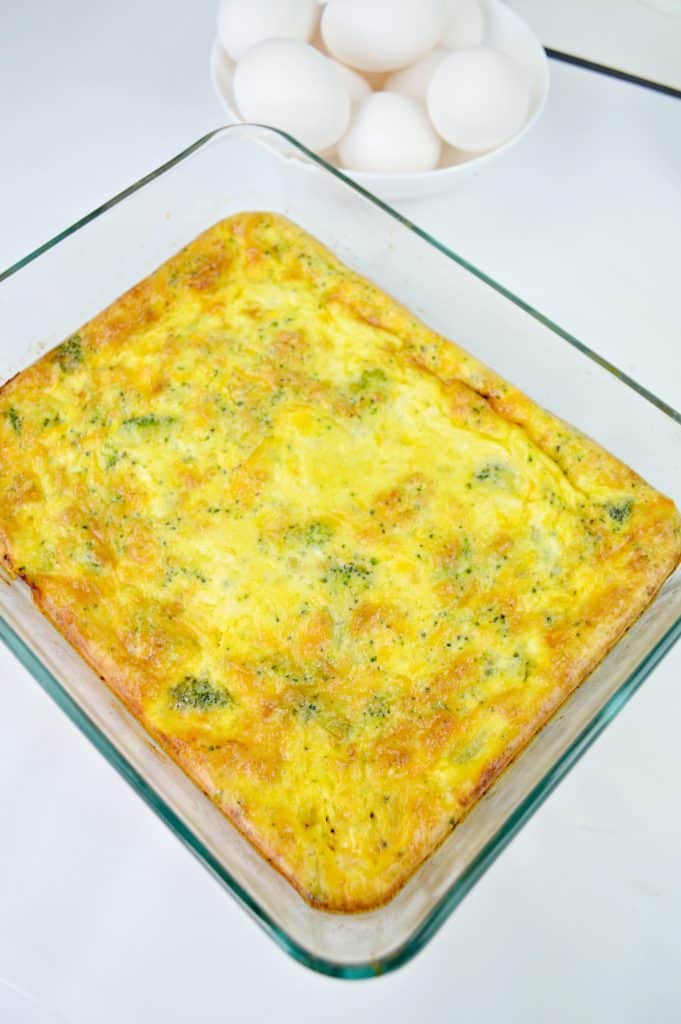 Pour mixture into dish.
Bake for 30 minutes or until eggs are cooked.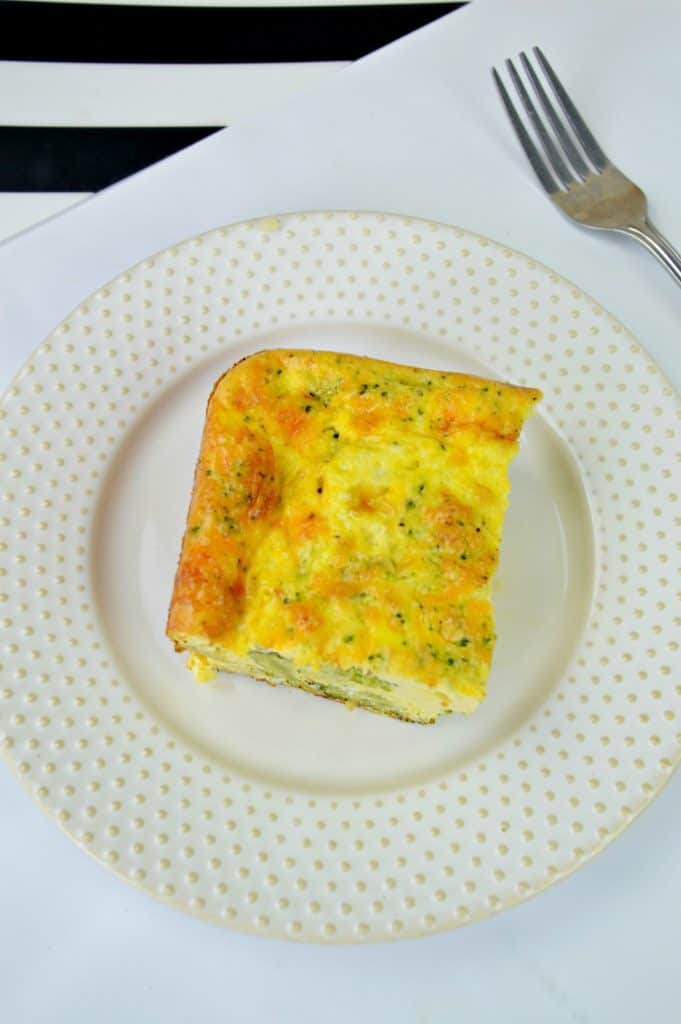 Pin for later!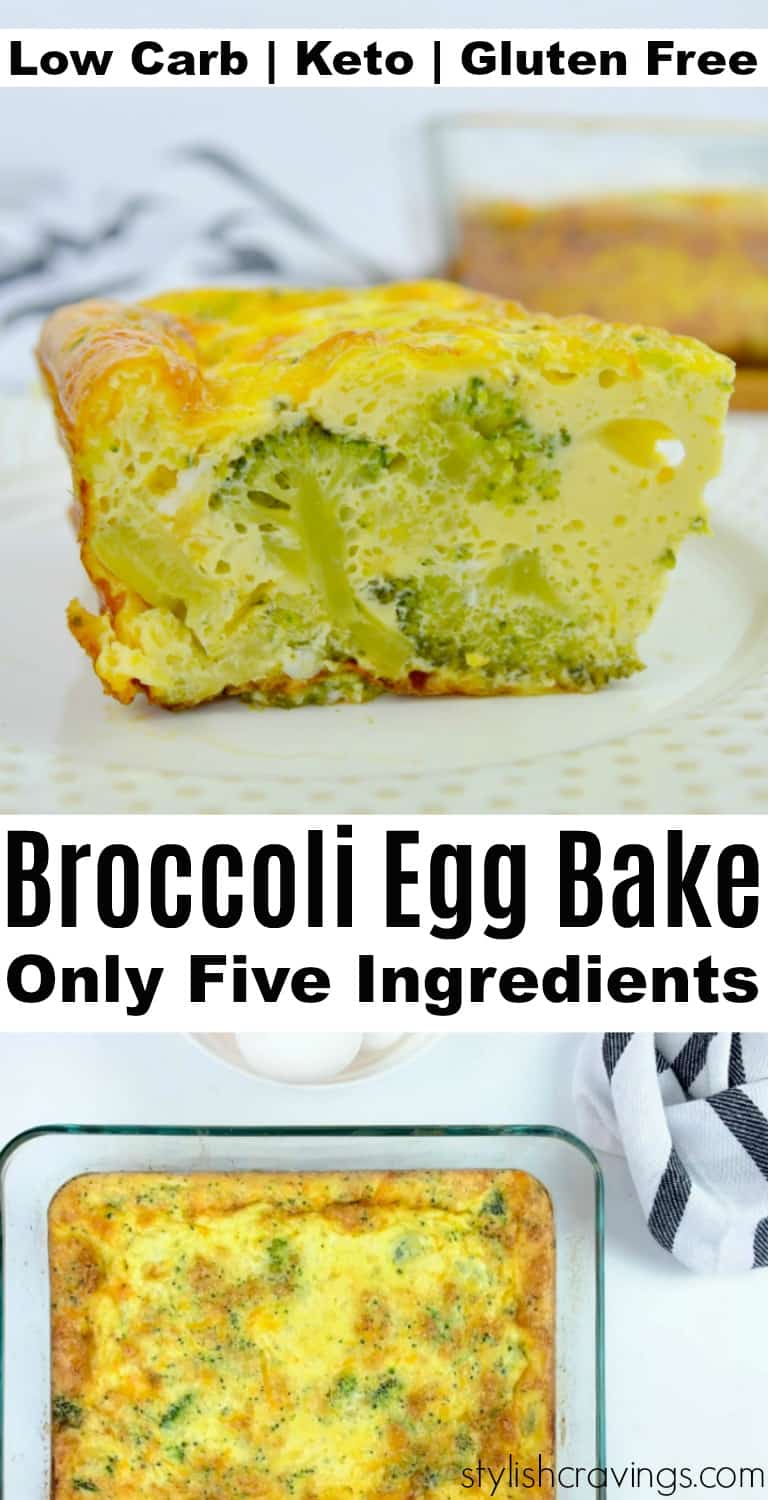 Click here to follow me on Pinterest!