This keto Mediterranean Chicken Salad has the freshest ingredients for the boldest flavors. Customize it and make it a low-carb sandwich.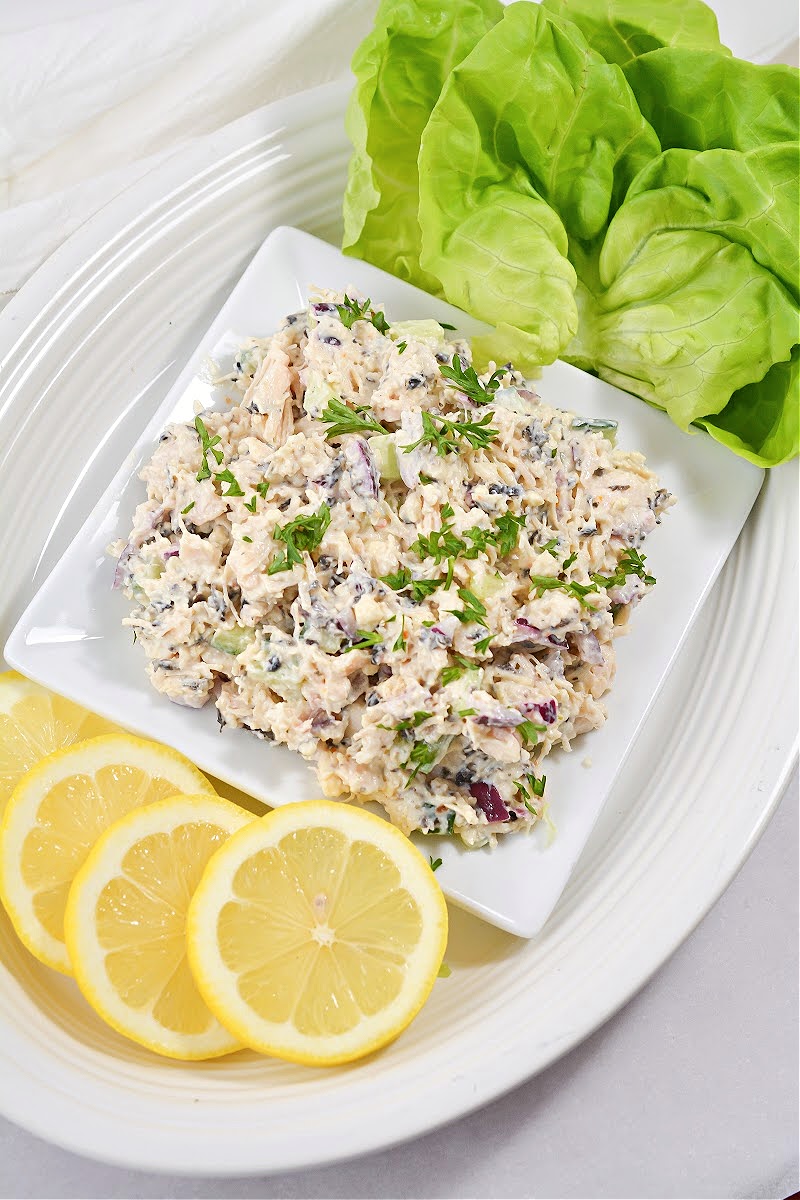 What Is Mediterranean Food
Mediterranean food covers a bunch of different countries that all sit along what is known as the Mediterranean basin. This includes Spain, Italy, Greece, and even Turkey and Egypt.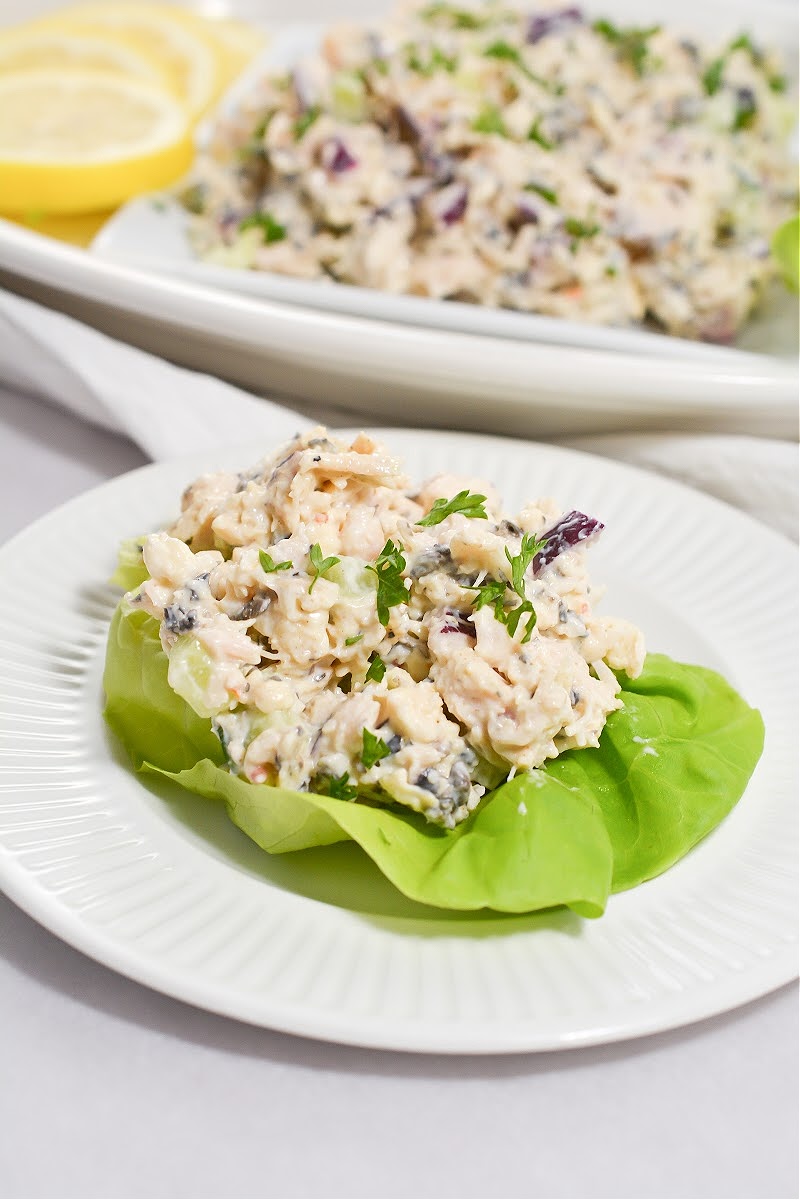 Most types of recipes that are labeled as Mediterranean recipes contain olives, olive oil, feta cheese, and cucumbers. My recipe for chicken salad has a Greek flair to it because I used Greek yogurt and Greek seasoning. It's more Greek than Italian.
Mediterranean Chicken Salad
The best thing about this low-carb Mediterranean chicken salad is all the different textures in it. Forget about boring and creamy chicken salad. This one is full of crunch! The diced cucumbers and chopped red onions add some fresh flavors and color to the salad.
The combination of creamy feta cheese with tangy Greek yogurt and bright lemon juice is incredible as well.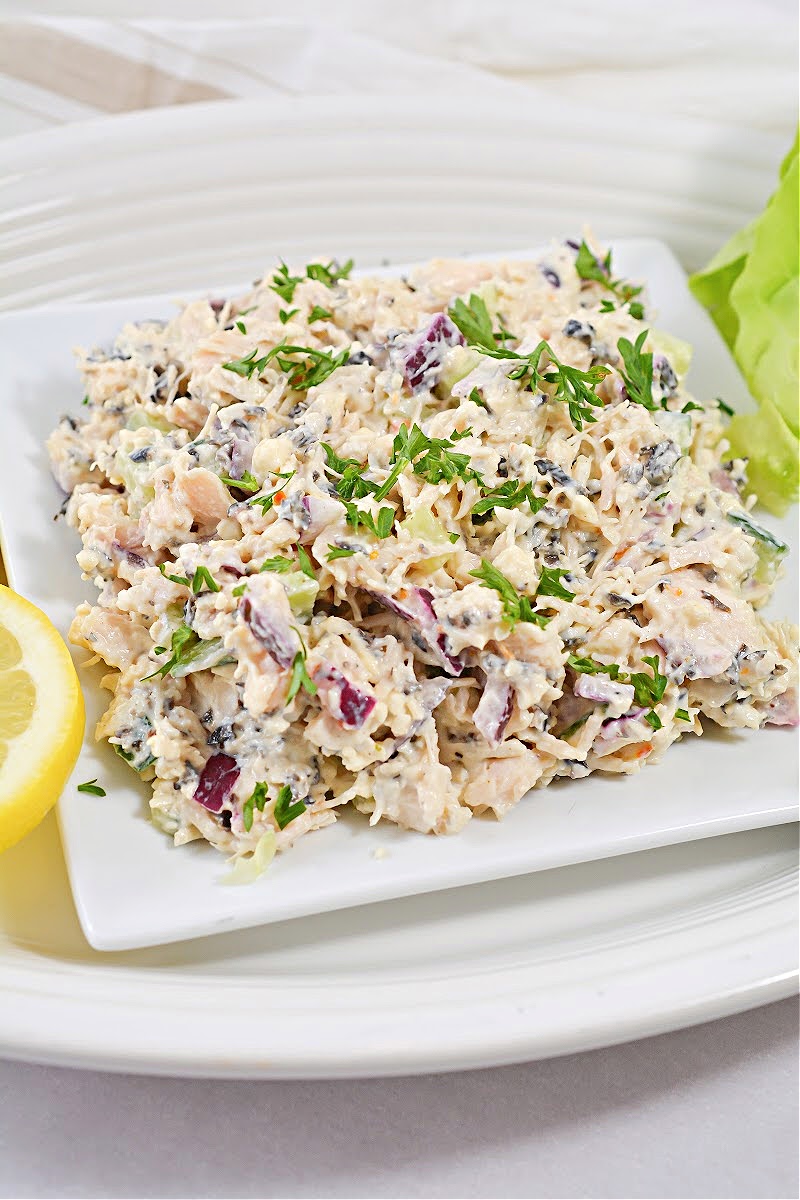 There are a few different substitutions you can make if you want. Instead of Dijon mustard, use spicy brown mustard for a bit of a kick. If you don't have lemon juice, you can use lime juice.
I prefer to use real mayonnaise because I love the flavor and consistency, but you can certainly use a lower-calorie dressing in its place.
Keto Chicken Salad
There are only 2 grams net carbs in each serving of this incredible salad! When you look at the long list of ingredients, you'll be impressed with that low carb number.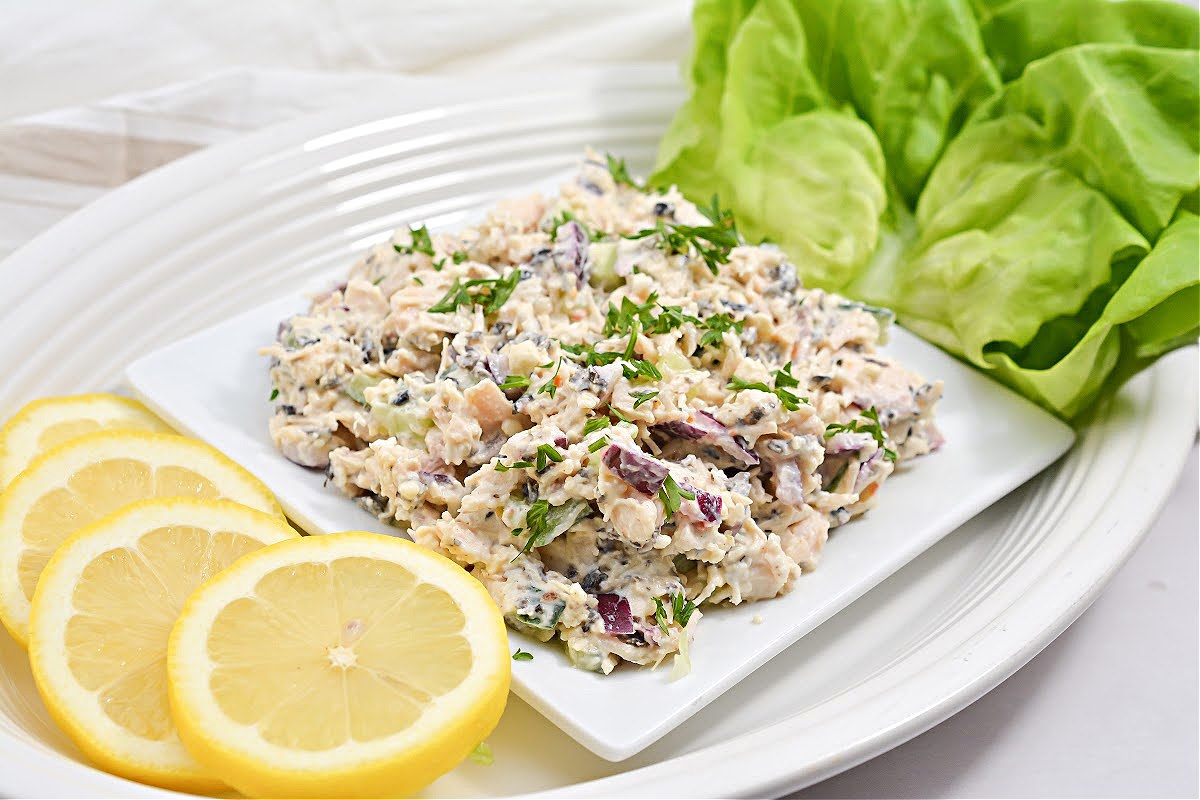 This also means that even if you fill yourself up with two servings of this salad, you will still only be eating 4 grams net carbs. That leaves you plenty of carbs left over for a delicious dessert, like keto chocolate mousse or a low-carb strawberry shortcake.
How To Eat Chicken Salad
There are a bunch of different ways to enjoy this chicken salad. I like to just dig in with a fork. The olives, cucumber, and onion give it enough bulk to scoop easily with a fork. Or, place it on top of some keto cloud bread and eat it like a low-carb sandwich.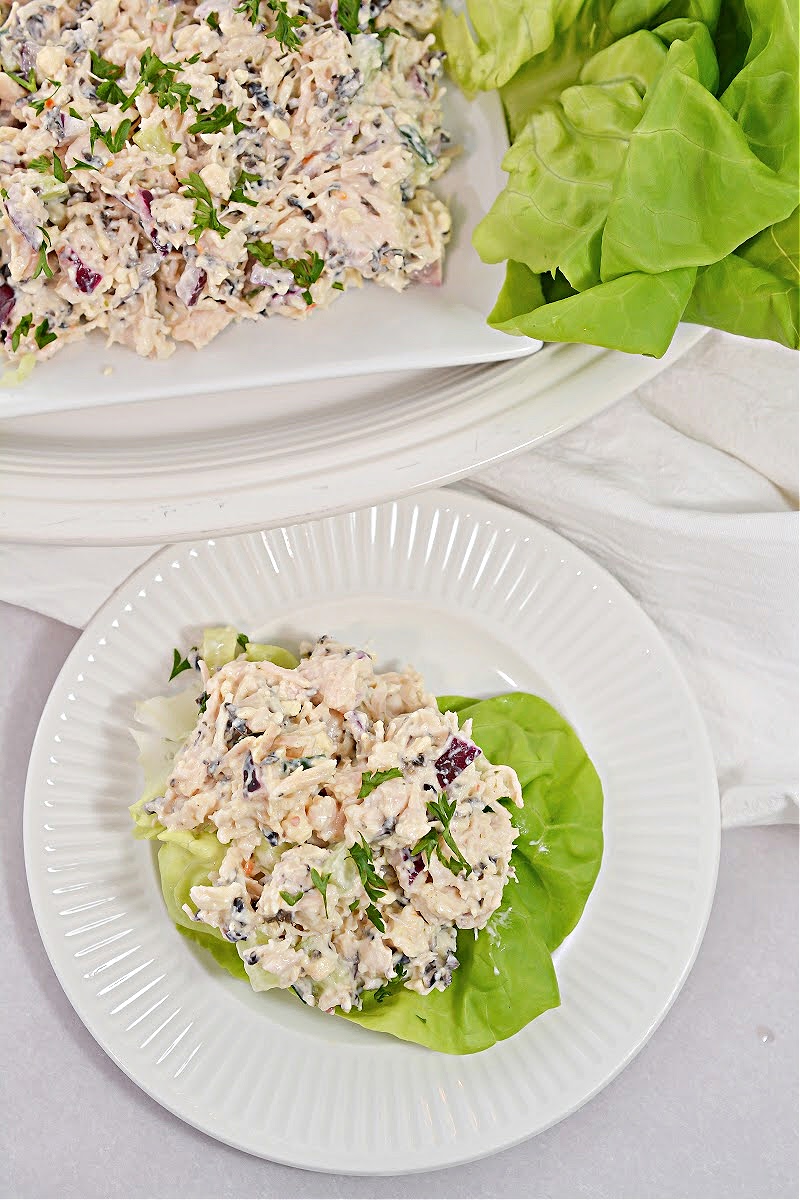 You can even use a really large piece of lettuce and make a lettuce wrap with it. Or chop up some lettuce and add the chicken salad on top and eat it in a bowl.
How To Store Chicken Salad
This chicken salad is the perfect thing to add to your weekly meal prep. Store mixed chicken salad in an airtight food storage container and keep it in the refrigerator for up to three days.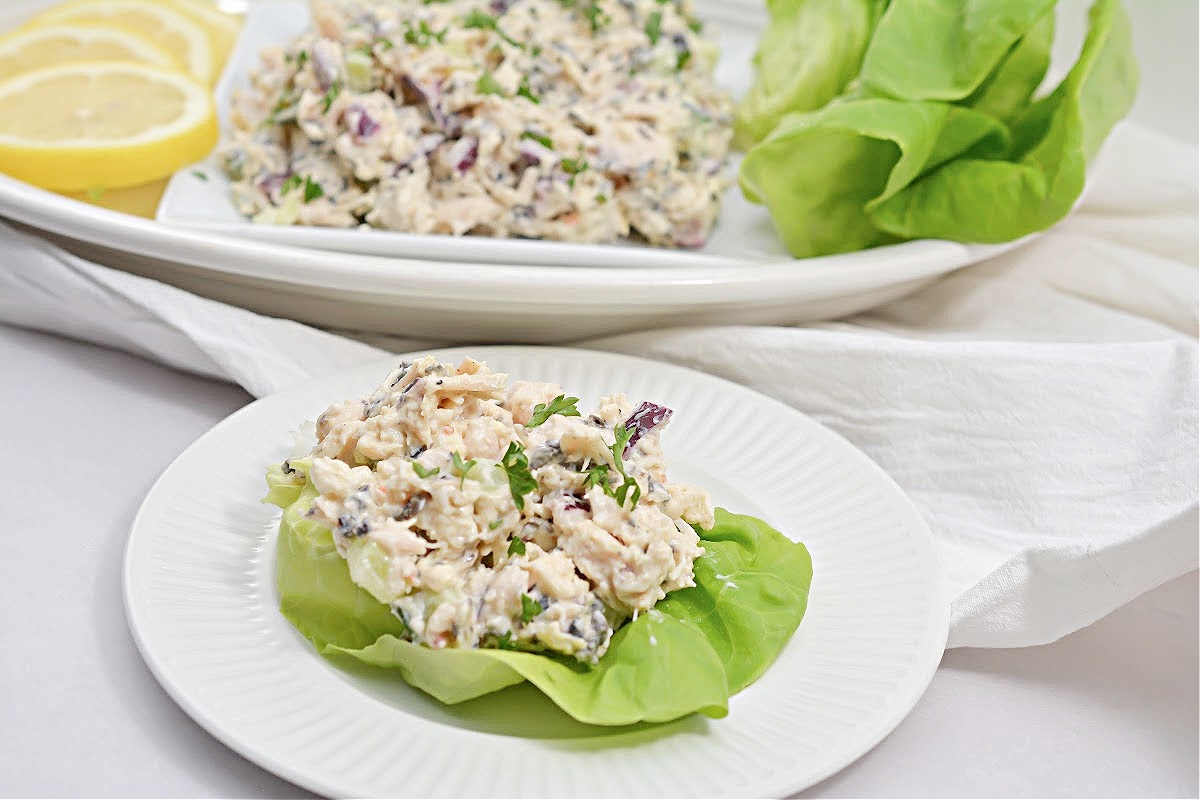 After three days the dressings will start to separate and the veggies will begin to soften. It's best to eat it as soon after you make it as you can.
Keto Mediterranean Chicken Salad Recipe
Here's the list of ingredients that you'll need to make this scrumptious keto Mediterranean chicken salad. Exact measurements and instructions are located in the printable recipe card just a little bit further below.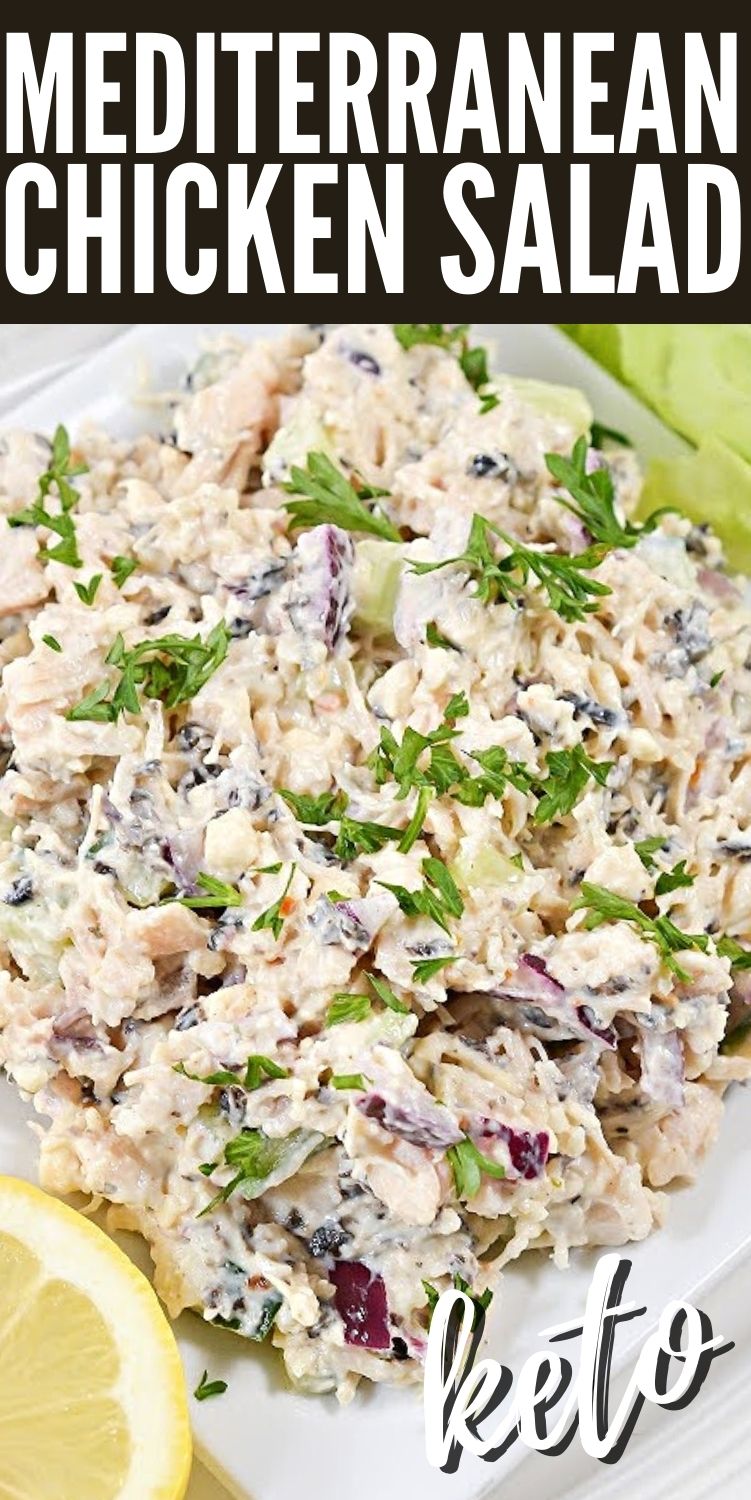 Follow me on Pinterest!
Keto Mediterranean Chicken Salad
This keto Mediterranean Chicken Salad has the freshest ingredients for the boldest flavors. Customize it and make it a low-carb sandwich.
Ingredients
12.5

ounces

Canned Chicken

Drained

1/4

cup

Cucumber

Diced

1/4

cup

Feta Cheese

Crumbled

2

tbsp

Black Olives

Chopped

1/4

cup

Red Onion

Chopped

1/4

cup

Mayonnaise

2

tbsp

Plain Greek Yogurt

Squeeze

Fresh Lemon Juice

1/4

tsp

Garlic Powder

2

tsp

Dijon Mustard

1/2

tsp

Greek Seasoning
Instructions
Mix all of the ingredients together in a bowl until well combined.

Serve immediately, or chill before serving if desired.
Recipe Notes
Calories: 430
Net Carbs: 2 Net Carbs Per Serving
The nutritional information for this recipe is calculated as a courtesy and is an approximate only. I cannot guarantee the accuracy of the nutritional information for any recipes on this site.
Keto Chicken Salad Recipes
If you enjoyed this keto Mediterranean chicken salad recipe, here are some more wonderful chicken salad recipes that you should make next. They are also the perfect things for your meal prep!