These crispy gluten free chicken tenders are perfect for lunch and dinner! Serve with your favorite veggies or an easy side salad!
Summer is officllay in full swing at our house! But because Joseph will be going to a summer preschool program, I will still be doing drop-off's every morning. The decision to have him enrolled wasn't easy, I selfishly wanted to keep him home a little longer before he started kindergarten.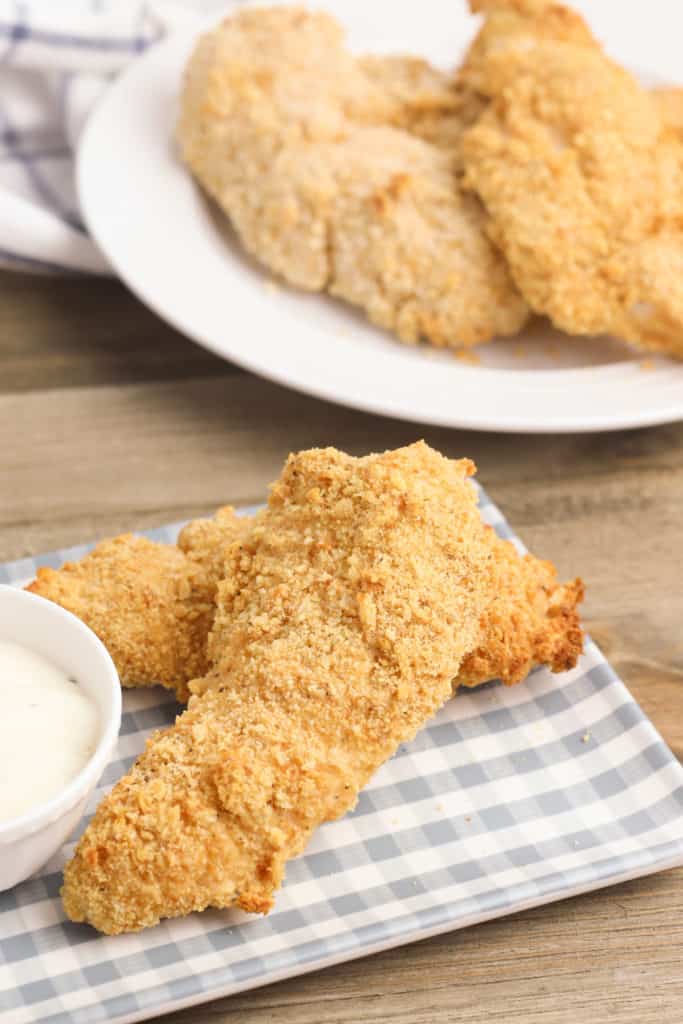 Everyone says I'm crazy to want to work from home all day with all the kids, but I guess I've grown used to it and enjoy having them home with me.
Oven baked recipe below!
The one thing I do have a little bit of struggle with is making time for all the things everyone wants to do and still fitting in a full-time job worth of hours. For this, I plan using a block schedule where I work for short burst of times during the day and pushing off most of my work until Franklyn gets home, when he will take the kids.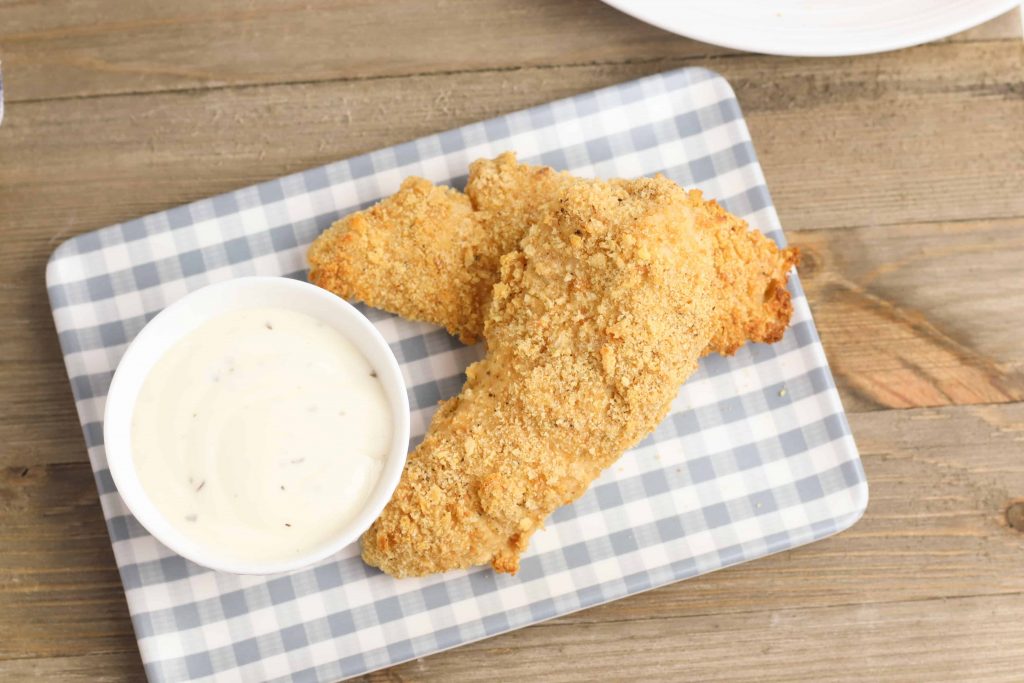 I'm looking forward to the new routine and being able to sit down and have lunch with the kids and making classic favorite recipes like these delicious gluten-free chicken tenders!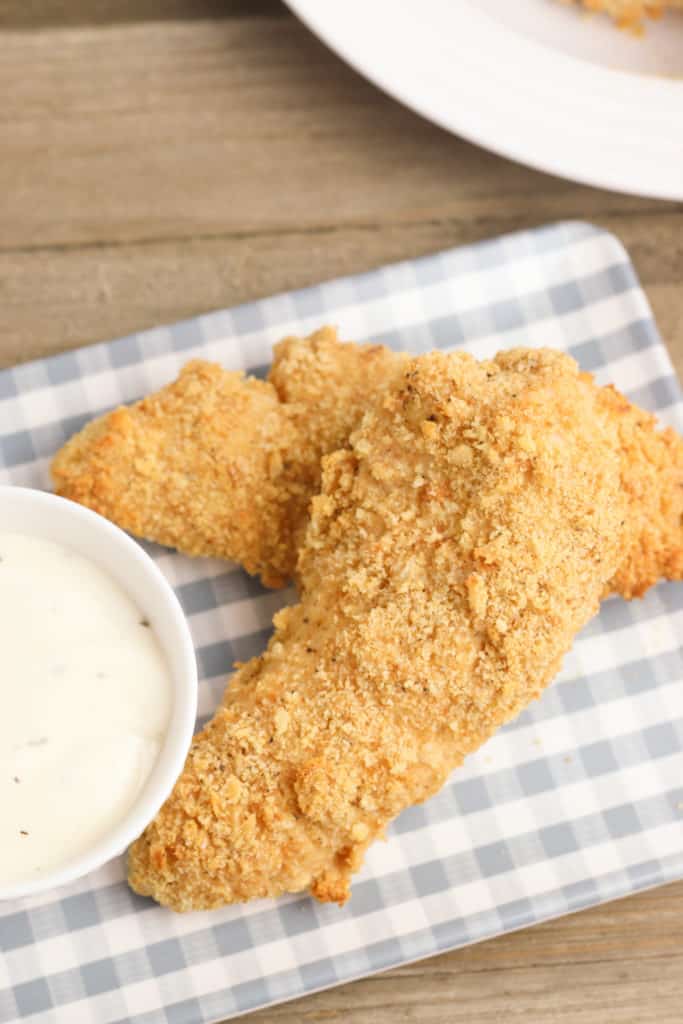 It's not always easy finding meals that everyone will equally love, but these gluten-free chicken tenders are a hit with everyone! I love that it easily goes with so many easy to make side dishes like asparagus, or for dinner with a side of this mushroom and spinach cauliflower rice. mushroom and spinach cauliflower rice or salad.
These chicken tenders can also be cut into strips and wrapped in a burrito or served over a salad. The possibilities are endless! These gluten-free chicken tenders were made in the oven but they can also be made in an air fryer.
Baked Gluten Free Chicken Tenders
To make these gluten-free tenders you'll need a different type of flour. I used almond flour, but you can also use coconut flour or rice flour. I've even used gluten-free rice puffs in place of flour and the results were just as yummy and crispy!
Makes 10 to 12 chicken tenders
Ingredients:
Chicken tenderloins – 1 pound
Milk – 1 cup
Gluten free flour – ¼ cup
Teaspoon salt – ½
Black pepper – ½ teaspoon
Garlic powder – ¼ teaspoon
Onion powder – ¼ teaspoon
Paprika – ¼ teaspoon
Gluten free breadcrumbs – 1 cup
Instructions:
Preheat oven to 400 degrees.
In a shallow bowl, combine milk, gluten free flour, salt, black pepper, garlic powder, onion powder and paprika. Wisk to mix.

In a separate shallow bowl add the gluten free breadcrumbs.

Dip each chicken tenderloin in the milk and flour mixture to coat.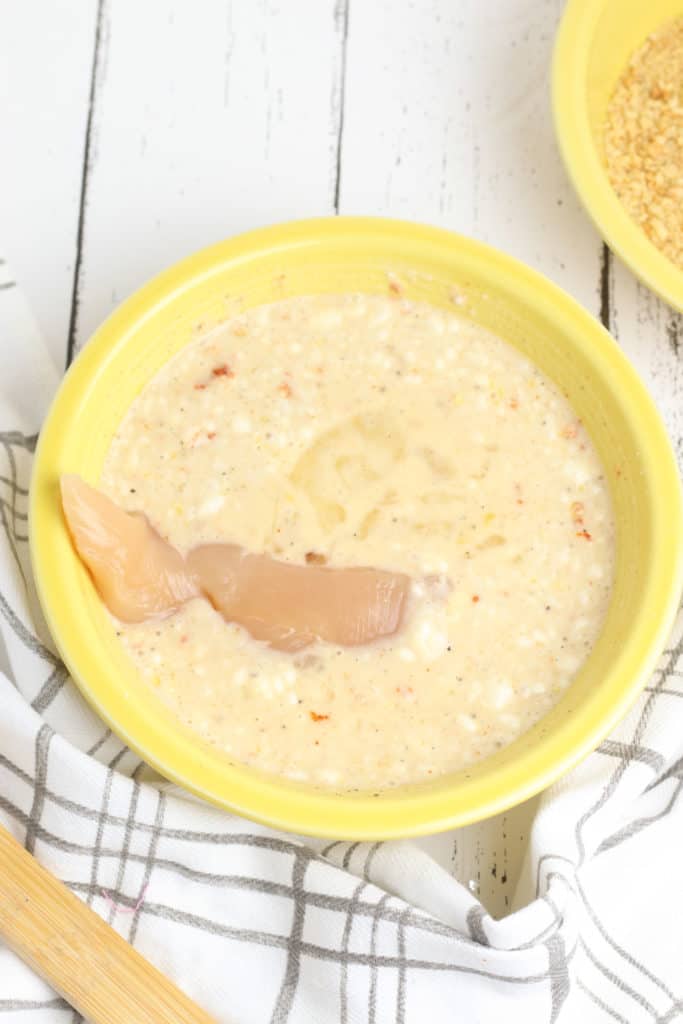 Then, dip each coated chicken tender in the breadcrumbs to cover.

Place each covered tenderloin on a wire rack placed on a baking sheet lined with aluminum foil. Allow the tenders to rest for 5 minutes.
Place the baking sheet in the preheated oven and bake for 10 to 12 minutes or until chicken is cooked through.
My kids love when I serve them with this two-ingredient dip, salsa or even aioli!
Pin for later!
So that's my plan for this summer! Hopefully, I can squeeze in some outdoor fun and make these sponge water bombs again (even the big kids have fun getting soaked) or even letting the kids get messy with sidewalk chalk and finger paint! Keeping my fingers crossed that everything goes as planned and that we'll have a much more fun summer this year!
More Recipes You'll Love:
Almondine Asparagus
Cauliflower Mashed Potatoes
Follow me on Pinterest where I'll be sharing more yummy recipes!