Looking for that perfect summer side dish? This easy keto coleslaw recipe is creamy, delicious, and really easy to make!
Side dishes are my jam! Especially during the summer, where I don't want to stand in the kitchen too long! This Keto coleslaw recipe happens to be our favorite coleslaw recipe that tastes just like Chick-fil-A coleslaw! In fact, I never actually enjoyed coleslaw until I tasted Chick-fil-A's coleslaw!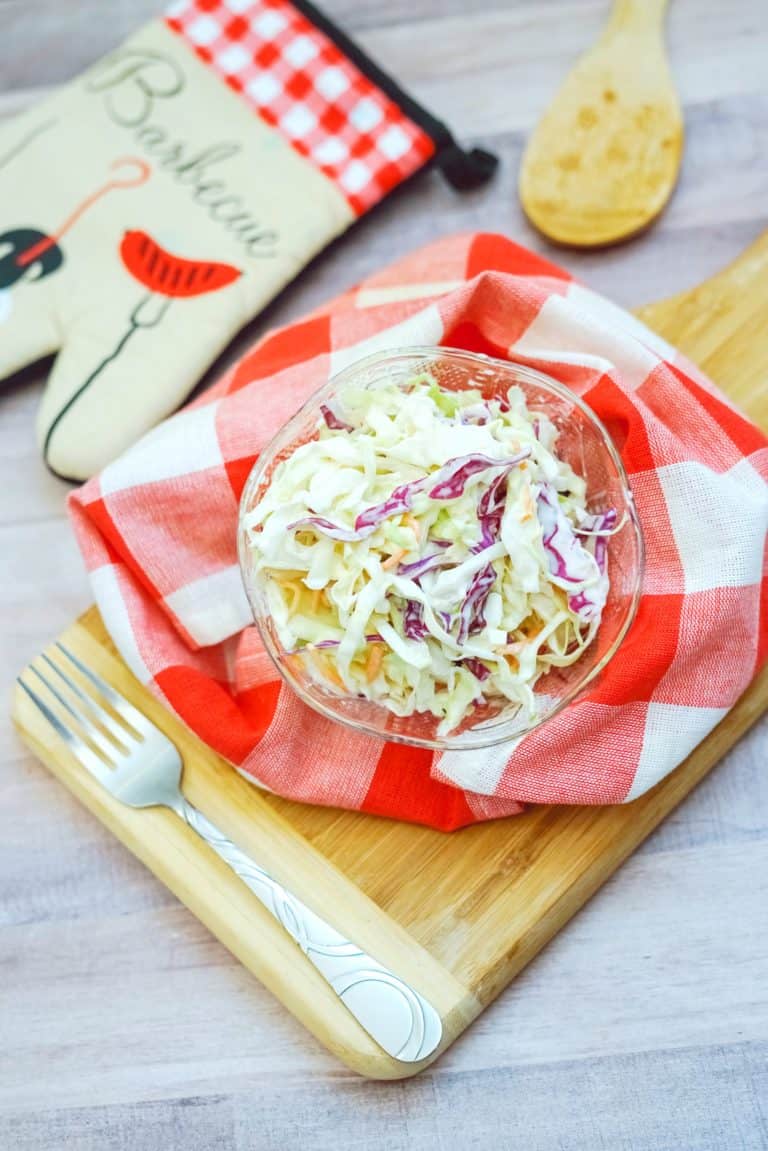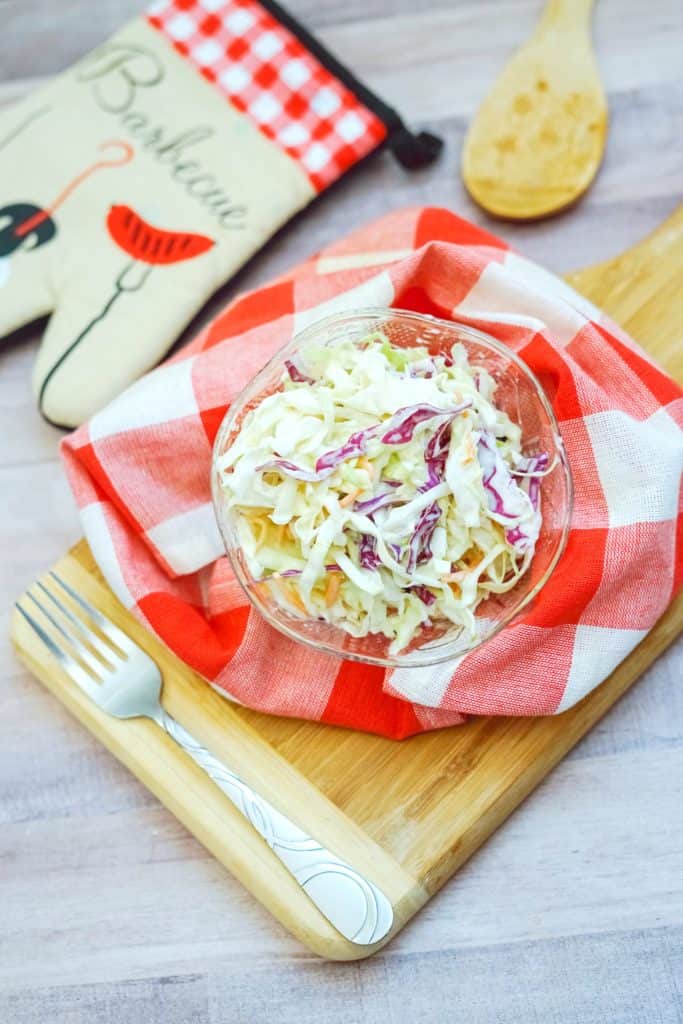 Unfortunately, they stopped making their coleslaw, but luckily this recipe tastes just as good and it's low carb! Win-win! It's perfect to serve with bunless burgers, over fish, with these chipotle ribs, or even on its own! There really isn't much that coleslaw doesn't taste good with, in my opinion!
Much like Chick-fil-A coleslaw recipe this recipe is sweet! I used erithyol in place of sugar but If you're not worried about carbs, you can instead use sugar (see below).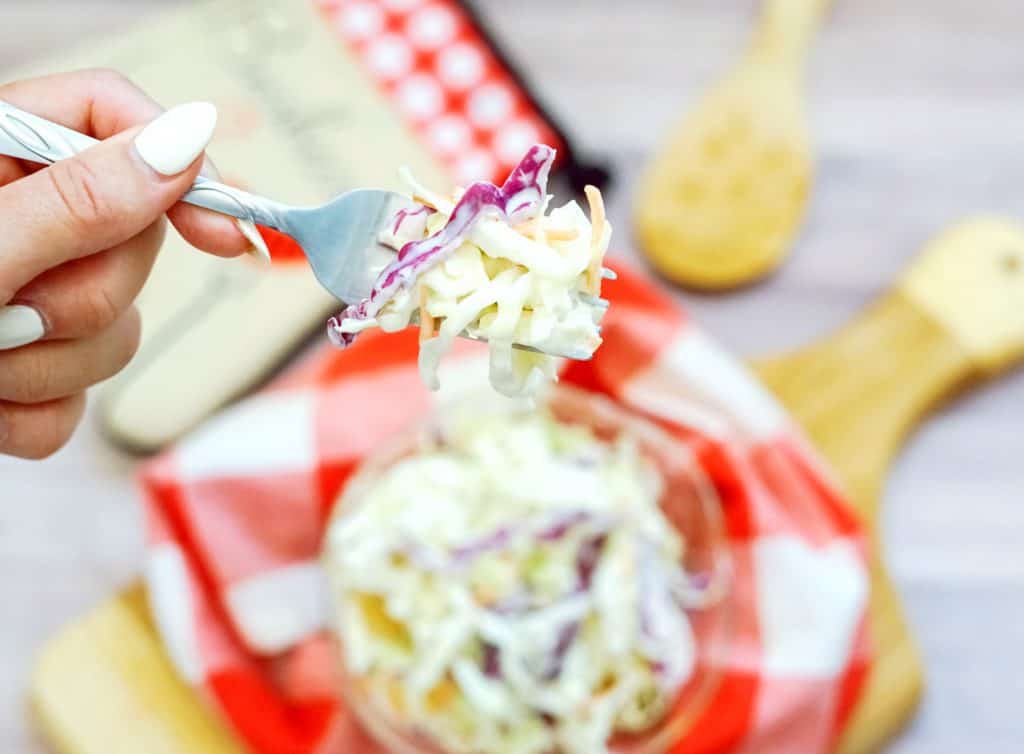 If you guys plan on grilling this weekend or for the 4th of July, make sure you grab the ingredients to make this easy keto coleslaw recipe that everyone will surely love! This coleslaw can be refrigerated for up to a week, so making big batches are a great idea for the warmer weather months!
I like to set out small bowls as seen above that are filled with coleslaw so guests can grab and go!
More Recipes You'll Love:
Restaurant Style Salsa
Low Carb Air Fryer Buffalo Wings
Easy to make!
Making this recipe is super easy! All you need to do is add all of the ingredients together in a bowl and mix! Refrigerate for a few hours and enjoy!
Easy Keto Coleslaw Recipe
Makes six to eight servings.
Ingredients
:
Vinegar – 4 teaspoons
Erythritol 3 teaspoons or ¼ cup sugar
Lemon juice – 2 teaspoons
Dry mustard – ¼ teaspoon
¼ teaspoon salt
Mayonnaise – 1 cup
2 10 oz bags of finely shredded cabbage
1. Whisk mayonnaise, vinegar, erythritol, mustard, and salt together.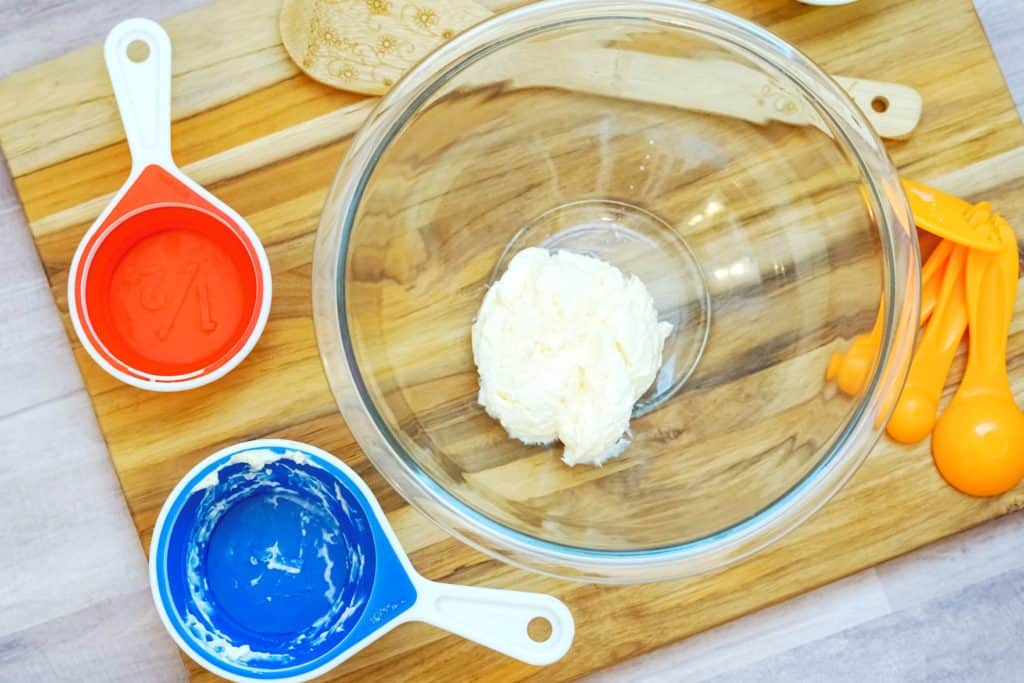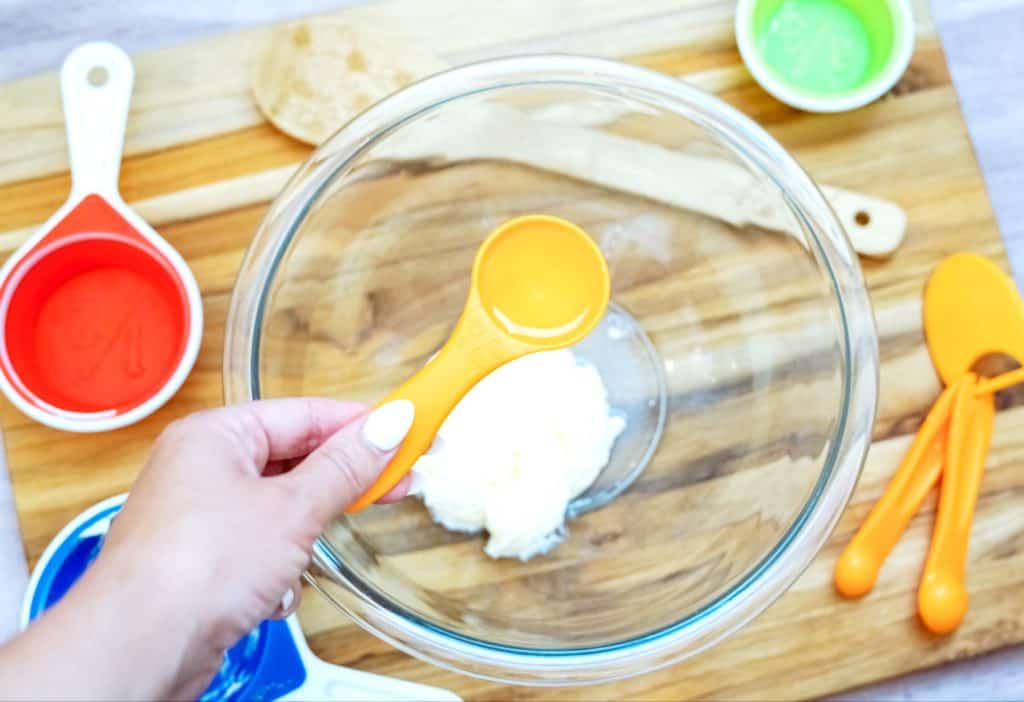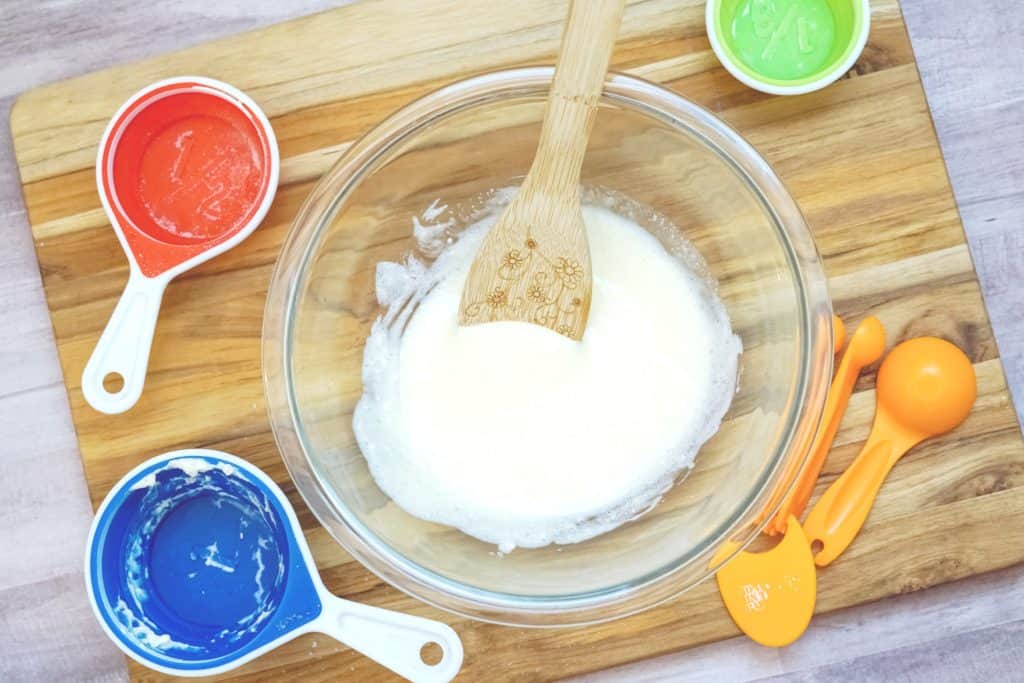 2. Add cabbage and lemon juice.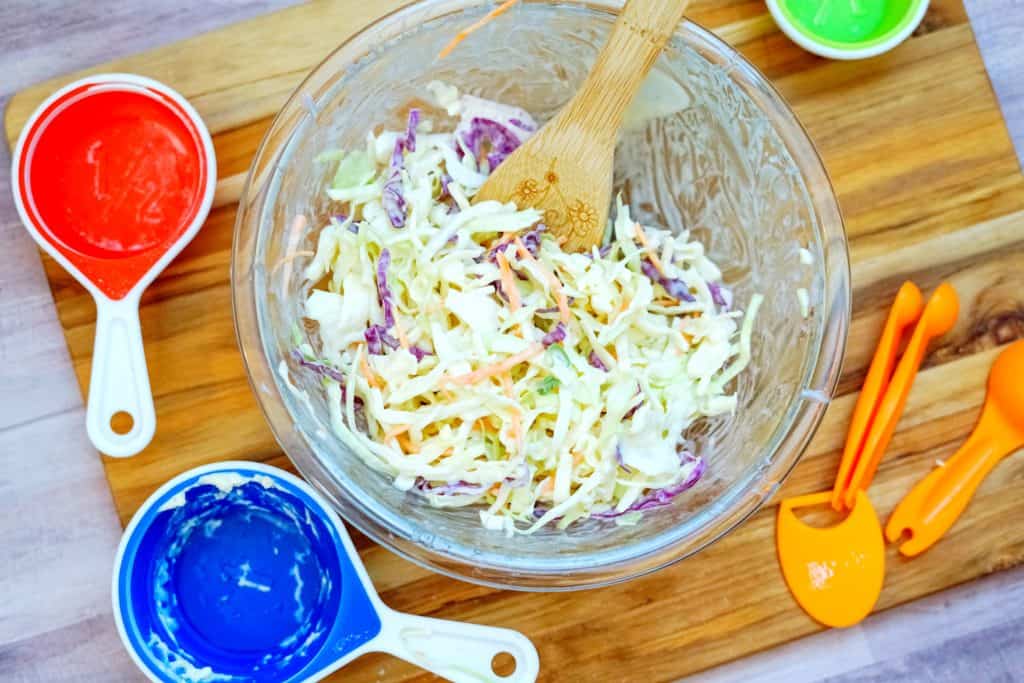 3. Mix to combine.
4. Refrigerate for 2 hours (the longer the coleslaw is refrigerated the better it taste) and serve.
More ways to use coleslaw:
Top these foil packet salmon with coleslaw
Swap out the lettuce and tomato in this Keto BLT and use coleslaw
Serve these Keto fried shrimp over a plate of Coleslaw
Pin for later!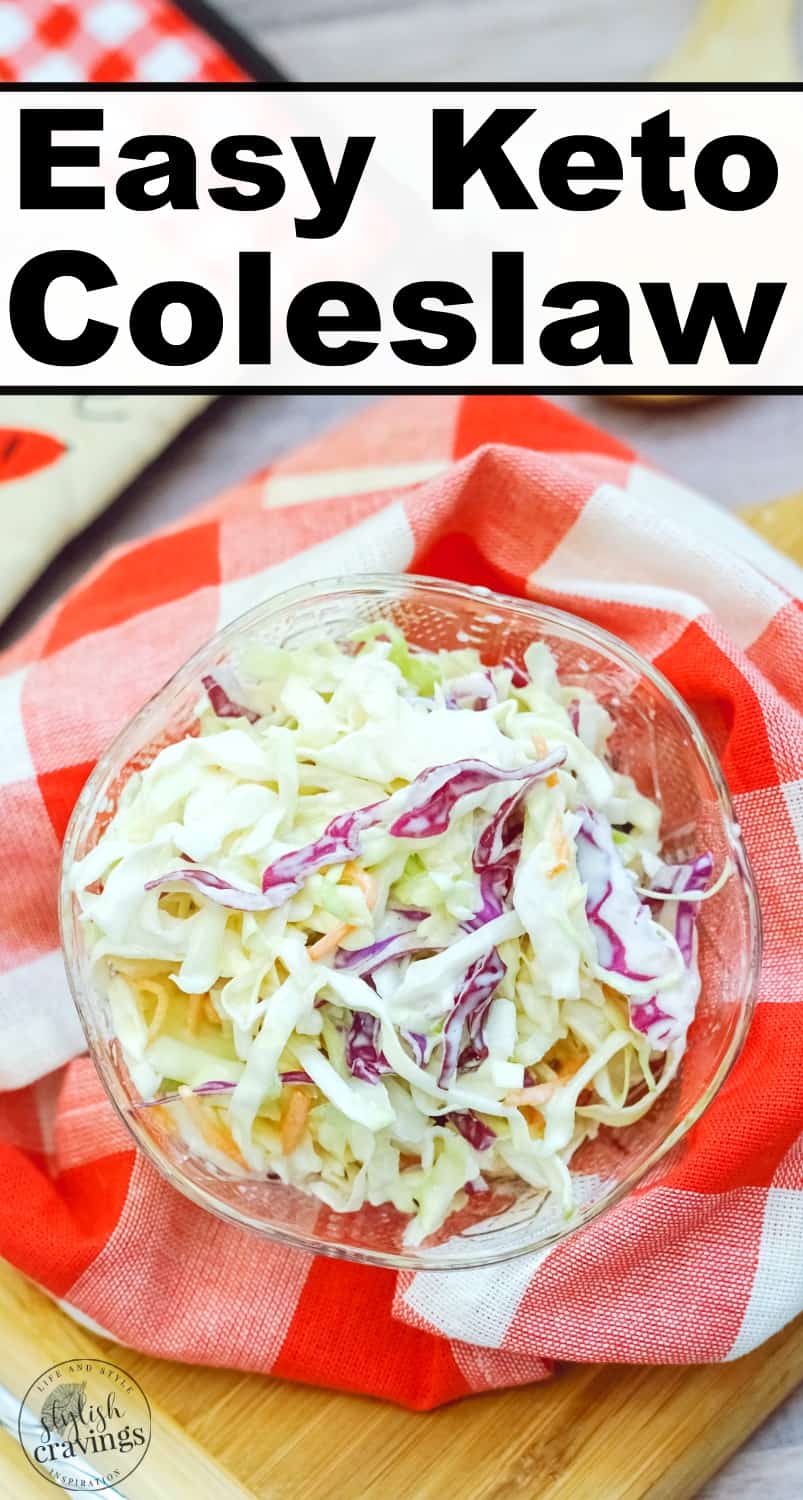 Click here to follow me on Pinterest where I'll be sharing more easy summer recipes!