This green smoothie bowl is as delicious as it is pretty! How can you not love a healthy green smoothie bowl topped with peaches, blueberries, and strawberries? Scroll down for the easy recipe!
I've noticed that the longer I remain eating low-carb, the less I actually crave cheat meals. Eating the same thing every day makes it easy for me to stay on track, and it's flexible on busy days. Leftovers at our house is a huge time saver for us, so I like to cook extra servings that I can simply reheat the next day.
I may not have any cheat days, but I do like to indulge in this healthy treat! This green smoothie bowl recipe is one of my very favorite that I save for days when I want something special for breakfast.
More Recipes You'll Love:
Keto Everything Bagels
Easy Blueberry Banana Smoothie
Blueberry Muffins
This smoothie bowl recipe is jam-packed with healthy nutrients and it's also surprisingly filling! The kids also love this blueberry pineapple smoothie bowl. I could eat smoothie bowls every morning, but truth be told, I'm often in a rush and it's just easier to make egg cups.
Green Smoothie Bowl
Ingredients
Smoothie
Handful of fresh spinach
2 tablespoons of greek yogurt
3 Fresh strawberries
1 Banana
1 Peach
1/4 Orange juice
Toppings
3 fresh strawberries
1 banana
1 peach
Granola mix
Almonds
Chia seeds *optional
Instructions
Combine all the smoothie ingredients in a food processor or blender, adding little by little orange juice and blend till smooth and creamy.
Pour into a bowl and top with fruit, granola and almonds.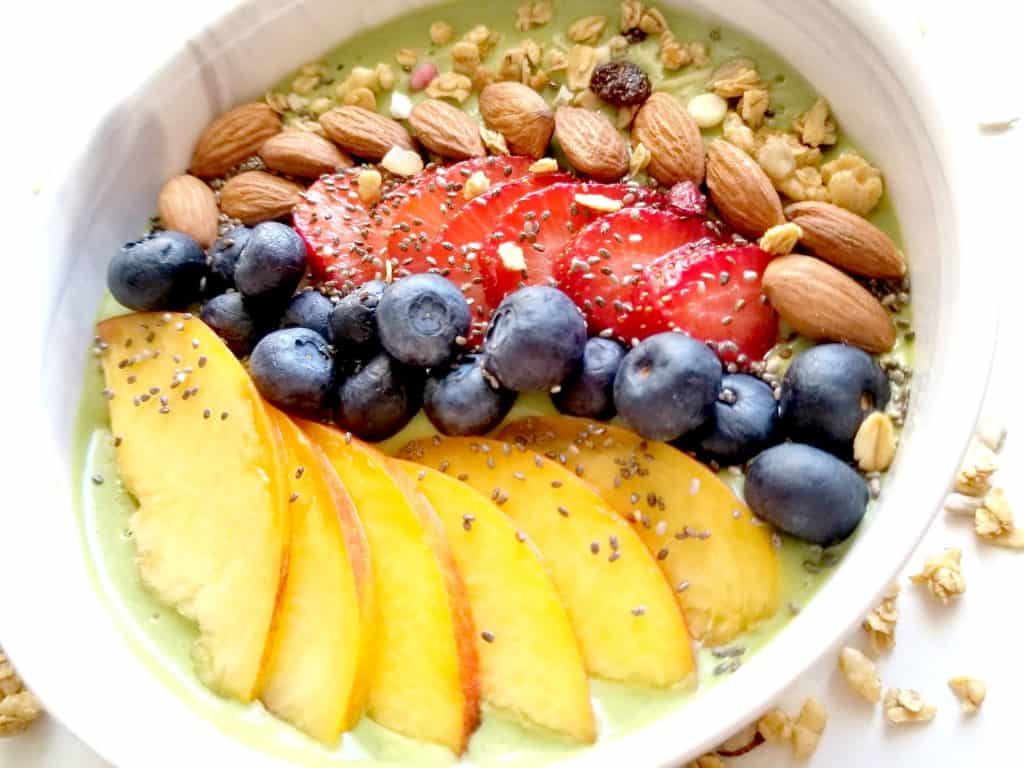 Enjoy immediately – best when fresh!
Pin for later!

This easy green smoothie bowl is a great for breakfast or even a snack!
Click here to follow me on Pinterest where I share lots of healthy recipes just like this!