Imagine a low carb green bean chicken casserole that your entire family devours! This is that recipe, and it's so easy to customize too.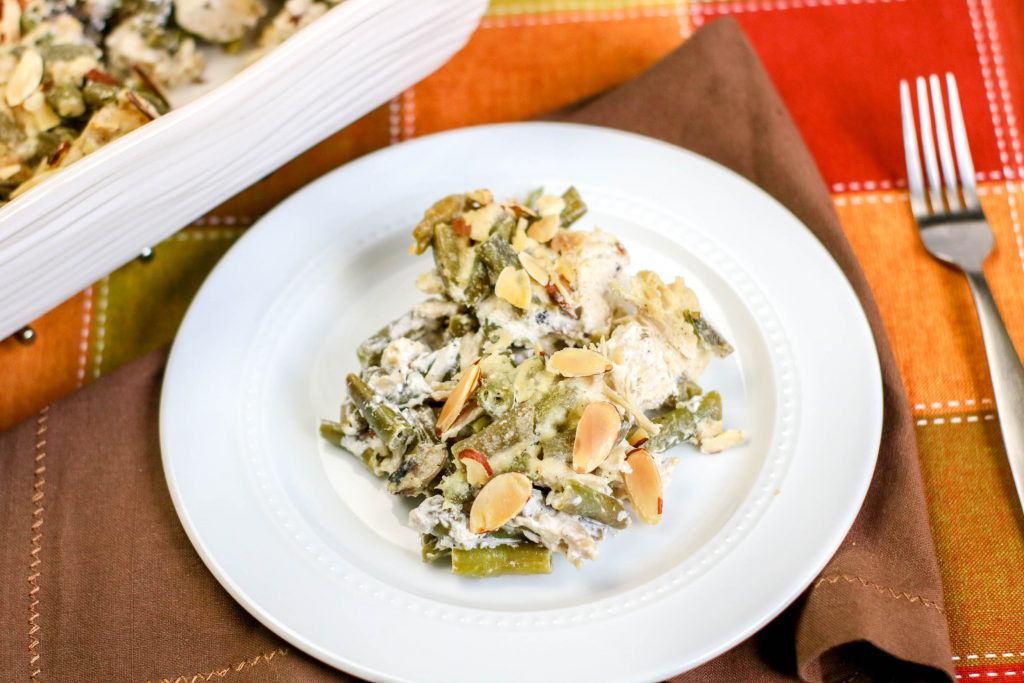 Low Carb Green Bean Chicken Casserole
The best kinds of recipes are the ones that use leftovers. I mean, lots of kids (and husbands) hate leftovers for some reason. But with this creative and yummy casserole, your family will eat that leftover chicken without realizing it.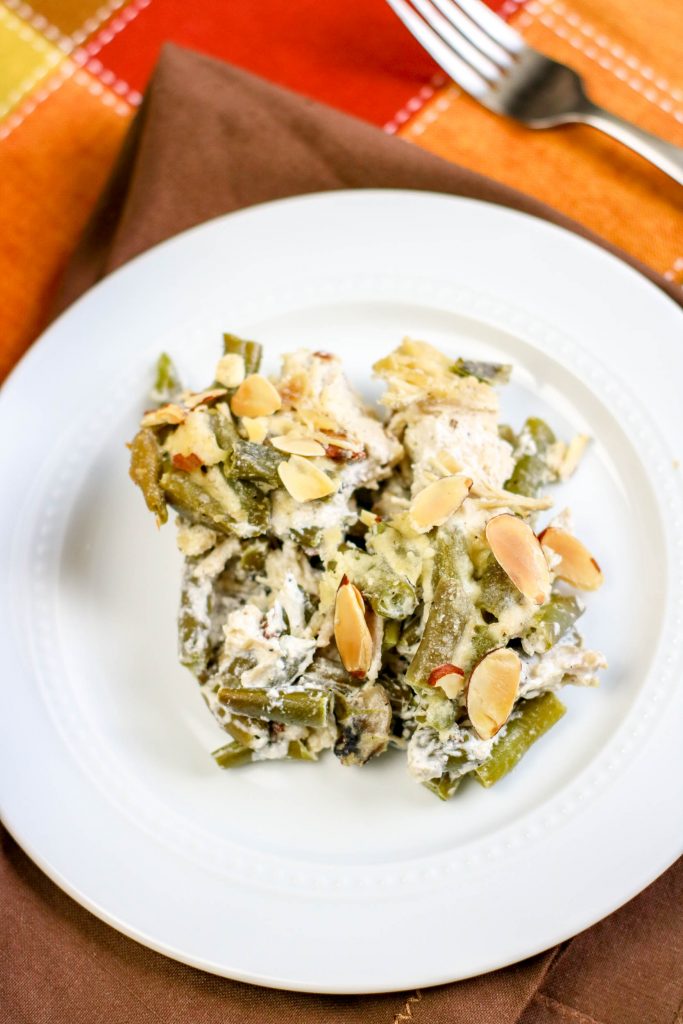 Oh, and it's low carb too. So you can enjoy eating this green bean chicken casserole right along with them.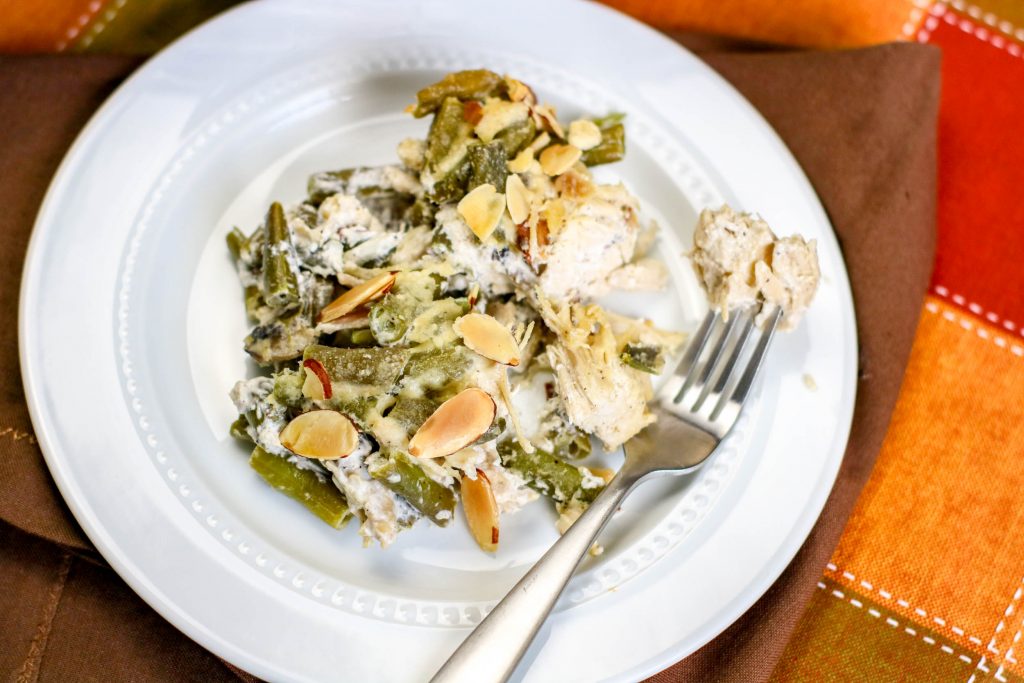 Pay attention to your macros, but this is definitely a recipe that fits in a keto diet. There are a few carbs in the cream cheese, sour cream, almonds, and green beans. But this dinner has so few carbs that it won't kick you out of ketosis.
How to Make Green Bean Casserole With Leftovers
I perfected a creamy and filling casserole recipe. You can put any kind of leftover meats inside of it. This is the perfect recipe to have on hand during the holidays.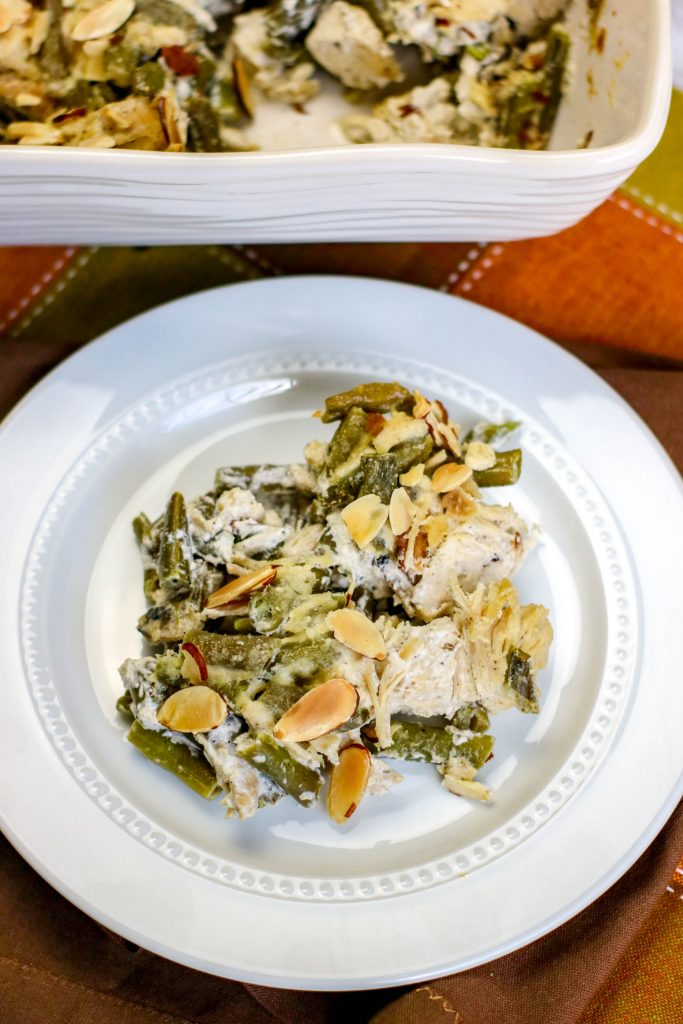 Use up that leftover turkey, chicken, or even ham. The green beans and sauce taste just as delicious no matter which meat you add to it.
What's In this green bean chicken casserole:
The entire recipe is at the bottom of this post. But first, here is what you will need from the store to make it.
Chicken Breast (or turkey, or ham – your choice)
Green Beans
Sliced mushrooms
Butter
Cream Cheese
Sour Cream
Onion Powder
Garlic Powder
Salt and Pepper
Sliced Almonds
Grated Parmesan Cheese
How to Make Ahead and Freeze It
If you have a lot of turkey meat to use up, you can turn this recipe into a make-ahead meal and freeze it. That way you don't feel like you are eating turkey every single day for a full month.
Freezing and reheating this recipe is so simple.
To freeze it, just mix all the ingredients in a casserole dish, like you would if you were going to bake it.
But instead of baking it, seal it tightly and store it in your freezer. Label it with the recipe name and the date. This will last about 3 months in the freezer.
When you are ready to cook it, you will have to put it in the refrigerator the night before to thaw it out. Then, bake it the next day at 350 degrees for about an hour (or until it is bubbly and hot).
Don't forget to top it with more parmesan cheese and almonds as you bake it. This is the best part!
Allergy-Friendly Almond Replacement
I used sliced almonds to replace the high-carb crunchy fried onions that usually go on top of green bean casserole.
But if you are allergic to almonds, then go ahead and omit the almonds.
While they add a nice crunch and texture, they aren't essential to the recipe. Just add a double portion of parmesan cheese. Parmesan becomes crispy when you bake it or top with ground pork rinds
Can you use a different cheese in this green bean chicken casserole?
I suggest only using parmesan cheese. It's just the best taste and texture for the casserole.
But if you want to try something different, you can top with mozzarella cheese. But this cheese melts instead of crisps up. So keep that in mind if you use it. The texture will be cheesy without any crispiness.
Is this Paleo and Gluten-Free?
If you use grass-fed dairy then this does qualify as paleo and because this recipe doesn't have anything with wheat or gluten in it, this is a gluten-free recipe too.
Even if you aren't counting your carbs, this is a great recipe for anyone that has celiac or gluten sensitivity.
Are Green Beans Keto-Friendly?
Yes, you can eat green beans on the keto diet. Just keep track of how many carbs you are eating that day since these contain a higher amount of carbs than other veggies.
One cup of cooked green beans has 10 grams of carbs, 4 of those are fiber. So 1 cup of cooked green beans has 6 grams of net carbs.
What to Serve with Keto Green Bean Chicken Casserole
When you add the chicken or turkey to it, this casserole takes center stage as the main dish.
Try one of these low-carb keto side dishes: 
• Low-Carb Cornbread
• Roasted Cauliflower and Brussel Sprouts with Bacon
Low-Carb Green Bean Chicken Casserole Recipe
Here is the entire recipe. Don't forget to pin this recipe to your low-carb recipe board. Make it easy to find so you can make it again.
Ingredients
Chicken breast, cooked – 1 pound
1 to 2 (12 ounce) bags green beans, thawed
8-ounce container sliced mushrooms
2 tablespoons butter
1 (8 ounces) package cream cheese, softened
Sour cream – ½ cup
Onion powder – ½ teaspoon
Garlic powder – ½ teaspoon
Black pepper – 1 teaspoon
Salt – ½ teaspoon
Sliced almonds – ½ cup
Grated parmesan – ¼ cup
Directions
Preheat oven to 350 degrees. Prepare a 9×13 baking dish with nonstick cooking spray.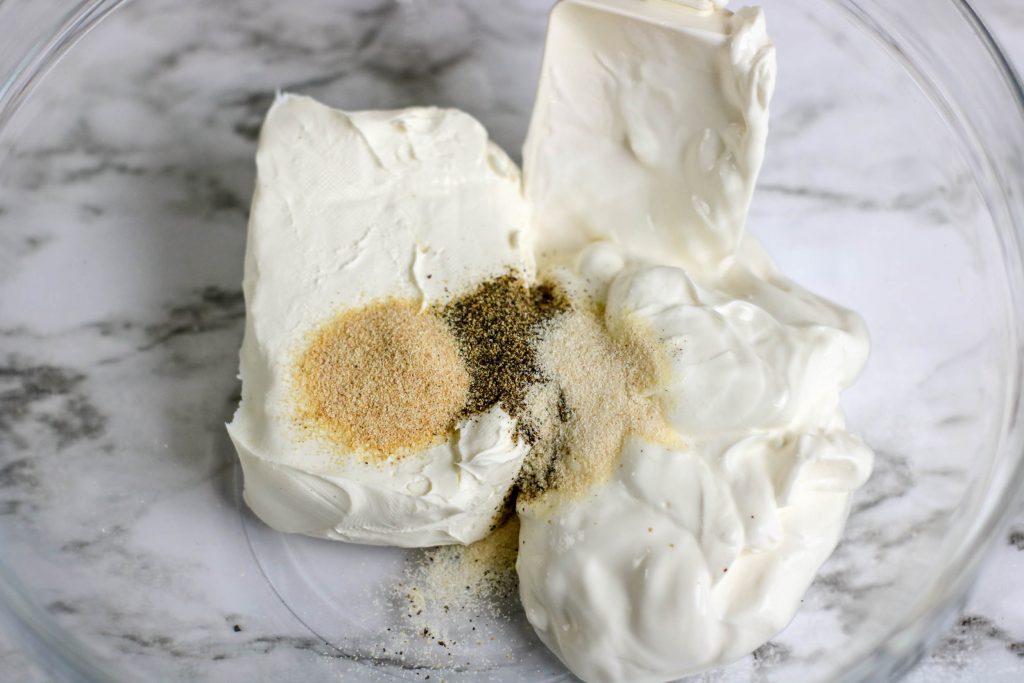 In a medium skillet, melt butter over medium heat.
Add mushrooms and cook 2 to 3 minutes or until softened.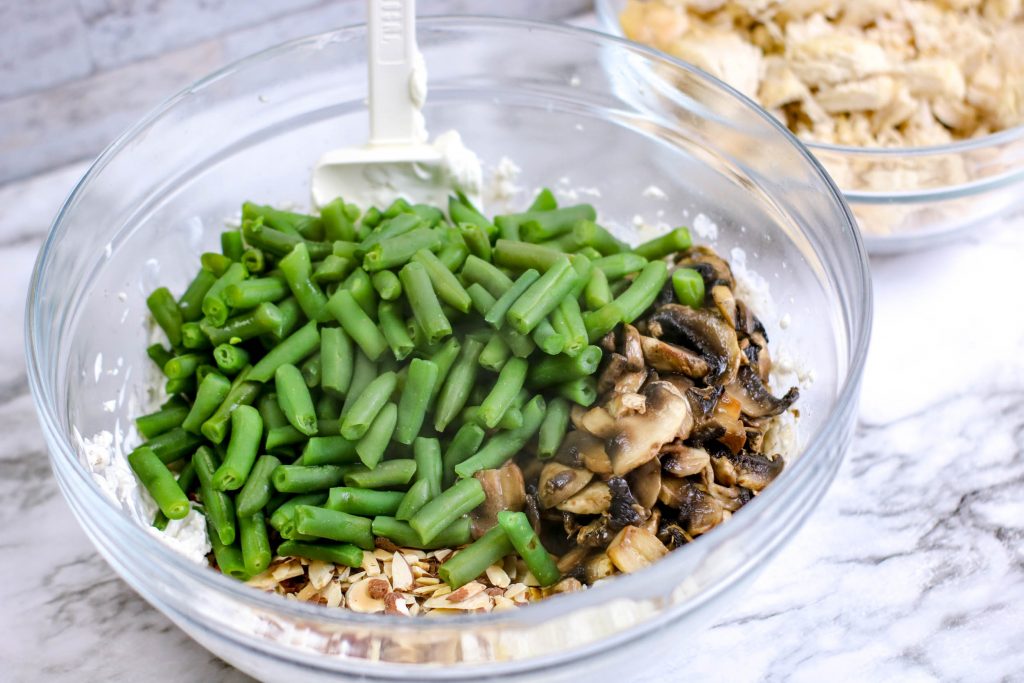 In a large bowl, stir together the cream cheese, sour cream, onion powder, garlic powder, black pepper, and salt until well combined.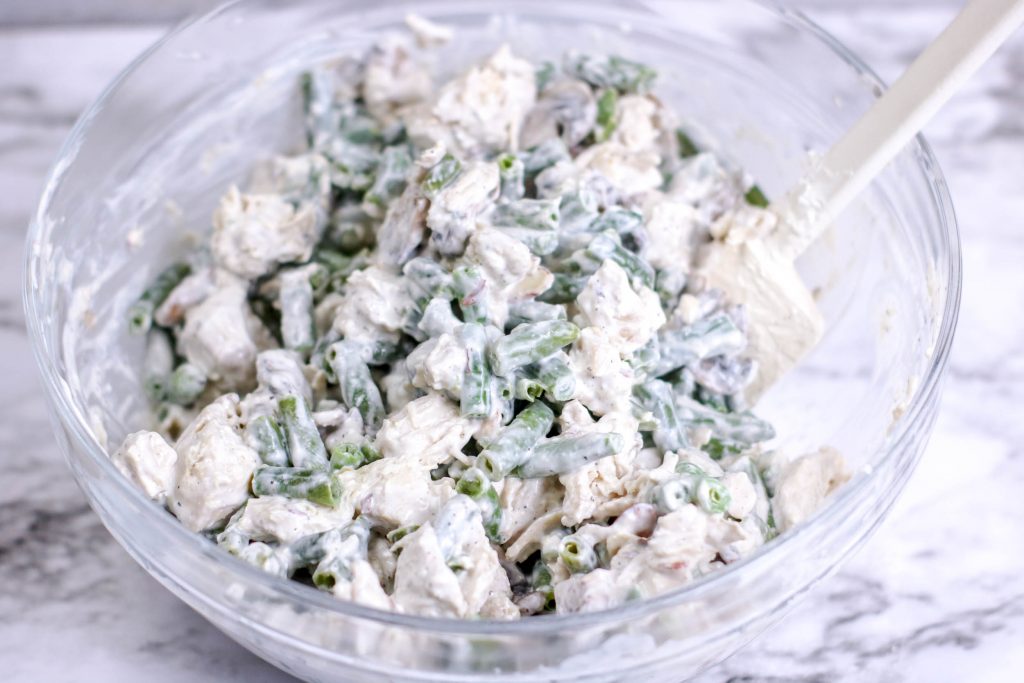 Toss in the green beans, chicken, mushrooms, and ¼ cup sliced almonds to the bowl and stir until combined.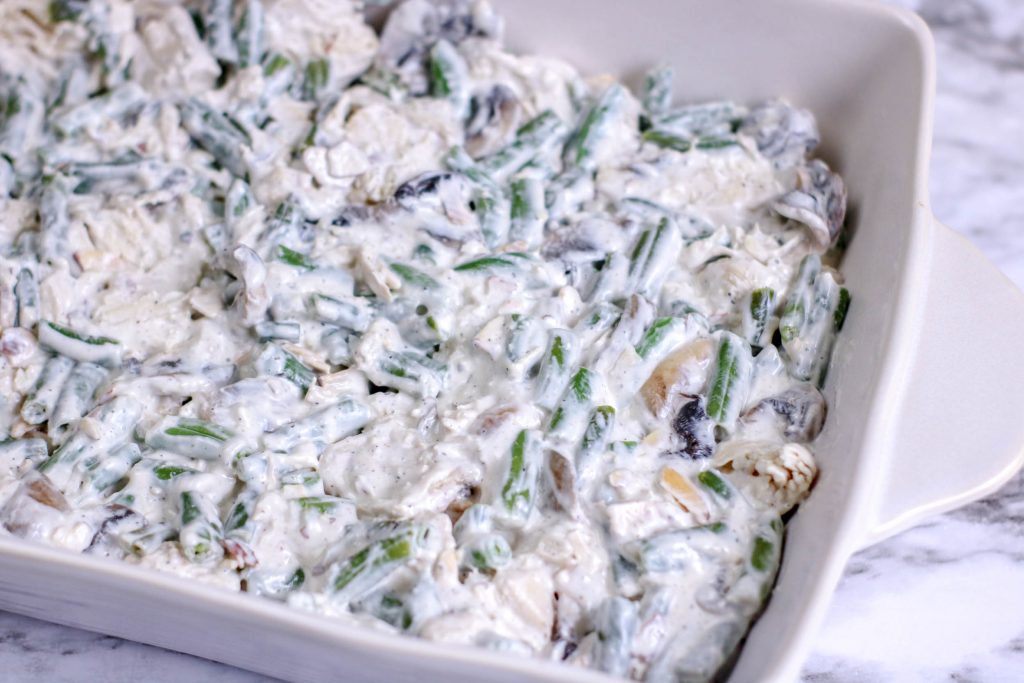 Transfer green bean mixture to baking dish. Spread in the dish evenly.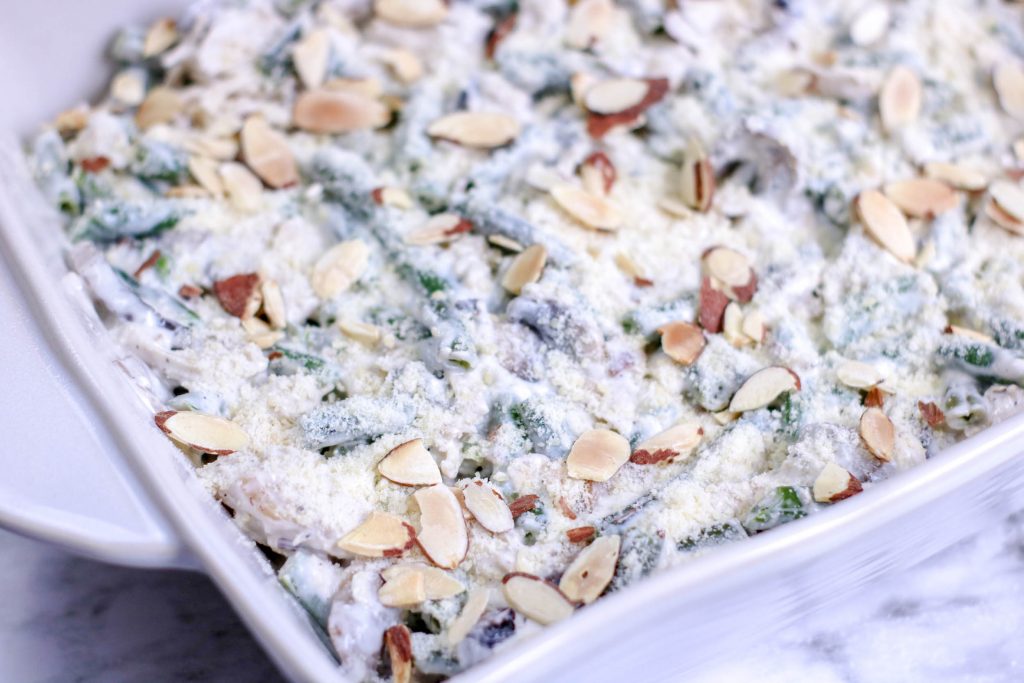 Top with remaining almonds and sprinkle with parmesan cheese.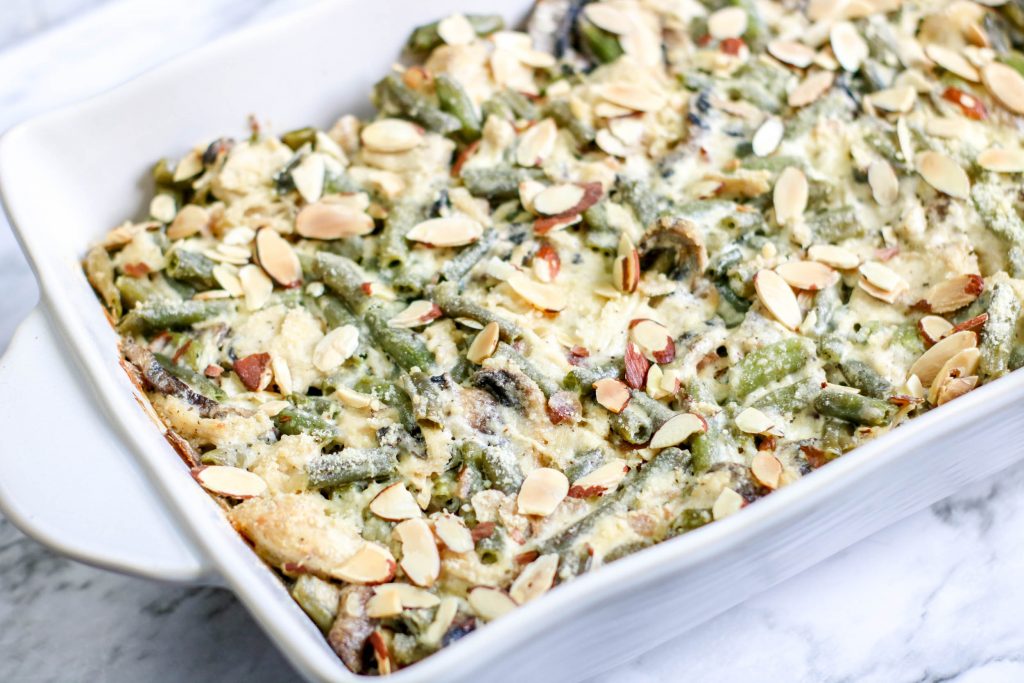 Now pop your casserole into the oven and bake for 30 minutes or until cooked through and bubbling.
Pin for later!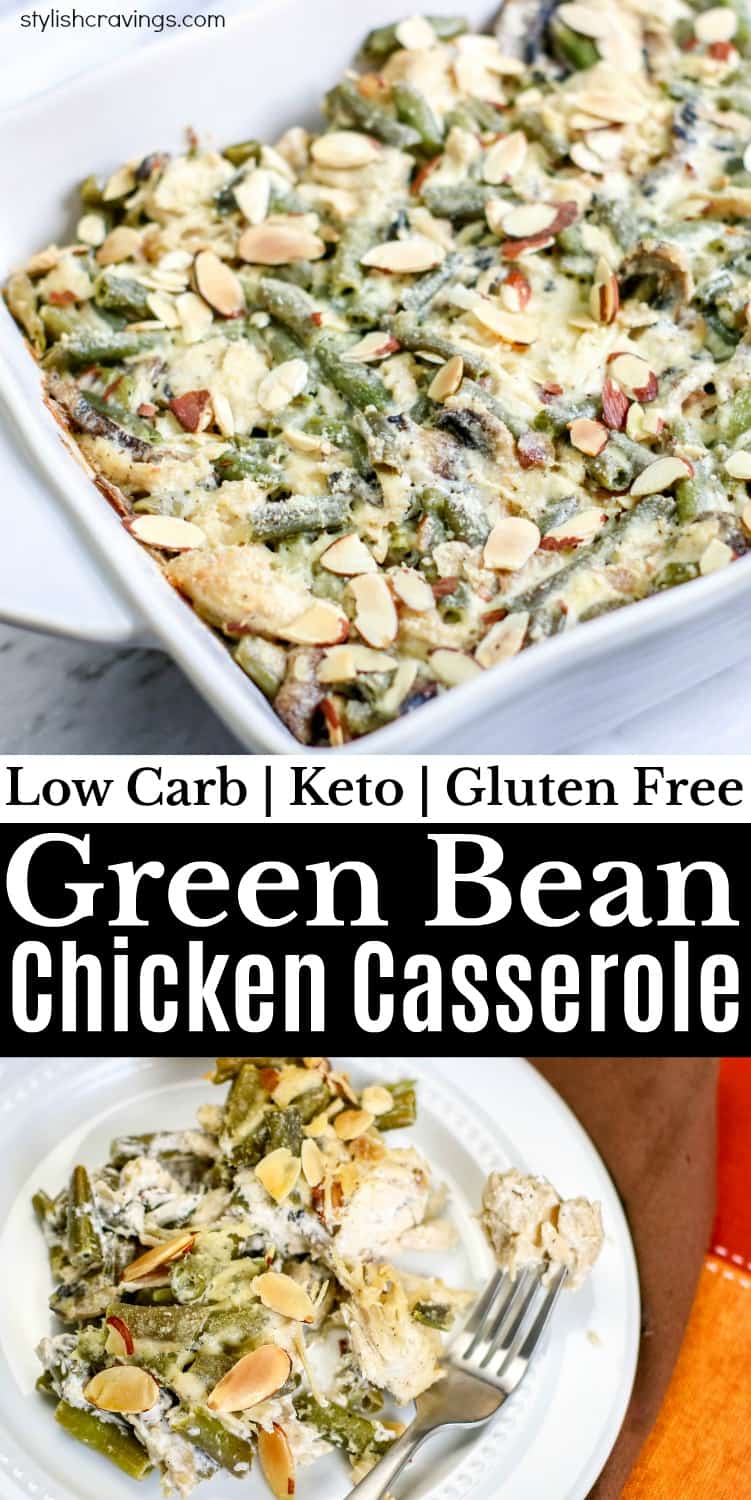 Follow me on Pinterest!