Looking for a healthy side that bursting with flavor? Look no further because this roasted cauliflower & Brussel sprouts with bacon recipe will be your new go-to for the holidays!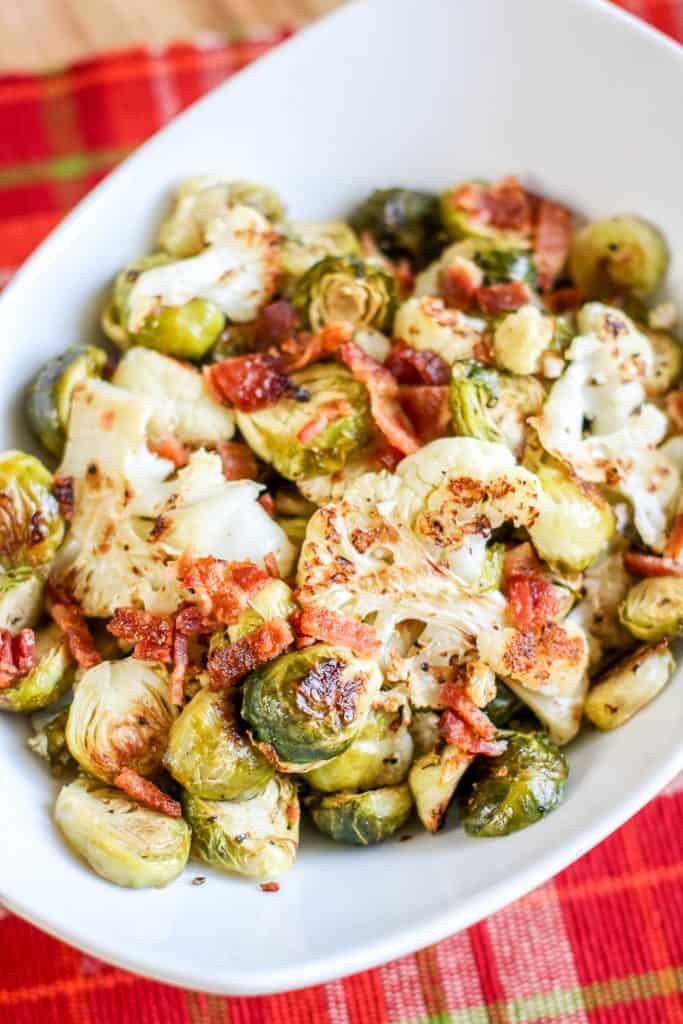 This easy to make low carb roasted cauliflower & Brussel Sprouts recipe is one of my favorite low carb side dishes. I often make it along with lemon chicken but it's flavorful enough to eat on its own. It'll definitely be in heavy rotation for the upcoming holidays along with crispy Keto parmesan brussels sprouts, cauliflower mashed potatoes, and this from scratch keto green bean casserole.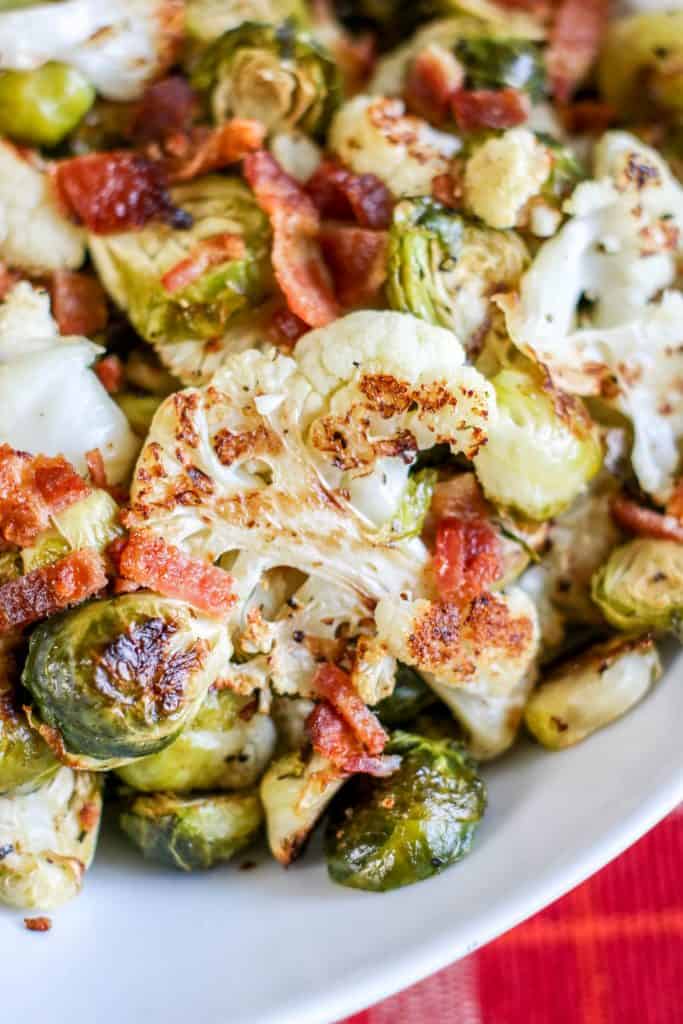 I'll also be cooking some classic indulgent holiday recipes but I want to always have my favorite low carb sides handy. This loaded cauliflower casserole is another fantastic low carb recipe that perfect to serve guests as well!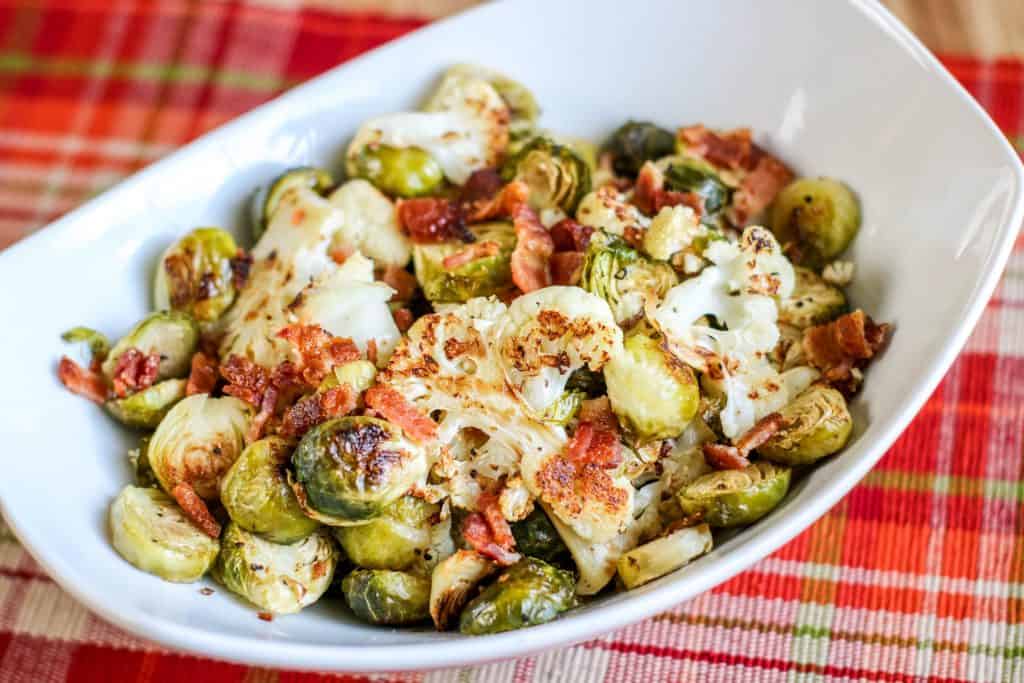 Can you roast cauliflower & Brussel sprouts the day before?
To save some time you can roast your vegetables the night before. Simply follow the instructions below and then allow them to cool and cover with aluminum foil. Vegetables can then be reheated in the oven for 15-20 minutes. You can also reheat in the microwave but keep in mind this will result in softer vegetables.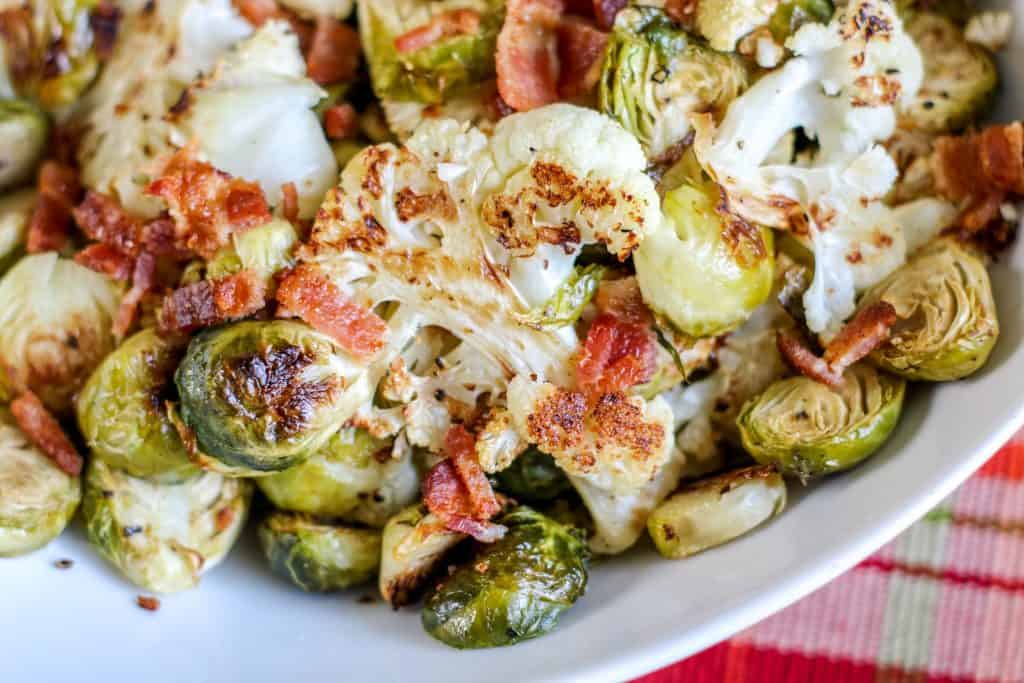 Other Low Carb vegetable You Can Use
Mushrooms
Zucchini
Squash
Broccoli
Eggplant
More Low Carb Recipes You'll Love:
Low Carb Skillet Corn Bread
Keto Asparagus Almondine
Low Carb Crustless Pumpkin Pie
This low carb recipe is actually pretty easy to make! All you need is a pound of bacon, Brussel sprouts, cauliflower, olive oil, and salt and pepper.
Make it your own
Top with parmesan cheese
Toss in slivers of almonds
Sprinkle with red pepper flakes for some kick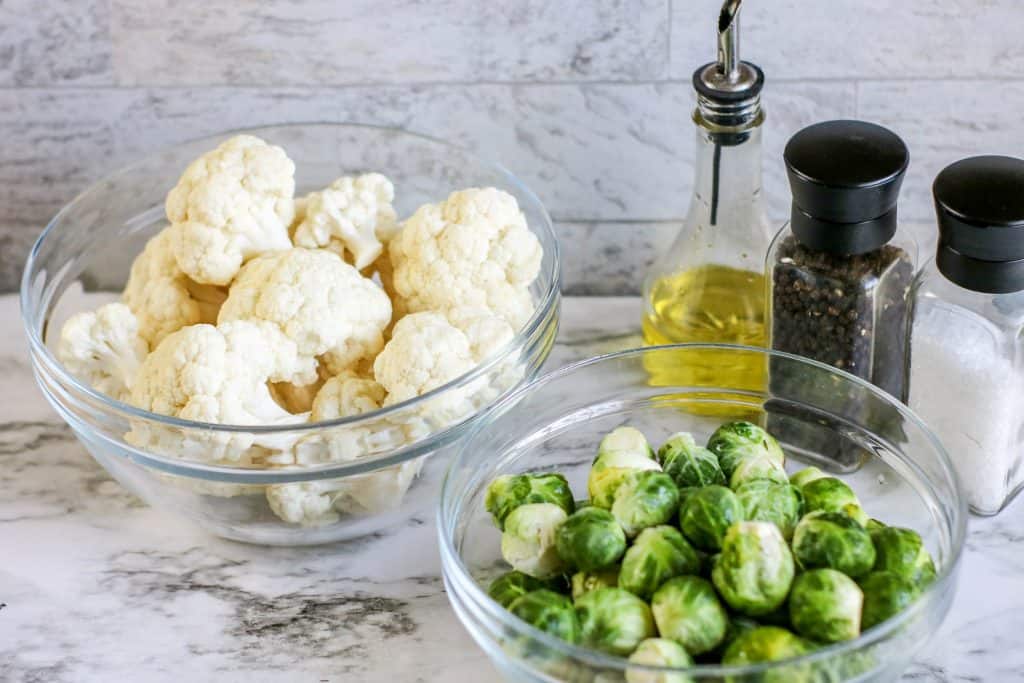 Ingredients:
½ pound bacon, cooked and chopped
2 pounds Brussel sprouts, trimmed and sliced into thirds
1 head cauliflower, heart removed and florets sliced
¼ cup olive oil
Freshly ground pepper, to taste
Salt, to taste
Directions:
1.Preheat oven to 375 degrees. Prepare two rimmed baking sheets with aluminum foil and spritz with non-stick cooking spray.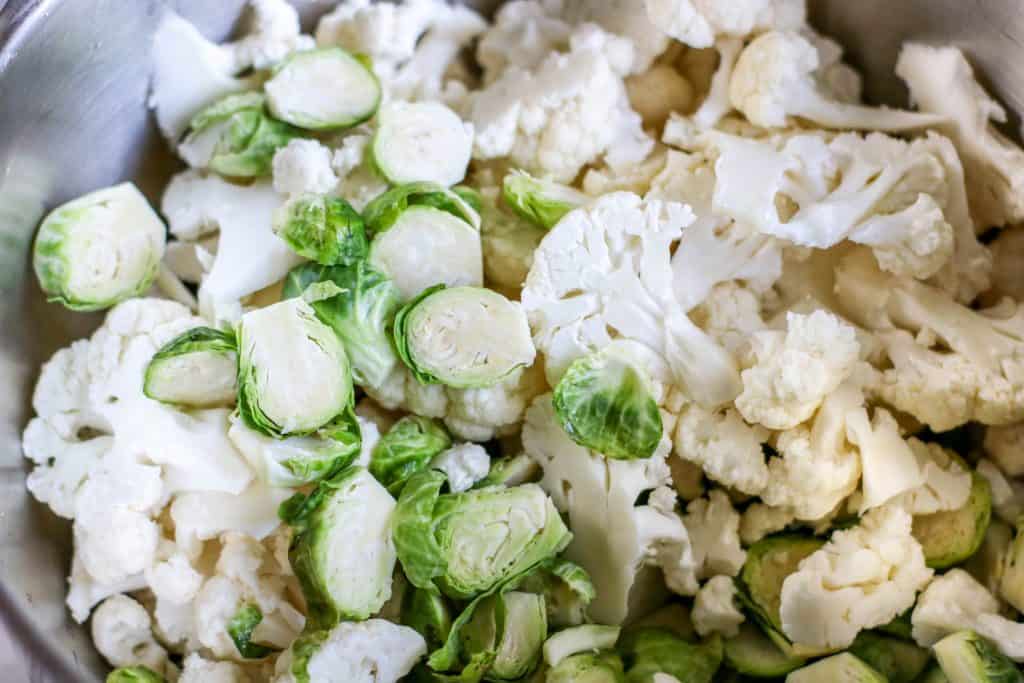 2.Prepare vegetables, slicing into equal sizes so they cook evenly. Place in a large bowl and toss with olive oil, salt, and pepper.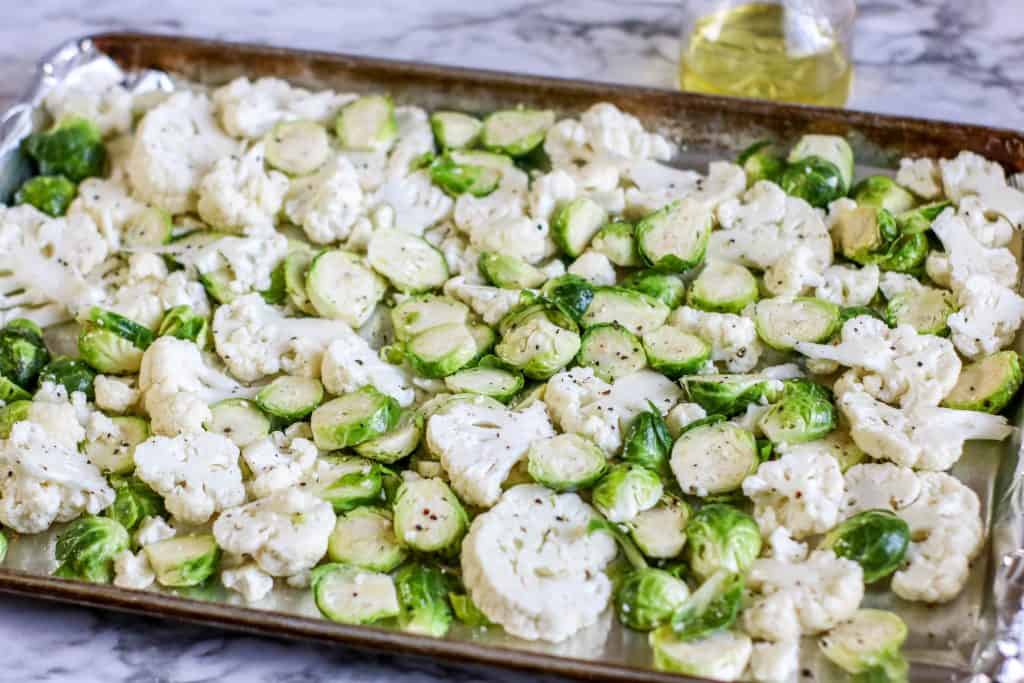 3.Spread vegetables evenly across baking sheets.
4.Place baking sheets in hot oven and cook for 25 to 30 minutes, rotating baking sheets halfway.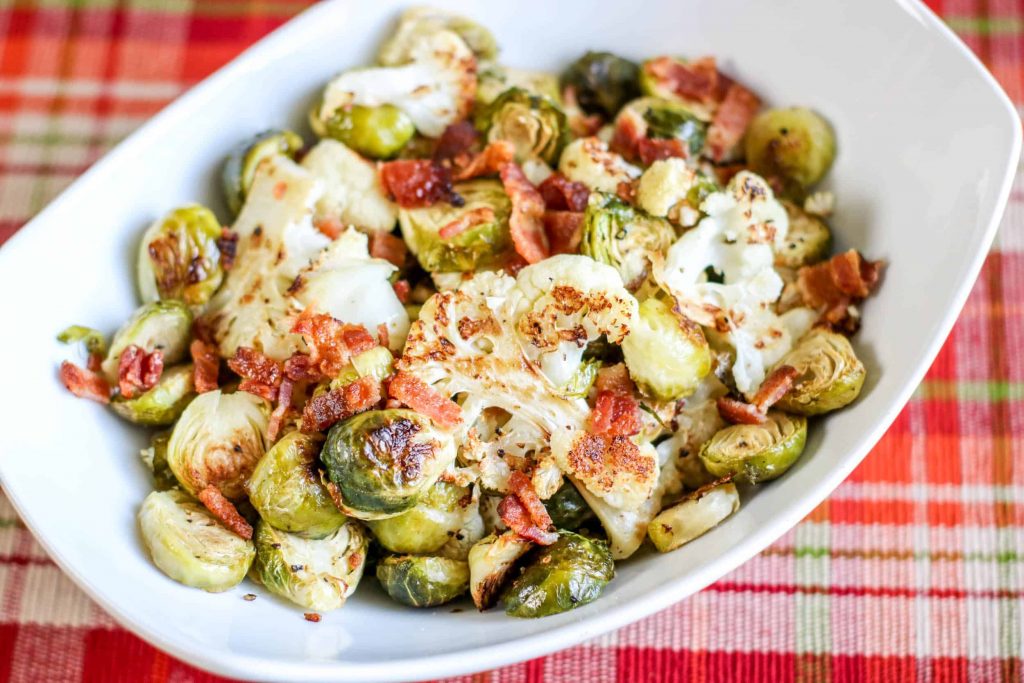 5. Remove vegetables from baking sheets and serve topped with bacon.
Pin for later!