This shop has been compensated by Collective Bias, Inc. and its advertiser. All opinions are mine alone. #CanYouCoffee #CollectiveBias
My day does not begin without a cup of coffee that I love to pair with easy yet delicious recipes like this black bean breakfast taco! Scroll down for my easy to make black bean taco recipe.
Before I started working from home, I used to just skip breakfast and coffee, which would leave me feeling exhausted and cranky before lunch. Now that I work at home, I've come to appreciate and even look forward to brewing my own cup of coffee and making myself something to eat like the black bean breakfast taco below.
Dunkin' Donuts® has always been my go-to brand to get me going and, more importantly, KEEP me going, so I can make the most of my day, every day! I'm loving that there is now a bigger sized container (30oz) of  Dunkin' Donuts® original blend, in a convenient new canister at Publix (I love that their stores are always so organized and pleasant to shop at). They must know I love buying in bulk!
There's nothing worse than running out of coffee! With Dunkin' Donuts® 30oz canister I can rest assured knowing that there's more than enough to keep me going! From 8/9 through 9/5 (just in time for the busy back to school season), you too can stock up and save up to $1.50 on any Dunkin' Donuts® canister at Publix. Get more of what you love and save money!
Black Bean Breakfast Taco
Ingredients:
Butter for frying the eggs
Eggs
Sliced avocado
Corn tortilla (4")
1 can of drained black beans
Jalapeno
Pico De Gallo Ingredients and directions:
6 large tomatoes, seeded and diced
1 sweet onion
Juice from 2 limes
2-3 tsp of salt
3/4 chopped cilantro
Breakfast Taco Instructions:
Cut and dice tomatoes, onions, and jalapeños. Combine in bowl along with lime juice, cilantro and salt. Mix and refrigerate.
In a skillet melt a tablespoon of butter. Add egg and cook sunny side up, and season with salt and pepper.
Lightly char tortillas over open flame or in a iron skillet.
To assemble the tacos, simply top tortillas with eggs, black beans, pico de gallo, sliced avocado and jalapeño.
You can also easily prep ahead of time by mixing the pico de gallo with the black beans and jalapeños!
Pin this tasty Black Bean Breakfast Taco for later!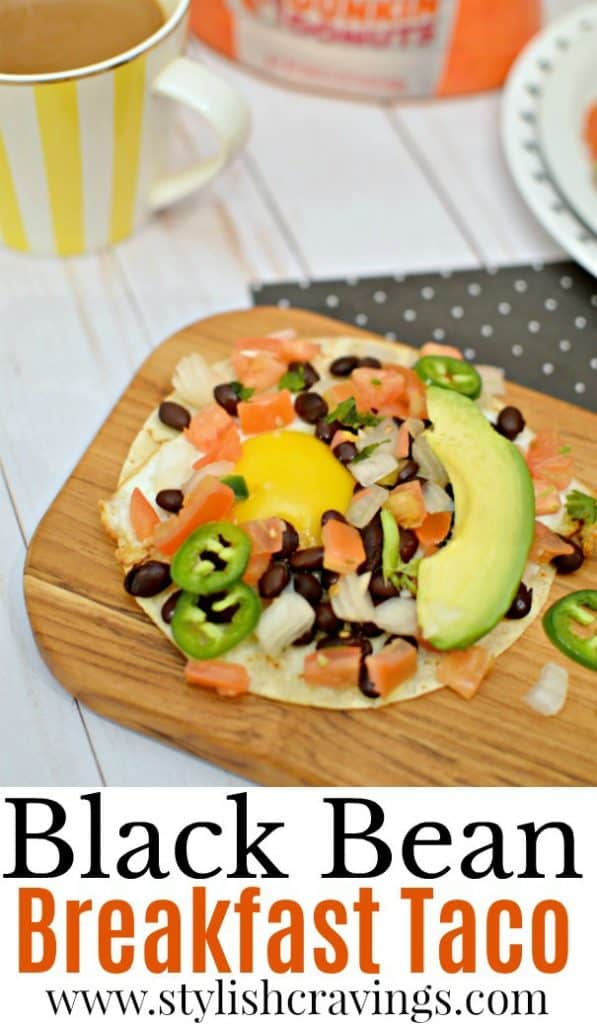 This tasty breakfast taco is perfect for breakfast or share with friends for brunch, and it pairs wonderfully with a cup of a Dunkin' Donuts® original blend coffee!