I'm all about making homemade sweets during the holidays, but more often than not I'm short on time. For those days where I do have the time, I turn to my 4 ingredients Christmas Caramel Pretzels recipe!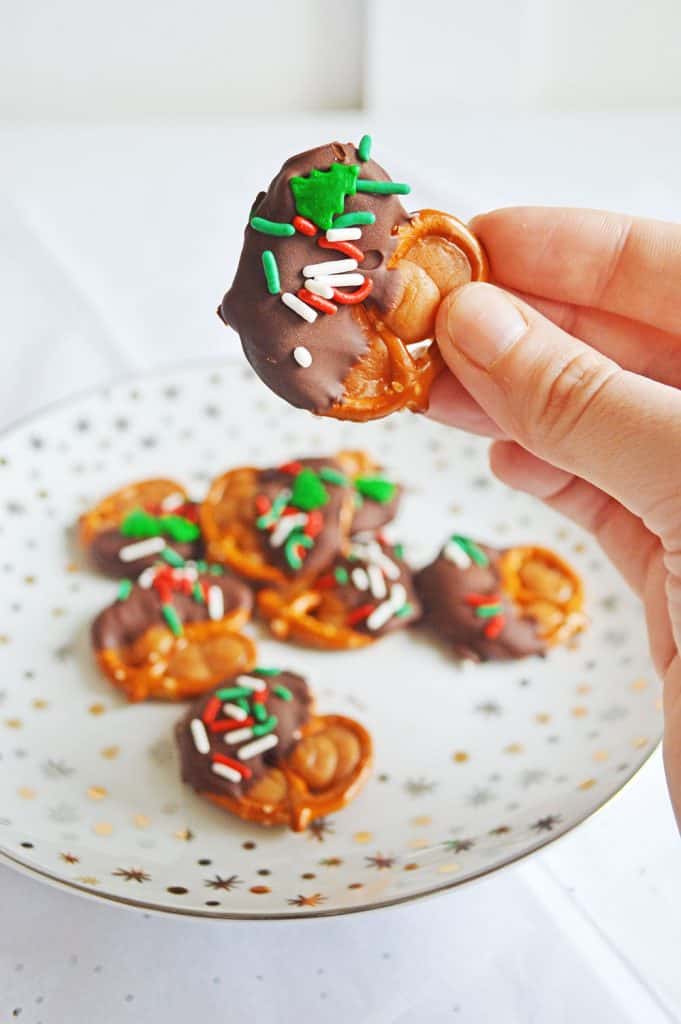 Is everyone done Christmas shopping? We just finished moving and I haven't really even begun to buy gifts. I am however having fun making our favorite Christmas recipes like these caramel pretzels in our new kitchen!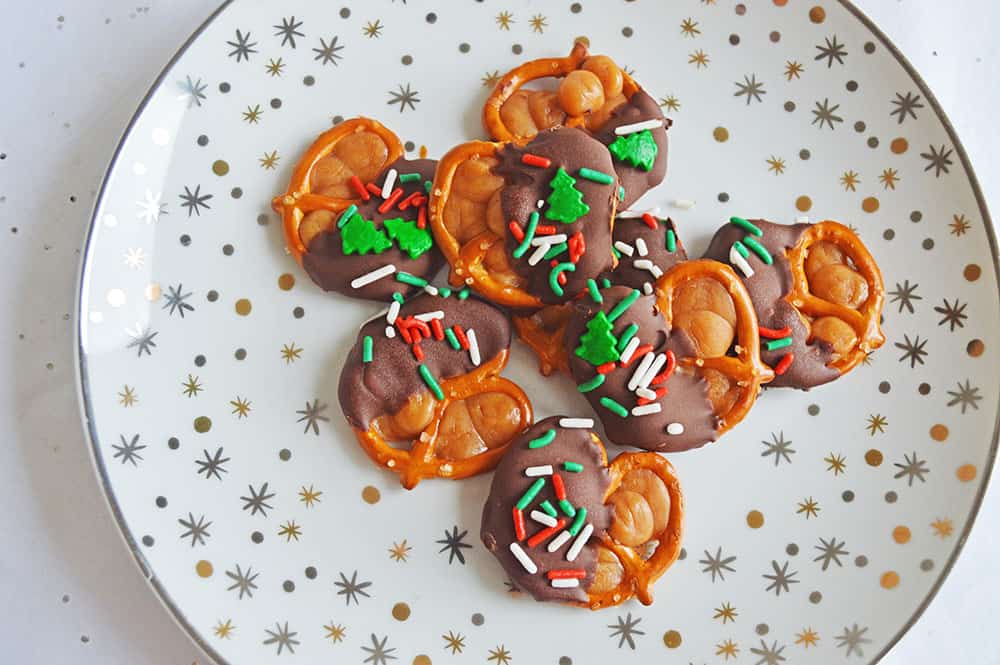 With only 4 ingredients, even the kids can help put it together. Once you make it, there's plenty of things you can do with them too! They can be put into a bowl and set out on a table for those unexpected holiday guests or you can gift them to teachers and or neighbors!
More Christmas Treats You'll Love:
Gingerbread Oreo Cookies
Easy Gingerbread Cookie Dip
Peppermint Christmas Cupcakes
Fun Christmas Crafts:
Elf On The Shelf Craft
DIY Glitter Pinecone Ornament
Ingredients To Make Christmas Caramel Pretzels
32 mini twist pretzels
1/2 a 12 oz. bag of caramel bits
1/2 a 12 oz bag of mini semi-sweet chocolate chips
Christmas sprinkles
How To Make Caramel Pretzels
Directions:
Preheat your oven to 375 degrees. Lay a sheet of parchment paper onto your cookie sheet and lay out pretzels in a single layer.
Fill pretzels with caramel bits, 6-7 per
pretzel
. Bake for 5 minutes until caramels just start to melt. Allow the pretzels to cool.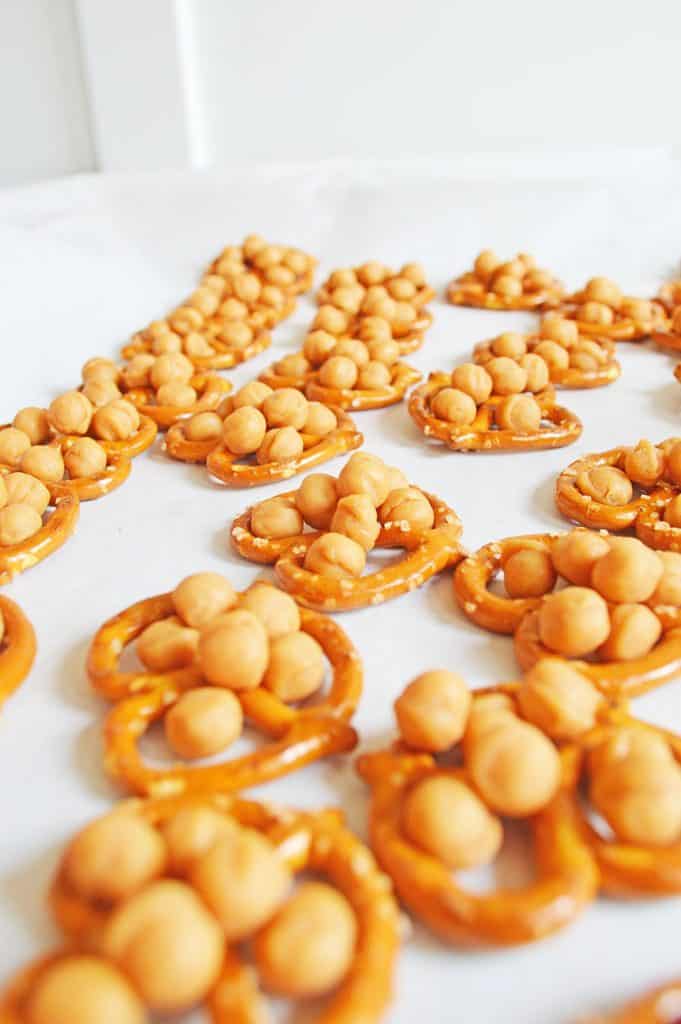 Then, microwave your chocolate chips in the microwave on 30 second intervals, stirring well between. Dip half of the
pretzel
into the chocolate, and then sprinkle with fun festive Christmas sprinkles.
Pop into the fridge for about an hour to set the chocolate and enjoy!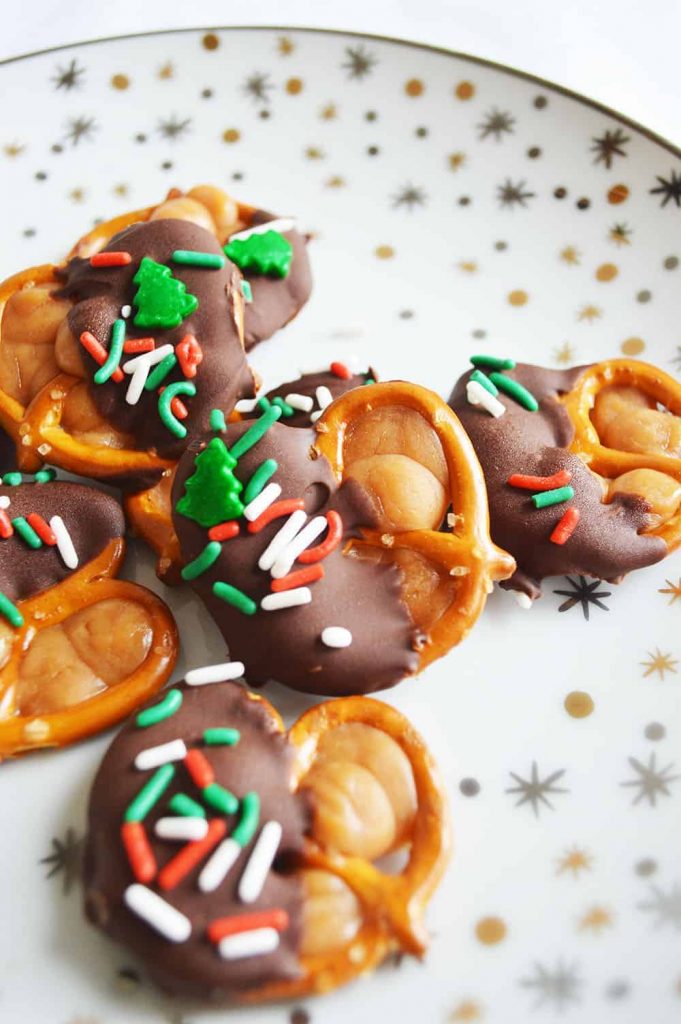 Pin this Christmas Caramel Pretzels recipe for later!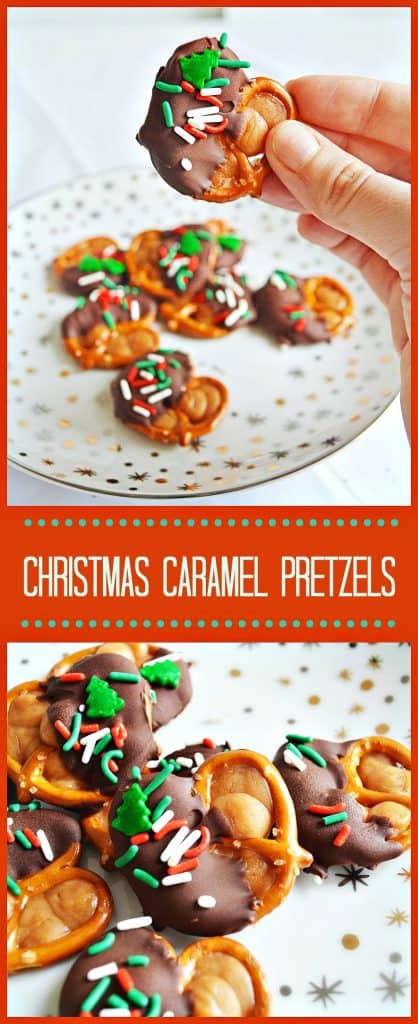 What's your favorite simple Christmas recipe? Make sure you're
following me
on Pinterest where I'm sharing tons Christmas recipe!