These fluffy pancakes are the perfect start to the day! Make extra of my keto strawberry pancakes recipe – everyone loves them!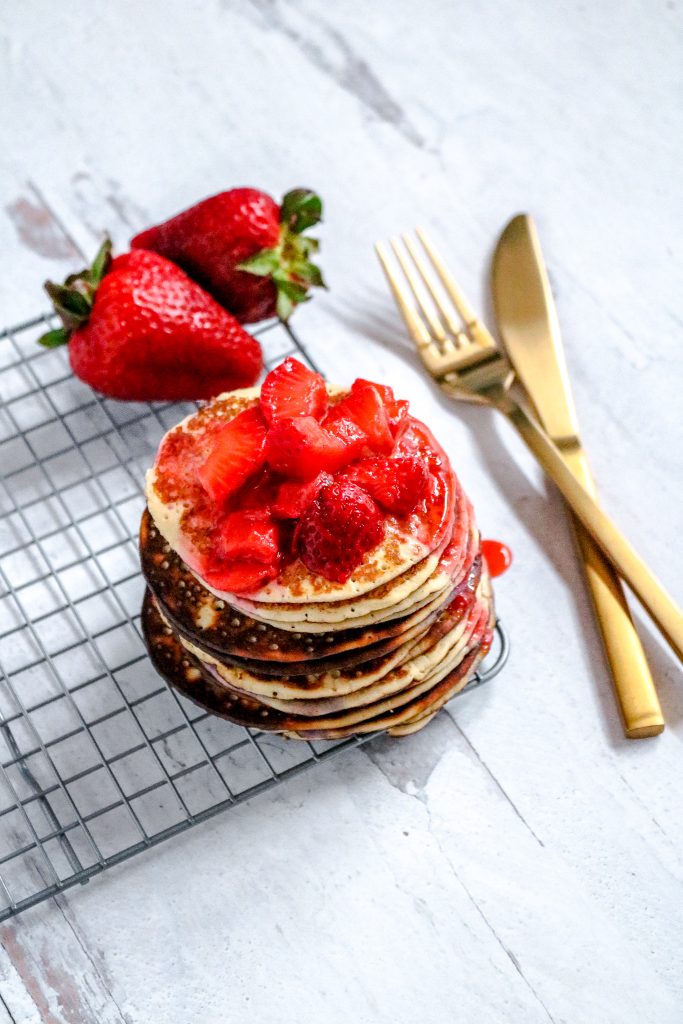 What makes these pancakes stand out is the sticky-sweet (yet surprisingly sugar-free) strawberry sauce. Seriously, I love using it on keto ice cream and keto waffles too. I feel like I am going off diet, but I'm not! It is amazing. 
Similar: Keto Pecan Ricotta Pancakes
Keto Almond Flour Strawberry Pancakes
There are lots of ways to make keto pancakes. I used a combination of cream cheese, almond flour, and eggs (among other ingredients).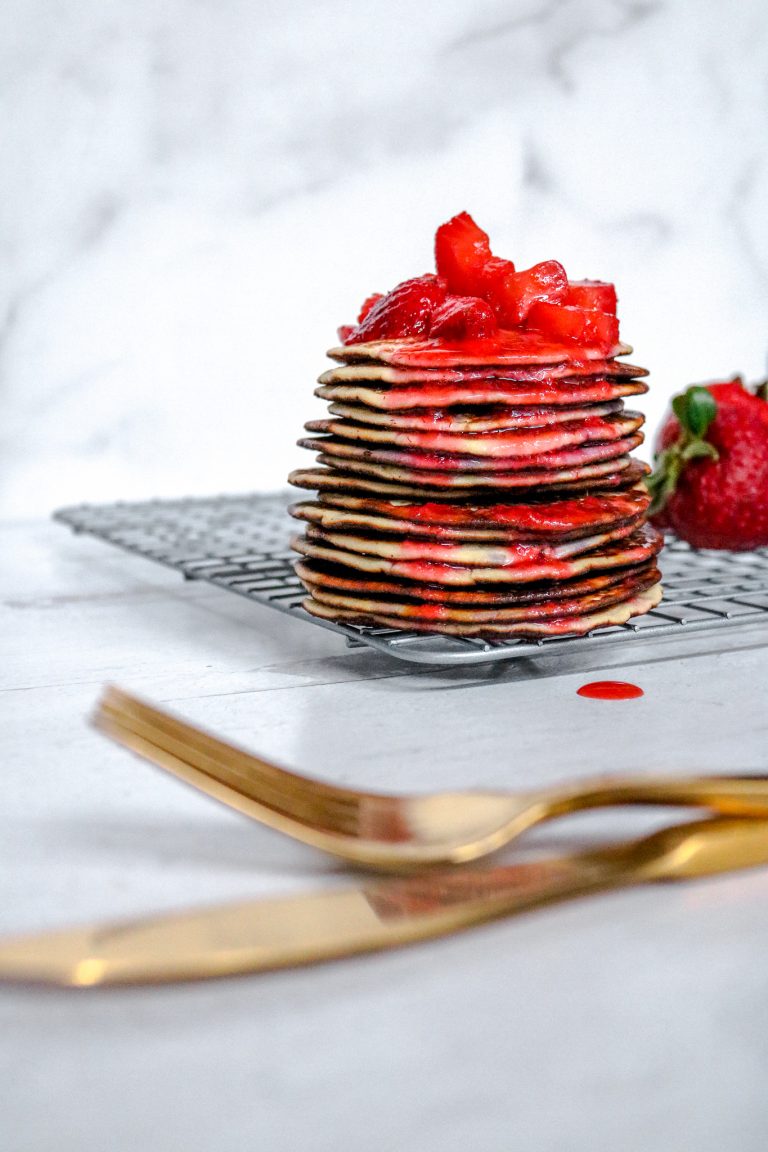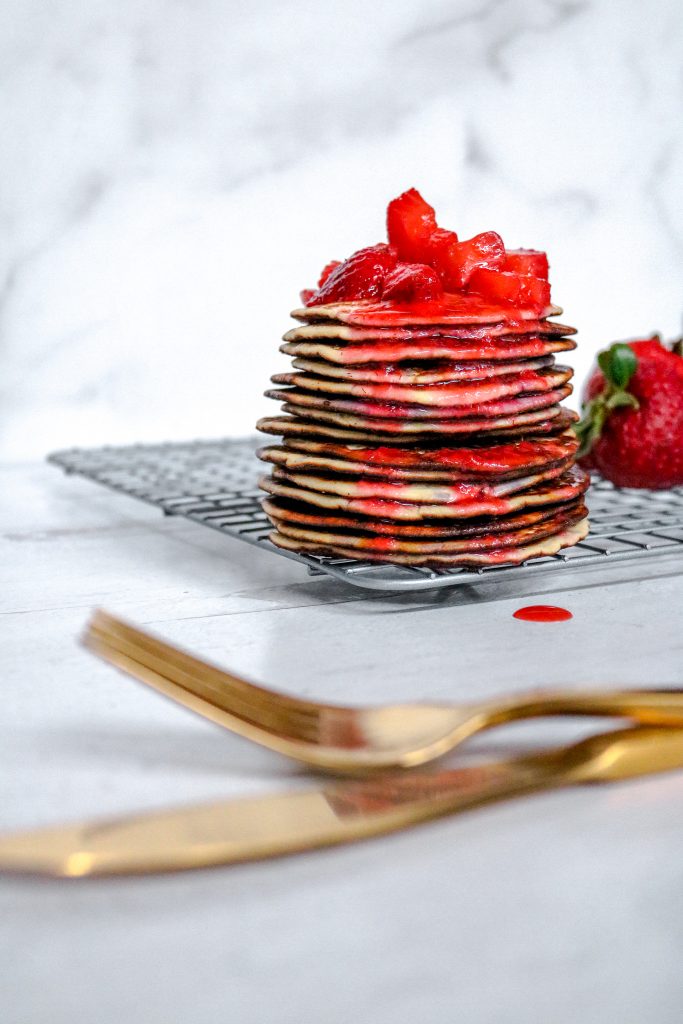 When you buy almond flour, please buy the blanched almond flour. Do not buy almond meal. The difference is that the fine-ground almond flour has a finer texture. It mixes so much better in the with rest of the ingredients. If you use almond meal, it will have a very gritty texture. 
Keto Breakfast Ideas
What is more simple and nostalgic than homemade pancakes for breakfast? I love them and so do my kids!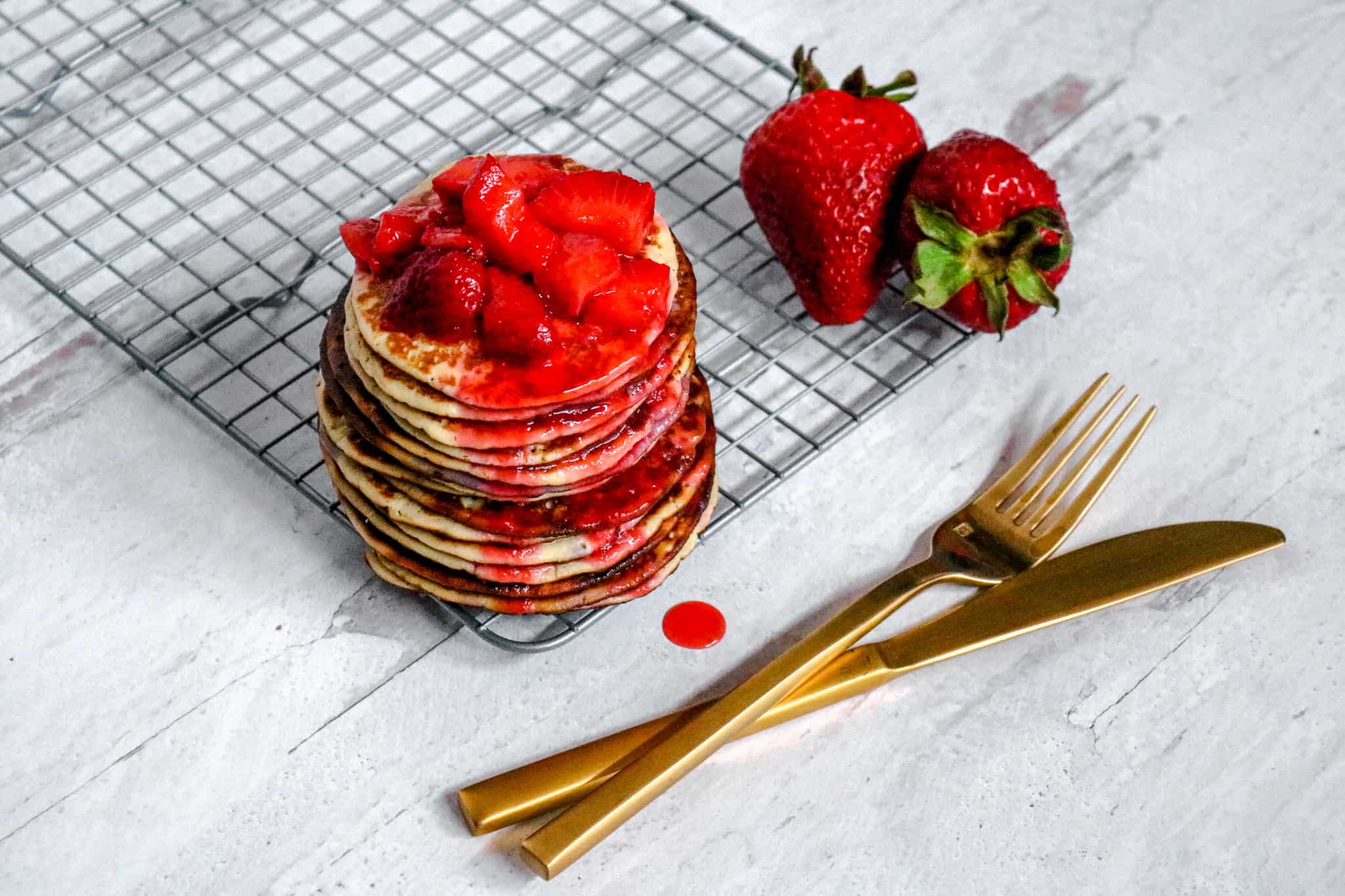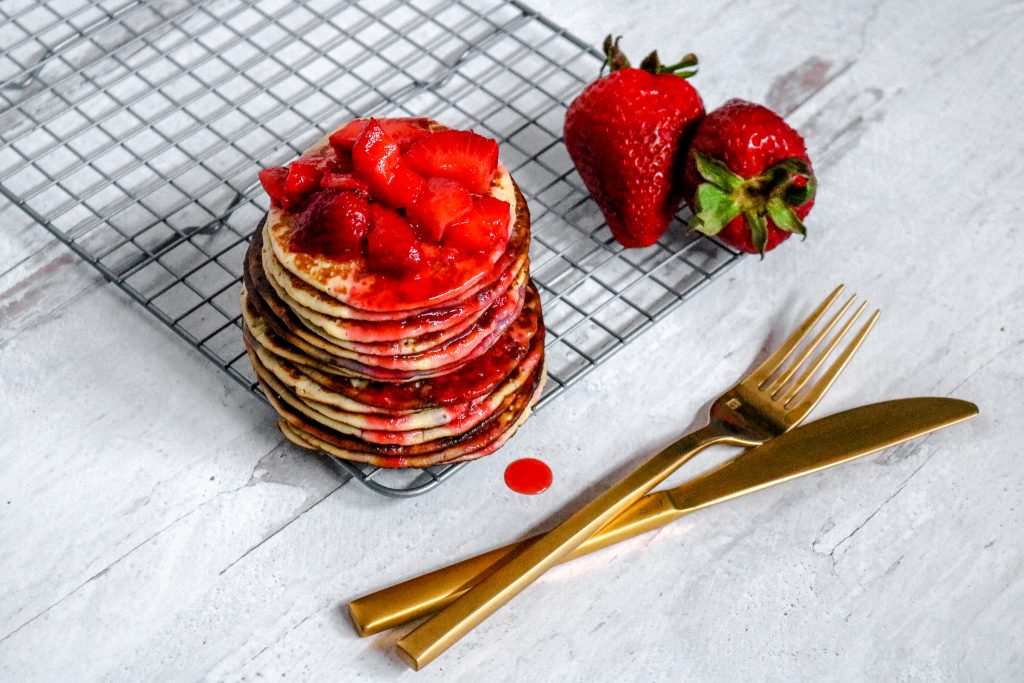 Serve some fluffy scrambled eggs with them along with some crispy bacon. Don't forget the hot cup of coffee (and chocolate milk for the kids). 
Breakfast is served. 
Keto Pancakes Toppings
When you are following the keto diet, you need to keep your carbs (or macros) in check. It's way too easy to go over, even on healthy things.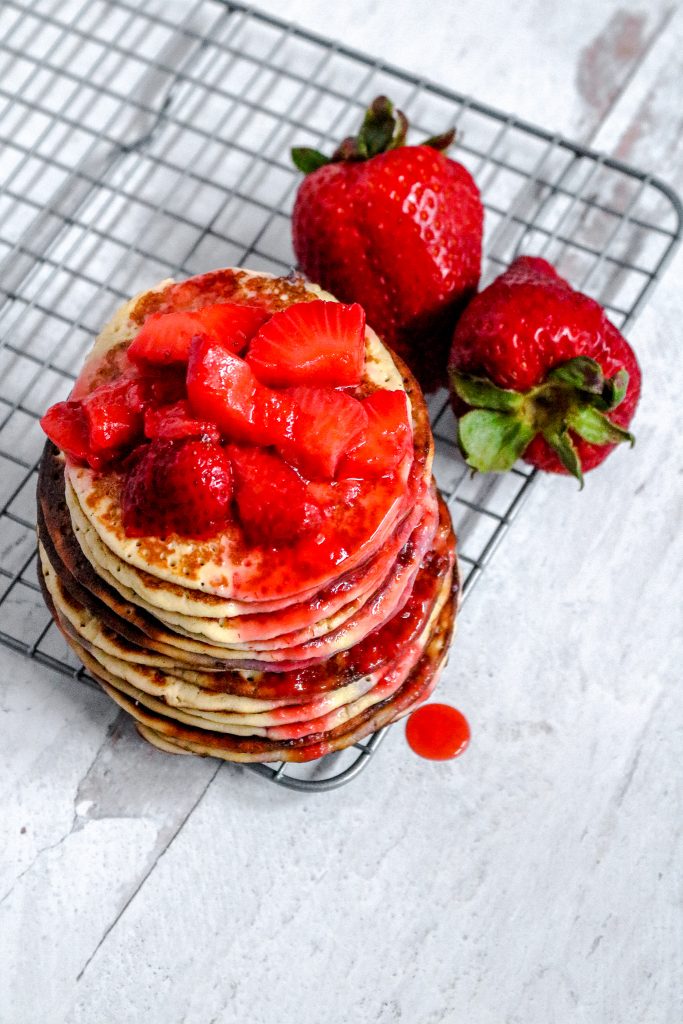 Here are a few ideas for keto-friendly pancake toppings: 
Sugar-free syrup 

Diced fresh fruit

Keto strawberry sauce

Fluffy Keto Whipped Cream (I love

this recipe

) 

Sugar-free powdered Swerve
Another idea – top them with scrambled eggs and bits of bacon and create a breakfast sandwich! Yum! 
Perfect Idea for Meal Prep
When you search my blog, you'll realize very quickly how much I love meal prepping. It saves me so much time, especially with young kiddos. Instead of staring into the fridge and trying to figure out what to eat, I just grab my container of already-made food and eat!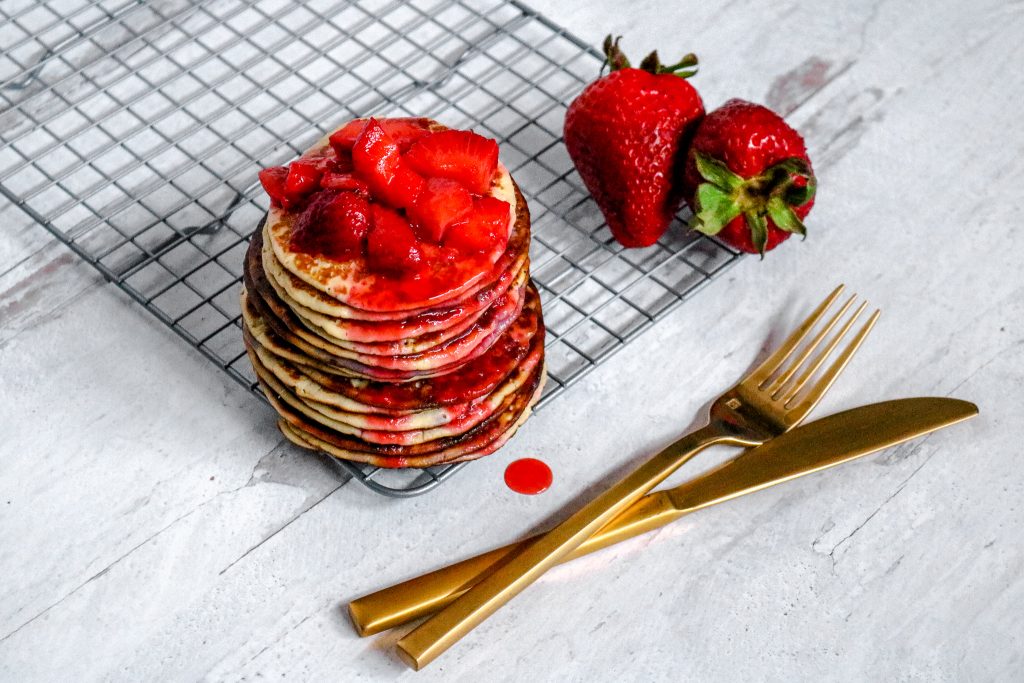 Talk about a sanity-saver!
These pancakes can work for meal prep – in fact, you can eat them for lunch too. 
I just store them in a zippered bag in the refrigerator. 
How To Freeze and Store
That leads perfectly into my next point – how to freeze and store them! 
You can freeze them for up to 3 months. Here's how to freeze the keto pancakes. 
First, lay them out in a single layer on a baking sheet. Put the baking sheet in the freezer. 
After the pancakes are completely frozen, pull out the baking sheet and put the frozen pancakes in a zippered plastic bag. 
If you try to freeze them in the bag and skip this step, they will freeze in a big clump. It's no fun to try and pull them apart at this point! 
When you are ready to eat them again, just pull out what you need and heat them in the oven at 300 degrees for about 10 minutes. You can also use a toaster oven or your toaster. 
Also, don't forget that you need to freeze the pancakes before you add the sauce on top. Don't freeze the sauce, just make it fresh. It tastes better when it is fresh. 
Kid-Friendly Breakfast
My kids love eating pancakes for breakfast. These taste just like pancakes made with flour. They especially love that sweet strawberry sauce! 
I always give them the pancakes with a side of sliced strawberries and some eggs and some kind of meat – bacon, sausage, or ham. Talk about a filling way to start the day! 
Keto Strawberry Pancakes Recipe
Here's the recipe! Don't forget to pin this post so you can find it when your kids ask for it later.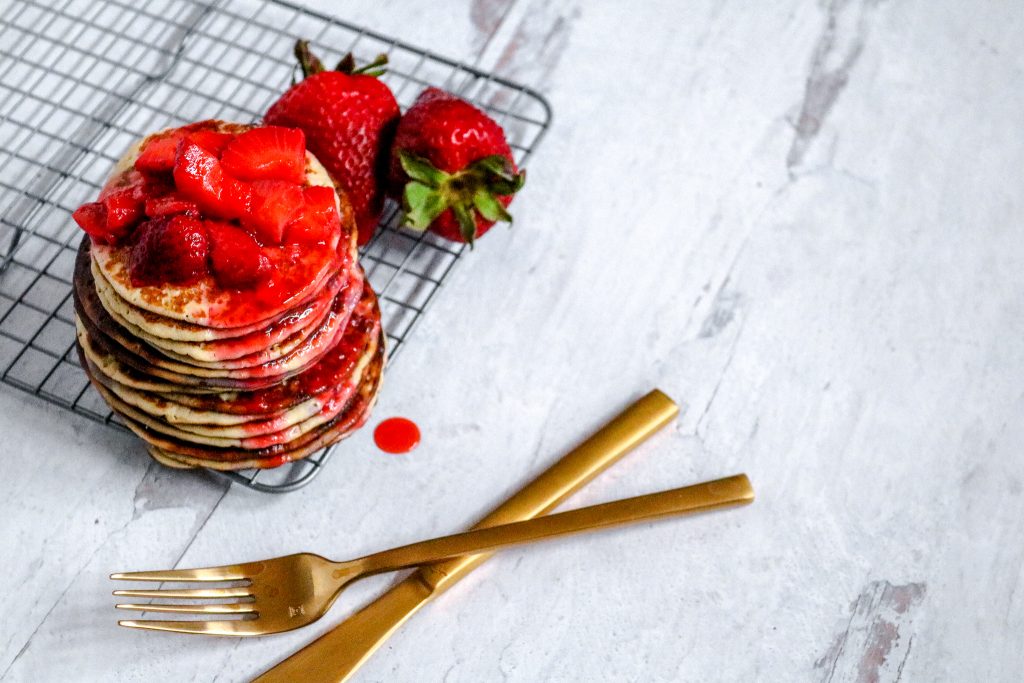 Keto Strawberry Pancakes Recipe 
Net: 13-20 pancakes depending on size you choose. Exact measurements are located within the printable recipe carb below.
Ingredients 
Cream cheese 
Eggs
Almond flour
Swerve brown sugar 
Heavy cream
Vanilla extract
Salt
For strawberry sauce
Strawberries 
Swerve sugar 
Water 
Instructions:
In a microwave safe bowl, combine ¾ cup of your strawberries, sugar and water. Mix well and microwave for 1-2 minutes. The mixture will turn into a sauce. Then add your remaining strawberries and let sit. Mixture should cool for 20-30 minutes.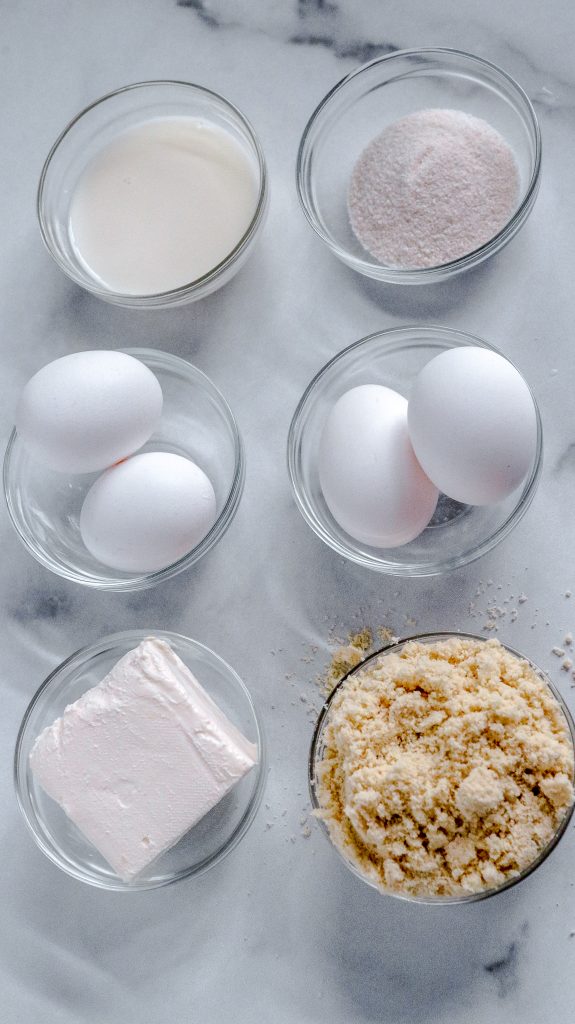 Combine all ingredients in a blender until mixed thoroughly.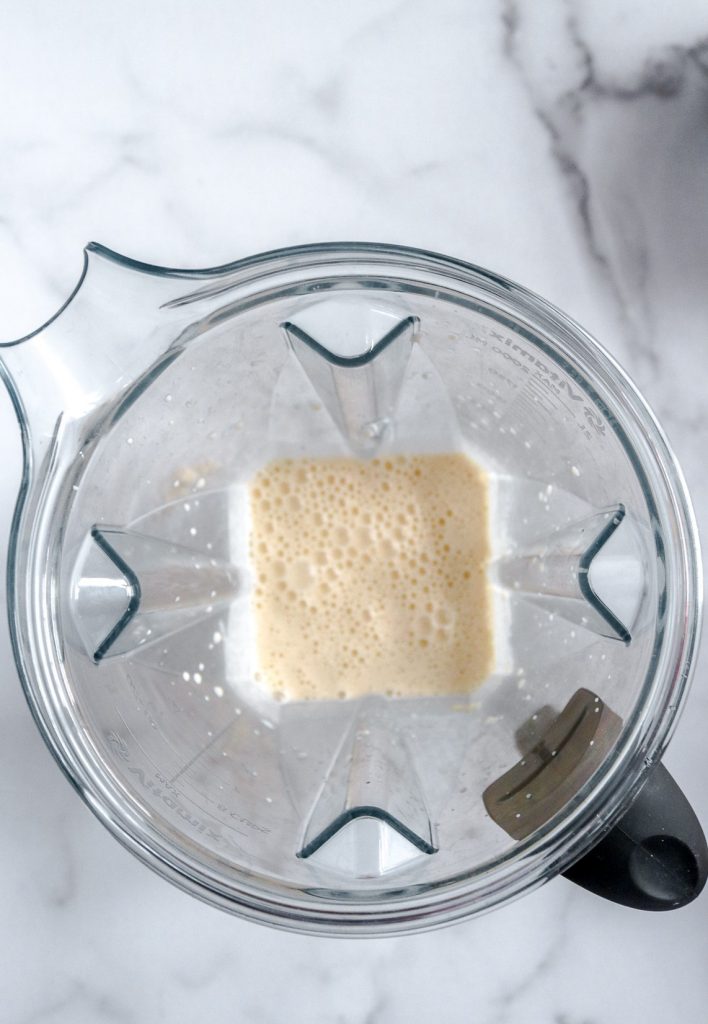 In a non-stick pan or lightly coated with oil of choice on medium heat, pour small rounds into the pan to cook. Be careful not to burn them.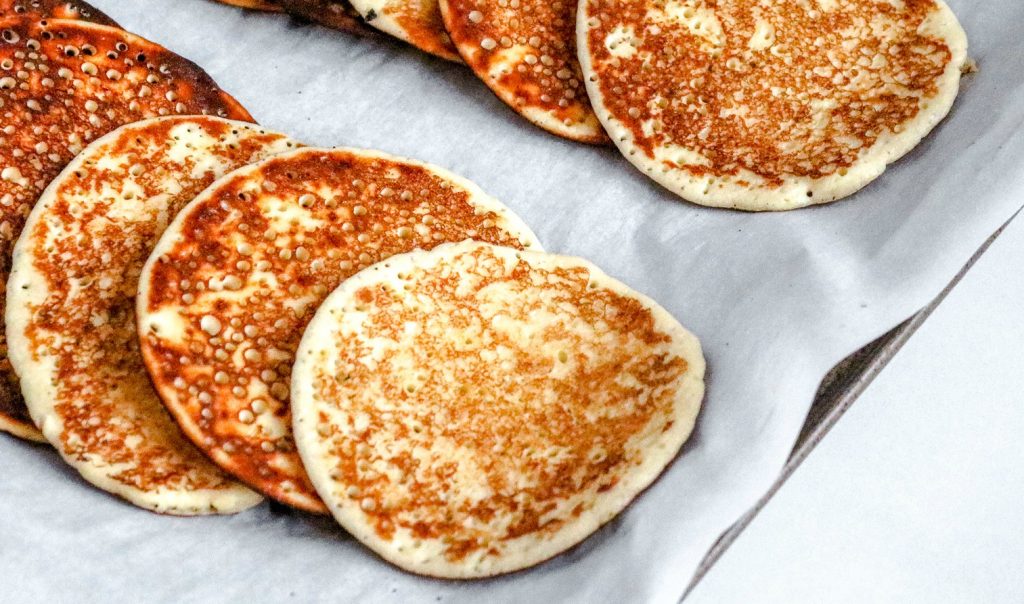 Depending on how big you want them, you should get 13-20 pancakes.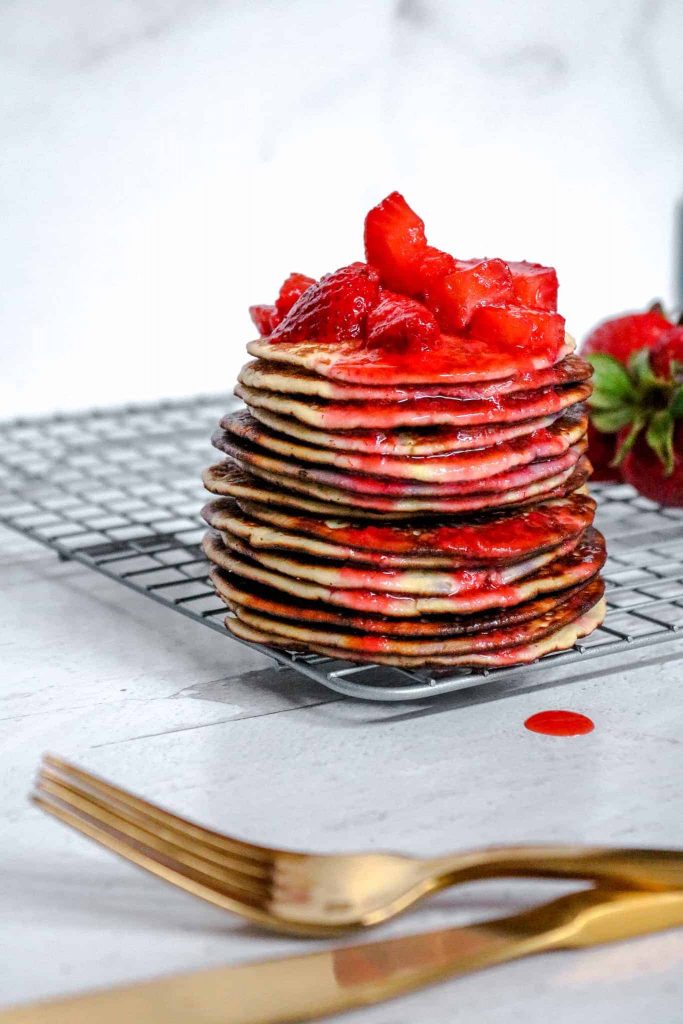 When done, stack and sprinkle with Swerve confectionary sugar. 
Enjoy!
Pin for later!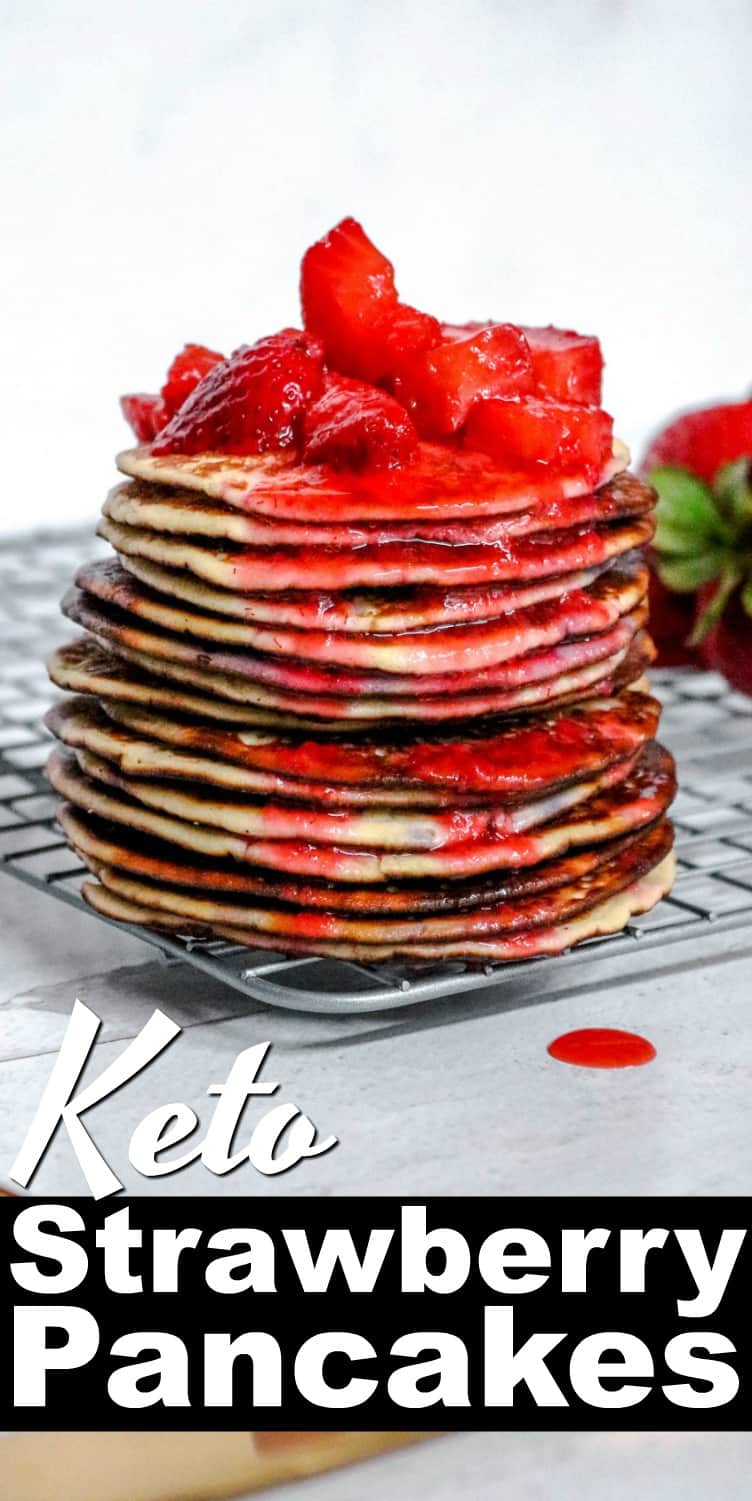 Follow me on Pinterest!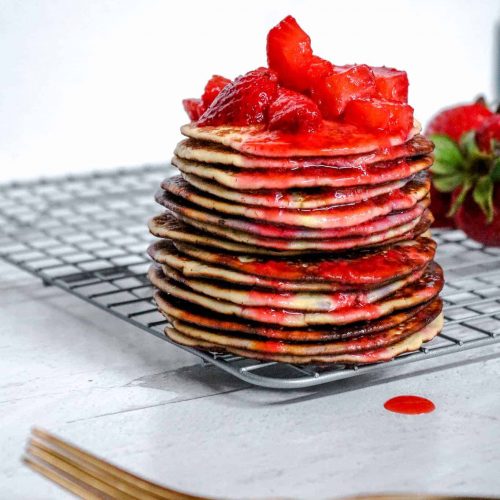 KETO STRAWBERRY PANCAKES RECIPE
These fluffy pancakes are the perfect start to the day! Make extra of my keto strawberry pancakes recipe – everyone loves them!
Ingredients
4

oz

 softened cream cheese 

4

eggs

3/4

cup

almond flour

2

tbsp

 Swerve brown sugar 

1/4

cup

heavy cream

Dash of vanilla extract

Dash of vanilla extractPinch of salt
Strawberry Sauce
1

cup

strawberries 

1

tbsp

 Swerve sugar 

2

tbsp

water 
Recipe Notes
Calories: 270 for 2 medium sized pancakes
Net Carbs:  3 g
The nutritional information for this recipe is calculated as a courtesy and is an approximate only. I cannot guarantee the accuracy of the nutritional information for any recipes on this site.
More Keto Breakfast Ideas
Start your day out on the right side of nutrition. Here are some more low-carb recipes you can make next.