Only 6 days left until baby girl #2 arrives! I've finally finished up my shopping and since I'm constantly getting asked what are my must have baby items I thought I'd put together a round up of some of my favorites. Scroll to bottom of post for all the must have baby necessities links.
**Post may contain affiliate links.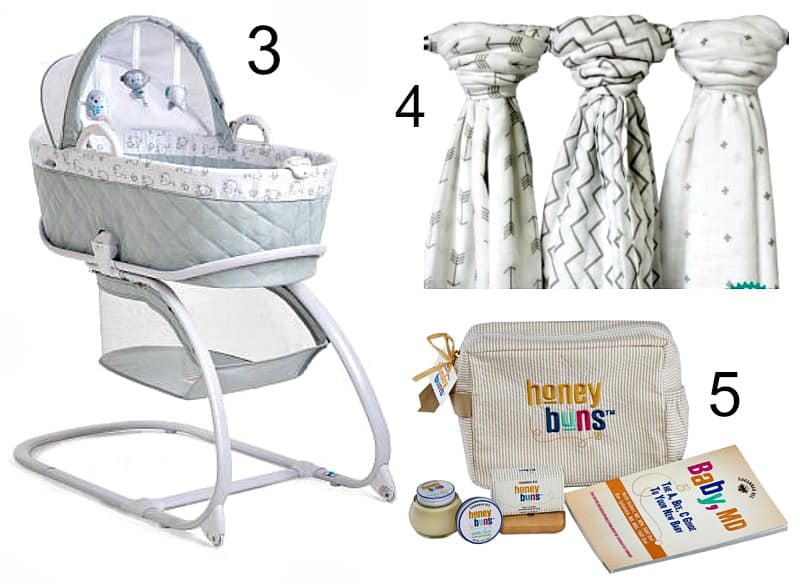 1. Breastfeeding or not, a Boppy pillow is a must-have! I've used it with both Joseph and Olivia, and I will definitely be using it again.
2. A cute Boppy cover is essential!
3. This bassinet with removable baskets will be perfect to keep the baby girl close to me while I sleep and work!
4. When you live in Florida, you're almost always in and out of air conditioning, so I use muslin wrap blankets in case they get cold. They're light enough to keep them wrapped all day and they can also be used later on as a favorite blank, just like Olivia does.
5. When Joseph was born he had extremely sensitive skin. I probably should have played it safer with Olivia because her skin was even more delicate. Caring for her sensitive skin was a full-time job. This time, I plan on being prepared with products like the ones I was sent in the Honey Buns Baby Kit. The Honey Buns Baby Kit products were designed specifically for babies, but they're also perfect for everyone, especially those with sensitive skin. I've already tested the Honey Buns Royal Jelly Baby butter on Olivia and I. It's an amazing product and it leaves her skin so so soft! For more info on the Honey Buns kits, click here.
6. A stylish and roomy baby bag is another must have! This striped baby bag comes with a bottle holder, changing mat and small detachable clutch.
What are your new baby necessities?
7. Olivia loves her binky! Within the first couple of days of bringing her home, I must have went through a dozen of them because I kept losing them until I finally bought her a pacifier clip. I've been hooked on them ever since! There's so many cute options with matching headbands!
8. These Born-Free muslin and terry cloth bibs are perfect for babies with sensitive skin. I bought mine at Marshall's, but you can also find them here.
Boppy Pillow | Boppy Pillow cover | Bassinet | Swaddle Blanket | Honey Buns | Baby Bag  | Paci Clip Gift Set | Bibs
What are some of your favorite baby necessities?
Disclosure: Honey Buns Baby Kit was sent to me to review. All opinions are my own.