I love to shop… I really do; but realistically, most of the time I am out shopping it's in a hurry, like so many other moms.  Shopping with five kids in tow requires organization and patience: you  never know who's going to need to go potty, who's going to wander off without you or who's going to say, "mom, can I buy that?"  It's apps like Shopami that are huge life saver for a fashionista/mom like me.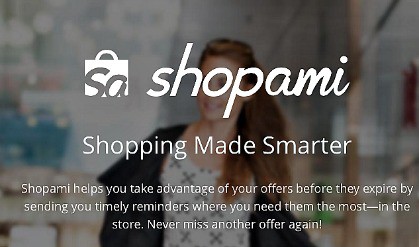 I can't even begin to tell you how many times I've gotten me and the kids dressed, buckled them all in and I got to the mall, walked by my favorite store, and realized that they had a huge sale yesterday! It's not only a waste of my precious time but it also means I end up spending more money. The Shopami app is a busy girl's best friend that reminds you of connects all of the offers you have in your email right when to the moment you most need them–when you shop!
Imagine this: You rush out the door to run some errands and you realize that you need something nice to wear for date night but you don't want to spend too much. So you wonder what store you should you hit up first.? Well, Shopami will notify you of any offers you may already have sitting in your email when you're near your favorite stores.  I downloaded the app just last week and I've already scored a major deal on a dress I've been eyeing. I didn't even head out to buy the dress, it just so happens that I was out buying groceries and the store was literally across the street and I got a notification of the sale because of my location. Had I not had the app I probably would have either bought it at full price or not bought it at all. That is just pure shopping awesomeness! I can only imagine how much easier this year's holiday shopping will be, especially on Black Friday!
How it Works:
When you first open the app it prompts you to choose your email (Google, Yahoo, etc.)  so you can the email of your choice bringing you to a screen where you log into your email. Once you log-in, Shopami does all the work for you so you can see all your offers in the app.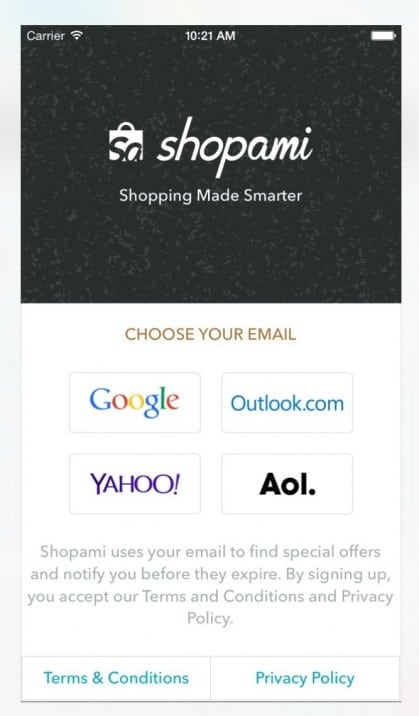 You can then have the option of allowing access to your location to get reminders whenever you're near your favorite store and have an offer you can use. And you can get reminders of offers that are about to expire so you can go out and use it just in time. Or you can just turn off notifications and simply check the app before you shop.
Do yourself and your wallet a favor and download the app and let Shopami help you shop smarter, wherever and whenever you shop most. Get it for free for Android or iPhone now.
Shopami does all the work after you're set up. Shopami will find all recent offers and deals for all the stores within your email and then tells you which ones are available when you're in the store and tells you which offers are expiring that day.
About Shopami:
Shopami connects you with email offers from your favorite stores—the offers you've already signed up for—by notifying you of those offers when you're out shopping, and organizing those offers so you can better plan a shopping trip.
Shop smarter with Shopami at the following supported stores:
• ABERCROMBIE & FITCH AERIE ALDO AMC THEATERS AMERICAN EAGLE ANN TAYLOR ANN TAYLOR FACTORY ANTHROPOLOGIE ATHLETA BANANA REPUBLIC BANANA REPUBLIC FACTORY STORE BCBG BEBE BEBE OUTLET BED, BATH, AND BEYOND BEST BUY CALVIN KLEIN OUTLET CHRISTOPHER AND BANKS COACH CRATE AND BARREL DICK'S SPORTING GOODS EDDIE BAUER EXPRESS FINISH LINE GAMESTOP GANDER MOUNTAIN GAP GAP OUTLET GUESS HALLMARK HOLLISTER HOT TOPIC J. CREW OUTLET J.C. PENNEY J.CREW KOHL'S LOFT LOFT OUTLET LUCKY BRAND LULULEMON MACY'S MADEWELL NIKE NORDSTROM NORDSTROM RACK OLD NAVY PACSUN POTTERY BARN RESTORATION HARDWARE SEARS SPORTS AUTHORITY STEVE MADDEN TARGET THE WALKING COMPANY TITLENINE VICTORIA'S SECRET WALMART WHITE HOUSE BLACK MARKET
Disclosure: This is a sponsored post on behalf of Shopami and Return Path. The opinions are my own.