This sesame cauliflower recipe is the perfect low carb takeout alternative that everyone will love! Scroll down for the sweet and savory recipe that can easily be made in less than 30 minutes.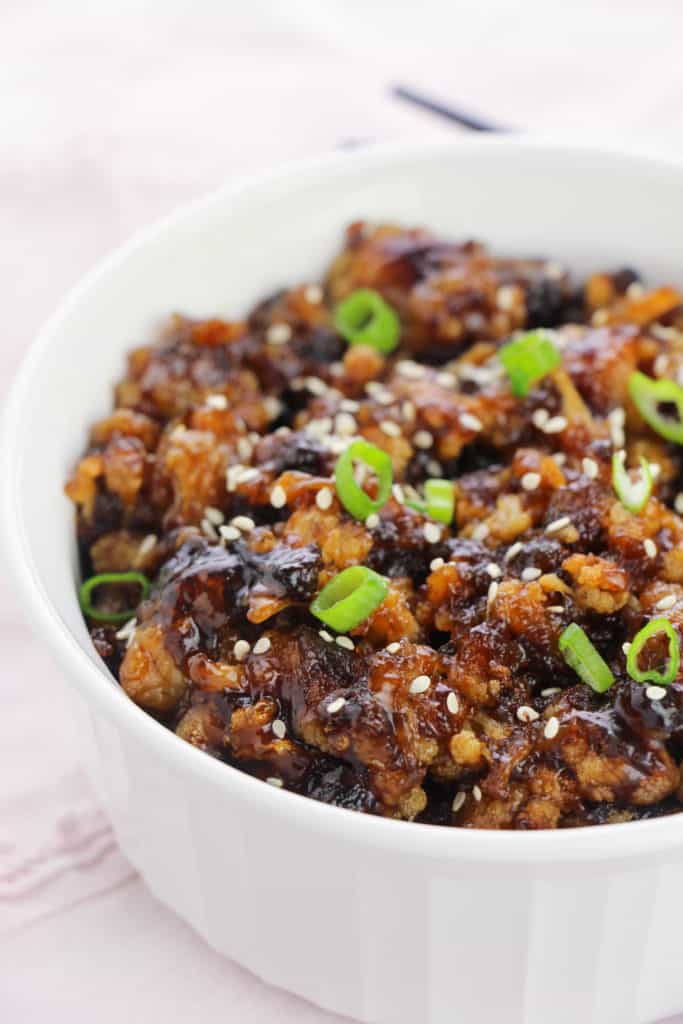 I've been a little laid back with dinner, mainly making Low carb BLT sandwiches and these Keto zucchini fritters. Now that school has ended I'll be diving back in and meal planning! I love getting creative with cauliflower, it's hands down my favorite substitute to use in place of rice, potatoes, and in this case, chicken.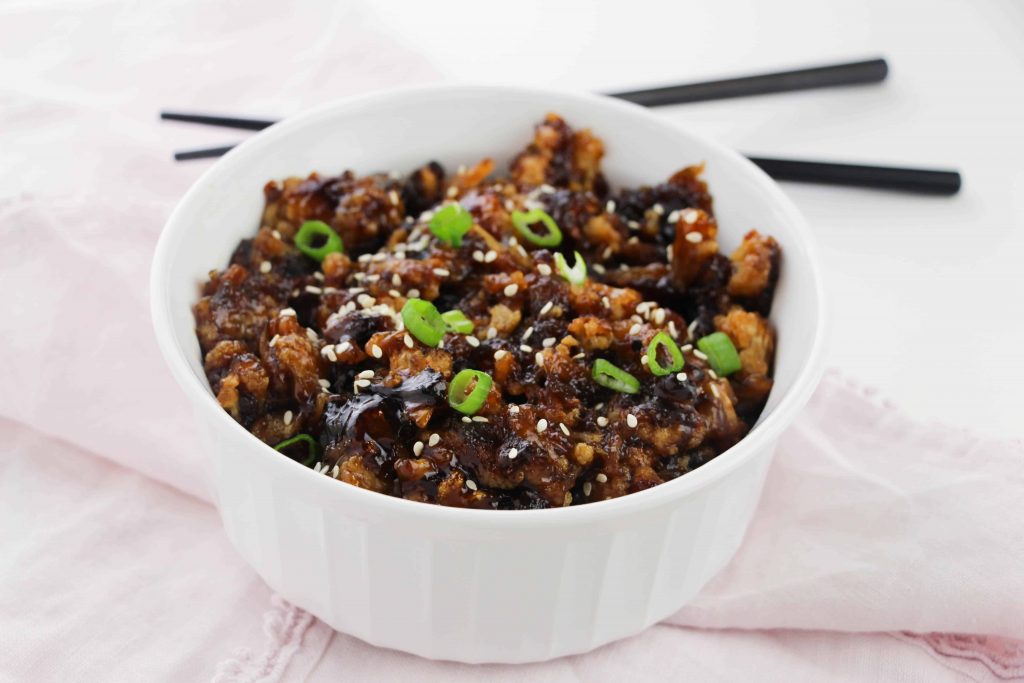 Along with being on a mainly low carb/keto diet, I also like to have one meatless day a week. Not only are meals more affordable without it, but it gives me an excuse to get creative with our favorite vegetables. I've made plenty of cauliflower recipes like this mushroom and spinach cauliflower rice. We also make cauliflower mashed potatoes, and we frequently use them as a side dish when grilling.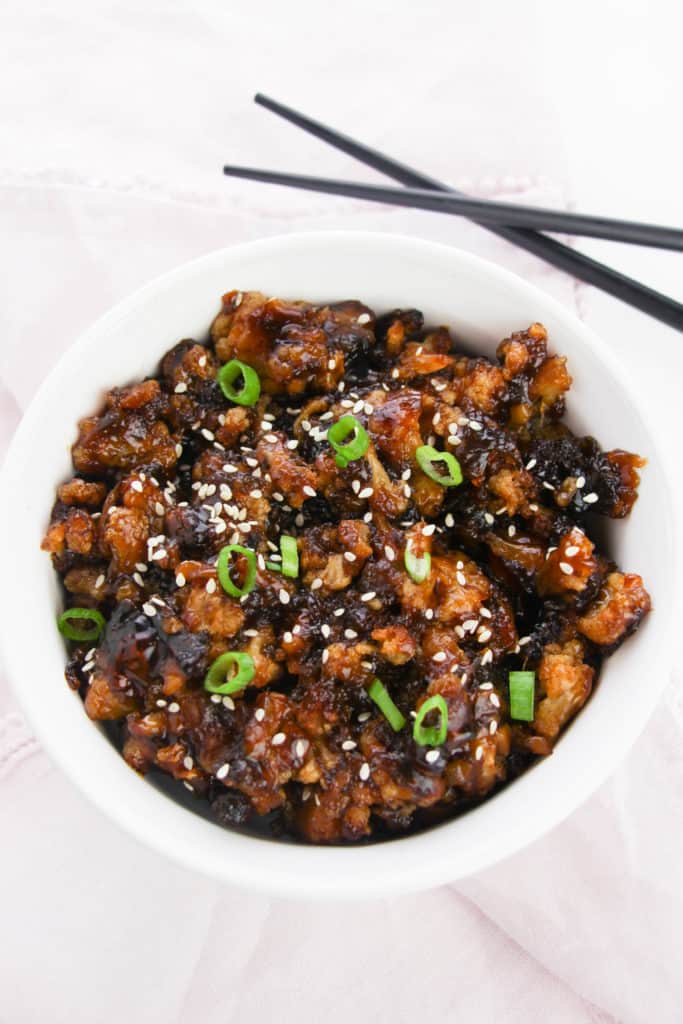 You'll notice this sesame cauliflower recipe is low carb, but it calls for a few ingredients that are not keto friendly. That's because in addition to having one meatless day a week, I've also been loosely following what is called a cyclical ketogenic diet (more on that later), and this allows me to consume more carbs. The reason to give the cyclical ketogenic diet a try? In my case, it was about convenience.
More Low Carb Recipes You'll Love:
Low Carb Greek Chicken Bowl
Creamy Avocado and Cucumber Salad
Low Carb Egg Roll In A Bowl
There are lots more weight loss benefits to a cyclical ketogenic diet, but like I've mentioned before, the journey to lose the baby weight hasn't been easy for me physically or mentally (you can read Olivia and Laurens birth stories here). I eat to feel good, and weight loss is a side benefit, not my main concern at the moment. I'll be sharing a little more on this soon.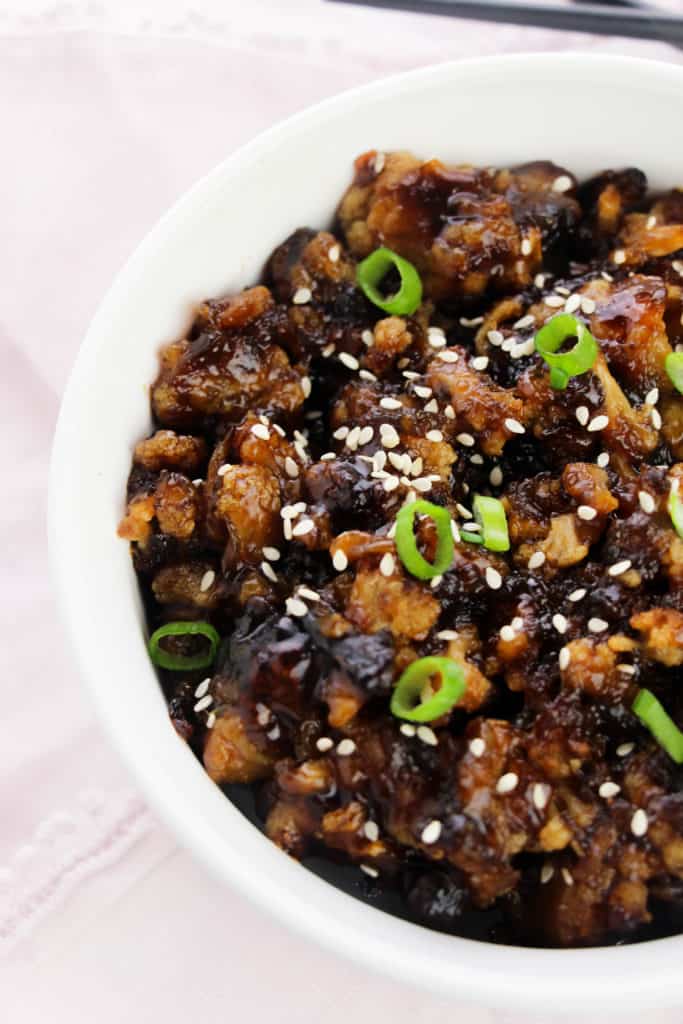 Either way, this delicious takeout alternative is still low carb, and it can be served on its own with a simple butter lettuce salad.
Sesame Cauliflower – Delicious Takeout Alternative!
Ingredients:
1-2 heads cauliflower, chopped into tiny pieces
2 Tablespoons coconut oil
1/2 cup soy sauce
1/4 cup honey or sugar-free honey – available here
3 Tablespoons rice wine vinegar
2 teaspoons sesame oil
1 teaspoon ginger paste
2 cloves garlic, minced
1/4 cup water
Optional: For thickening 2 Tablespoons of arrowroot (available here) or cornstarch if you're not concerned with carbs
Sesame seeds, optional garnish
Green onions, chopped, optional garnish
Note: this sauce can prepare one or two heads of cauliflower.
Directions:
Preheat oven to 450F
Toss the chopped cauliflower with coconut oil and then lay in a flat layer on a cookie sheet.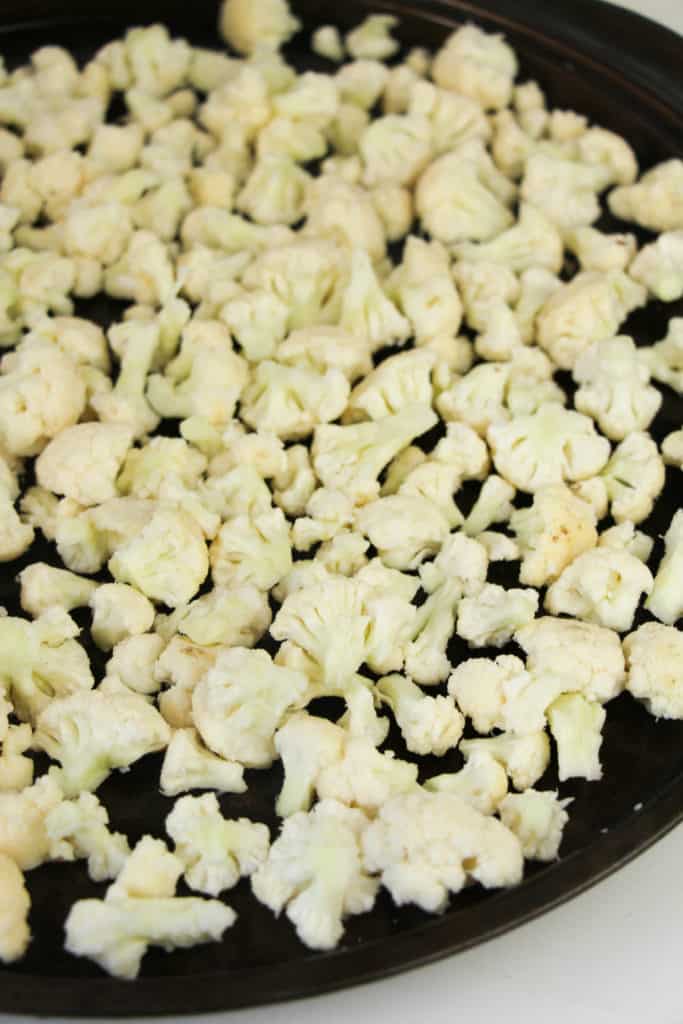 Roast for 10-12 minutes, turning once, until slightly golden.
Meanwhile, combine the soy sauce, honey, rice wine vinegar, sesame oil, ginger paste and garlic in a large saucepan. Place over medium heat and cook until simmering, stirring often.

Combine the water and cornstarch to form a slurry, then mix into the soy sauce mixture.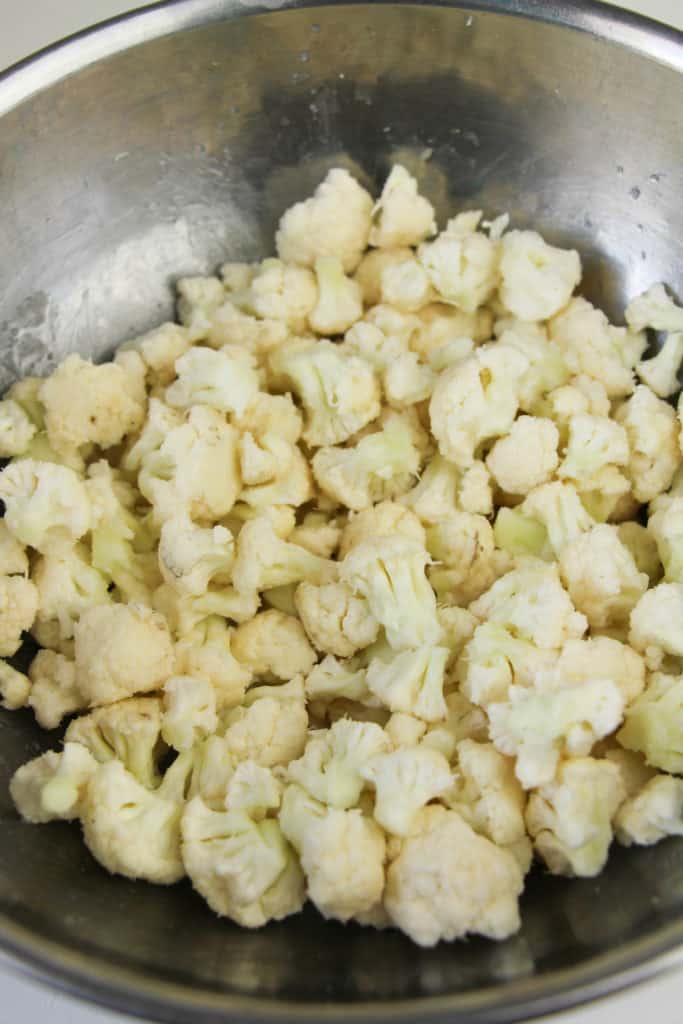 Continue cooking the sauce until it becomes sticky and coats the back of a spoon.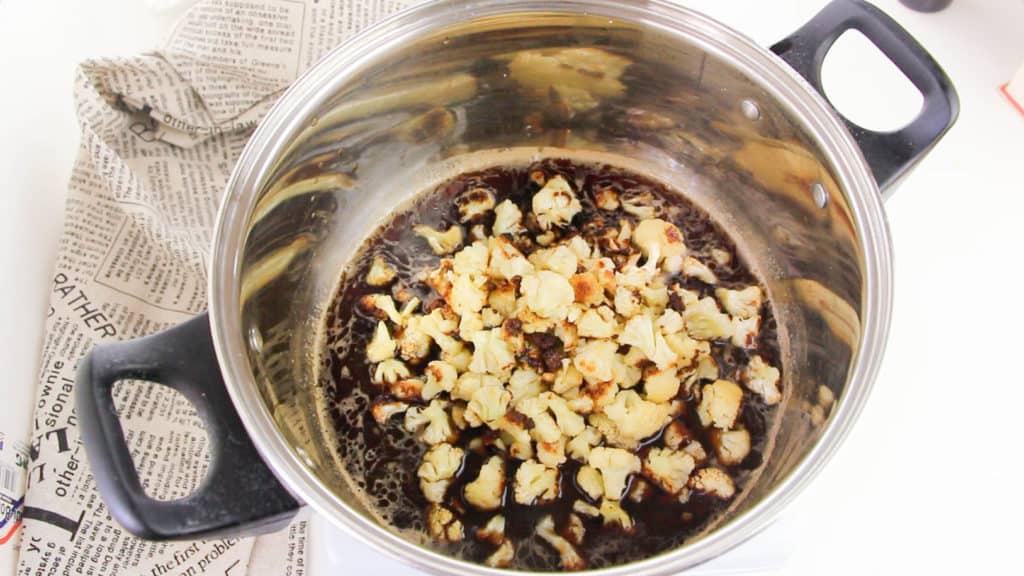 Toss the cauliflower in the sauce and then return to the oven for 3-5 minutes.

Garnish with sesame seeds and chopped green onions.
Pin for later!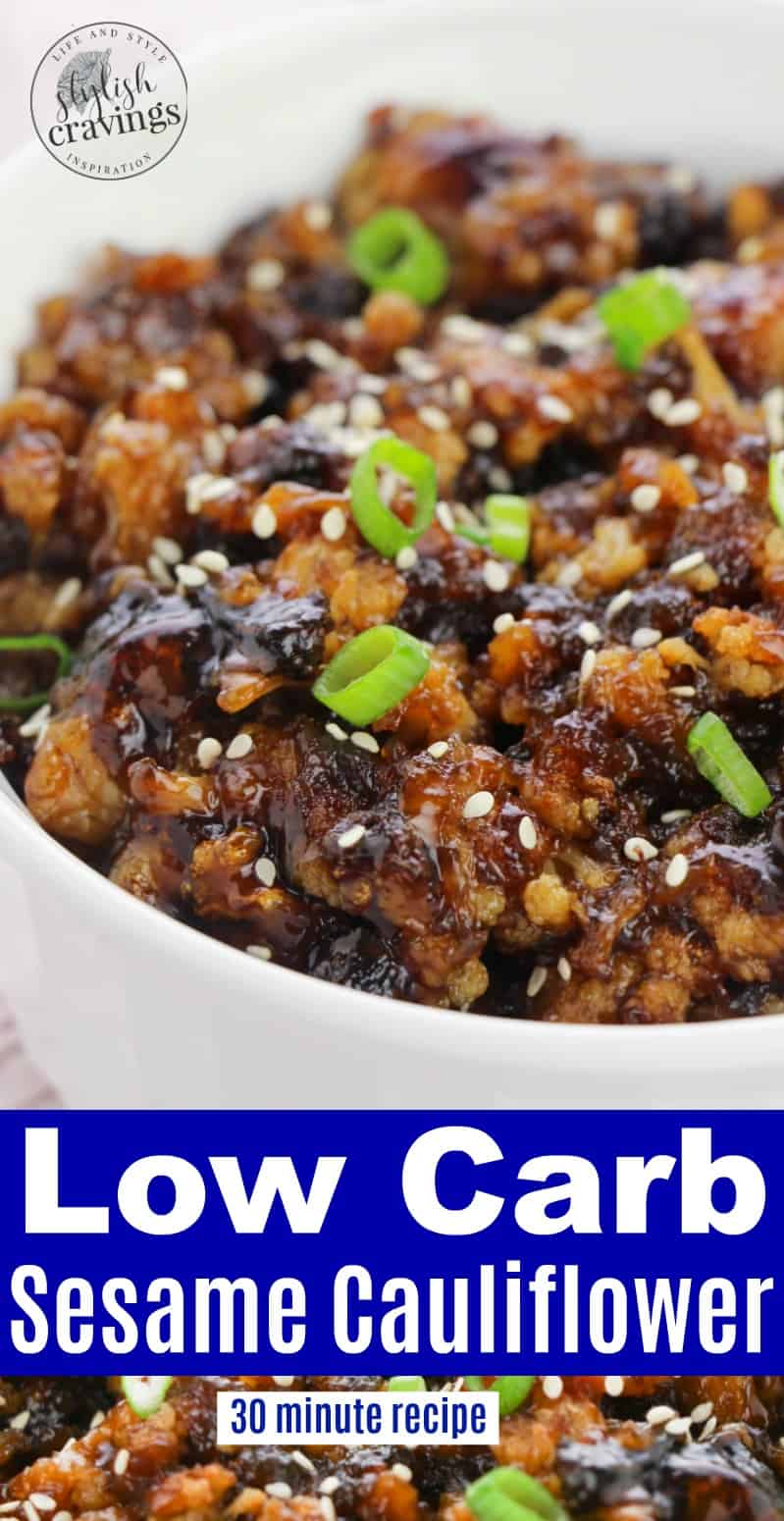 Follow me on Pinterest where I'll be sharing lots of recipes just like this!