Disclosure: This is a sponsored post written by me on behalf of I Like That Lamp, all opinions are my own. ***This post may contain affiliate links. If you purchase a kit, I will get a small referral fee at no expense to you.
Now that Thanksgiving is over, I'm focusing all of my attention on everything Christmas-y! I'm redoing the tree, pulling out new blankets, and adding little Christmas themed details to just about everyone room. The first one up is my living room/office space. It's been a while that I really did anything different to the area that I call my office, but I'm so happy that it's located right next to the living room, where I will have a front and center view of my Christmas tree. To start things off, I decided to add a new lamp to my desk. I didn't just want any ordinary lamp, I wanted to try a DIY bottle lamp using an I Like That Lamp bottle lamp wiring kit. I have a small collection of ceramic bottles that I place on top of our kitchen cabinets and there's one in particular that I love. I just knew it would be perfect to turn into a lamp!
Admittedly, I was a little hesitant and thought this DIY would be out of my league, but these bottle lamp wiring kits are so easy to use because everything comes preassembled! Each kit comes in two different colors; white or gold. It also comes with 3 size adaptors so you can use them on different sized bottles (click here to see the beautiful tutorial on I Like That Lamp), such as wine bottles, beer bottles, or small ceramic bottles like the one I'll be using. They also have kits to help create your own lampshade, give an old lamp a makeover, or rewire old lamps. They supply any material you may need for your projects. Best of all, the prices are reasonable enough to give the project an easy kickstart! A lot of the times when I want to DIY something myself, the price was just not really worth the trouble, but that is truly not the case with these kits. Check out the quick tutorial below & if you click on images seen at the bottom of the post you shop all the kits on Amazon.
Supplies:
An empty glass bottle
A Philips screwdriver
DIY Bottle Lamp Kit –  The kit is unique in that the socket is pre-wired; meaning that there's no wire tinkering involved on your side (love that) and it comes in a modern nickel/silver finish.
The kit includes:
A threaded rod, AKA nipple
A washer and check ring
Rubber adaptors
Complete wired socket with 8′ cord and plug
How to put your bottle lamp together:
Choose the bottle you will be converting into a lamp and get creative. A DIY Bottle Lamp would make a wonderful gift for a dad or for your BFF, coupled with their favorite bottle off wine! You can paint them to your liking or keep the original brand design on them to showcase your favorite brand of beer, wine, or even whiskey.
After choosing your bottle, you'll need to find which adaptor fits it best.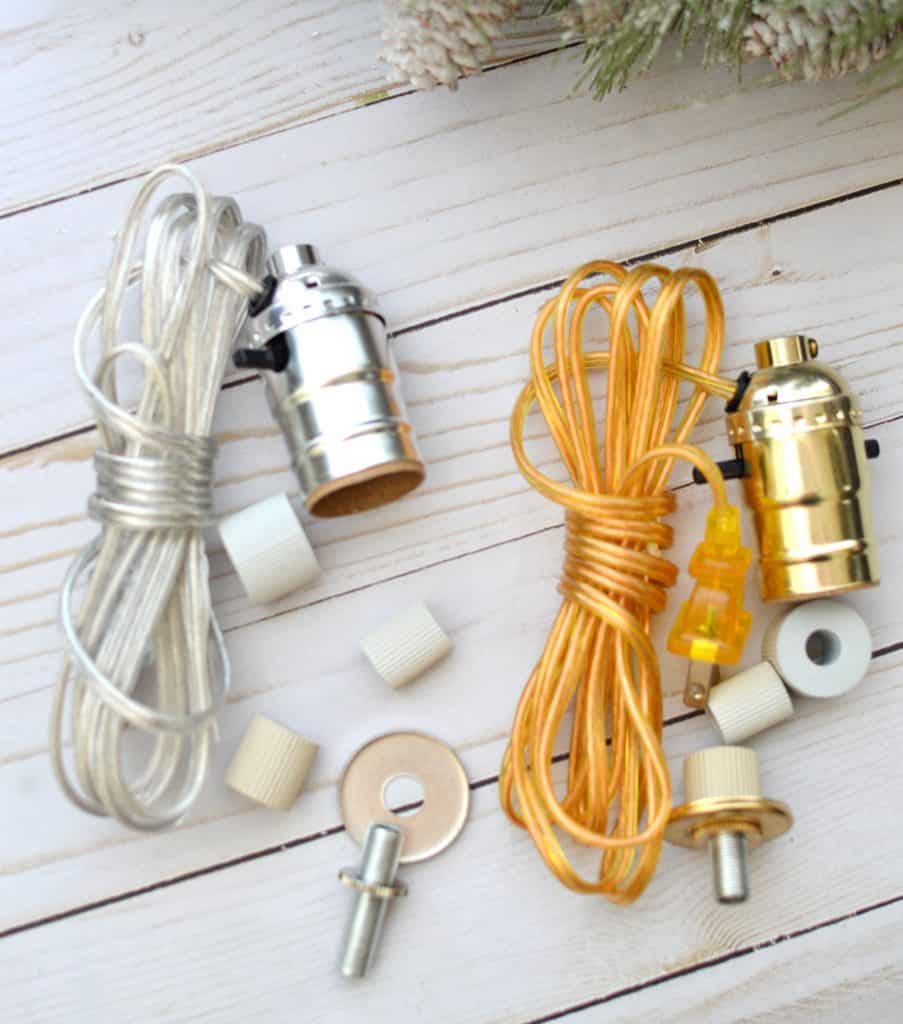 **Should be a tight fit, but you can also use glue to help the tightening process.
Next you'll be screwing your chosen adapter onto the nipple, followed by the washer, exposing 1/4″ of the nipple. Add the check ring (the disc that will cover the top of the bottle) above the washer.
Loosen the screw on the socket and screw it onto the 1/4″ of exposed nipple.
Now, take your socket and place it into the opening of the bottle, using the rubber adaptor to create a tight fit. This is where you can you add some super glue to provide a better fit. Push the assembly down until only the socket cap is left showing and voila!
It literally took about 10 minutes, and that's including me losing my screwdriver. 🙂 Isn't it pretty!? Looks like a store bought lamp!
And look at my view on those nights where I'm working late! For more tutorials using I Like That Lamp kits, click here and here to purchase the right kit for your upcoming lamp DIY.
DIY Bottle Lamp

A lamp is one of the easiest ways to give any room a quick new look and it's even better when it's custom made to your style and liking! For more info visit – ILikeThatLamp.com and to shop click on any of the images below.