This shop has been compensated by Collective Bias, Inc. and Mazola® Corn Oil . All opinions are mine alone. #MakeItMazola #simpleswap #CollectiveBias  
Looking for an easy and delicious dinner idea? This sweet and tasty honey lemon chicken recipe is one your whole family will love! Scroll down for the recipe.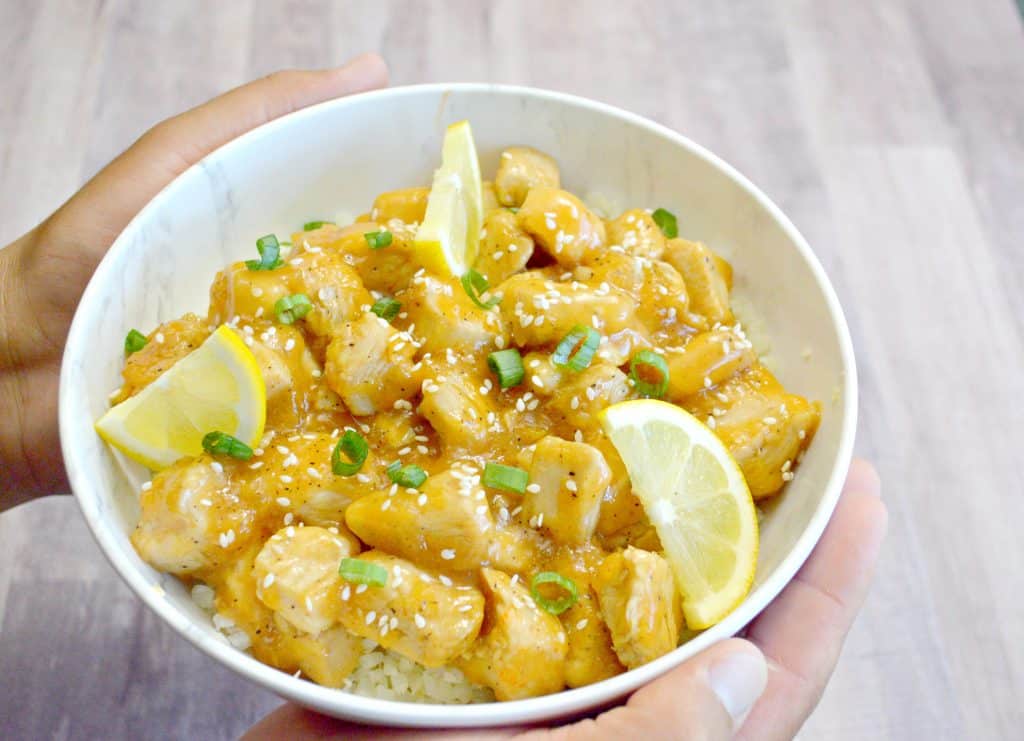 Admittedly, I can be a bit all over the map when it comes to losing the extremely stubborn baby weight I'm still carrying around. Right now, my focus is making sure I feel my best, and some days, low-carb meals work best for me. On days where I crave something savory and sweet, I make a few simple ingredient swaps to make this skinny honey lemon chicken. One of the easiest swaps I've made this year was using Mazola® Corn Oil in lots of recipes! A clinical study showed that Mazola Corn Oil reduces cholesterol 2x more than extra virgin olive oil. To learn more about this claim, see MAZOLA.com.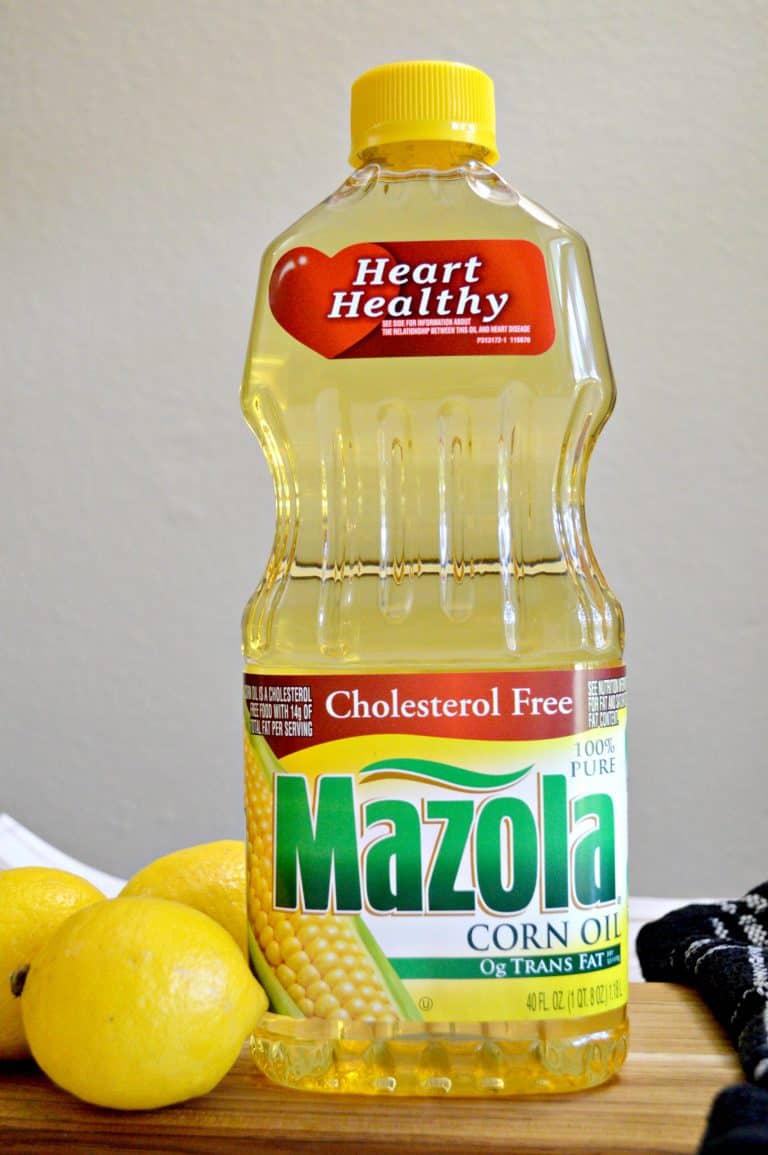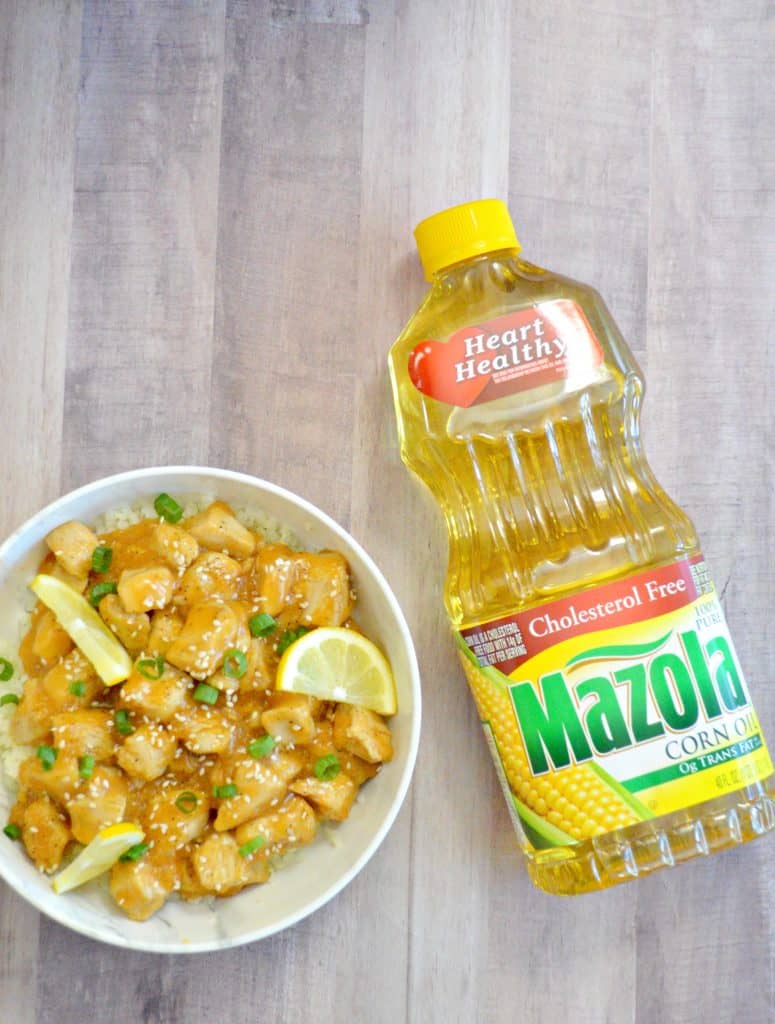 Recipe Swaps:
Heart-healthy Mazola Corn Oil instead of vegetable oil. Mazola Corn Oil is an all-purpose cooking oil that has a neutral taste, allowing the natural flavor of your food to really stand out! Mazola has a smoke point higher than most cooking oils at 450°F and it performs well in a variety of cooking applications, including stir-frying, sautéeing, grilling, and even baking! Instead of flour, I used corn starch, which is gluten free. For sweetness, I used honey, because doesn't raise your blood sugar as quickly as processed sugar. This honey lemon chicken is a stir-fry tossed with honey and lemon juice, but you can also use salmon or veggies! To make it a complete meal, I served it with cauliflower rice that I bought in the frozen section at our grocery store.
Ingredients:
1 pound of chicken breast
Rice wine vinagar
2 tablespoons of fresh lemon juice
4 tablespoons of honey
2 teaspoons of reduced sodium soy sauce
1/2 teaspoon of ginger
1/2 teaspoon of cayenne pepper
Salt & Pepper
Corn starch 2 tablespoons
Sauce:
Add cornstarch, lemon juice, and honey, mix.
Instructions:
In a bowl, add soy sauce, ginger, rice wine vinegar and a splash of lemon juice. Cut your chicken into chunks and place it in the bowl, then let it marinate. **I marinated the chicken for about 15 minutes, but the longer you let it sit the better!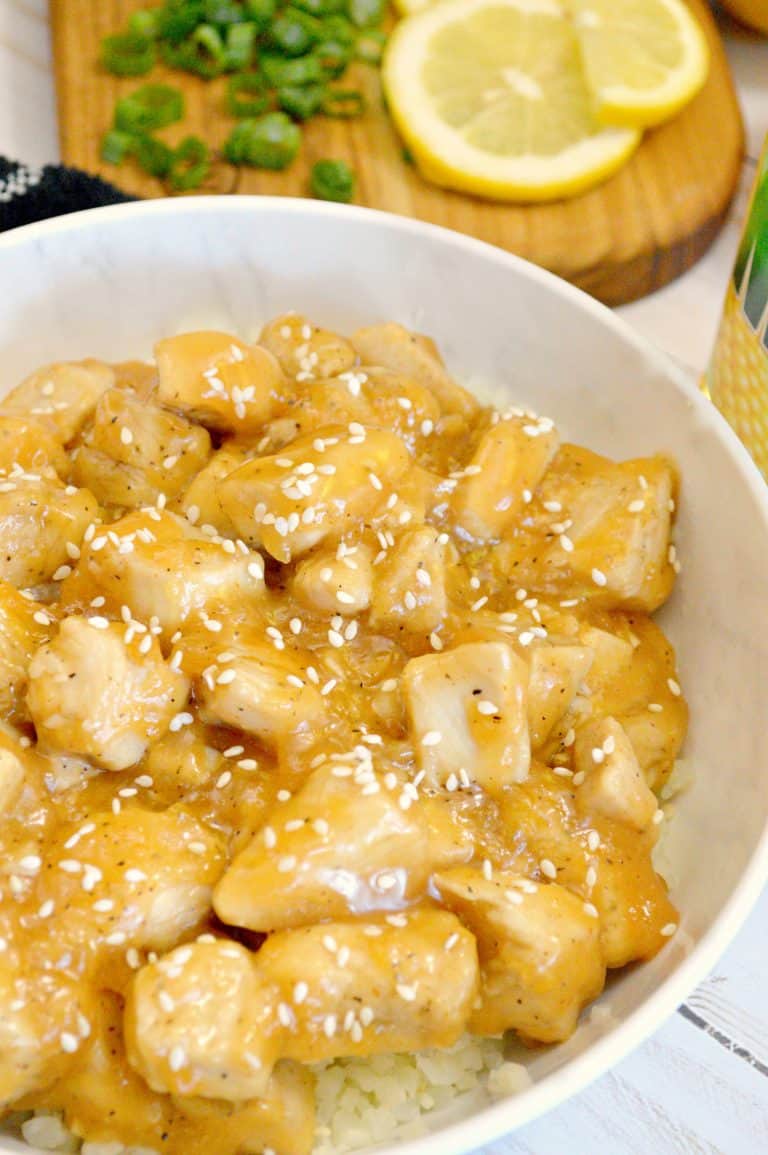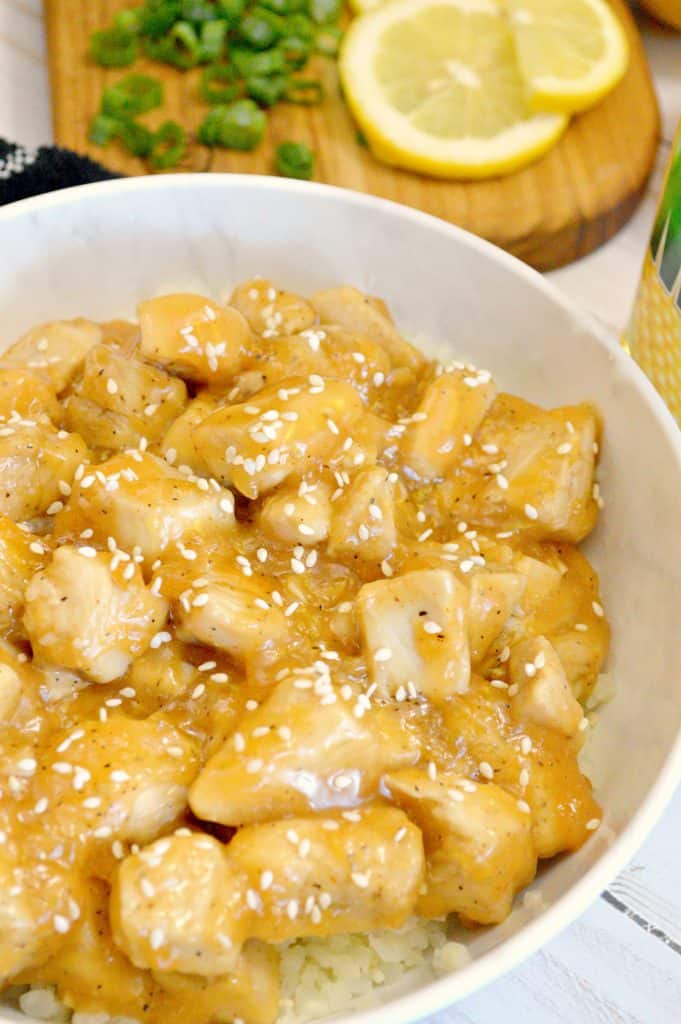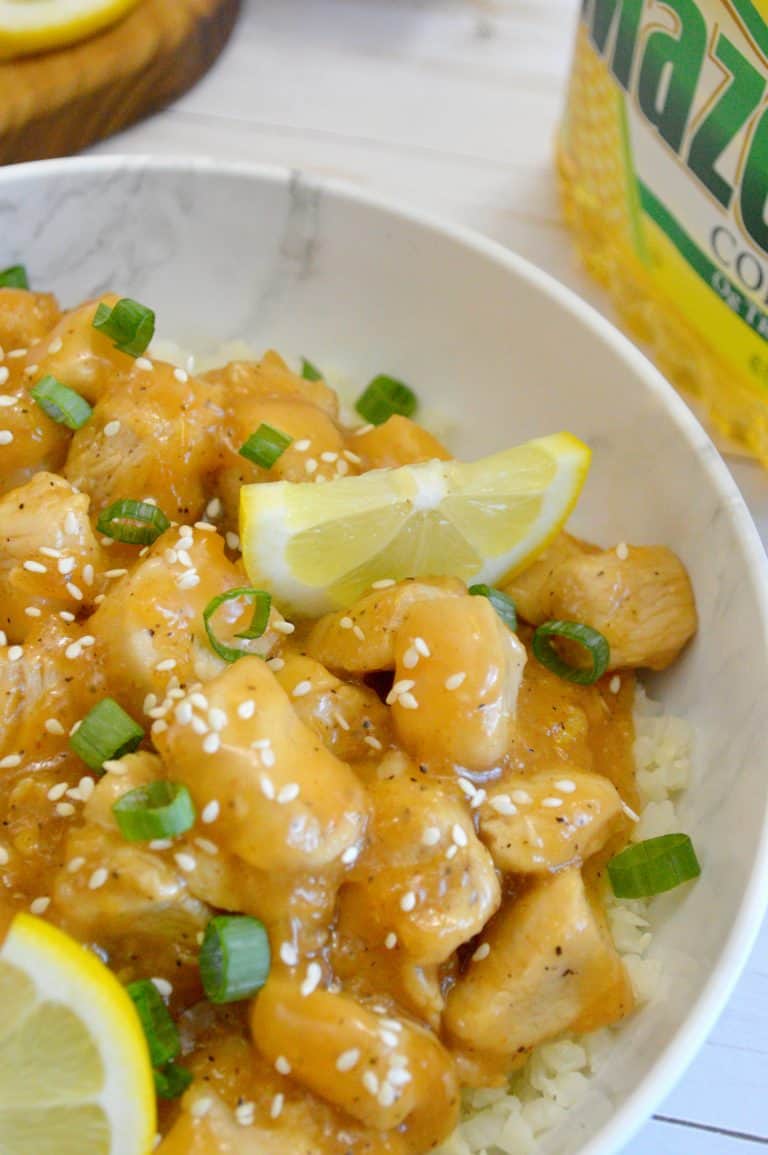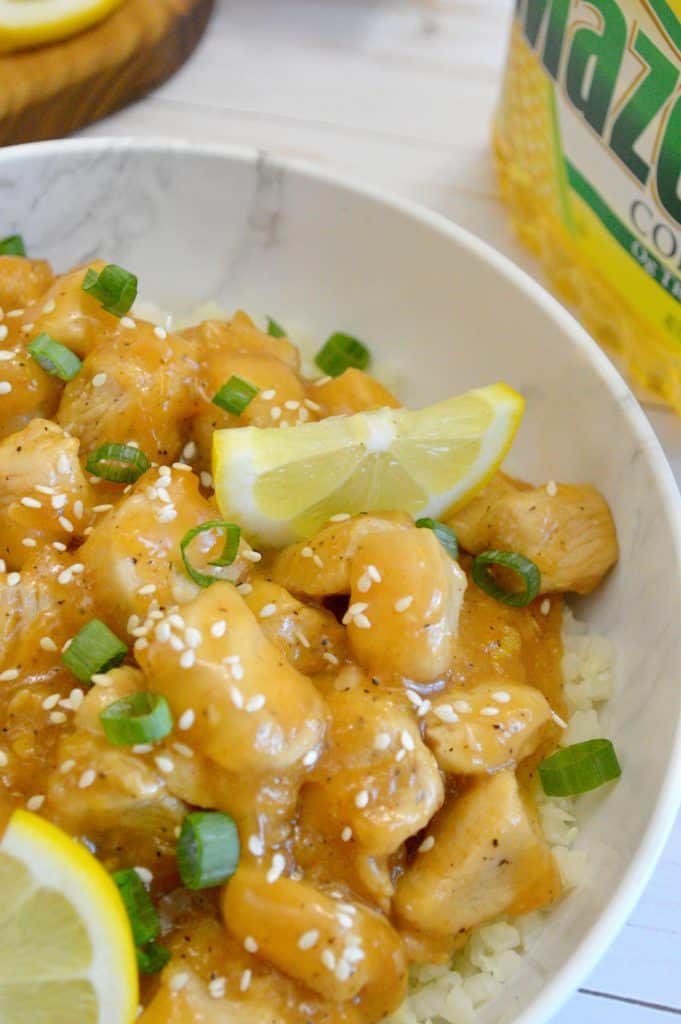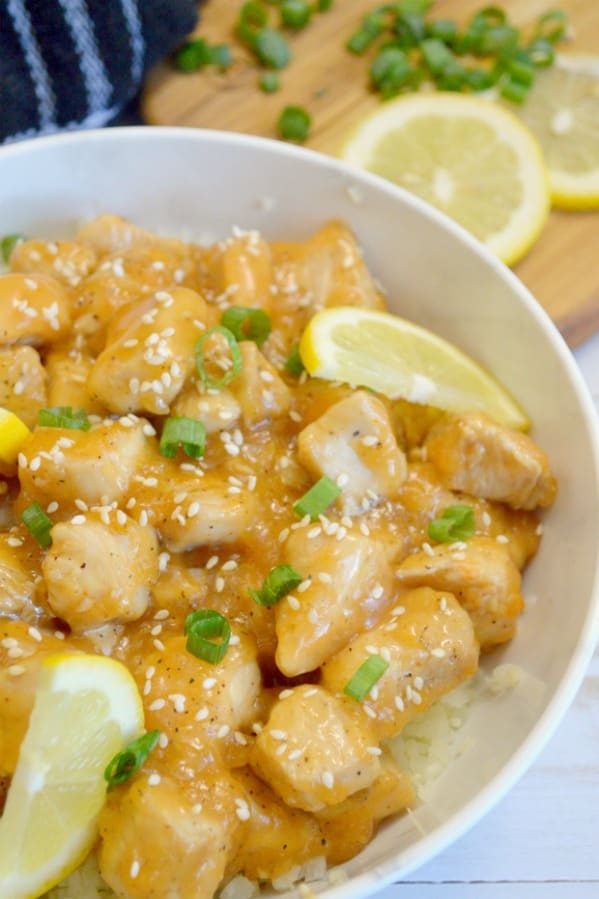 Heat corn oil in pan and cook chicken until no longer pink, and transfer to a plate. Add sauce into clean pan and bring to a boil and has thickened. Toss in chicken along with salt and pepper, and sriracha! Top with sesame seeds and green onions and serve on its own or over cauliflower rice. This skinny honey lemon chicken makes a great takeout alternative and it only takes about twenty minutes to make!
Pin for later!