This low carb cauliflower Mac and cheese makes the perfect holiday side dish! You'll love how easy it is to make this keto-friendly recipe that's also kid friendly and approved!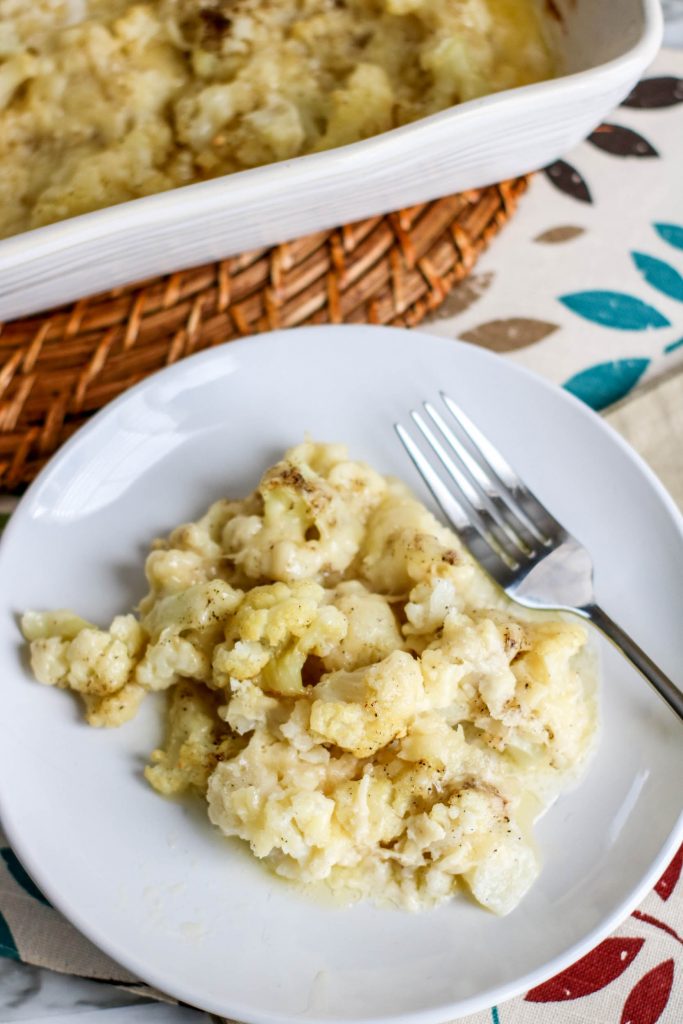 My go to side dish has always been macaroni and cheese. It was a no brainer because EVERYONE loves it and it goes great with leftover chicken and even turkey!
This will be my first low carb holidays and this creamy low carb mac and cheese will be another go-to side dish. Perfect to serve with a side salad or with Keto almondine asparagus or even these bacon wrapped Brussel sprouts!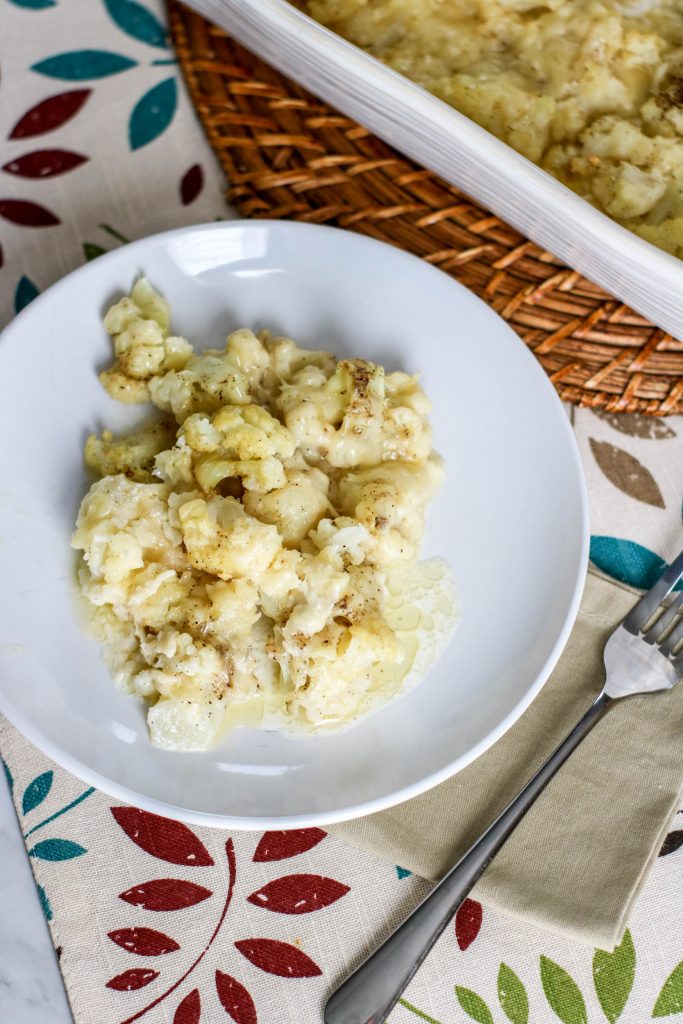 I'll be honest, Low carb Mac and cheese isn't exactly the same as the classic comfort food recipe but it will satisfy your cravings and it's just as tasty – minus all the unwanted carbs. It's also a great way to get kids to eat their veggies, and have that cheesy side dish we all want during the holidays!
Similar: Keto Cabbage Beef Casserole
Can you make Cauliflower Mac and cheese ahead of time?
You can make this low carb cauliflower Mac and cheese the day before. Follow the instructions below, allow to cauliflower mac and cheese to cool down, and then cover and refrigerate. To freeze and bake at a later time, cook, allow to cool and cover your baking dish with an airtight lid or plastic wrap and freeze.
How to Reheat Cauliflower Macaroni and cheese
You can reheat leftover cauliflower in the microwave or stovetop. If frozen, simply remove the lid, and bake at 400 degrees for 30 minutes.
Can you use a different cheese?
You can also choose to use sharp cheddar cheese or pepper jack cheese for a tasty kick!
What goes with Cauliflower Mac and cheese?
This cauliflower mac and cheese taste amazing thanks to its Keto cheese sauce (scroll down for recipe) that pairs well with just about any protein source! It'll also taste great with holiday leftovers!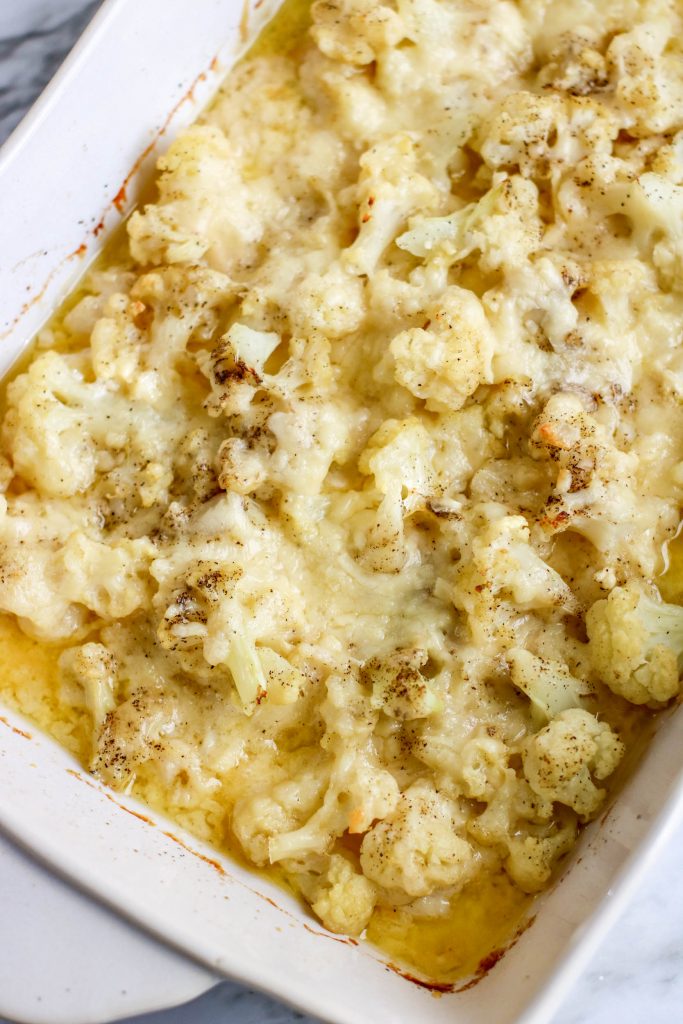 Make it yours
Top with chives or jalapeños
Mix in bacon
For a crispy topping sprinkle with ground pork rinds
To make it a complete meal top with ham
More Low carb recipes you'll love:
Skillet Keto Cornbread
Low Carb Green Bean Chicken Casserole
Keto Pepperoni Cloud Bread
Low Carb Crustless Pumpkin Pie
How To Make Cauliflower Mac and Cheese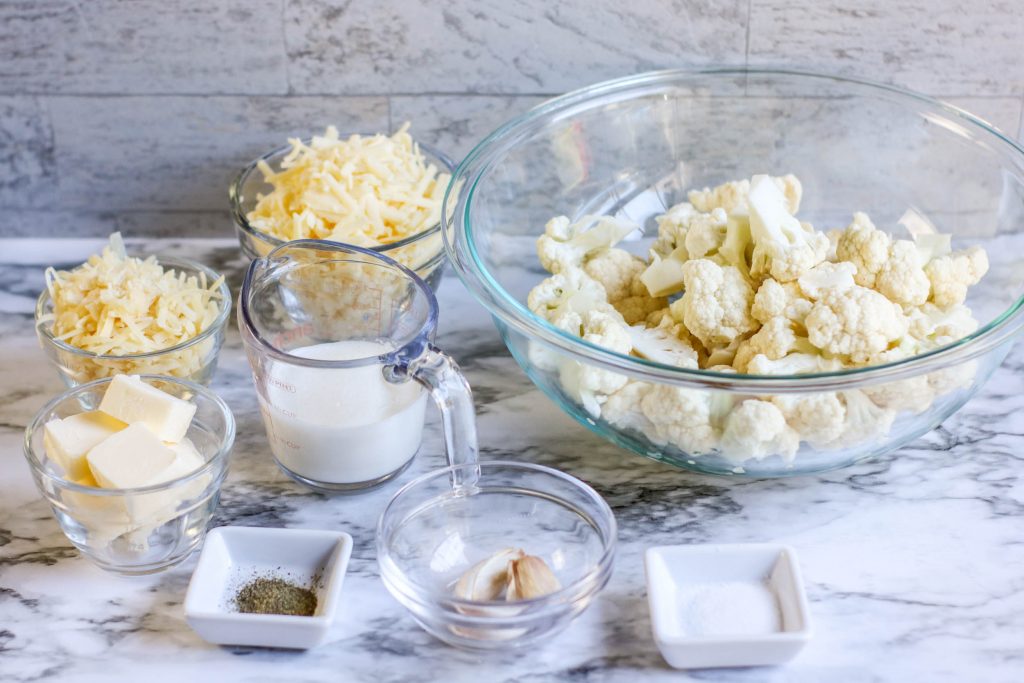 Ingredients:
2 heads cauliflower, cored and cut into florets
6 tablespoons butter
3 cloves garlic, minced
½ teaspoon black OR white pepper
2 cups shredded sharp white cheddar cheese
1 cup shredded parmesan cheese
1 teaspoon salt
½ cup heavy cream
Instructions:
1. Preheat oven to 400 degrees.
2. Fill a stockpot with water and 1 teaspoon salt. Set over high heat and bring water to a boil. Add cauliflower to pot and return to boil Cook for 8 minutes or until tender. Drain well.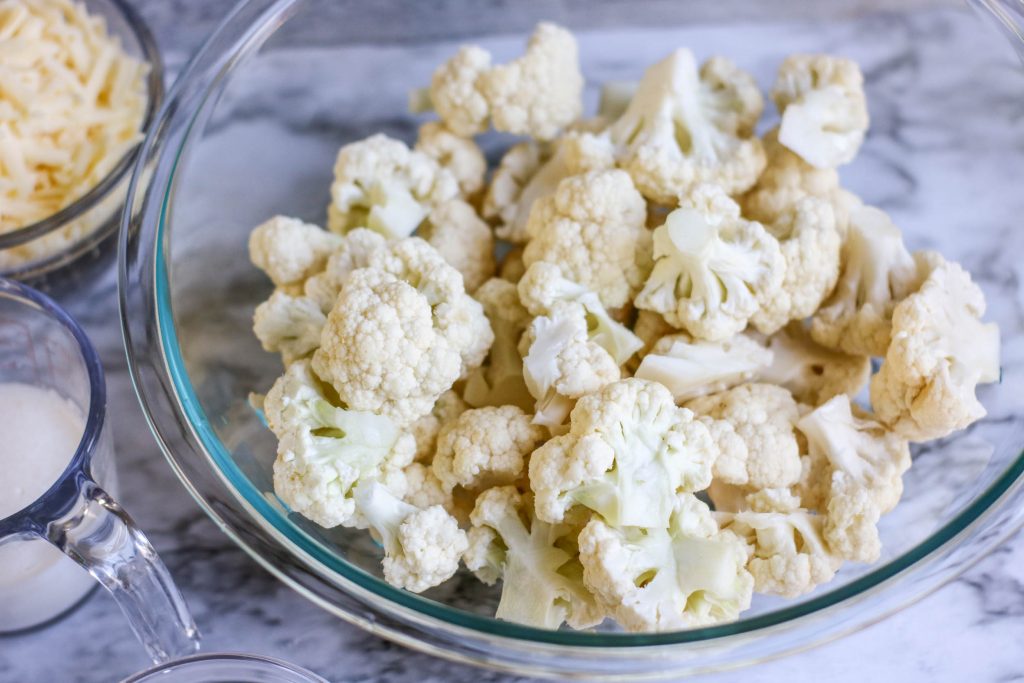 3. Spray a 13×9 casserole dish with non-stick cooking spray or coat with additional butter. Add the cauliflower to the casserole dish.

4. Dot the top of the cauliflower with butter. Sprinkle with minced garlic and pepper.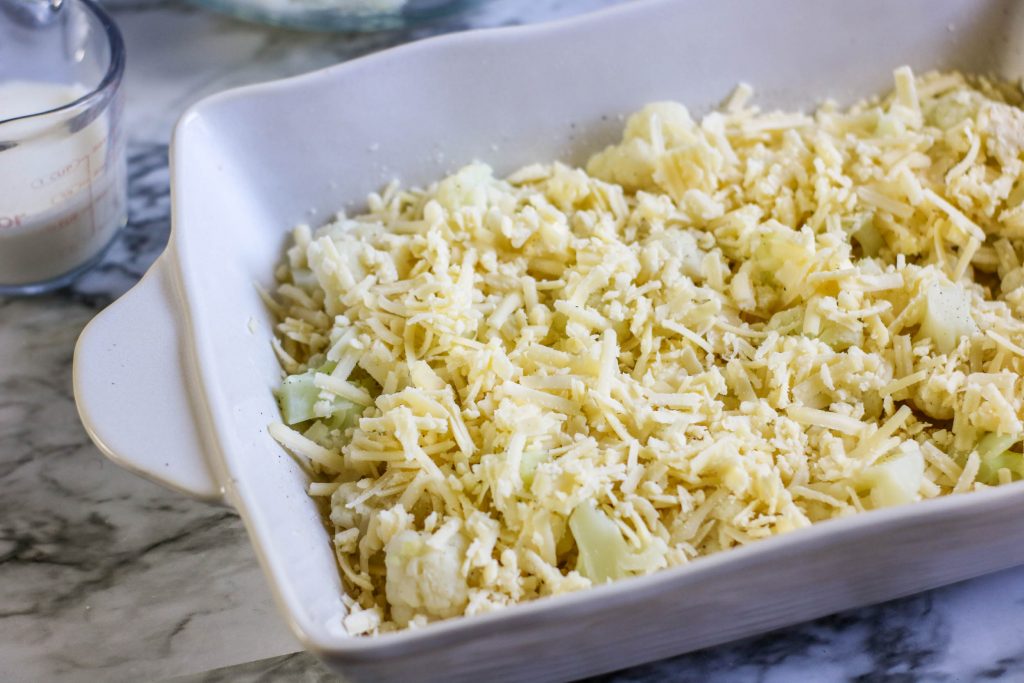 5. Top with parmesan cheese and white cheddar. Pour heavy cream over the cheeses.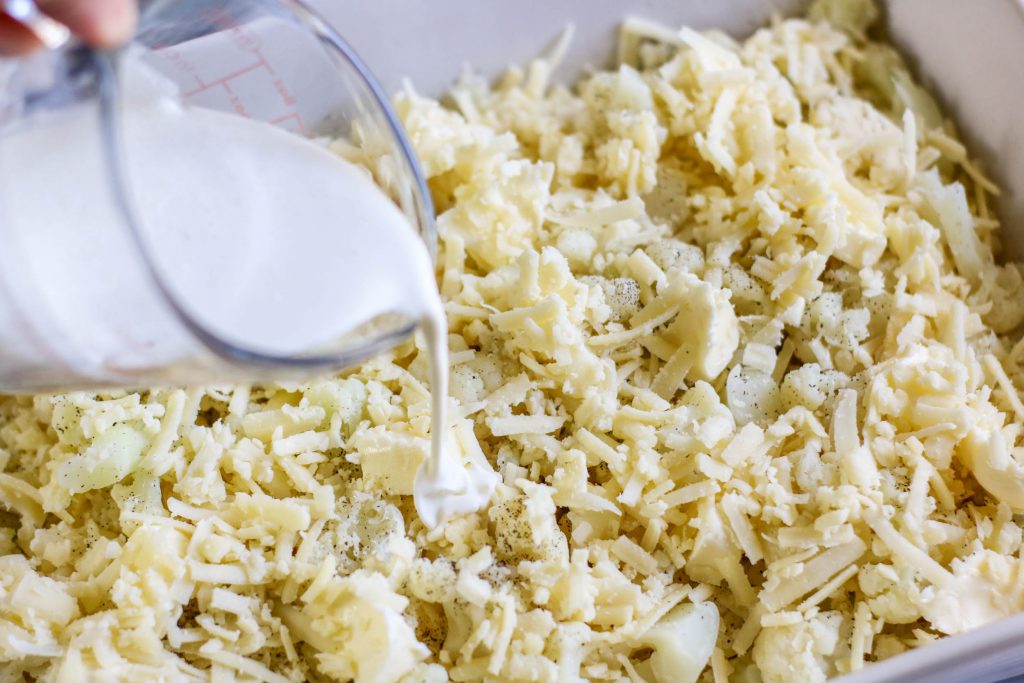 6. Bake for 30 minutes or until cheese is melted.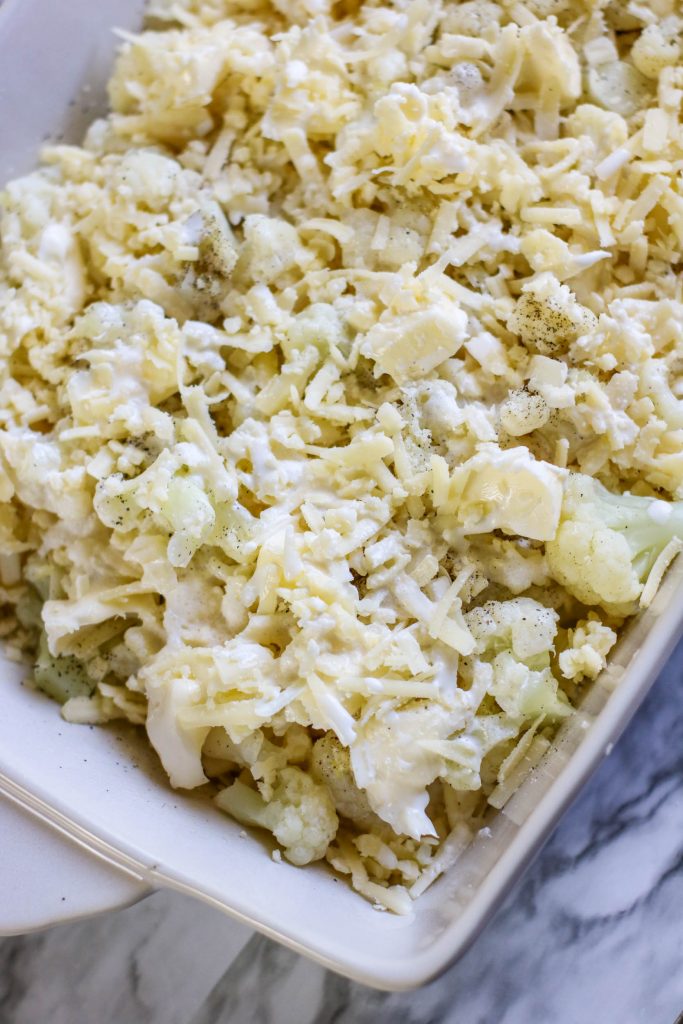 Serve and enjoy!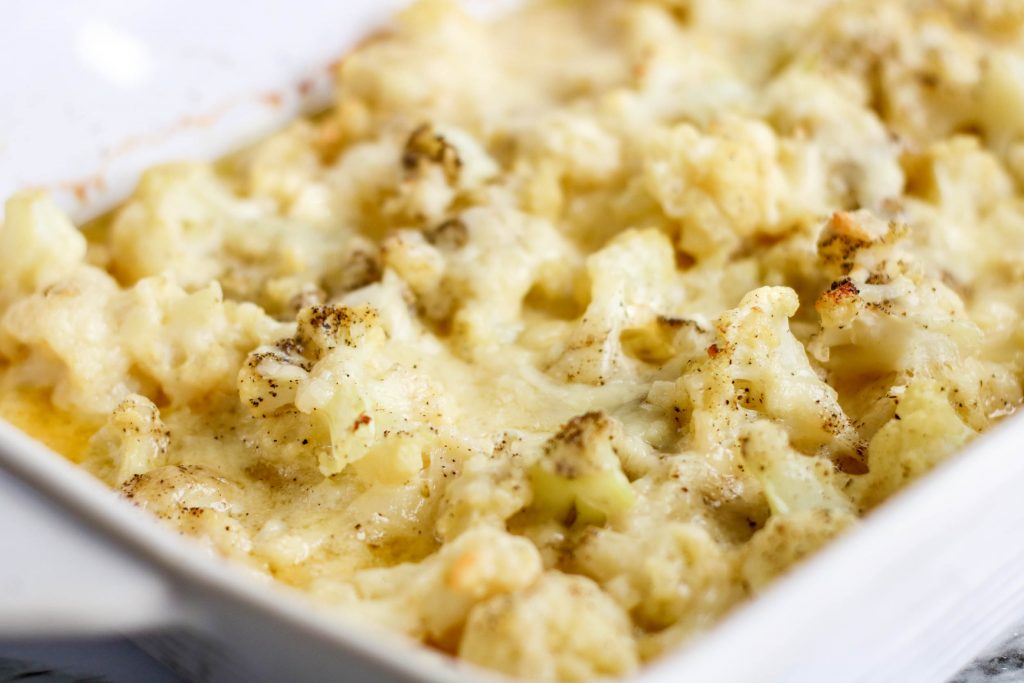 Pin for later!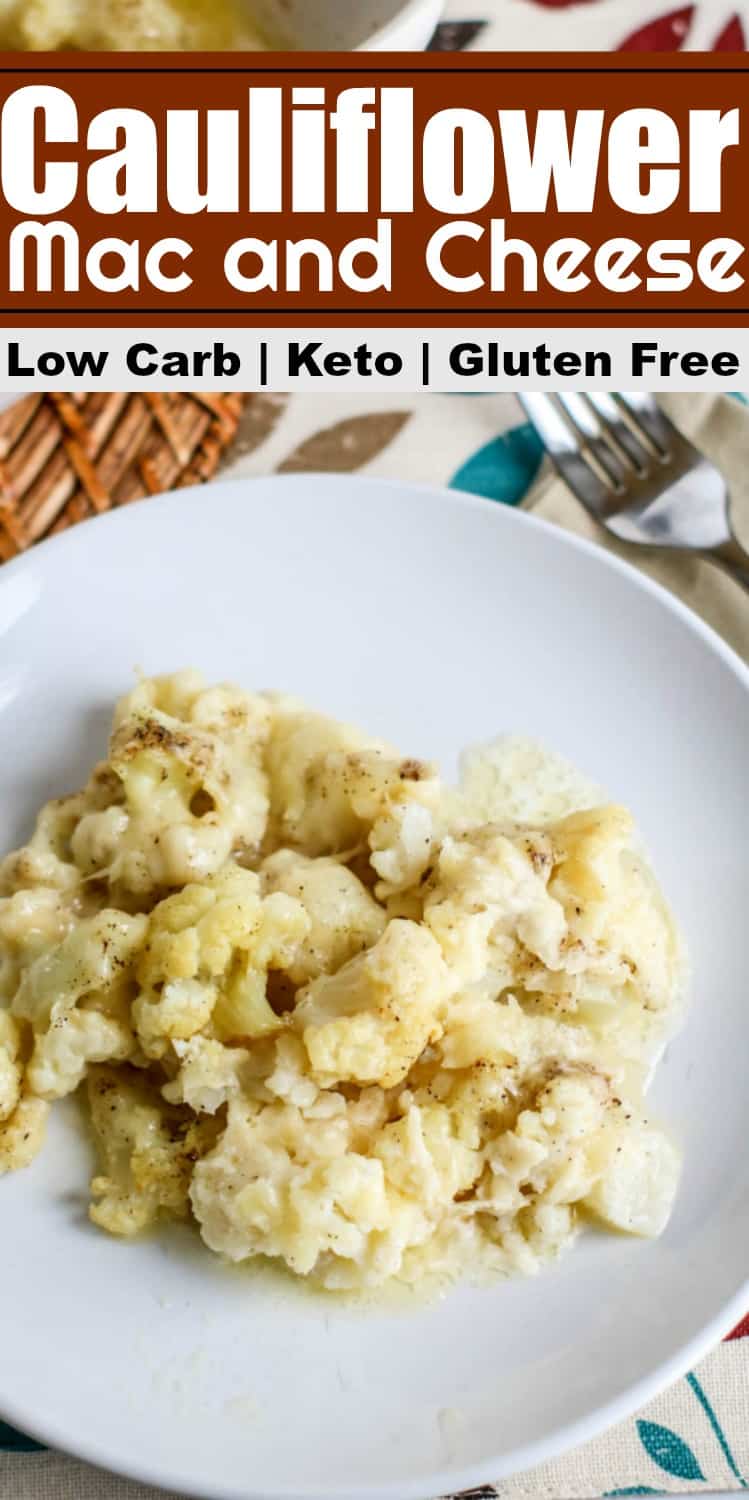 Make sure to follow me on Pinterest!