This shop has been compensated by Collective Bias, Inc. and its advertiser. All opinions are mine alone. #CreateWithOil #CollectiveBias
Growing up, a celebration wasn't a celebration without a plate of arroz con gandule (rice and pigeon peas)! It's a classic Caribbean side dish that my mom made on every single holiday (my kids call it holiday rice)! We had it on Christmas with a pernil (pork), on Thanksgiving with the turkey, for family gatherings we serve it with potato salad and lasagna (weird combo I know), and occasionally we would just have it for dinner with some type of salad or meat.
Quick & Easy To Make Arroz Con Gandule Using Liquid Coconut Oil
Now, Franklyn and I carried down the tradition and make it for our family, only now we use LouAna Liquid Coconut Oil that I buy at Publix (I also use it in many health and beauty routines) in place of the butter and/or canola oil that was used before. LouAna is always the start of something good, and if you're craving a fresh taste on your favorite dish, or homemade vinaigrette, LouAna Liquid Coconut Oil makes it easy to pour or measure. ~ Scroll down to see our Quick & Easy To Make Arroz Con Gandule  Using Liquid Coconut Oil!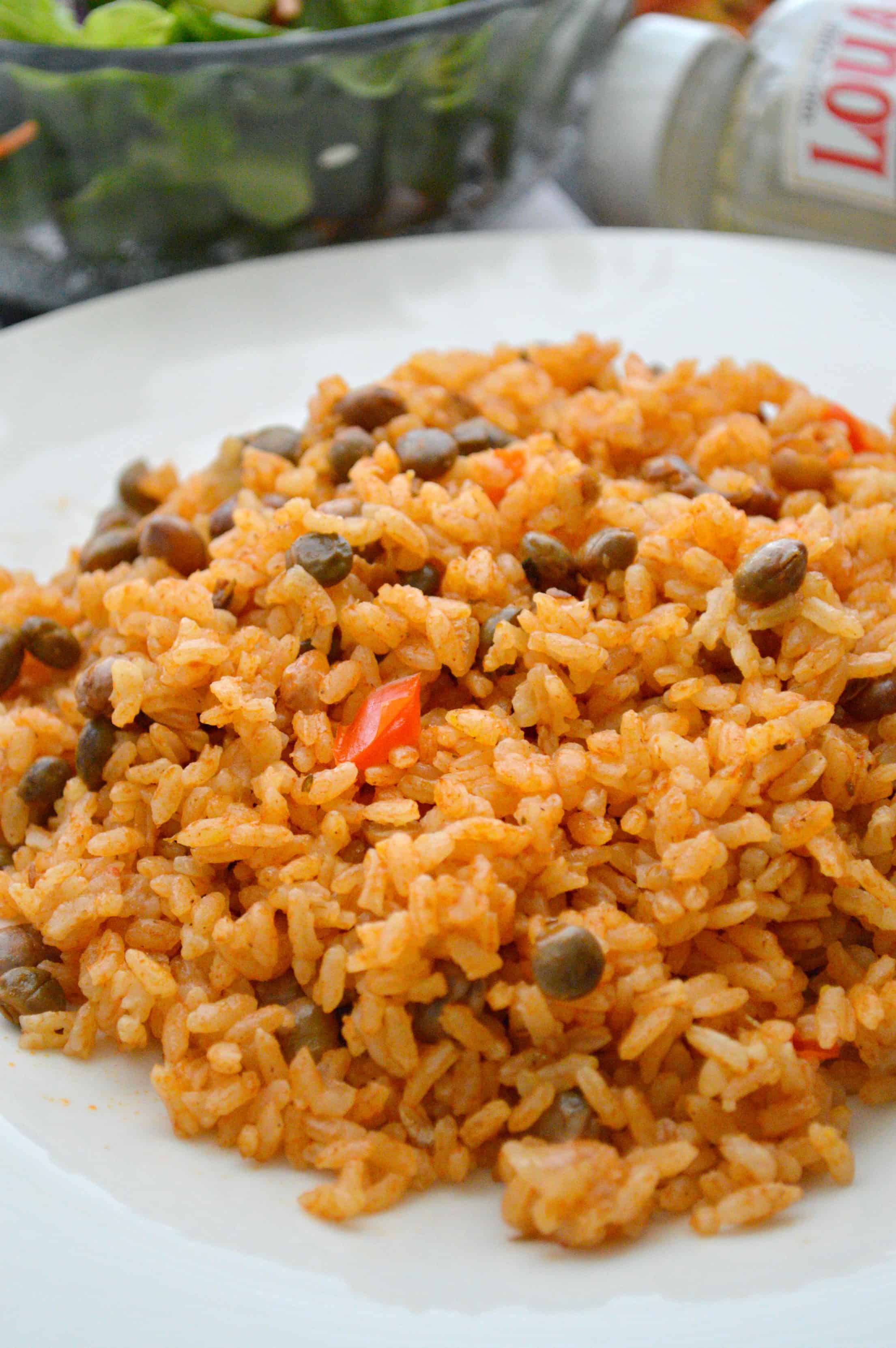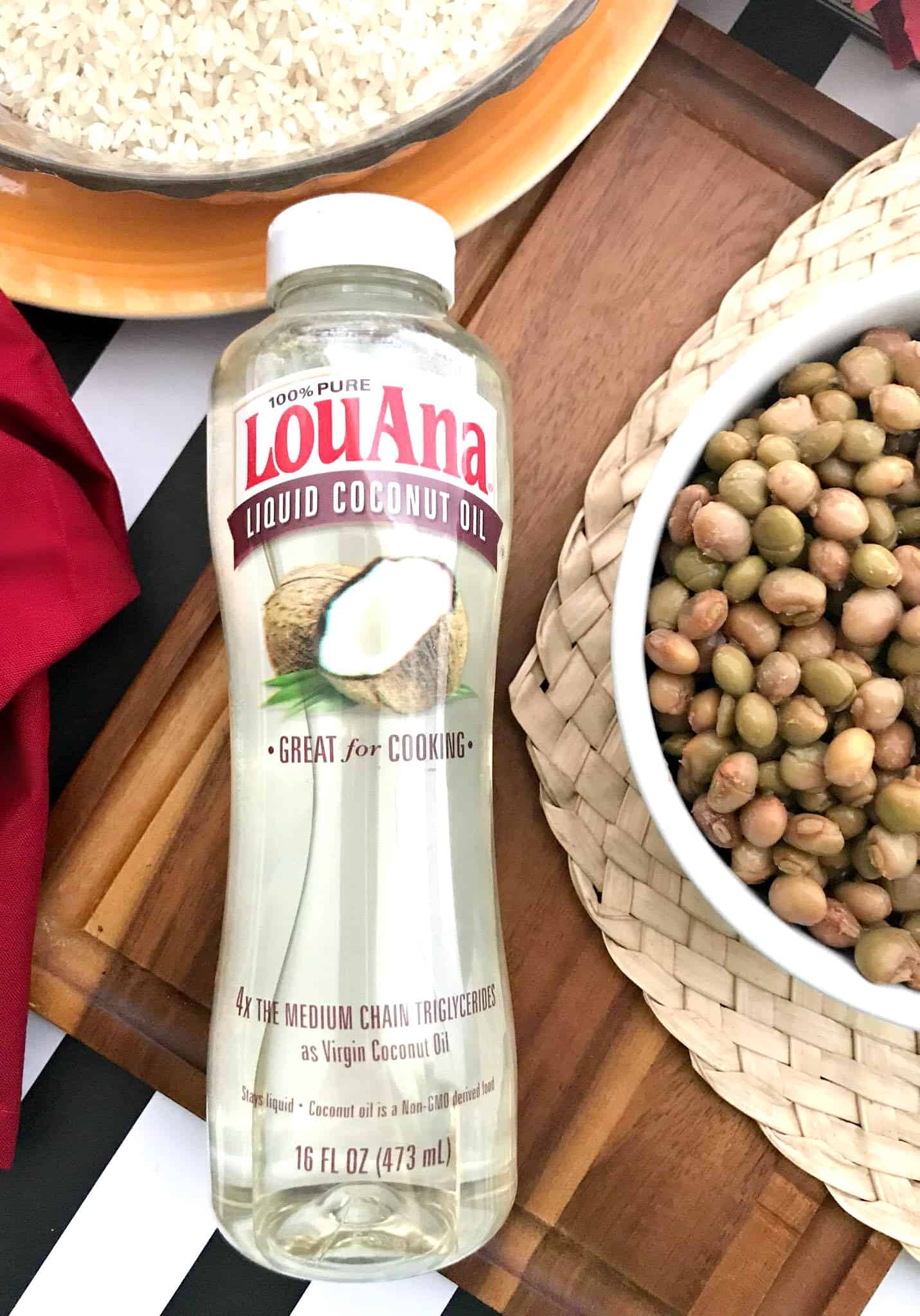 Coconut Oil is the freshest take on cooking! That's because coconut oil is one of the most versatile cooking oils, perfect for sautéeing vegetables, drizzling on salads and even pan frying fish or chicken. Our arroz con gandule tastes just as great, if not better, and we not only serve it for holidays but for lots of dinners too. This quick & easy to make arroz con gandule using liquid coconut oil can easily be made into an arroz con habichuela by simply switching out the pigeon peas for black beans, red beans or even pink beans! It takes less than 30 minutes to make, it's especially quick if you pick a pre-made rotisserie chicken and serve it with a side of green salad and avocados (we don't eat a meal without it). This way, you can have an easy-to-make meal for any busy night!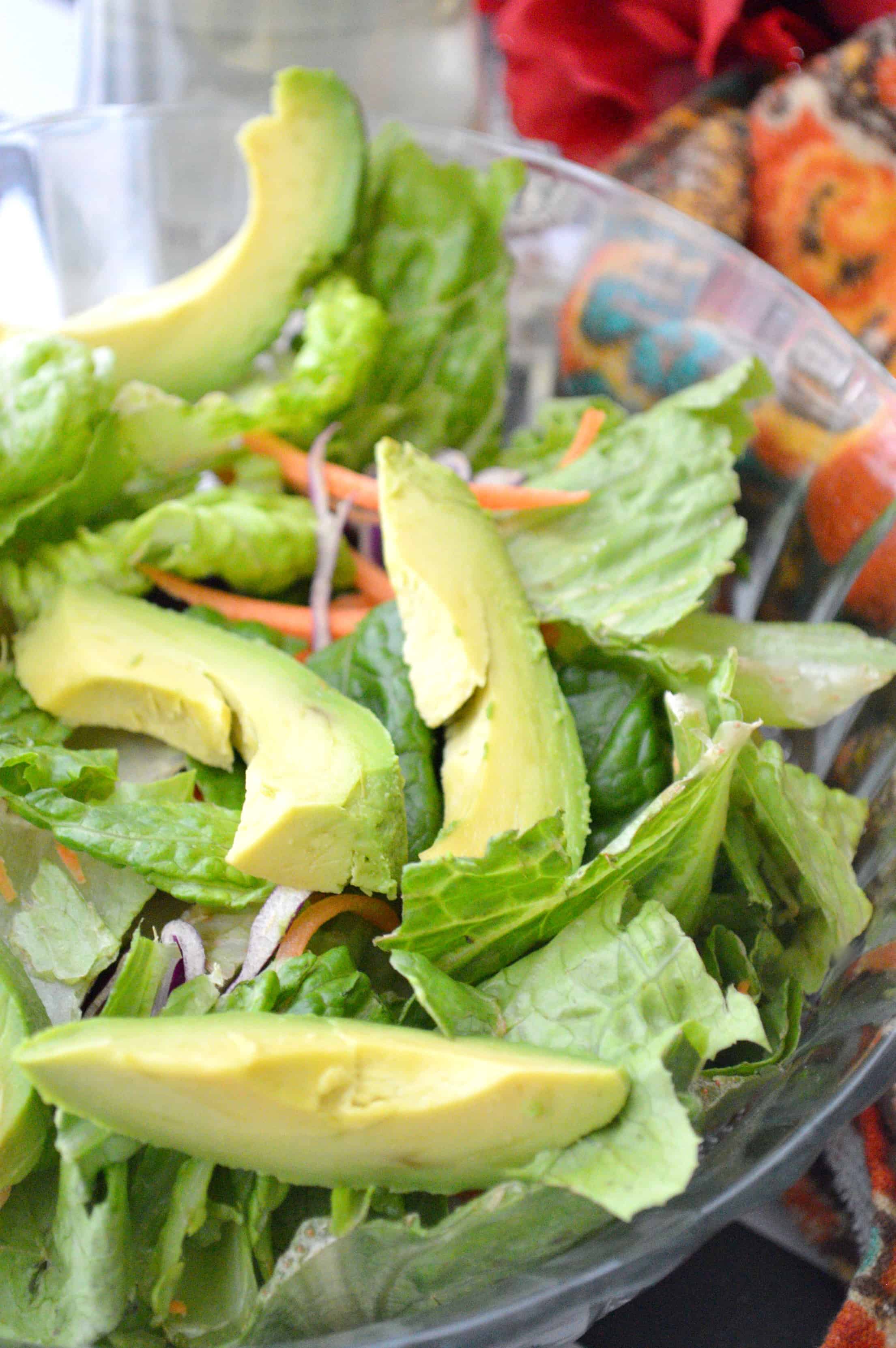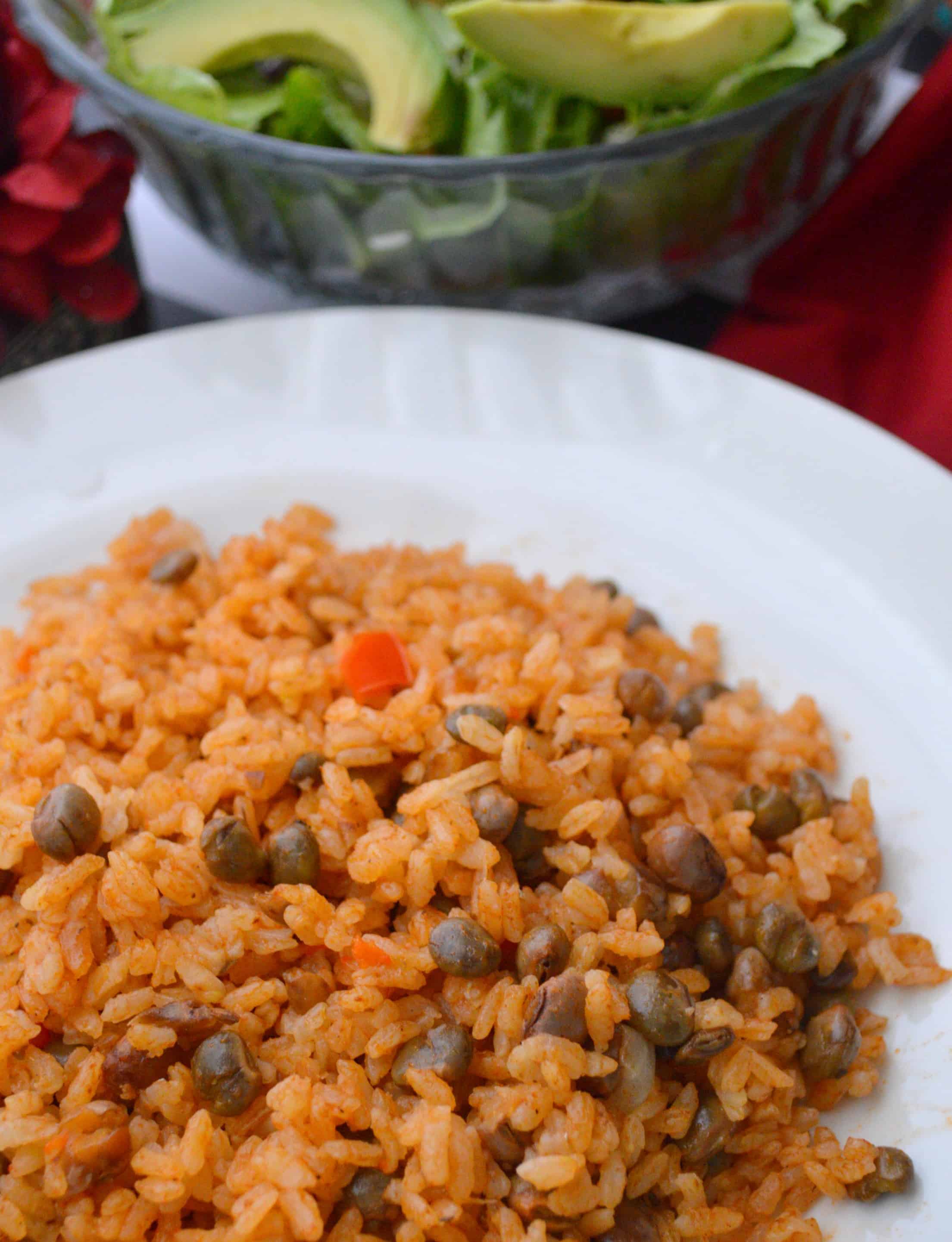 Top your green salad with tomatoes and you have a complete meal!
Quick & Easy To Make Arroz Con Gandule Using Liquid Coconut Oil
Ingredients **Serves 6
2 1/2 tablespoons cup of LouAna Liquid Coconut Oil
1 large can of pigeon peas
1 small red pepper
Diced small onion
5 ounces of tomato sauce
2 teaspoons of chicken bouillon
3 cups of medium grain rice
Salt and pepper to your liking
1 teaspoon of garlic powder
Instructions:
Pour LouAna oil into an aluminum pot.
Add tomato sauce and red peppers, let simmer.
Pour in 3 cups of water, chicken bouillon, garlic, salt, and pepper.
Add pigeon peas and bring it to a boil
Pour in rice, stir and cover with lid. **Avoid stirring more than once or twice
Let rice cook for about 25-30 minutes or until rice is ready to eat.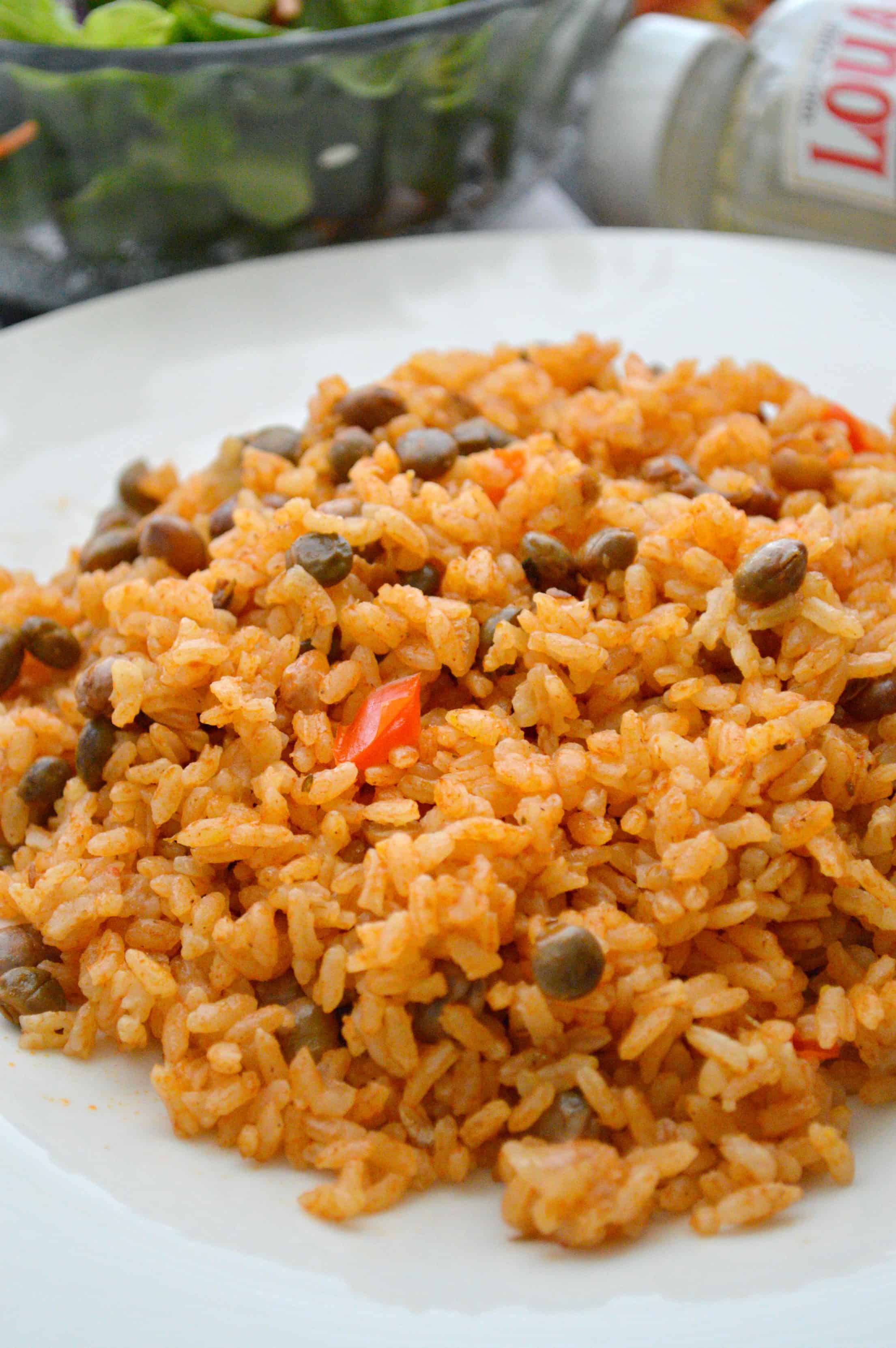 Serve this quick & easy to make arroz con gandule using liquid coconut oil with your favorite meat or serve it alone with veggies and/or a salad (click here for more salad ideas).
Pin this arroz con handle for later!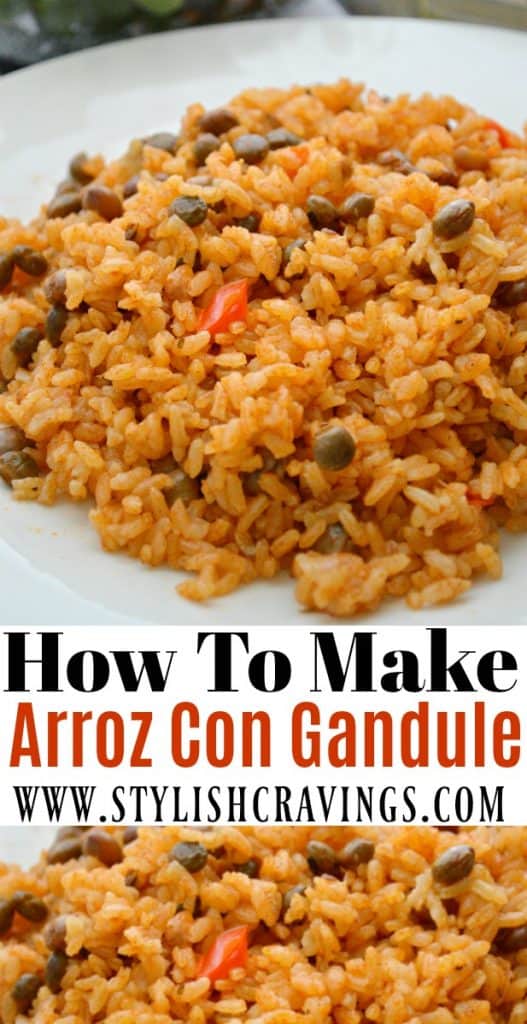 For more tips and how-to's when creating your food recipe or beauty recipe/tutorial, click here. LouAna's coconut oil sells more coconut oil than any other brand! That's because with over 120 years of producing some of the best cooking oils in the country, LouAna knows a thing or two about what makes a good coconut oil. It all starts with 100% pure coconut oil that allows the taste of your favorite foods to come through.