This shop has been compensated by Collective Bias, Inc. and its advertiser. All opinions are mine alone. #LiveForFlavor #VivaLaMorena #AddFlavor #CollectiveBias
Who's ready for the new Year? This Christmas was so much fun but I'm totally looking forward to organizing the house and prepping for Día De Reyes (Three Kings Day) on January 6. We mainly spend the day cleaning, prepping to cook dinner, listening to salsa y merengue and having a few gifts for the littles. It really is a nice way to ease back into our normal post-holiday schedule. This year will be extra special because Joseph is so curious to learn all about traditions and is starting to even speak Spanish and experiment with all types of food, he's even inherited our love for spicy food! This year we've decided to make a spicy picadillo stuffed avocados served along with platano maduro (sweet plantains).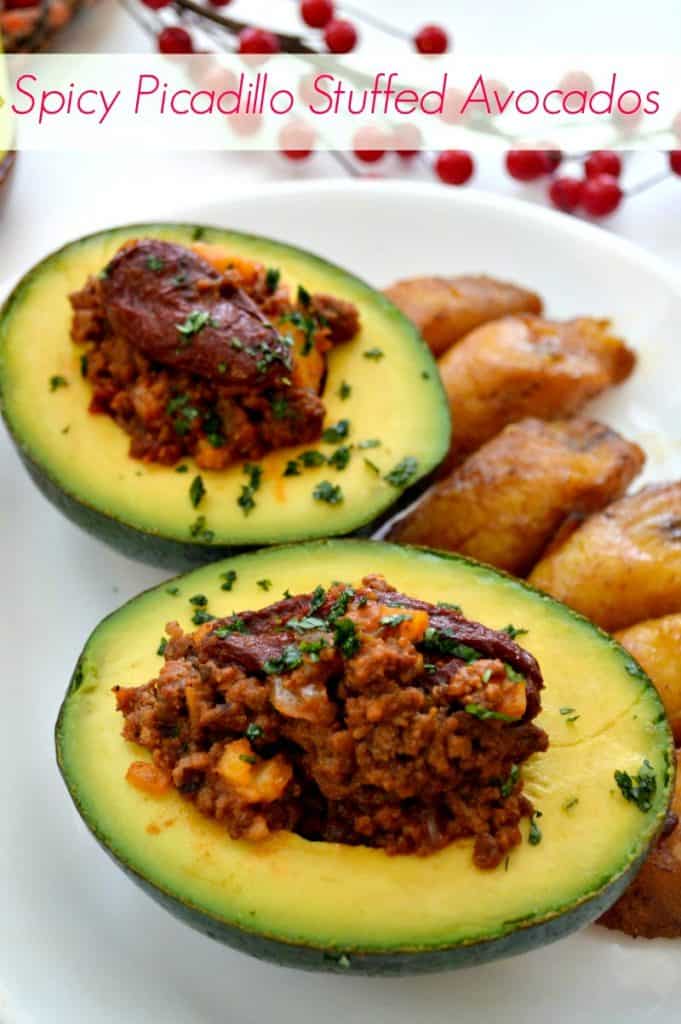 The decision to go with a lighter version of our picadillo was made because we wanted to take a break from the indulgent meals we've been having since Thanksgiving. Normally we would serve the picadillo over arroz blanco (white rice) along with avocados but this time we skipped the rice and stuffed the avocados with the picadillo.
We did, however, use the same quality ingredients that we've always loved and have become a staple in our kitchen/home, La Morena® Chipotle Peppers in Adobo (this was the finishing touch that gives the picadillo its flavor, kick and color) and Knorr® Chicken Flavor Bouillon Granulated Bouillon (we always have the 2.2 lbs because we use it in SO many recipes). We kept it light with the spicy picadillo stuffed avocado, and since we LIVE FOR FLAVOR® we incorporated the ingredients (found at Walmart in the hispanic aisle) with value that we trust in being the best for my family!
Spicy Picadillo Stuffed Avocados **Serves 4
Ingredients:
2 pounds of ground beef
1/2 can La Morena® Chipotle Peppers in Adobo *use less for a milder version
1 tablespoon of Knorr® Chicken Flavor Bouillon Granulated Bouillon
4 large avocados
1 small white onion
1 teaspoon garlic powder
1 teaspoon of salt and pepper
1 tablespoon of Olive oil
Instructions:
Boil 1 potato and chop. Set aside.
Season ground beef with chicken flavor bouillon, garlic, salt, and pepper. Cook until no longer pink.
Dice onion and Sautee in olive oil.
Add ground beef and potatoes to sauteed onions and toss.
Stir in chipotle pepper in adobo and simmer on low for 5 minutes.
Cut Avocados in half and stuff with picadillo.
Serve with sweet plantains.
Sweet Plantains
You can easily buy them frozen but if you prefer the fresh homemade version like I do follow the simple instruction below.
Cut off the ends of the plantains and peel.
Heat 5 tablespoons of oil (or butter) on low.
Fry plantains until they're golden brown and then flip and repeat. **Sweet plantains tend to burn very easily keep a very close eye on them.
You can find both the La Morena® Chipotle Peppers in Adobo and Knorr® Chicken Flavor Bouillon Granulated Bouillon in the hispanic food aisle at Walmart.

How do you add flavor to your Día De Reyes celebration?