~ Three Minion Inspired Outfits

Who doesn't love the Minions? I know we do and the plan this weekend is to head over to the movies and watch the Minions. My boys have been obsessed with them ever since they made their debut in Despicable Me and in honor of the adorable little yellow Minions I decided to dedicate this weeks "Three Ways To Style" to the color yellow! All three outfit have that cheery color yellow with blue and white accents just like the Minions themselves. Scroll down to see the three Minion inspired outfits below.
Three Minions Inspired Outfits
The first Minion inspired look would be great for a date night.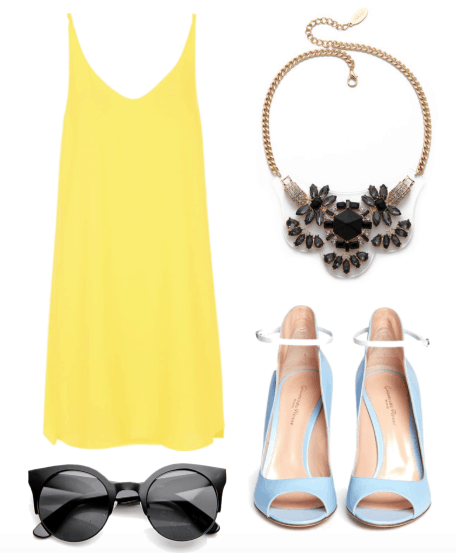 Yellow Dress | Pumps | Statement Necklace | Sunglasses
The second more casual look would be perfect for a weekend outfit.
Blue Shorts | White Muscle Tee | Striped Flats | Sunglasses | Yellow Necklace
The third is a flirty look that you can easily pair with a copy oversized sweater, or a blazer!
Striped Dress | Yellow Sandals | White Clutch | Sunglasses 
Aren't they cute? Do you think have that "Minion" vibe?
Pin for later!
Click here to see all my other "Three Ways To Style"