This is a sponsored post. Thank you for supporting Stylish Cravings!
I'm not one to make a New Year's resolutions. Instead, I like to set small monthly goals for myself. This month I've been focusing on eating healthier during the week and adding more meatless dishes to my diet.
Blue Cheese & Avocado Quinoa Burger
You might have noticed that I've been featuring some of these recipes here and they usually consist of mushrooms and or quinoa. They're by far my favorite substitutes for meat and empty carbs. For Valentine's Day I even plan on making us a quinoa blue cheese burger topped with onions, avocados, and blue cheese. Scroll down for my spicy blue cheese & avocado quinoa burger recipe.
Another change I've made this year is eating a lot more proteins and finding different ways to keep myself fueled throughout my busy day rather than just drinking more coffee. Have you guys heard of Herbal Mist teas (click here for more info)? Herbal Mist is a line of 100% natural, real brewed tea that is enhanced with yerba mate and real fruit flavors like peach, mango, and raspberry (my favorite). They even have a green tea and honey, along with an unsweetened version that you can easily sweeten with some lemon juice.
Blue Cheese & Avocado Quinoa Burger
I've never been a fan of tea, but I was hooked on Herbal Mist the first time I tried the green tea, and even more so after I had tasted the raspberry. The teas provide a unique combination of health and natural energy by harnessing the power of South American yerba mate. Yerba mate is natural, healthy, and does not have the caffeinated effects of coffee or energy drinks. The incredible taste speaks for itself! See blue cheese & avocado quinoa burger recipe below!
Herbal Mist is not only a delicious way to refuel, but because it's "true brewed", it can be microwaved or boiled for chilly nights. It also pairs well with mixed drinks.
We even plan on making a tasty sangria with Herbal Mist teas raspberry flavor to go along with the spicy blue cheese & avocado quinoa burger for Valentine's Day. Scroll down for step by step instructions on how to make the spicy blue cheese & avocado quinoa burger.
Spicy Blue Cheese & Avocado Quinoa Burger
Ingredients:
1 cup  red quinoa & 1 cup of white quinoa
1/2 cup of panko Breadcrumbs
3/4 cup of blue cheese
1 tsp red pepper flakes
1 tsp of paprika
1 large eggs
1 red onion
Olive oil
1 large tomato
Whole grain English muffins
Instructions:
Cook quinoa according to instructions on the box. **Use chicken broth instead of plain water.
In a large bowl add quinoa, eggs breadcrumbs, red pepper flakes, paprika and mix. Refrigerate for 10-15 minutes. Add blue cheese and mix.
Form the patties. **The thicker the patty the better!
Heat oil and cook until crispy on both sides (about 5-7 minutes each side). Serve on whole grain English muffin and top it with more blue cheese, red onion, and avocado slices. Top with siracha mayo (1/2 cup of your favorite mayo, 2 tbsp of siracha and 1 tsp of lemon or lime juice) and more blue cheese!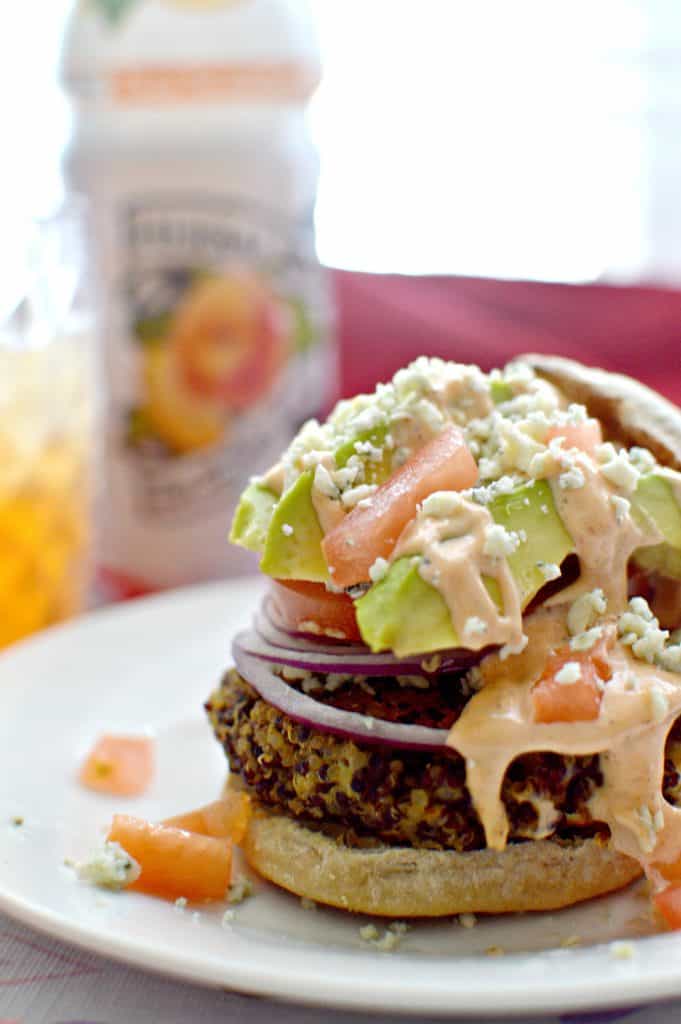 Pin this blue cheese & avocado quinoa burger for later!
Serve your blue cheese & avocado quinoa burger with your favorite Herbal Mist tea and you've got a complete Valentine's meal; perfect for brunch or dinner! For more info on Herbal Mist teas, visit HerbalMist.com or you can simply head over to Amazon to order.
Another favorite recipe:
Cajun Mushrooms & Spinach Rigatoni