Thank you Acorn Influence + LARA Nut Butter for sponsoring this yummy post!
I thought that with school being back in session and not having to do any driving anymore that my mornings would be a little more laid back. I could not have been more wrong. Now I have to get up earlier, work is busier than ever, and now that Olivia prefers to be on floor rolling around and playing with her toys, I'm literally on the run from the moment I open my eyes. My routine revolves around my kids and work, of course, but I make sure to make some time to sit down and enjoy a quick bite to eat my chocolate coconut & pineapple toast. Last year I would have grabbed a donut (or two) and kept on moving along but that wasn't cutting it anymore, so I cut them out and had a hard boiled egg for breakfast every morning. I would boil them at night and then grab them on the go in the am. They've done their job, but I've been a bit bored with it.
Last week LÄRA bar sent me their brand new LÄRA  Nut Butter and I knew it would be a game changer in my boring hard boiled egg breakfast routine. It was the perfect alternative to those sugary donuts I use to look forward to. I already love their LÄRA  bars and I've been known to have them everywhere, like in my car, my purse and just about anywhere I can quickly get my hands on them. I was super excited to give their nut butters a try.
The LÄRA  Nut Butters come in two AMAZING flavors – Chocolate Coconut (my favorite) and Banana Nut. Both flavors are just delicious and taste just as good as they look. So good, in fact, that I've found myself sticking a spoon in the jars several times a day and calling it a snack. Hey, whatever works, right? These decadent looking nut butters are available exclusively at Costco (NorthEast and Bay Area), so if you're not a member then trust me, this is a good reason to join! See how I sweeten up my toast below!
Slice up your pineapple into small chunks.
Spread your LÄRA Chocolate Coconut butter on your toast
Top with pineapples.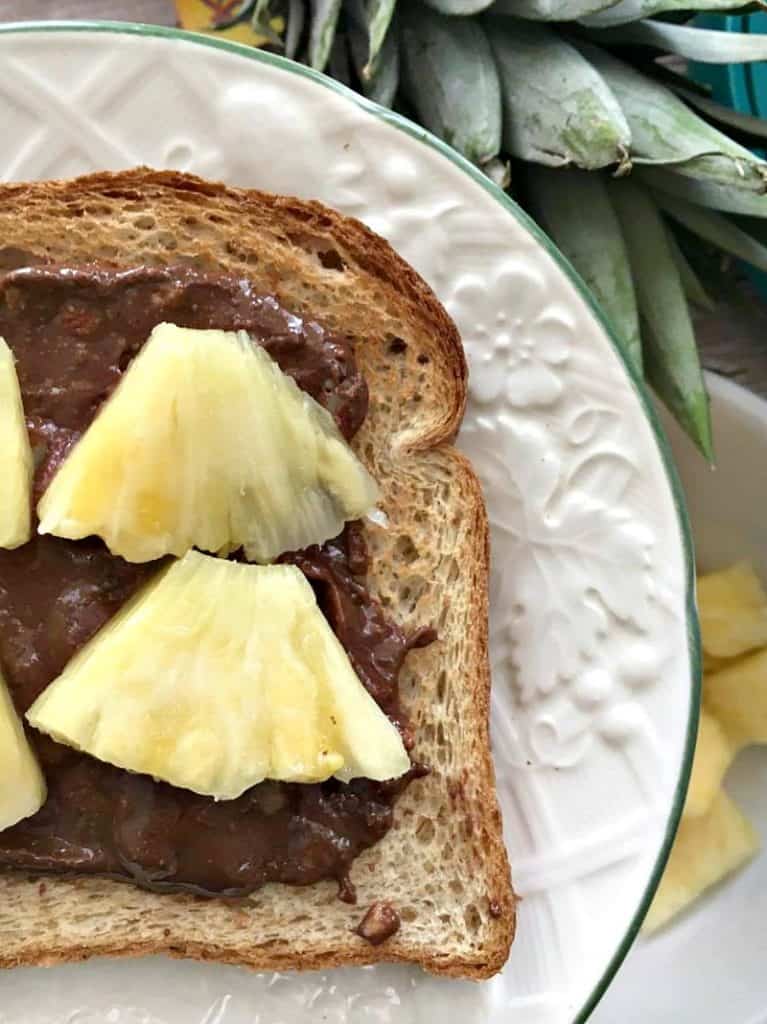 Sprinkle with cinnamon and you're good to go!
Now I may not have the time to whip up a fancy breakfast but these LÄRA  Nut Butters have given my chocolate coconut & pineapple toast life! Other pairings I've loved have been with strawberries (they seem to make their way into a lot of recipes lately click here to see one) and bananas. The possibilities are endless!
I can't wait to see what else I can use these butters with!
Looking for a fun, enjoyable breakfast option like my chocolate coconut & pineapple toast, that's better for you? Give LÄRA  Nut Butters a try and thank me later!