Am I the only that thinks those pre-made Easter baskets are boring? I couldn't find one that was suitable for Joseph so I bought a wicker basket that I plan reusing later on in his room and filled it with some stuff I knew he'd love.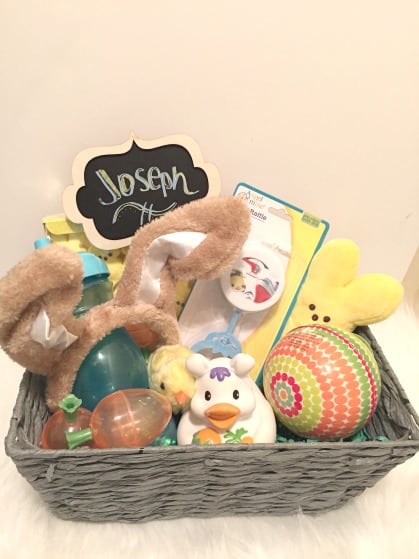 I bought this chalk board stake at target for only a dollar and wrote Josephs name with cool chalk ink pens that I ended up giving to Robert who loves to dry and do crafts. They write on glass or chalk boards just like a pen and can be easily erased with a little water. Loved them!
I didn't make the boys Easter baskets but they'll definitely be hunting for eggs. To make the hunt a little more fun we're going use Hoppy Paw prints along the paths! It's so cute and super easy to use. All you need to do is dip the paws in some chalk and press down.
Chalk Steak & Bunny Ears via Target | Wicker Basket, Ball & Plastic Eggs via Dollar General | Rubber Ducky, Chic and Stuffed Peep via Walmart | | Sippy Cup via Nuk
*companies send samples to review all options are my own