4th of July is only a week away! This fun paper firework craft is a great way for the little ones to get in on all the festivities. It's also cute and easy to make with the kids!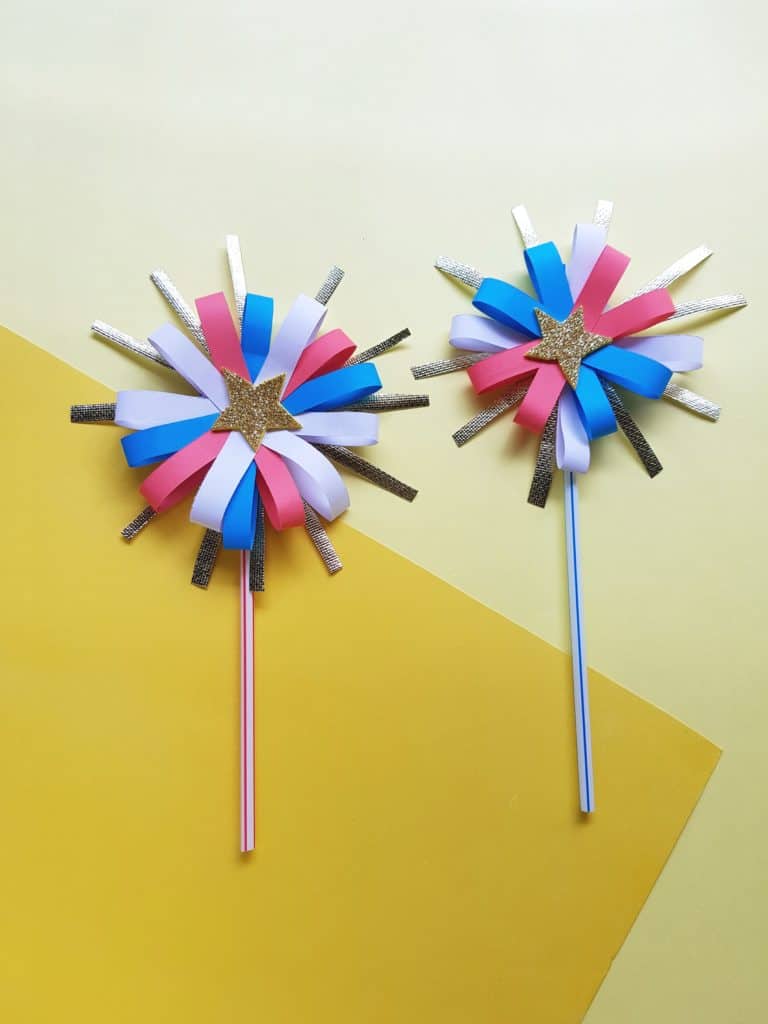 I can't believe the 4th of July is now only a week away! It's actually one of my favorite holidays to celebrate, and we really go all out with the food and crafts!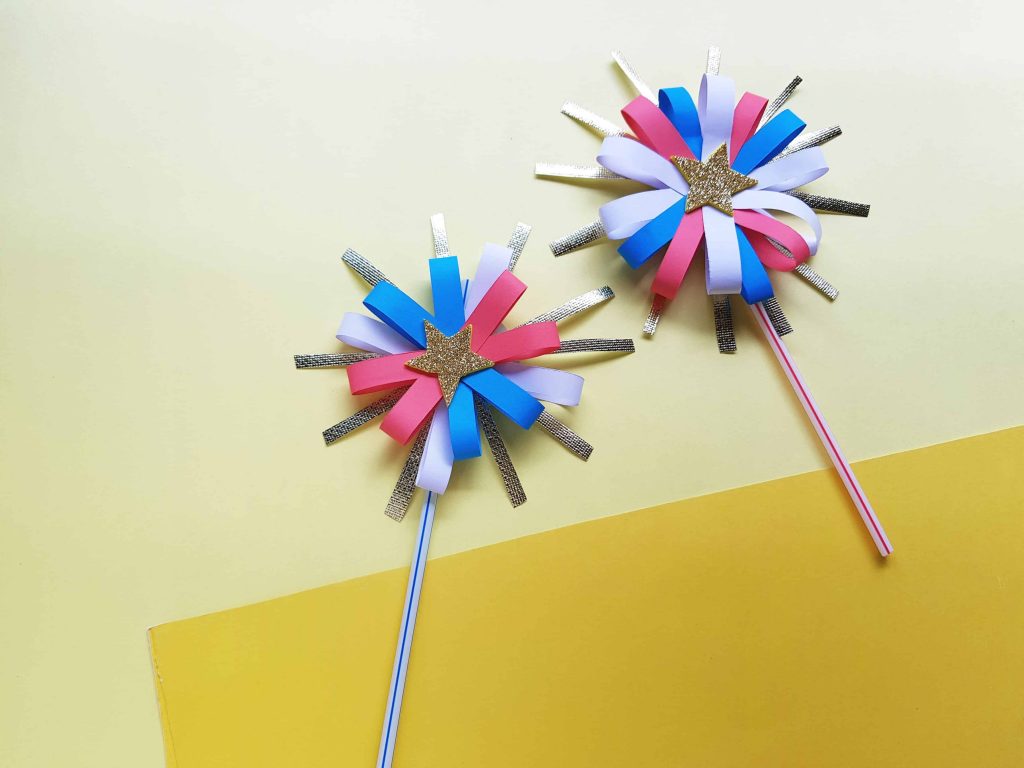 This year we've already got the festivities started by making 4th of July ice cream cone cupcakes and now this paper firework craft!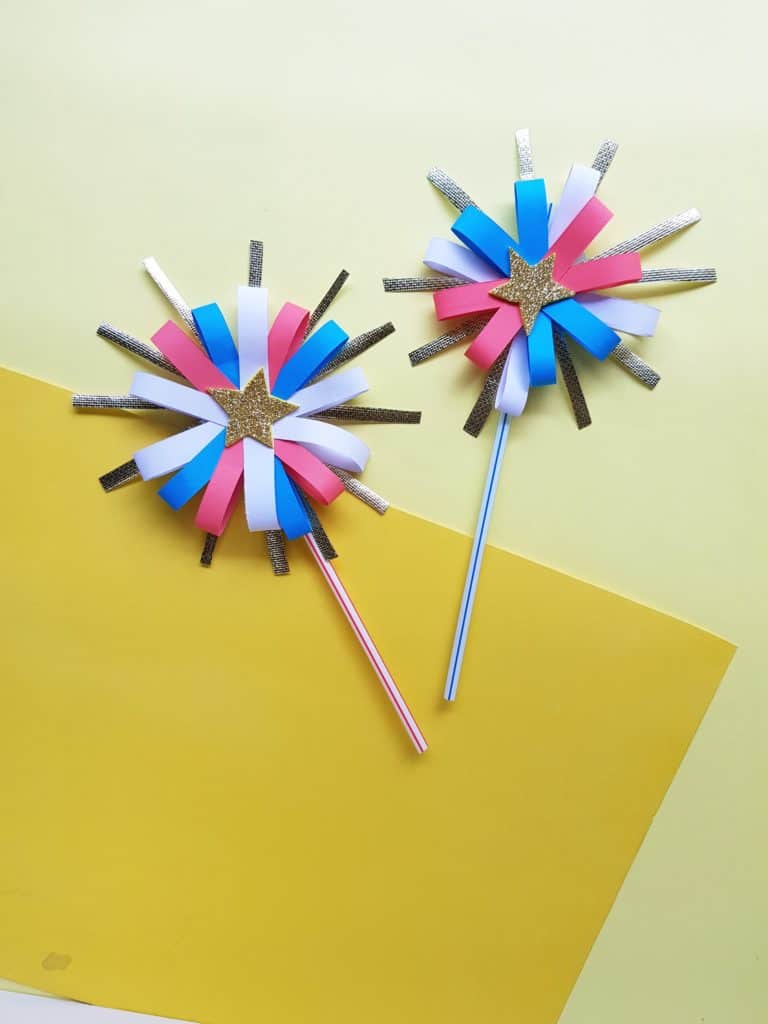 We also got ourselves some fireworks that are sold everywhere in Florida. It's funny I thought it was odd to see tents selling fireworks when I first moved here and now they're the norm for me. In fact, now we even buy quite a few fireworks!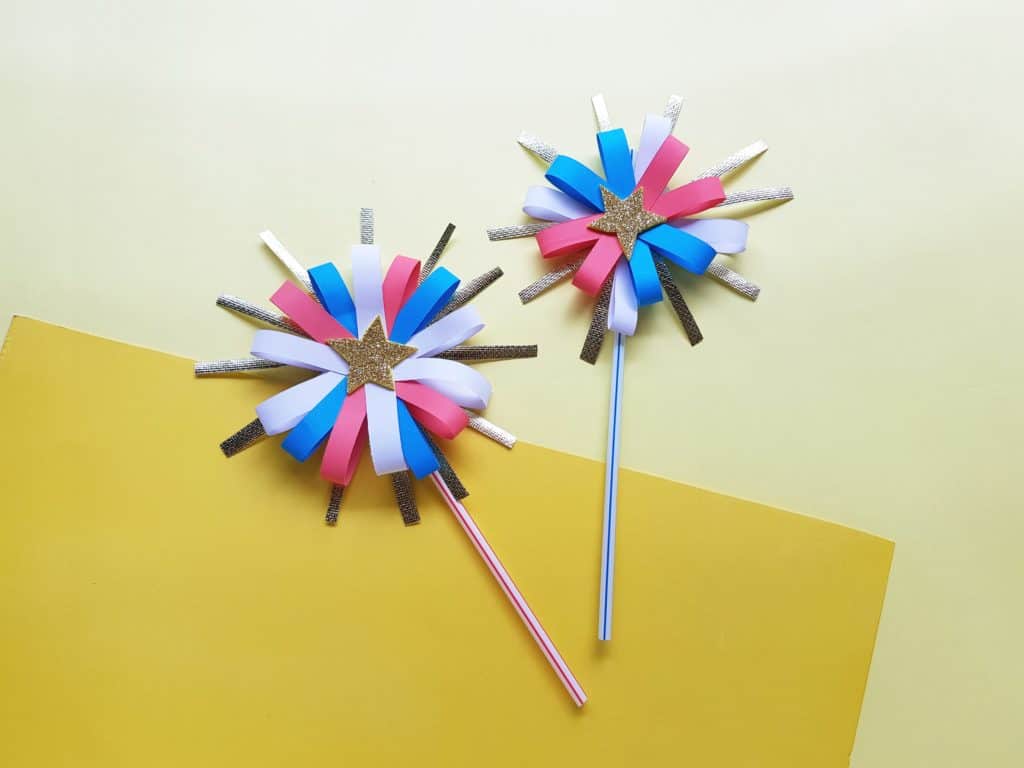 Fireworks, food, and family – We're ready for 4th of July!
To make this firework craft, all you need is color craft paper, pencils, scissors, craft glue, a ruler, and golden or glitter craft paper! You may even be able to find most of the items at your local dollar store!
More Crafts & Recipes for kids:
DIY Patriotic Pinwheel Craft
Firework Cupcakes
DIY Paper Firework
4th of July Craft
List of Supplies:
1. Colored craft paper
2. Pencil
3. Scissors
4. Craft glue
5. Ruler
6. Golden craft paper or golden glitter paper
Instructions:
Step -1: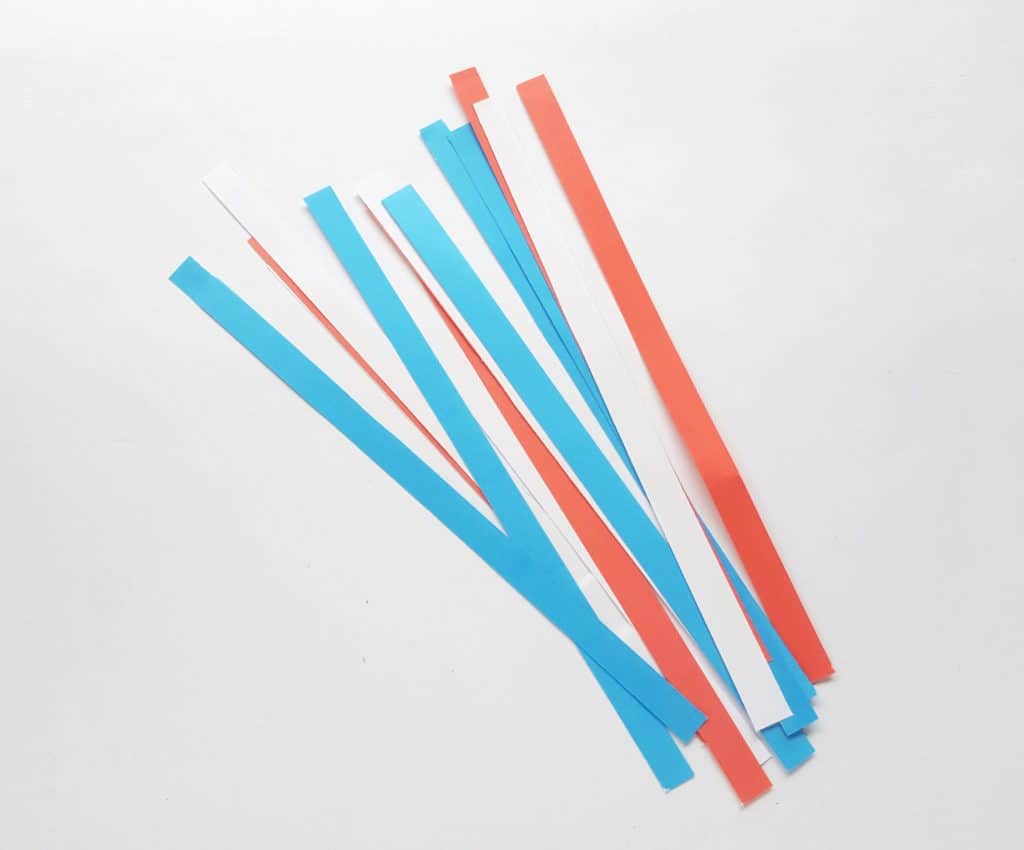 Use the ruler and pencil to trace 10 inches long and 0.5 inch wide strips from the selected craft papers. I'm using red, blue and white craft papers to prepare the strips.
Step -2:

Take any 2 prepared strips and place them on a flat surface crisscross-wise. Apply glue on the overlapped center of both strips.
Step – 3: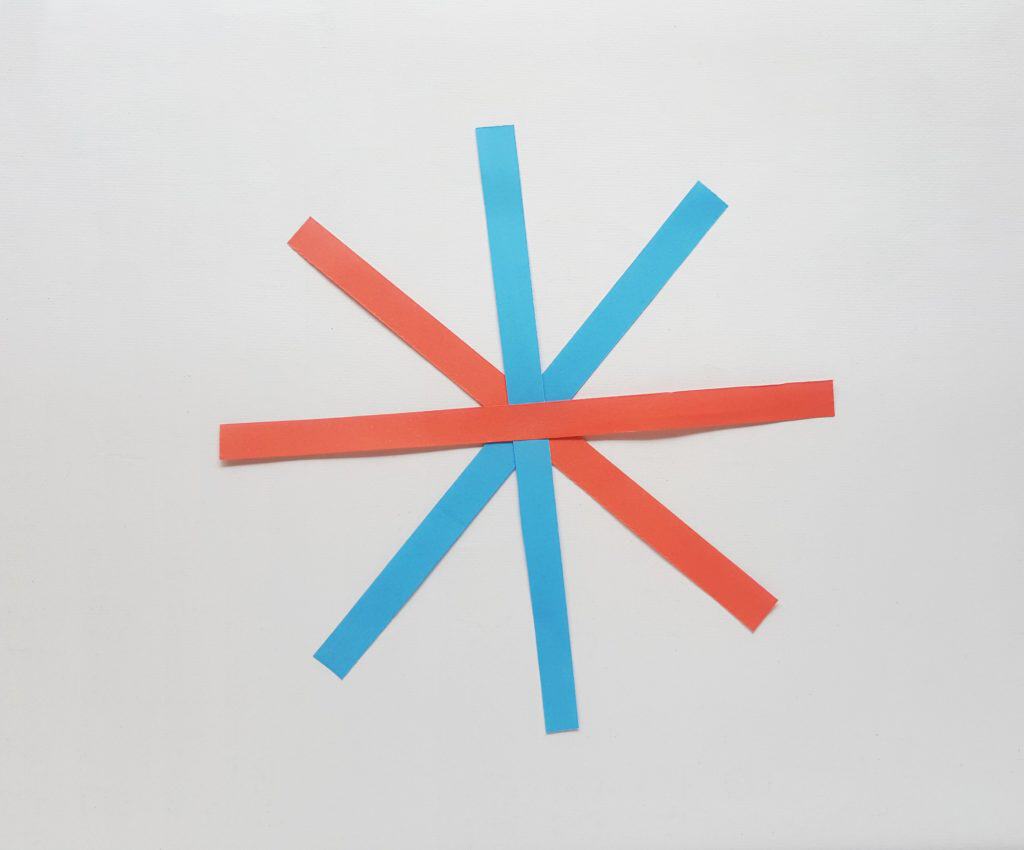 Grab more strips and place them crisscrossed over the previous ones.
Step – 4: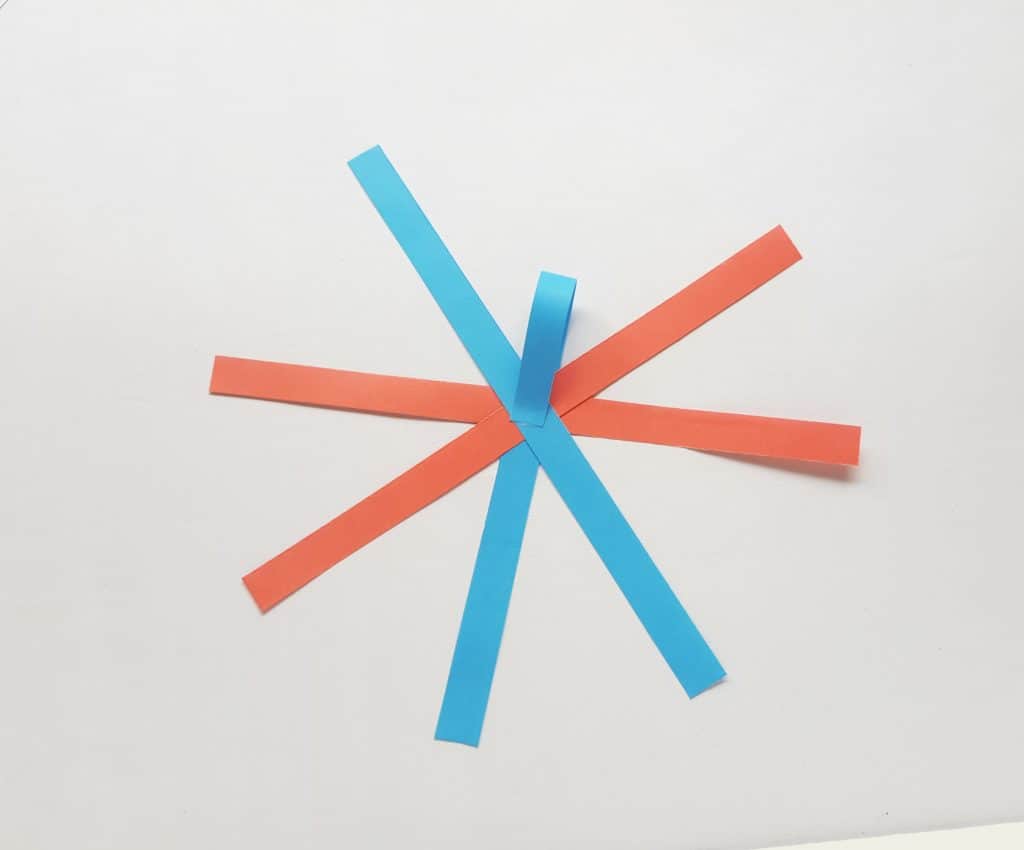 Hold any one of the open ends of the crisscrossed strips and glue it on the center to create a loop.
Step – 5: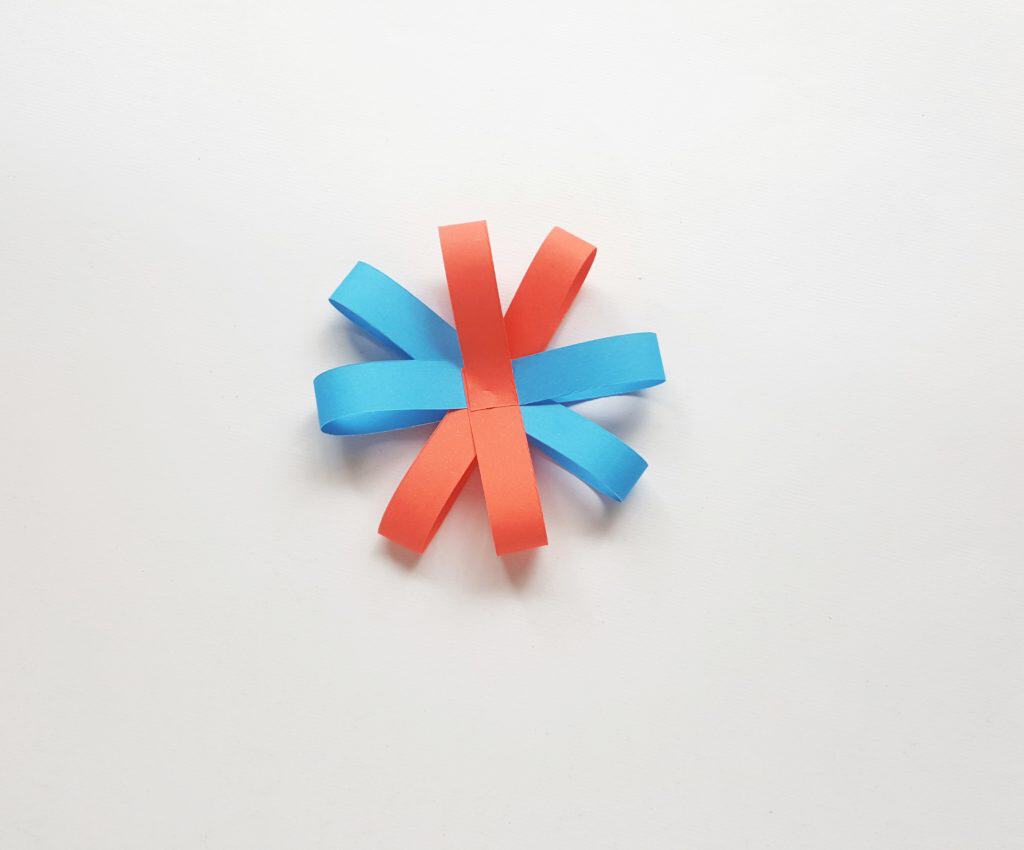 Continue to draw the open ends of the rest of the strips and gluing them on the center to create loops.
Step – 6: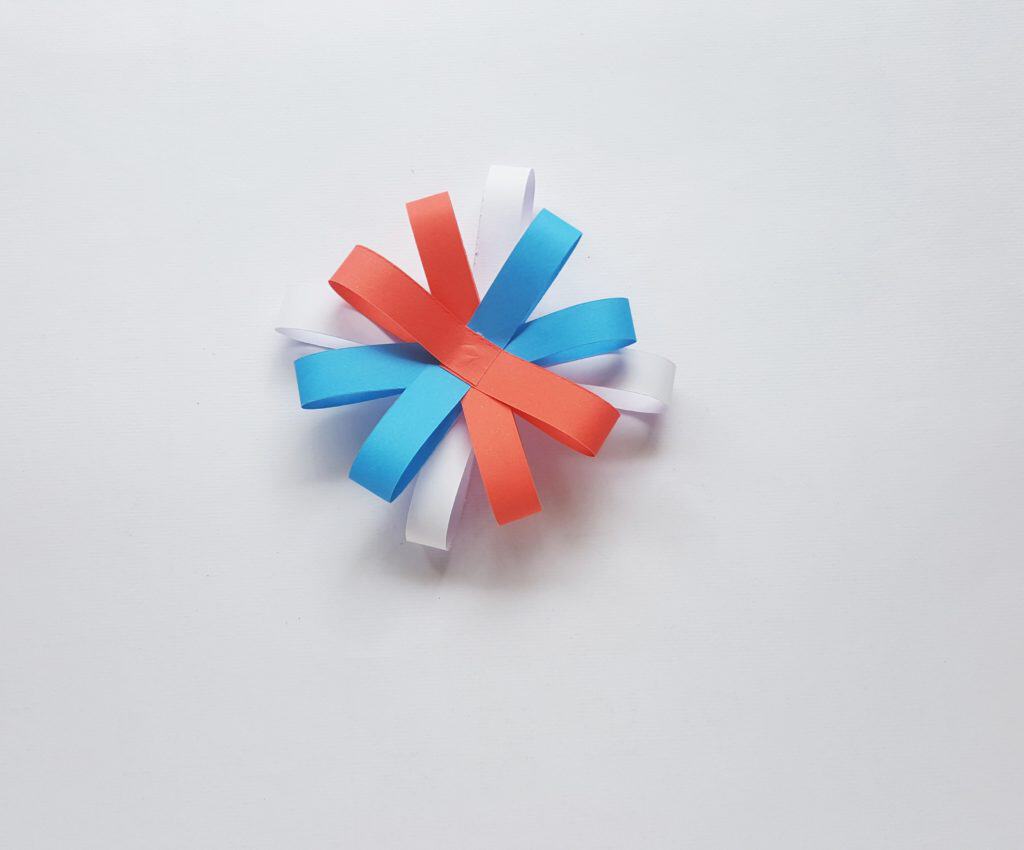 Add more loop-layers if you want to.
Step – 7: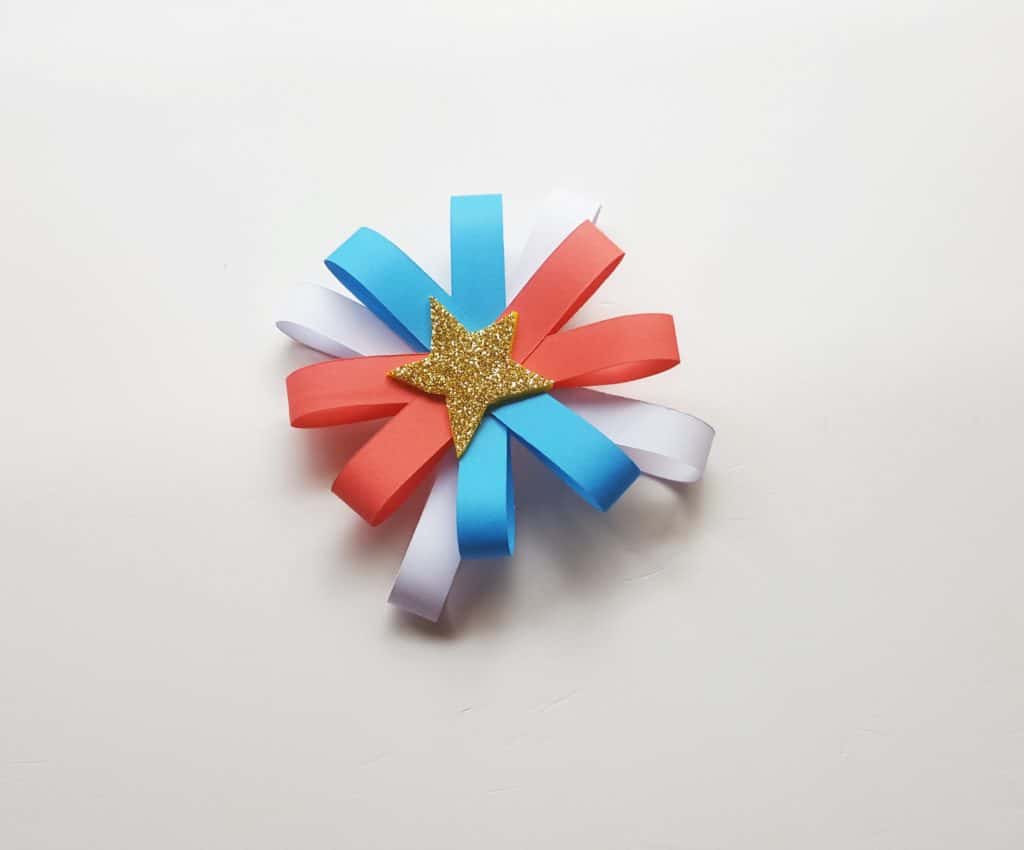 Cut out a small star shape from golden craft paper or golden glitter paper. Glue the star cutout on the center of the looped pattern.
Step – 8: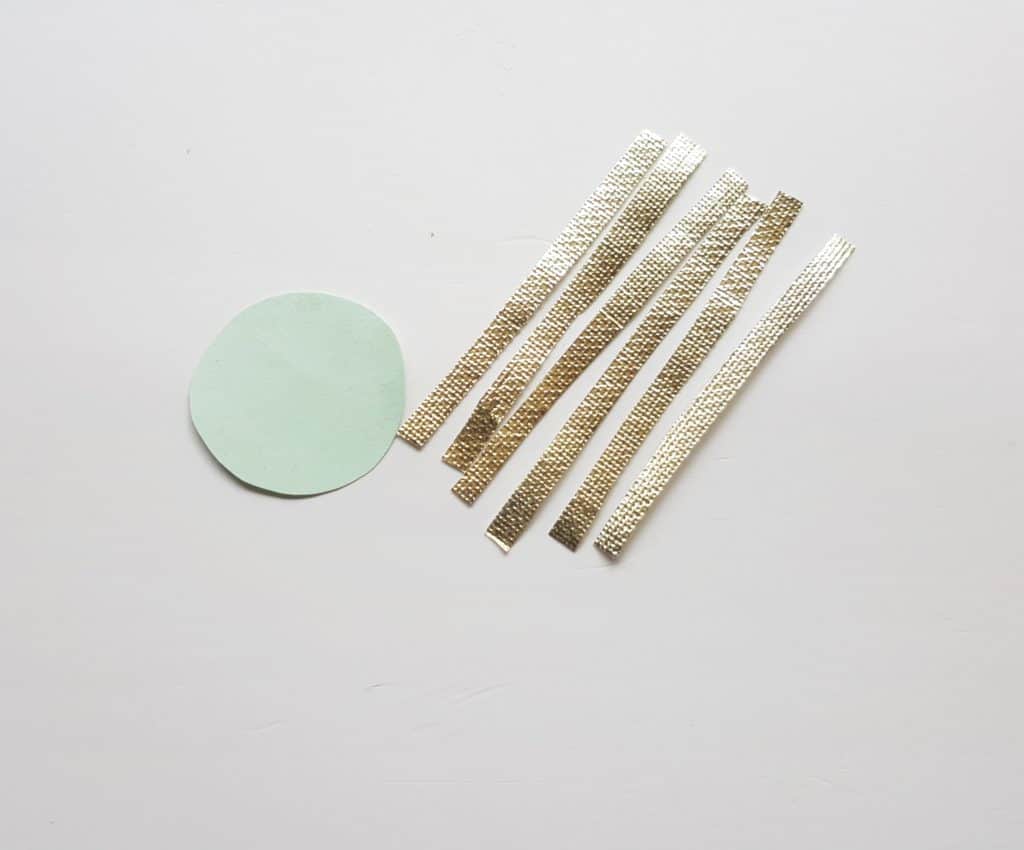 Cut out a round base and some 5-6 inches long strips from golden craft paper.
Step – 9:

Stick the golden strips on the round shaped paper. One end of the golden strips should be on the center of the round shape and the other end should be facing outside.
Step – 10: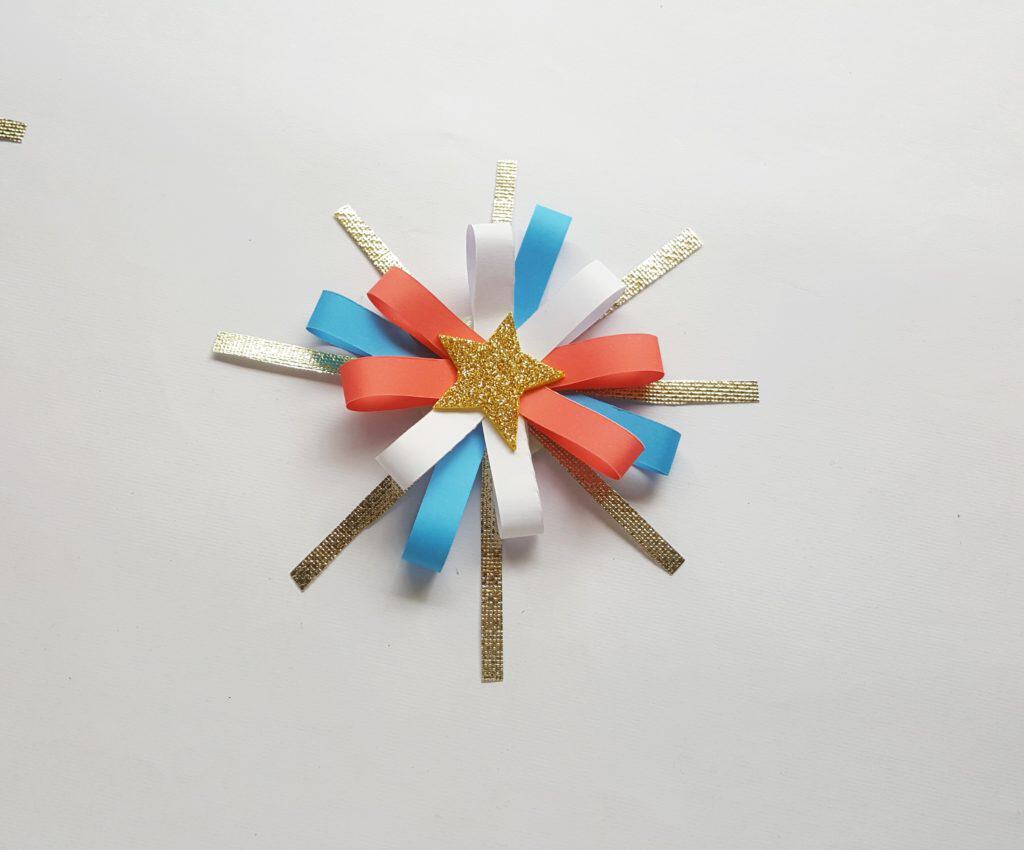 Simply, glue the looped pattern on the center of the golden strip attached round shape.
Step – 11: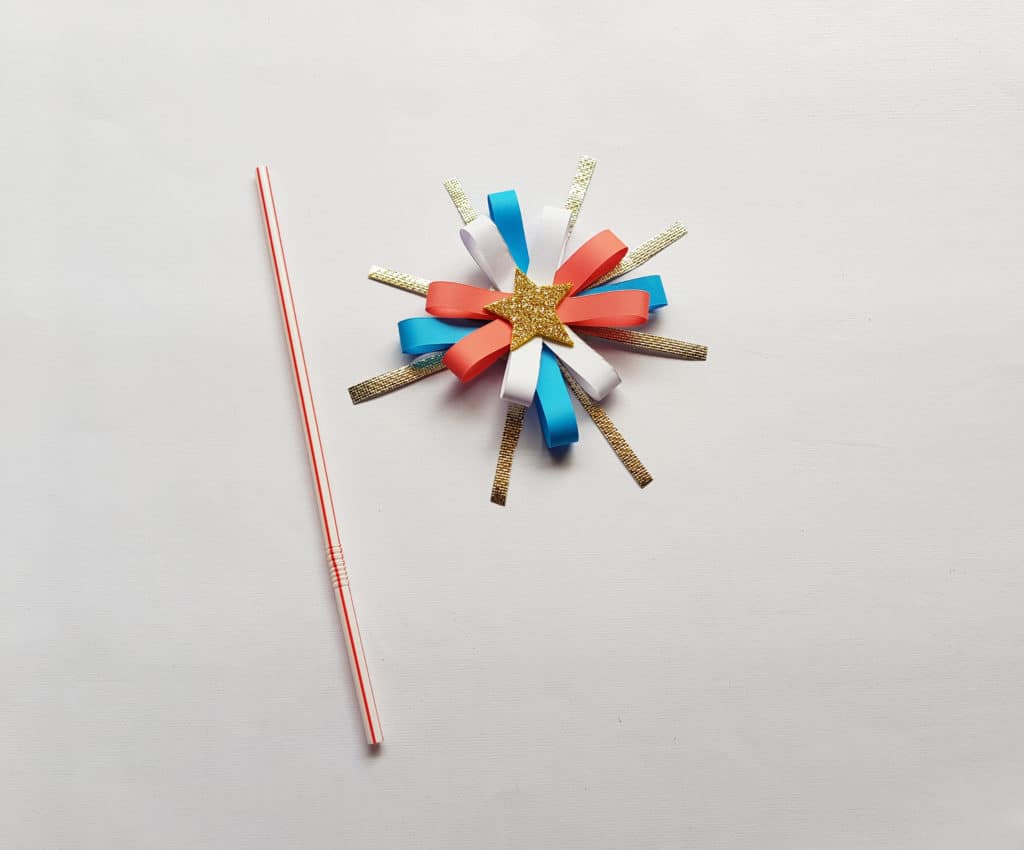 Grab a straw and some white tape (or craft glue will do as well).
Step – 12: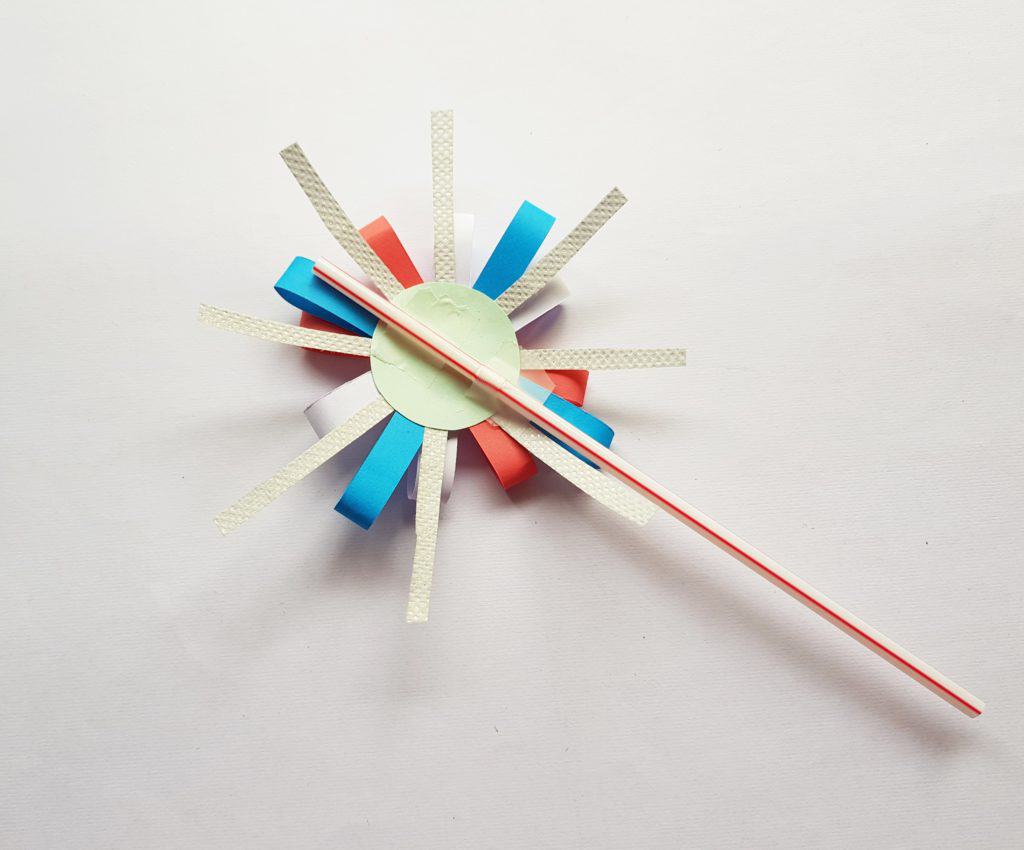 Attach the straw on the back side of the paper firework, on the round shaped paper.
Done!
Click here to follow me on Pinterest!
Pin for later!