Enjoy one of your favorite breakfast recipes, even on keto! This low-carb Belgian waffles recipe is hearty and delicious.
Breakfast is perfect at any time of day. You can enjoy all your favorite breakfast recipes at brunch with your friends, during lunchtime, or have breakfast for dinner.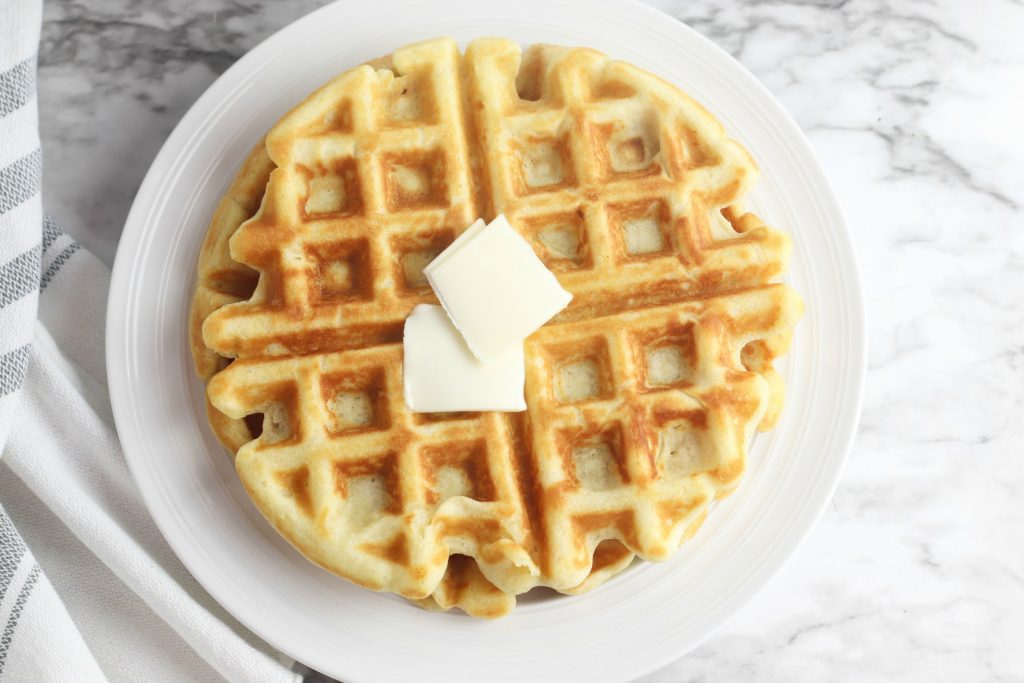 Normally, Belgian waffles are filled with carbs and sugar and a huge no-no on the keto diet. With a few modifications, you can enjoy your favorite waffles even on a low-carb diet. 
What Are Belgian Waffles? 
The difference between Belgian and regular waffles is the size of the grids on the waffle iron.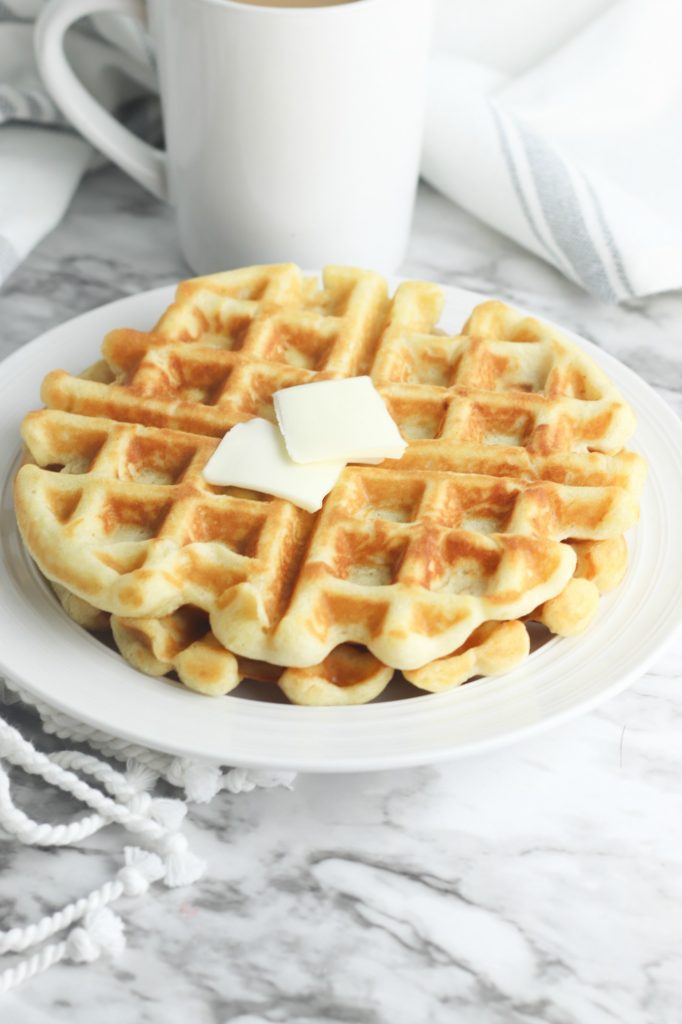 Another thing that sets Belgian waffles apart from other types is that they are even fluffier and lighter. This is done by whipping egg whites – which is something I did in my low-carb version too.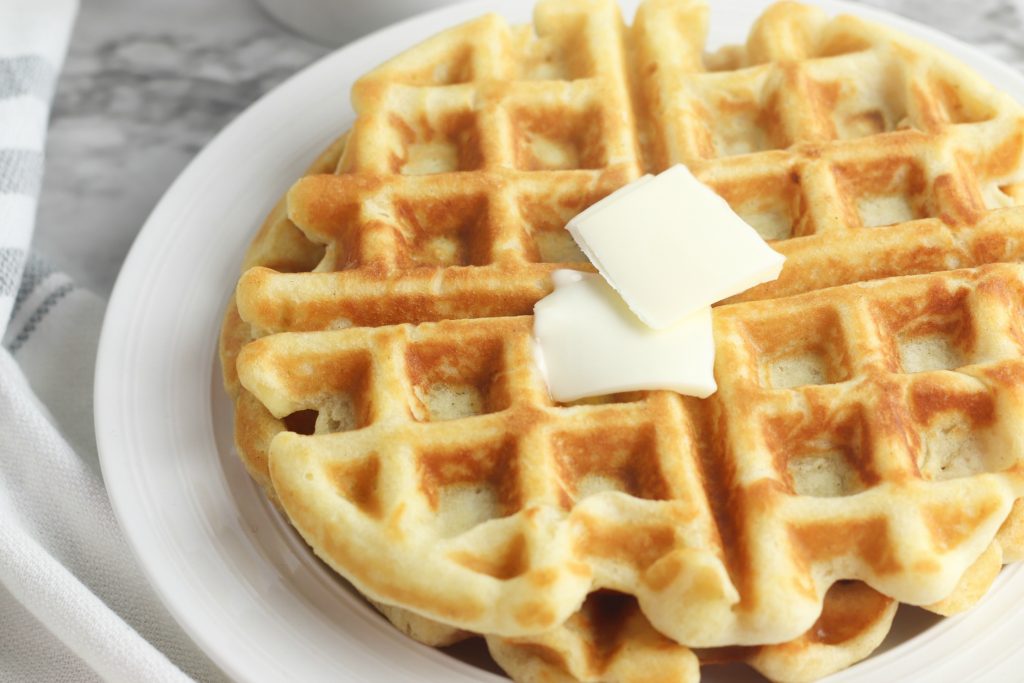 My recipe is just as large and fluffy as authentic Belgian waffles. You are going to love them! 
How To Make Low-Carb Belgian Waffles
If you can make pancakes or waffles, then you can make these low-carb Belgian waffles. The entire recipe is below at the bottom of this post. First, I'll share the ingredients I used to make my coconut flour Belgian waffles. 
Eggs – You will need some egg whites. I love using my

egg white separator

. 

Coconut flour – This has a better taste and texture than almond flour. 

Baking powder – Do not use baking soda. The baking powder is what makes it fluffy.

Vanilla extract – Pure vanilla will have the best taste, but you can use imitation if that's what you have on hand.

Almond milk – Use whatever dairy-free milk alternative you prefer. I love the taste of almond milk the best.

Butter – Make sure it's no-salt added butter
Easy Ways To Customize Your Keto-Friendly Waffles
This is a fantastic base recipe that you can build on and make your own. Customize it and make your own favorite waffle recipes.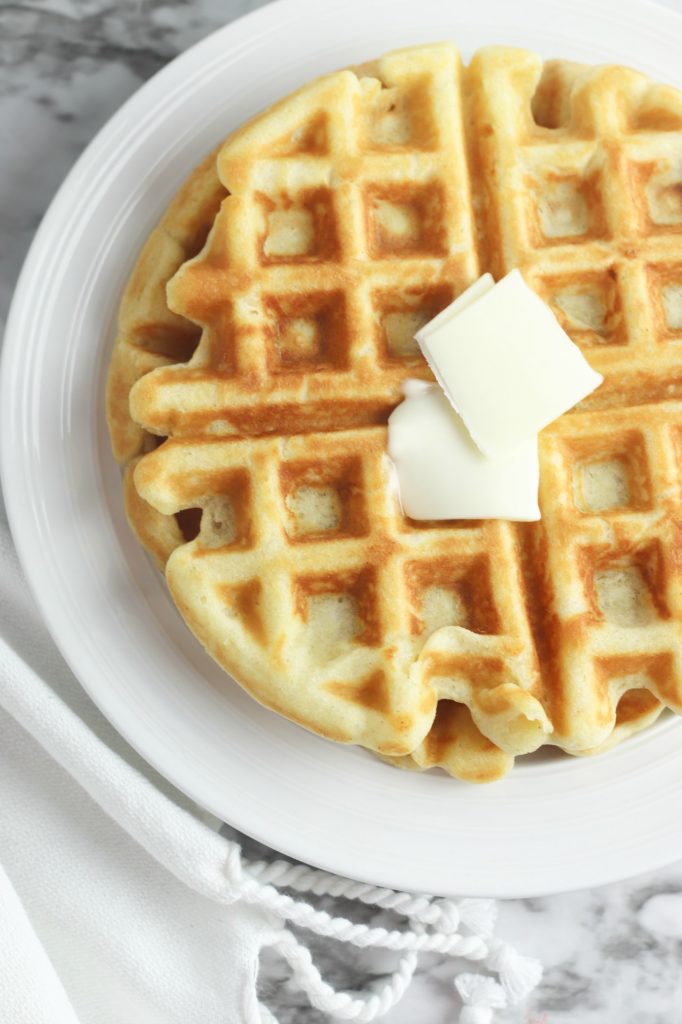 Make your waffles fruity – add some blueberries or chopped up fresh strawberries. If you are on the keto diet, just keep in mind that when you add fruit, the carb count will go up too.
You can also add in sugar-free chocolate chips for some keto chocolate chip waffles. 
Dairy-Free Modification Ideas
It's easy to modify this to be a dairy-free recipe. Use the same amount of coconut oil instead of butter. It will still turn out just as tasty and fluffy! 
Easy Grain-Free Waffles For Meal Prep
I love meal-prepping! When I meal-prep ahead of time, I'm more likely to stick to my keto diet. These grain-free waffles are perfect for meal prepping. 
I make a big batch ahead of time and store them in the refrigerator. Then, when I'm ready for an easy lunch or even a snack, I just pop a waffle in the toaster. 
You can even use these waffles as keto bread and top them with slices of lunch meat for a slightly-sweet sandwich too. 
How To Freeze & Store Keto-Friendly Waffles
These waffles freeze perfectly. Make a double batch of waffles and then let them cool off completely before you freeze them.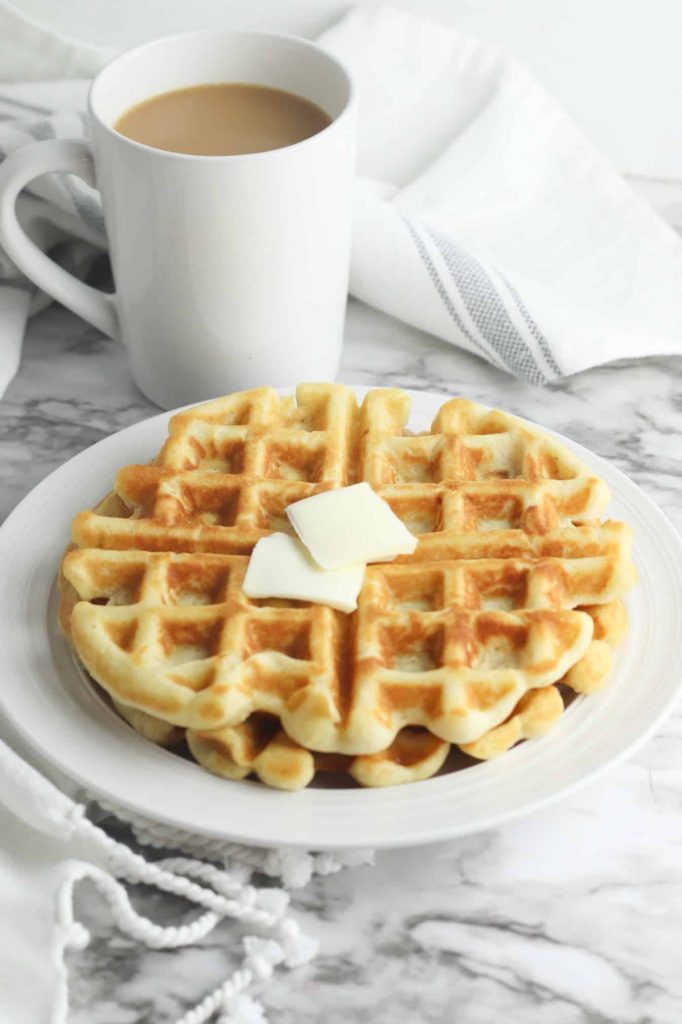 Then, store them in a freezer bag and label the bag with the date. Here's how I prevent the waffles from freezing together into one large block. I freeze them in batches in a single layer. Then, after all the waffles are frozen individually, I stack the frozen waffles in a freezer bag. 
The waffles will last about 3 months in the freezer. 
When you are ready to eat them, you can either reheat them in the oven or your toaster. 
More Keto-Friendly Breakfast Recipes
Here are some more of my favorite keto-friendly breakfast recipes. Serve them up for breakfast for dinner or at your next brunch. 
Low-Carb Belgian Waffles Recipe
Here's how to make my low-carb Belgian waffles recipe. Don't forget to pin this post later so you can find it again! 
Ingredients 
5 eggs
4 tbsp coconut flour
4 tbsp granulated sweetener
1 tsp baking powder
2 tsp vanilla extract
3 tbsp almond milk
1/2 cup butter
Cooking spray 
Instructions
Preheat the waffle iron.
Whisk egg white until form stiff peaks
In a large bowl, whisk together the egg yolks, flour, granulated sweetener, and baking powder. Set aside.
Add the melted butter and mix until smooth.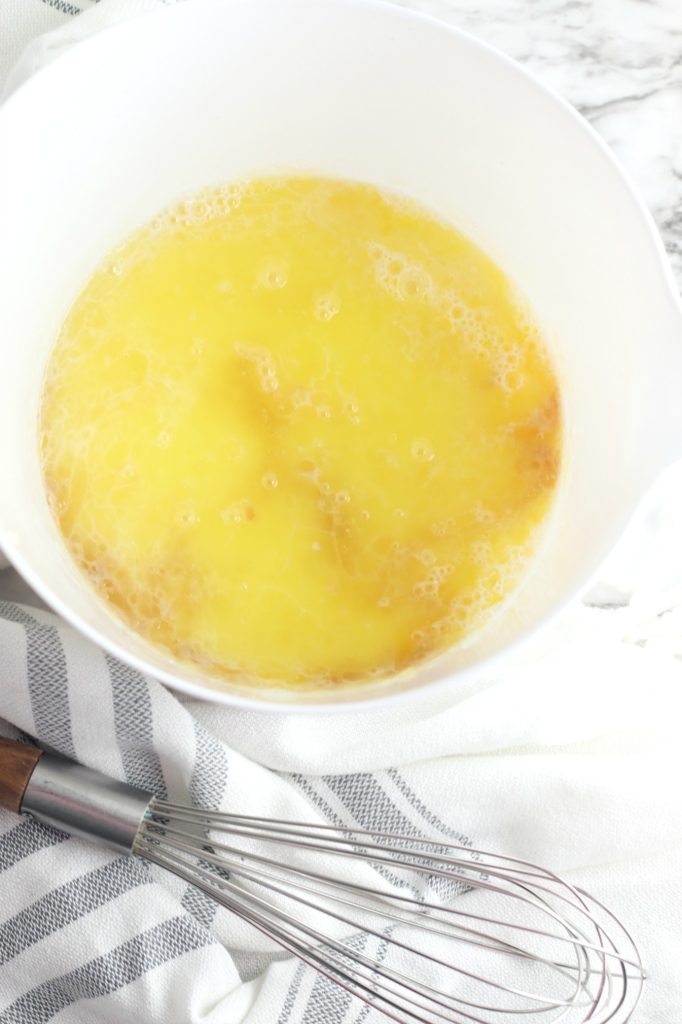 Add almond milk and vanilla extract, mix well.
Fold in egg whites into the mixture.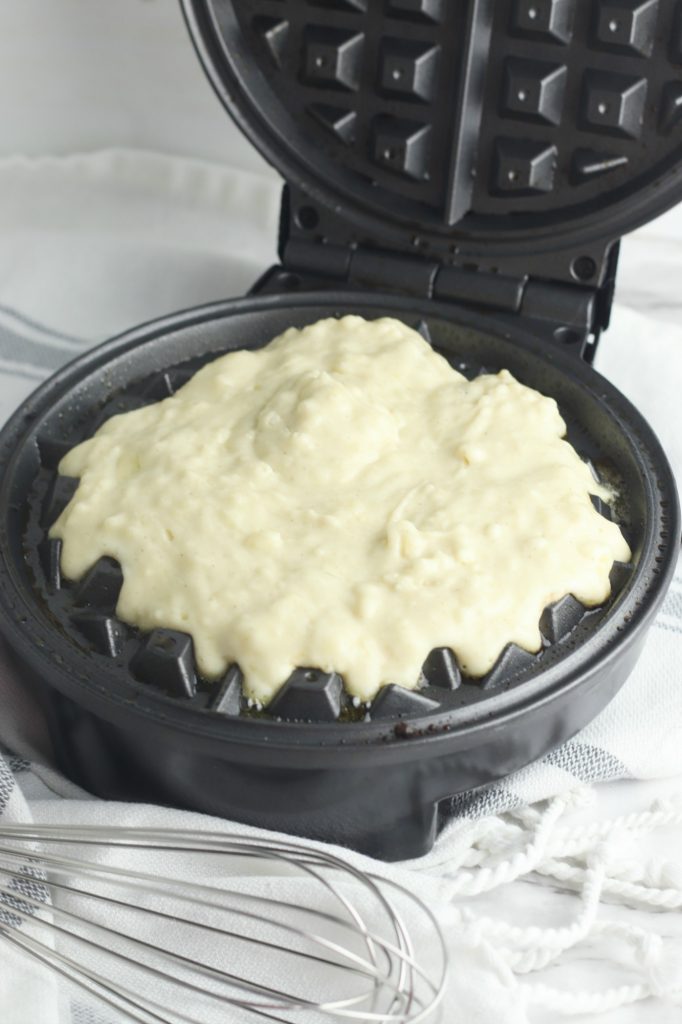 When the waffle iron is heated, spray the top and bottom with nonstick cooking spray. Spread the batter over the bottom of the waffle iron, starting in the center and working your way out until the plate is 2/3 of the way covered. 
Close the lid and cook the waffle for about 5 -7 minutes or until golden 
Continue cooking until all the batter has been used.
Pin for later!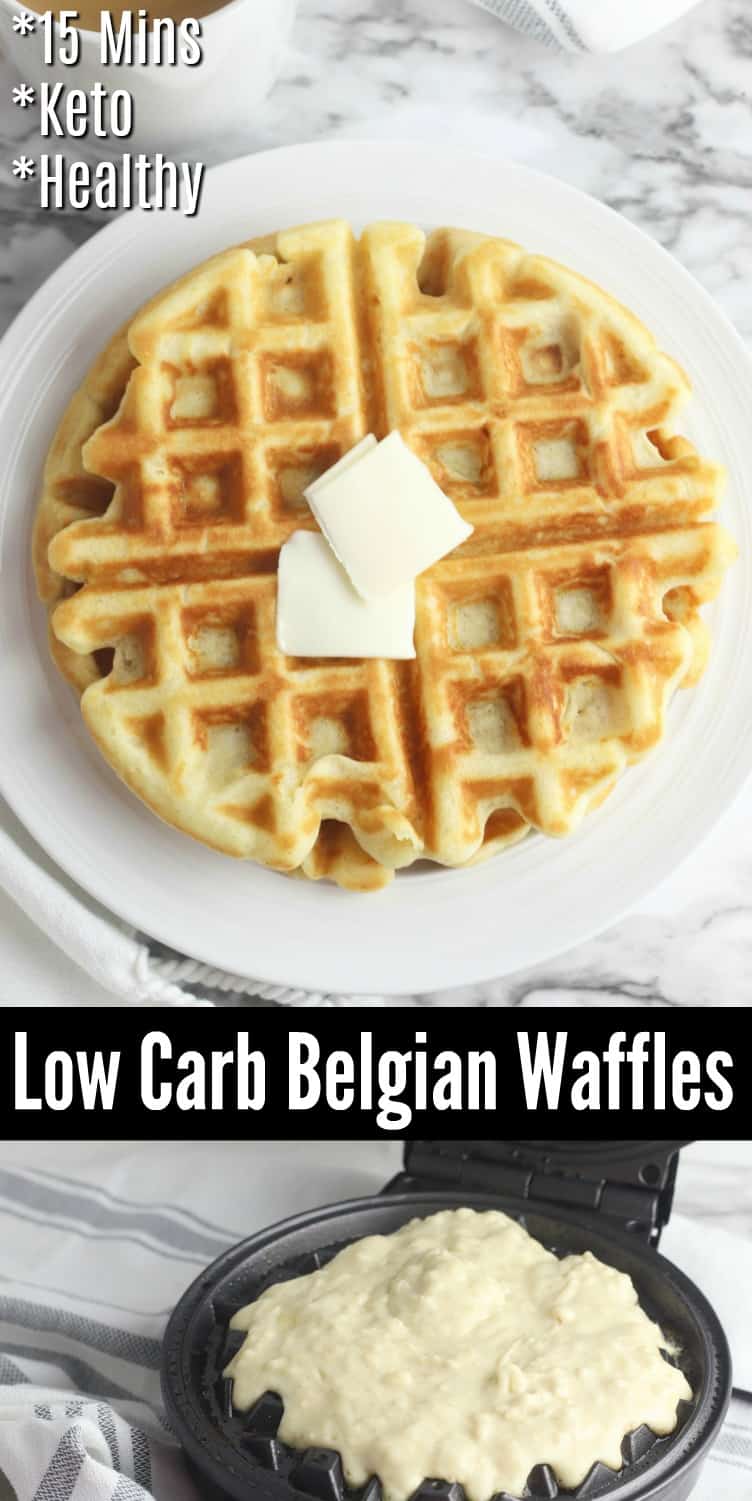 Follow me on Pinterest!