This is a sponsored post. All opinions are mine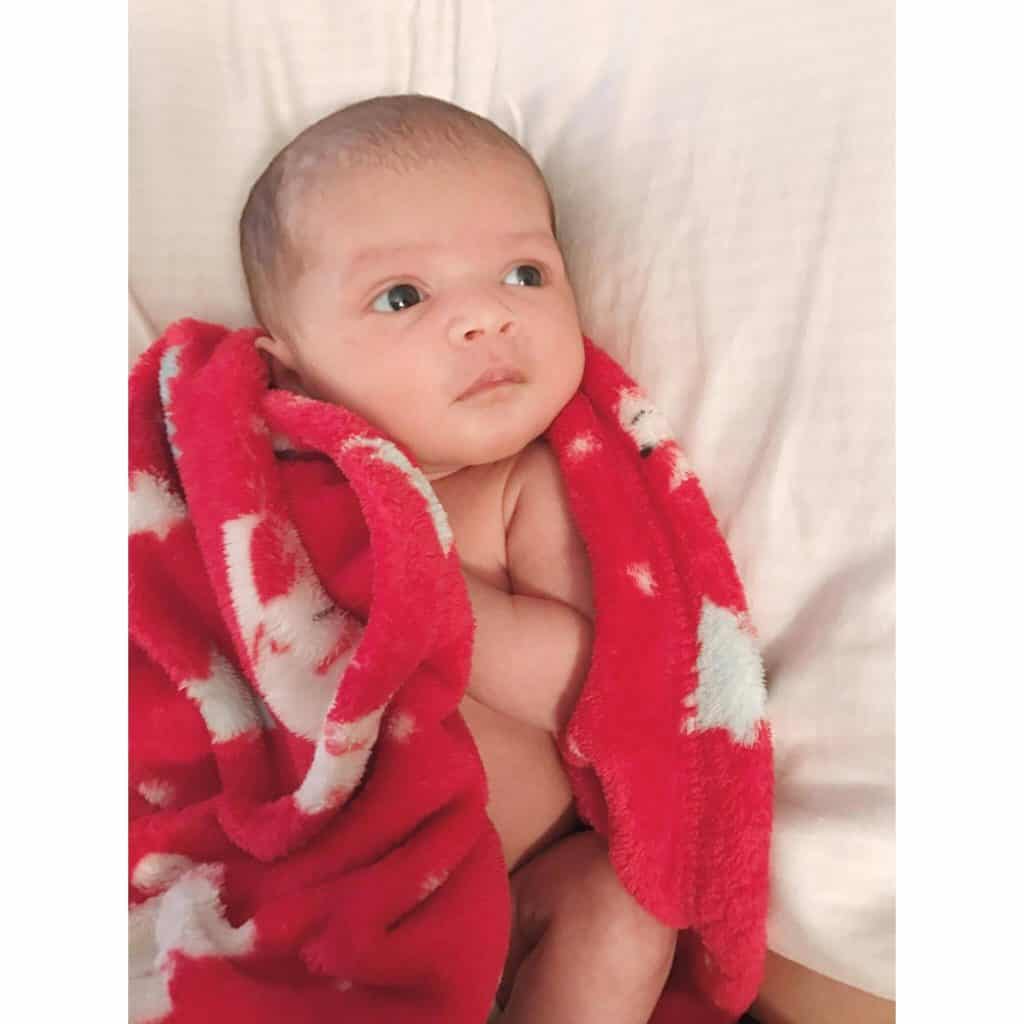 Yesterday Lauren turned three weeks old and with every day that passes I start to feel a little more like my old self. It's amazing how much different this c-section recovery has been from when I had Olivia (read about it here). I've lost almost all the baby weight, which doesn't say much because I'm still carrying the baby weight from having Joseph, but I'll take it! The only thing that I'm still adjusting to is waking up, not only with Lauren, but also with Olivia, who is teething as well. Fun times! I don't mind waking up with both girls because we get to cuddle without feeling rushed or anything interrupting us, but the bags under my eyes have taken up permanent residency. Scroll down to see the five postpartum must-haves for mom that I rely on.
I'm so tired of looking tired and I made a promise to myself that no matter how out of it I may be that the first thing I would do every morning is swipe some mascara and a little foundation on to help me look awake. It might be silly and a little vain but it does make me feel better. The other day after a particularly exhausting night I decided to take some pics and I was actually  shocked because I didn't look half as bad as I thought. No filter, just a tad of makeup and BOOM I look slightly human again! Since I get asked all the time how I manage making time for myself and even putting on makeup, I decided to share my five postpartum must-haves for mom.
Mascara: Caffeine for my eyes! The first thing I do in the morning is grab a cup of coffee and apply mascara (I'm not even exaggerating, I really do). The trick is to swipe on mascara, give it a few seconds to dry, then swipe two to three times more, concentrating  on the end of lashes and skip bottom lashes for a more natural look. Afterwards, I take an old mascara brush that I keep on the side and brush off any excess. ~~ Not the best quality pic of me below but I wanted a real picture of a tired mom and show how a little mascara and lipgloss can help brighten up your face.
Hair:  I don't have the time to always be washing and drying my hair as often as I'd like to so in between, I use dry shampoo to spray it and go! Look for ones that have an amazing scent and leaves hair really bouncy. If dry shampoo isn't your thing, you can always give a wig a try! Divatress has a extensive collection of human hair lace front wig with a natural looking styles rangin from straight, layered curly and more (see below) to choose from. They even have a section with wigs under $20! Perfect for busy moms on the go that are looking for a new hair style without the commitment, a date night or are simply having a bad hair day.
Jewelry: I know firsthand that the last thing on any new moms mind is jewelry but it really can make an outfit without much effort. Try a long necklace over a tee that helps elongate the torso, simple hoops and a messy bun or some bangles to deflect a much needed mani. You can even just throw on an oversized watch, the idea is to look pulled together even on days where you've barely slept a wink.
Leggings: Say what you will about leggings, but in my opinion, they're a must-have for any new mom. Grab a cute tunic or tee and pair with well fitting leggings and you're good to go! Look for those with at least 3% spandex and avoid elastic bands on the waist to help get you through the first couple of weeks. **Pieces like a vest layered over a tee or tank give leggings more polished look and it's effortless!
Nursin tops: Even though the first couple of postpartum weeks are all about feeding, burping and diaper changing adjustments to your new baby, that doesn't mean you can't do it in a functional stylish way. I'm currently breast and bottle feeding Lauren and having the right top is essential. Look for nursing top that have some swing or that can be easily layered with other items like a scarf, a tank top or a light sweater.
The whole idea with these five postpartum must-haves for mom is to be able to wake up and look your best without it taking up too much of your time. You make the most of your makeup routine and only buy items to wear that are functional and that can be mix and matched with other items in your closet and you're good to go!