If you are looking for a kid-friendly low-carb recipe, this one is it! Everyone will beg for this low carb chili dog bake again and again.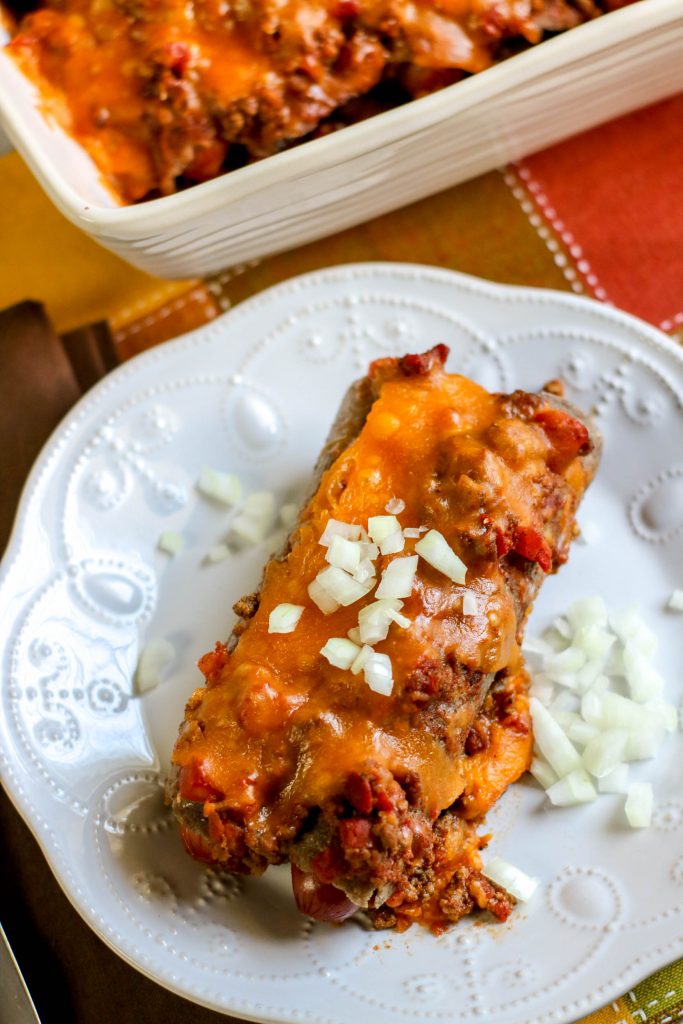 There is so much to love about this amazing recipe. It tastes like your favorite fair food, but is hearty and filling enough to serve for dinner. Add in the fact that it has fewer carbs than traditional recipes and you have a winning meal!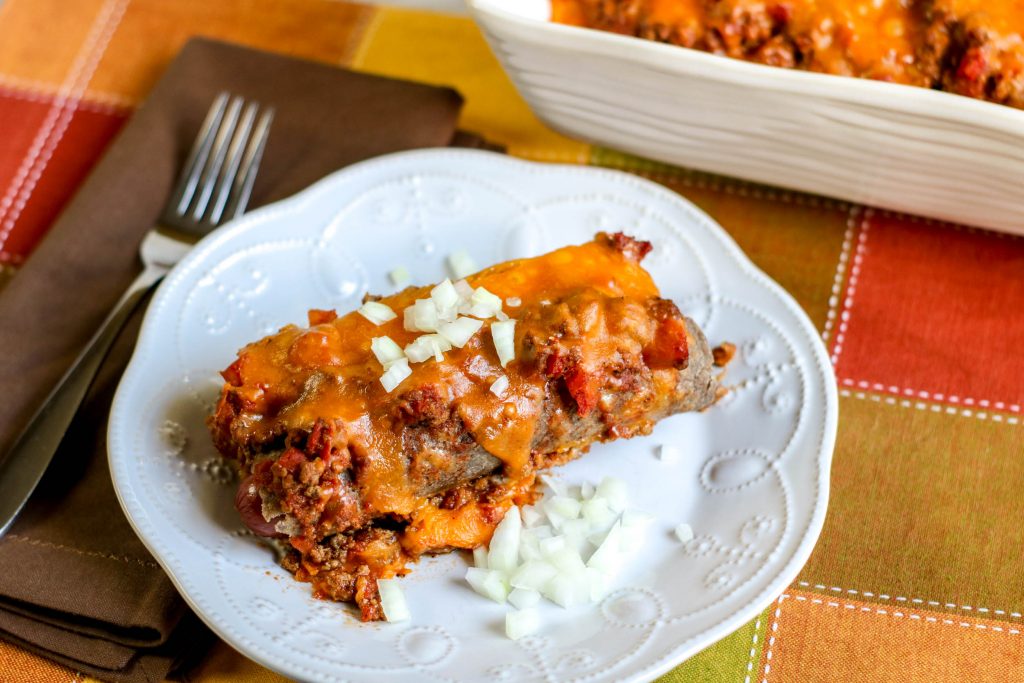 You'll want to pin this post because after you make it once, your family will want you to make it again. This is one of my favorite kid-friendly recipes.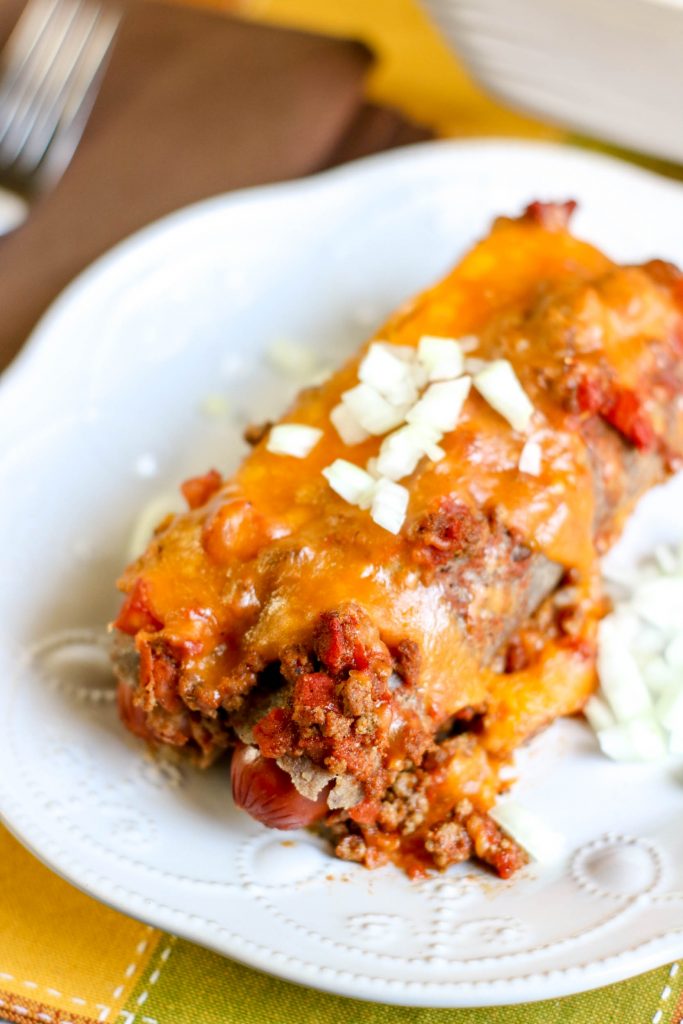 This Low Carb Chili Cheese Dog Bake is filling and a complete meal in one dish. Plus, it makes fantastic leftovers because it reheats well. I recommend reheating leftovers in the oven, that way the tortillas don't get soggy in the microwave.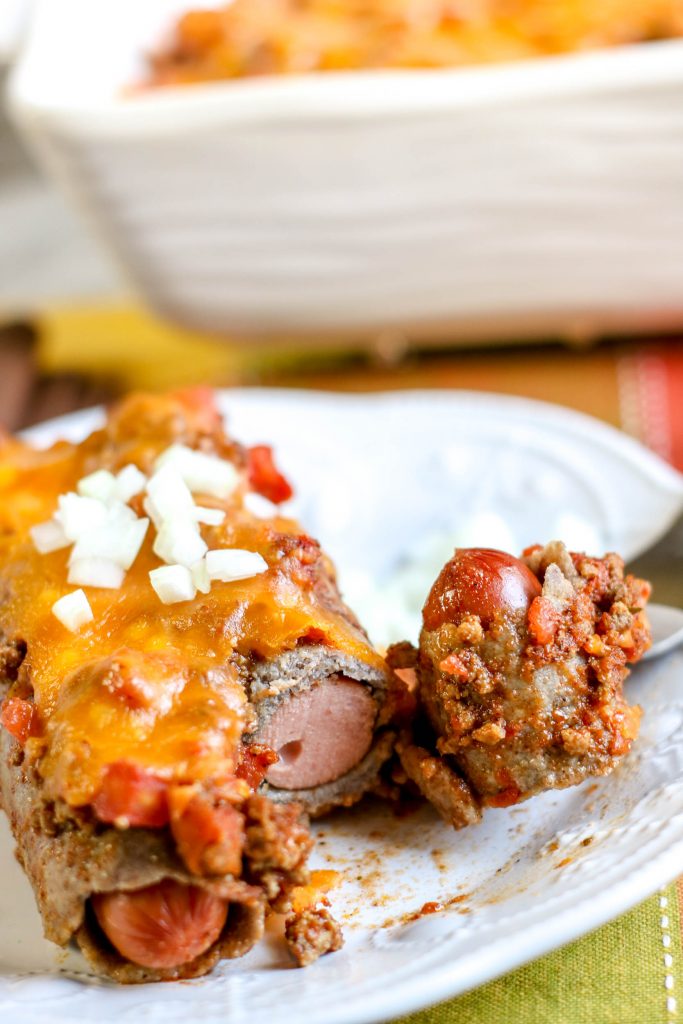 The entire recipe is at the bottom of this post. First, let me answer some important questions about it. 
Can you do your food prep the day before? 
There is some food prep you can do ahead of time. Pre-cook the beef, tomatoes, and seasonings. Store this mixture in an airtight container until you are ready. Then all you have to do on meal-day is heat up the oven and bake it. 
Other Ways To Cut More Carbs in This Low Carb Chili Dog Bake
If you are on the keto diet you'll have to watch the carb amounts in the tortillas and hot dogs.  There are a few ways you can minimize and cut out even more carbs. You can make your own keto cloud bread and choose all-beef sugar-free hot dogs. 
More Low Carb Recipes You'll Love:
Roasted Cauliflower and Brussel Sprouts with Bacon
Keto Asparagus Almondine
Keto Parmesan Zucchini Sticks
Make it Your Own
There is a bit of room for personalizing this recipe. Have fun with it. You can skip the baking step and use low-carb hot dog buns. Then just put the hot dogs in the bun and drizzle the beef mixture on top.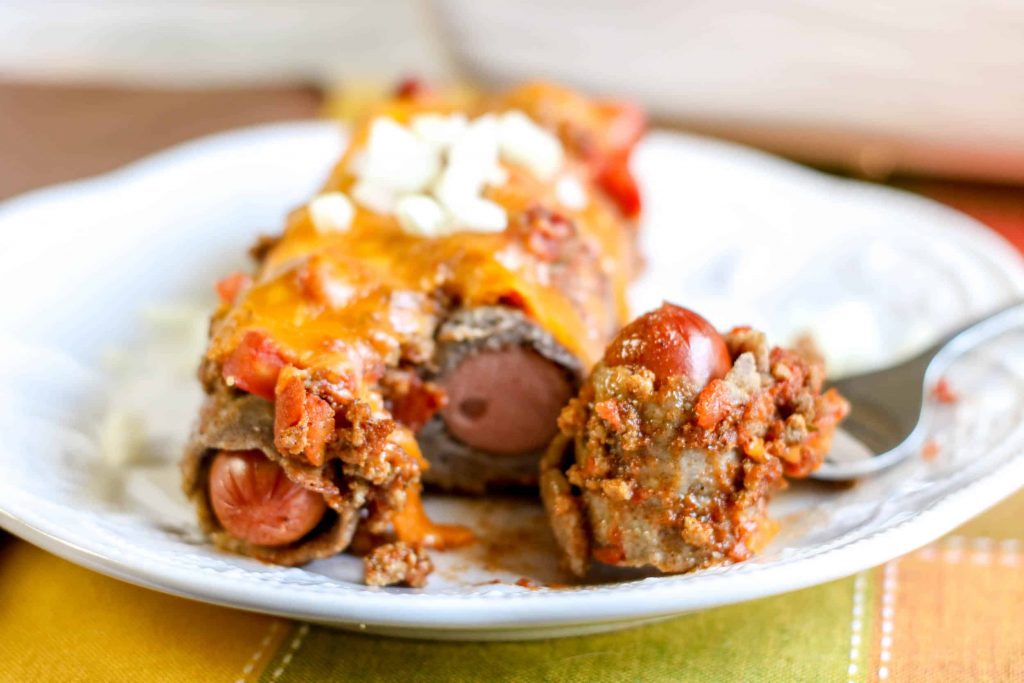 You can also use brats instead of hot dogs or ground turkey instead of ground beef. 
What Kind of Cheese Is Best For the Topping? 
This is completely up to you and your family's tastes. But my family really loves using sharp cheddar cheese. Mozzarella cheese has a beautiful melting point too. 
If you want it to have a bit of bite, try some pepper jack cheese. The only cheese you should avoid is the one with other spices and seasonings in them like taco cheese. 
Even parmesan cheese will taste pretty good on top. But it won't melt as beautifully. When parmesan cheese melts, it becomes kind of crunchy. 
How to Store Leftovers
These make some really tasty leftovers. Just store them in an airtight container and refrigerate for up to a week.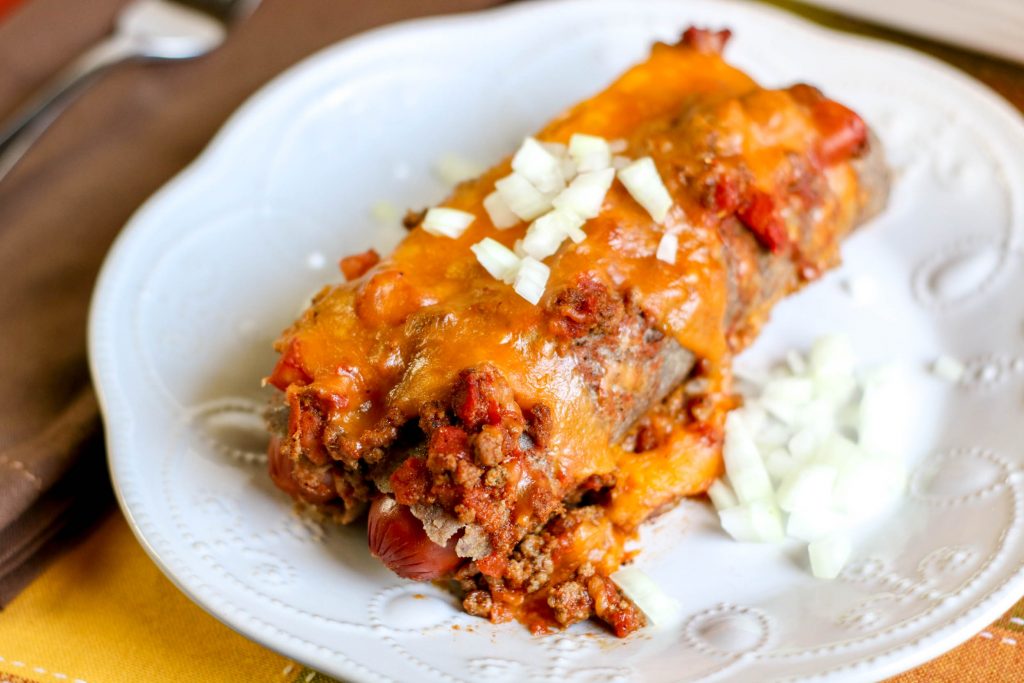 This recipe does not freeze well, unfortunately. But it's so popular you won't have any to freeze. 
Low-Carb Chili Cheese Dog Bake Recipe
Here is the complete recipe. Don't forget to pin it so you can find it again later.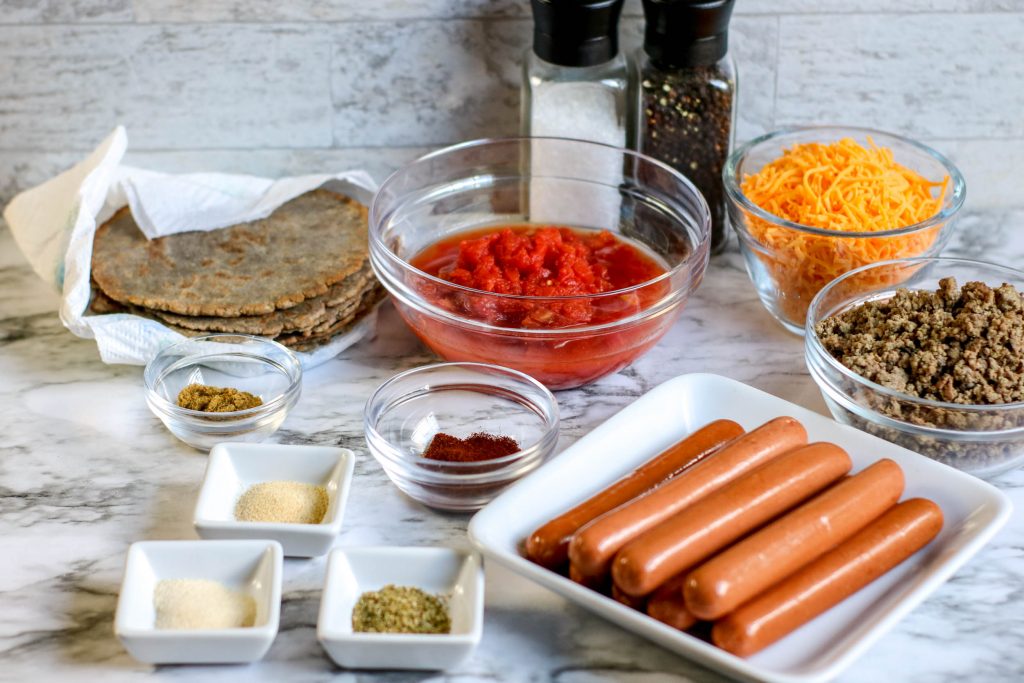 Ingredients
1 pound ground chuck, cooked and drained well
1 (14.5 ounce) can petite diced tomatoes
2 teaspoons chili powder
2 teaspoons ground cumin
1 teaspoon garlic powder
1 teaspoon onion powder
½ teaspoon dried oregano
1 cup water
8 hot dogs
8 low carb tortillas or wraps
1 cup shredded cheddar cheese
Instructions:
Preheat oven to 350 degrees. Spritz a 9×13 inch casserole dish with nonstick cooking spray.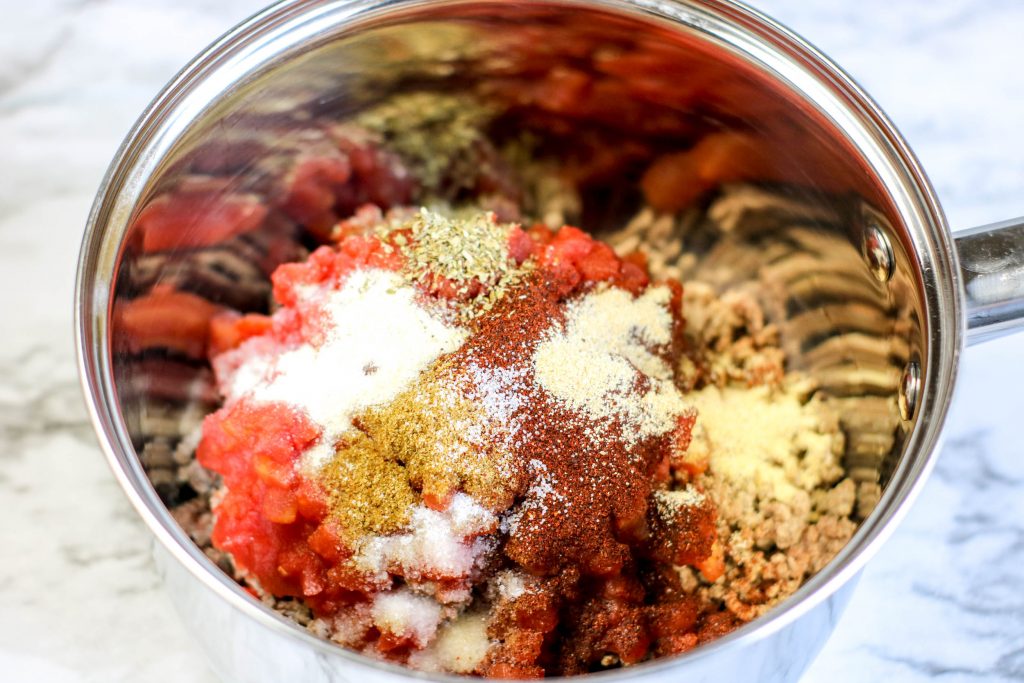 In a medium saucepan, combine cooked beef with tomatoes, water, and dry seasonings. Bring to a boil over medium-high heat and then reduce heat to medium-low. Cook, stirring occasionally, for 8 to 10 minutes.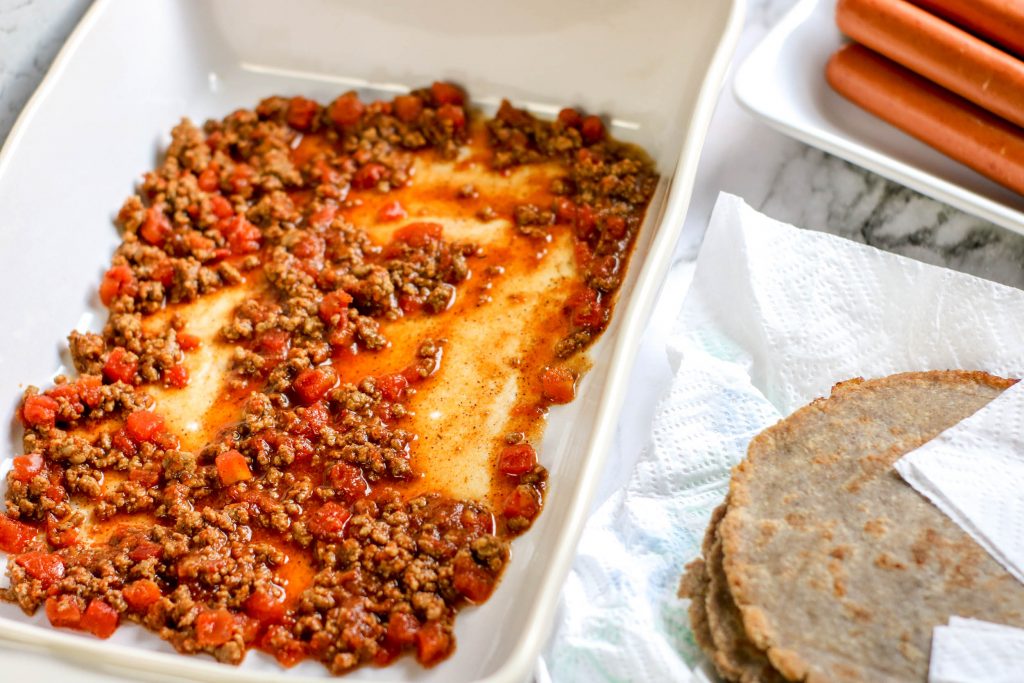 Spoon about ½ cup sauce into the bottom of the baking dish.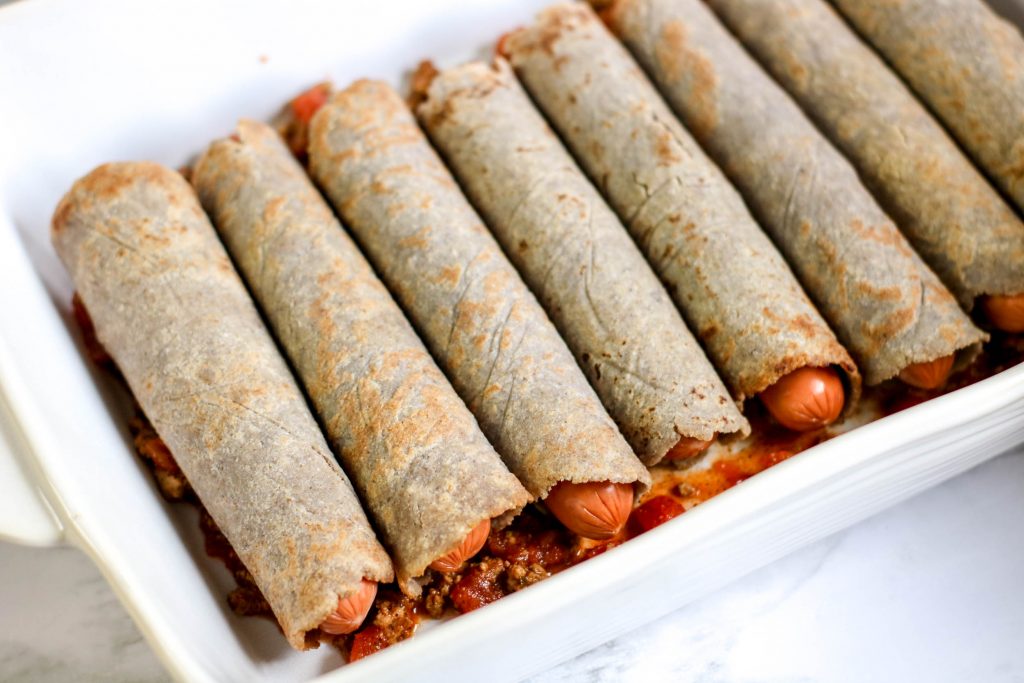 Roll each hot dog in a low carb tortilla. Place on the sauce with the seam-side down.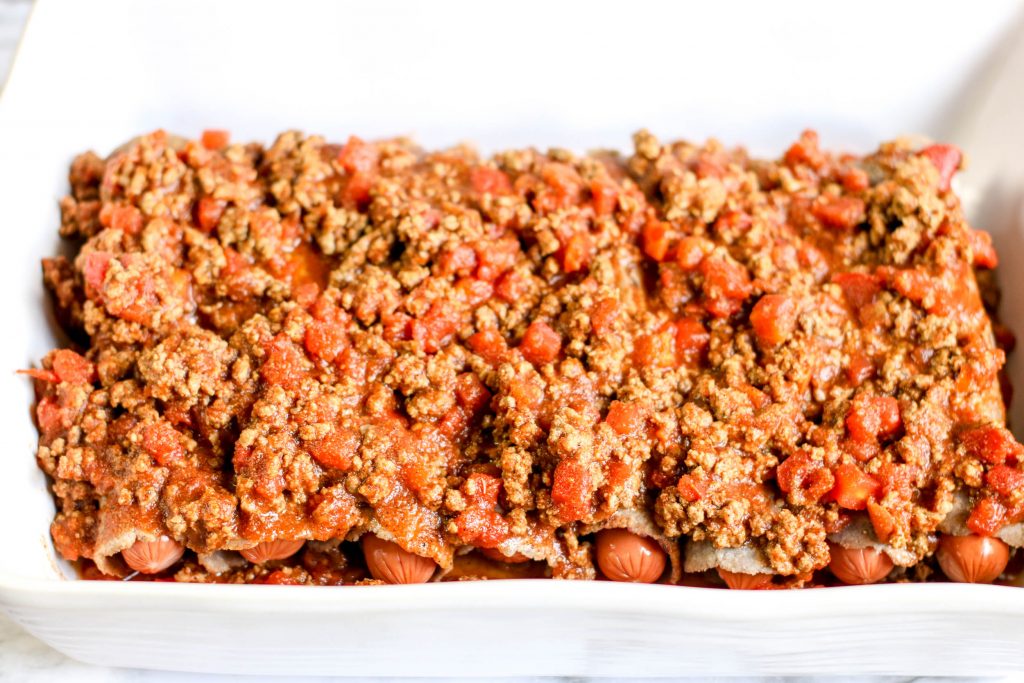 Pour remaining sauce over the hotdogs. Top casserole with cheese.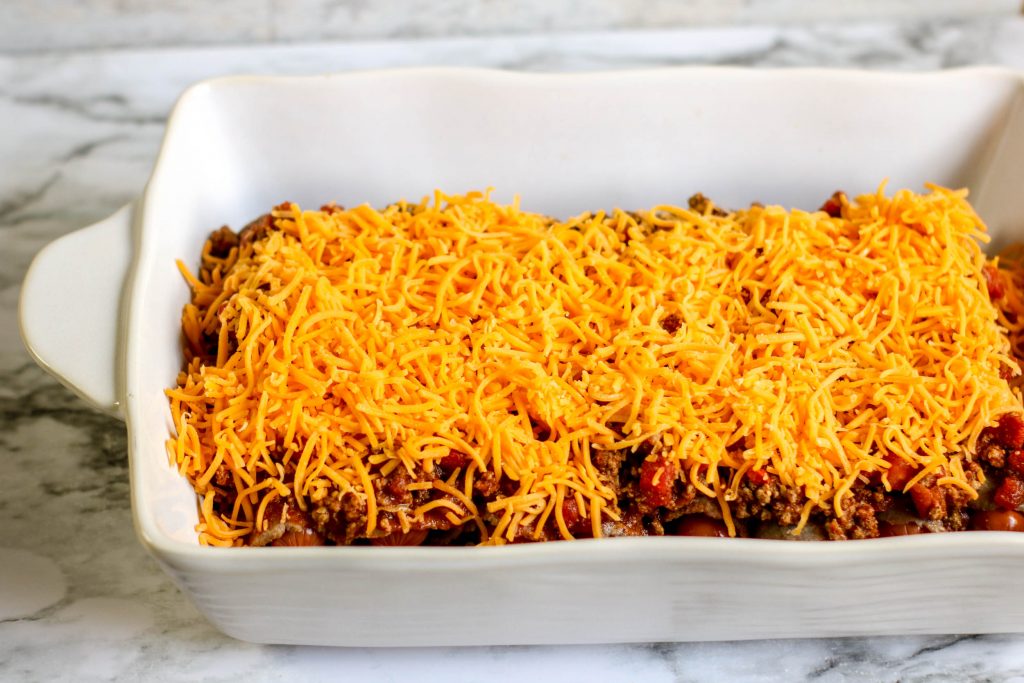 Bake for 30 to 35 minutes or until the center is set.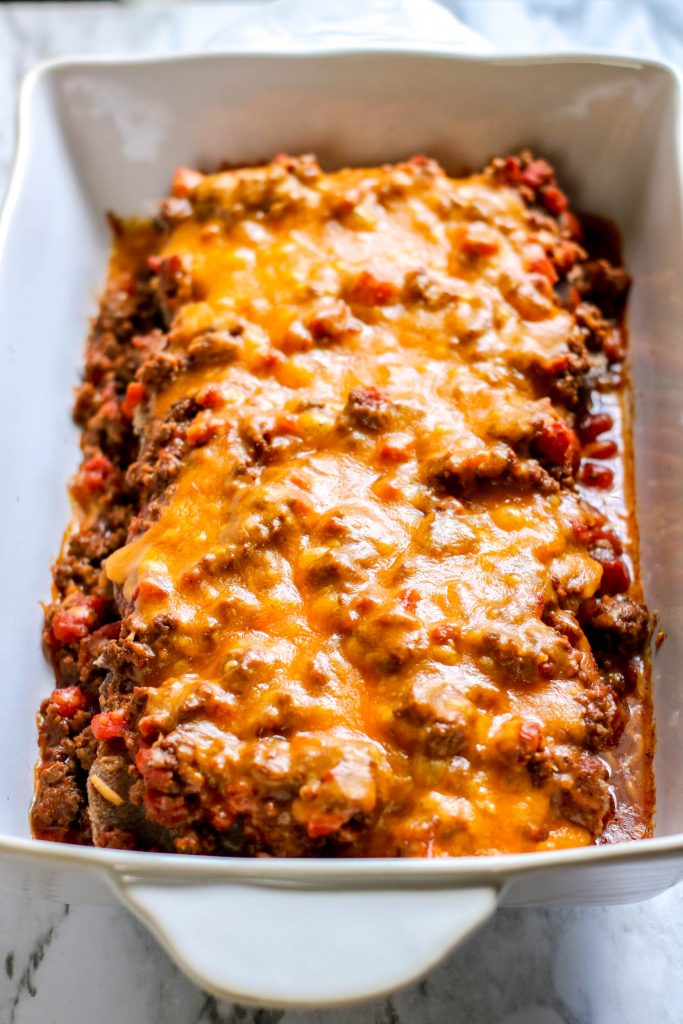 Serve with hotdog toppings like pickles, mustard, onion, sauerkraut, etc.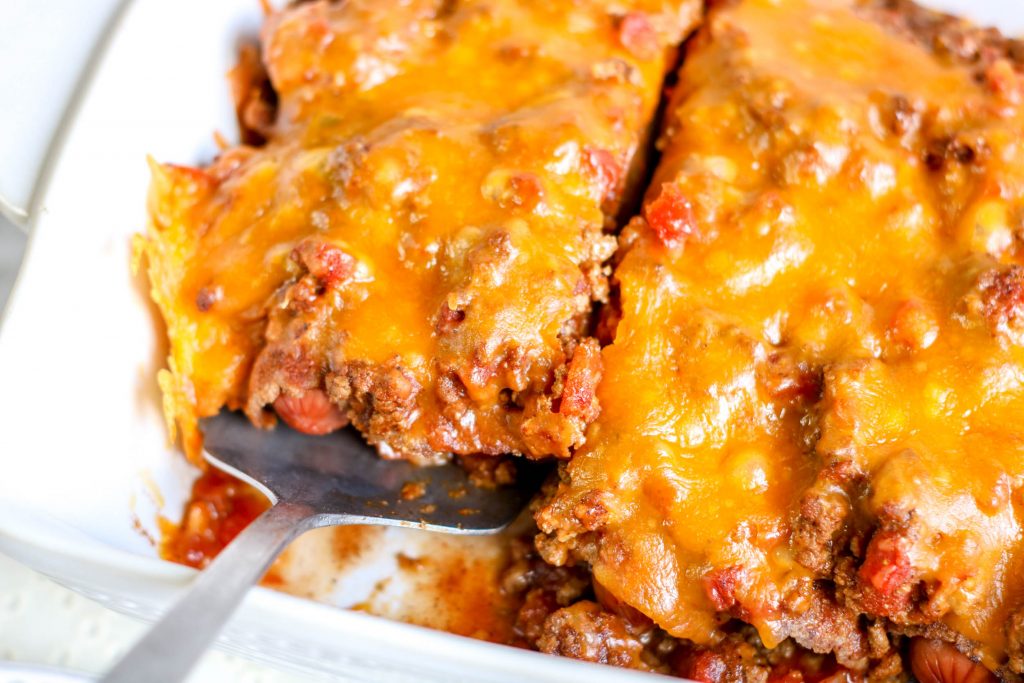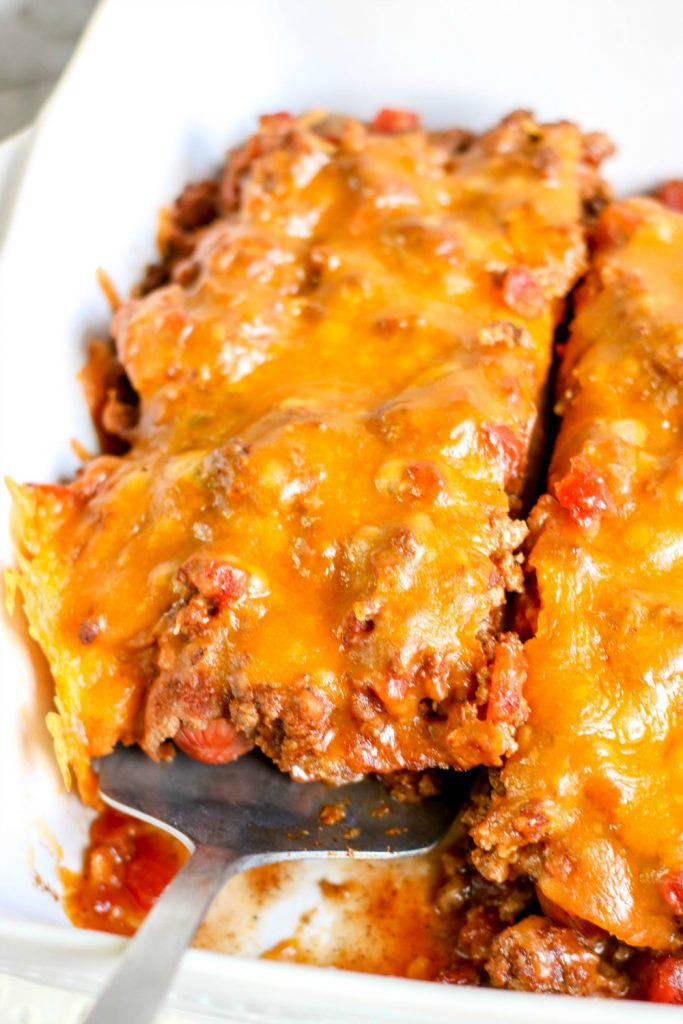 Pin for later!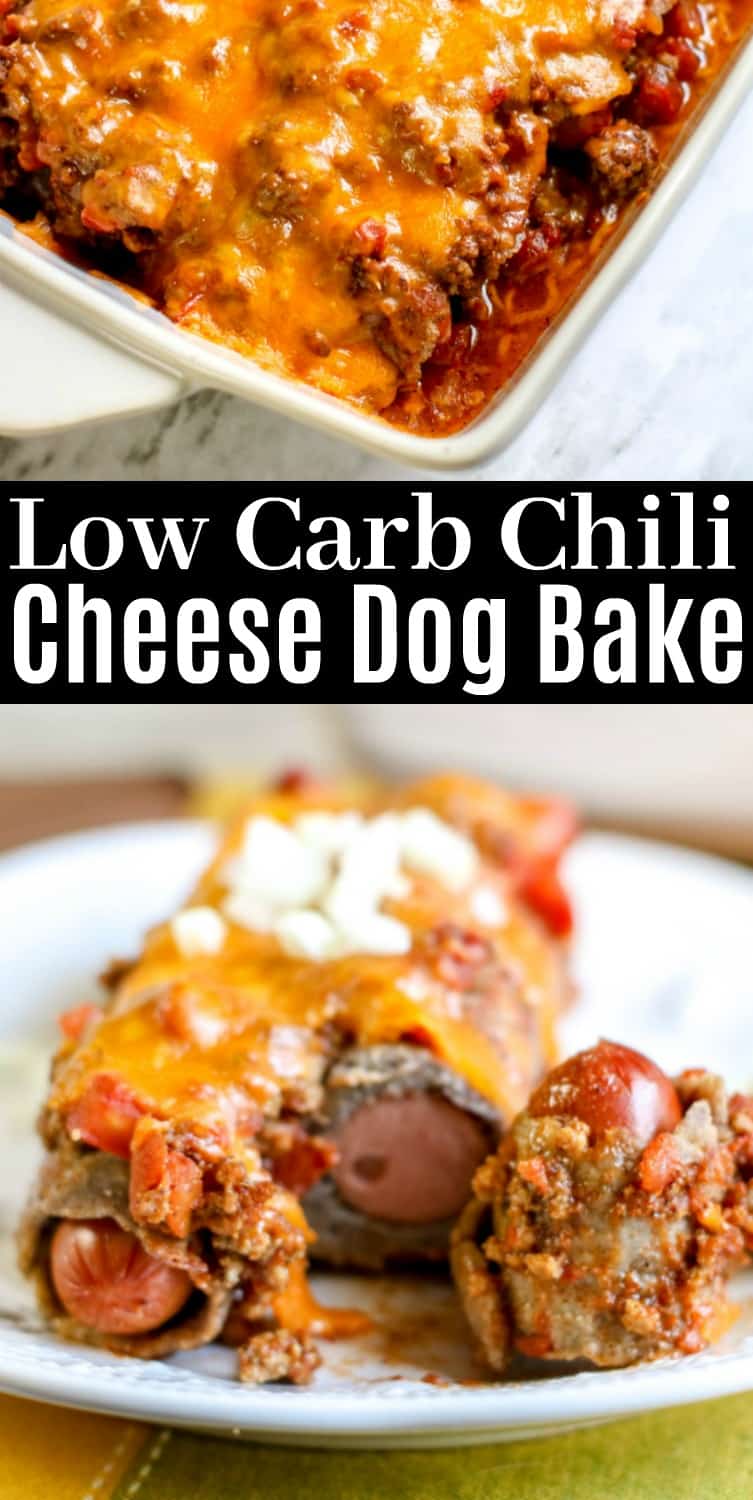 Follow me on Pinterest!