We've recently started meal planning (makes dinner time SO much easier) and one of our favorite recipes is the spicy Thai noodles seen below.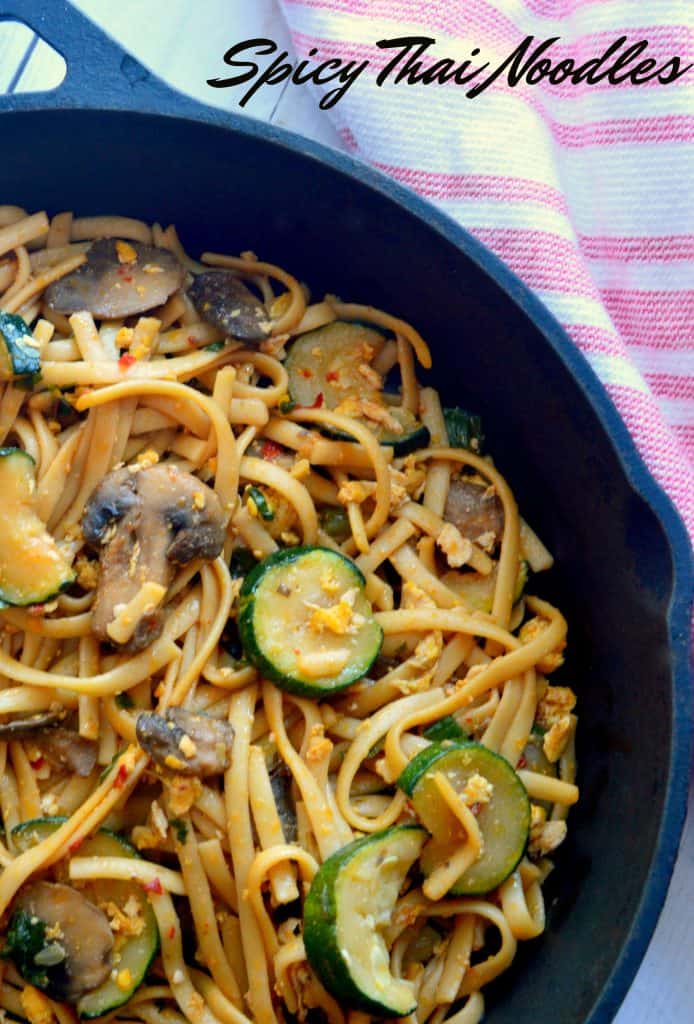 It's not always easy to find a dish that everyone equally loves, but I knew the minute I made these spicy thai noodles that I'd be making it very often! Its SO easy to make, and because they taste even better the next day, and they're also a great option for lunch!
We only added eggs, zucchini, and mushrooms to our spicy Thai noodles but you can also easily add chicken, beef or instead of scrambling your eggs you can top thai noodles with a fried egg! Serve with a side of tostones (fried plantain)!
Spicy Thai Noodles
Try it and thank me later!
Ingredients:
1 box linguine
2 tbs avocado oil (can also use olive oil)
3 large eggs, lightly beaten
1/2 tsp crushed red pepper flakes *Adjust accordingly
1 zucchini, sliced or cutin half
8 ounces chopped mushroom
2 tsp garlic powder
2 TBS brown sugar
1/3 cup low sodium soy sauce or liquid aminos
1 1/2 tbsp sriracha hot sauce
1/2 tsp ground ginger
1/4 cup fresh cilantro, chopped
1/4 cup green onions, chopped
Spicy Thai Noodles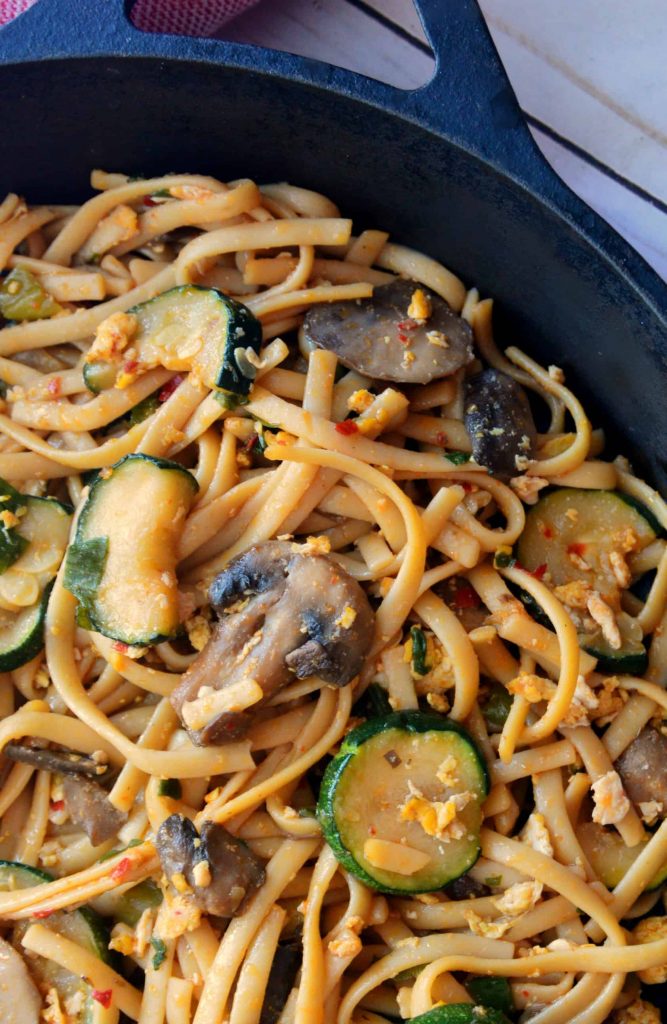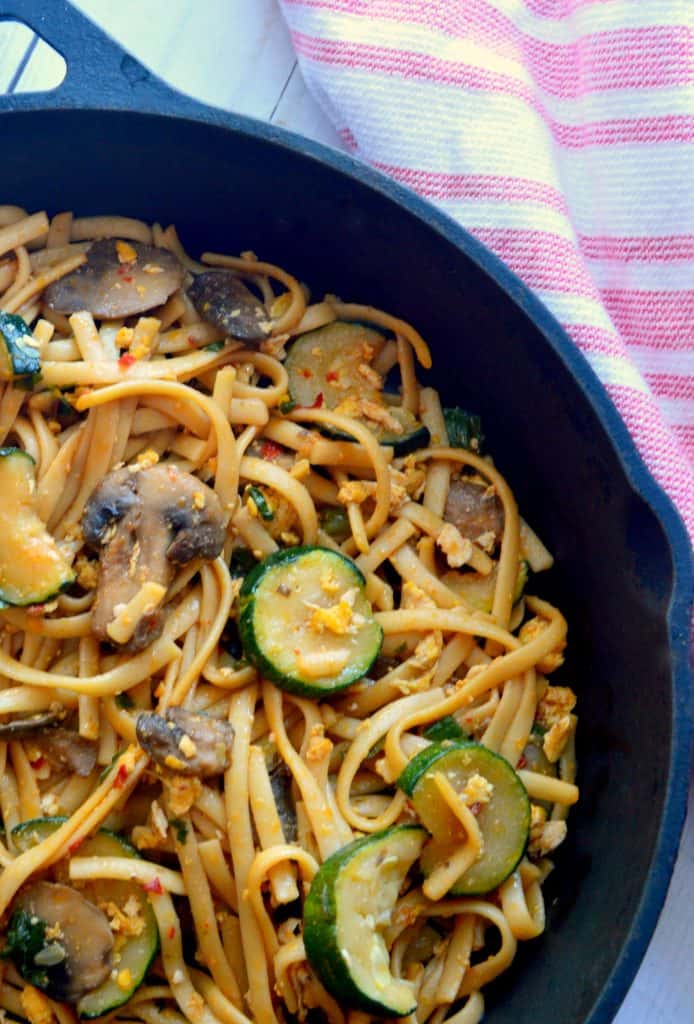 Cook linguine according to package directions. Drain and set aside.
Combine brown sugar, soy sauce, sriracha, and ginger in a bowl. Stir and set aside.
Add avocado oil to large skillet or pot. Add beaten eggs and red pepper flakes and stir to scramble the eggs. Once cooked, set aside with pasta.
Return skillet to stove, heat remaining oil over medium heat. Add zucchini, mushrooms, and garlic. Saute over medium high heat until veggies are cooked.
Turn heat to low, add pasta and eggs back to skillet and top with sauce. Toss to coat pasta and vegetables with sauce.
Remove from heat, and top with green onions, and cilantro. Stir to combine.
Pin for later!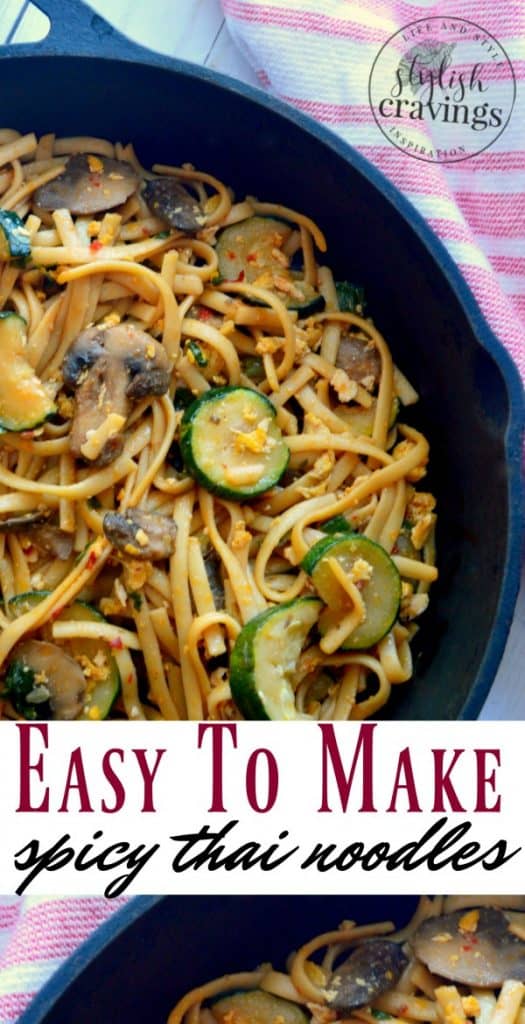 More recipes you might like: