These low carb lemon bars recipe is delicious for any time of the year! These tangy treats also happen to be Keto friendly and even gluten-free!
We'll be living in a new house just in time for the holidays and I'm so excited to get cooking in a much roomier kitchen and oversized dining room! I'm even thinking of adding a second tree this year!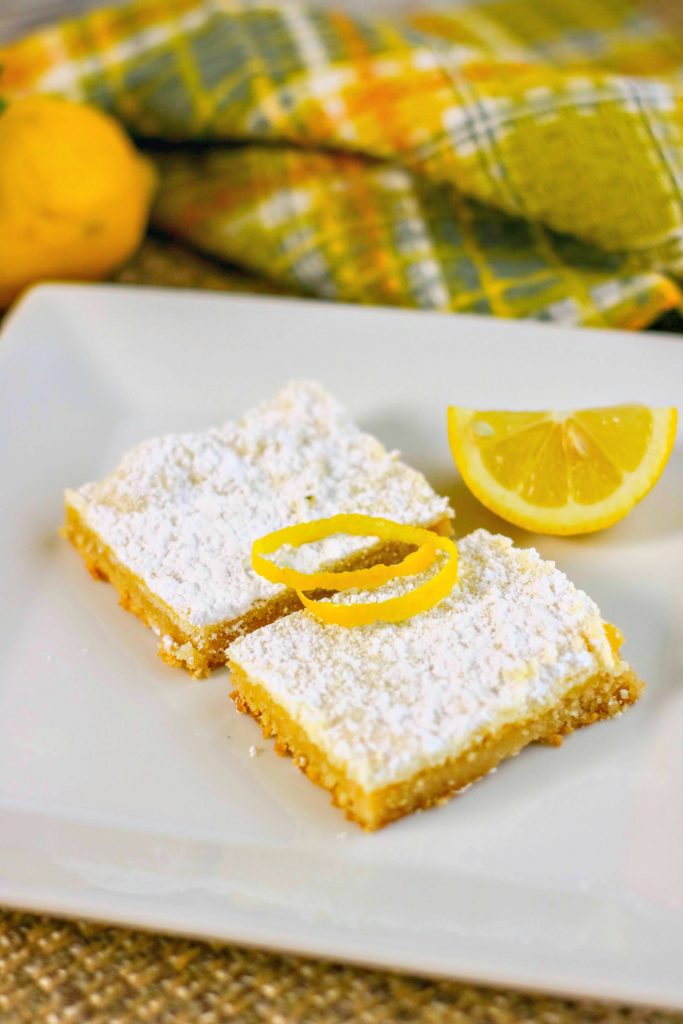 I know lemony treats don't exactly scream Christmas, but they're my favorite desserts to make for the holidays! This year I decided to make these low carb lemon bars. They're perfect to serve with a cup of coffee and great to have on hand for guests.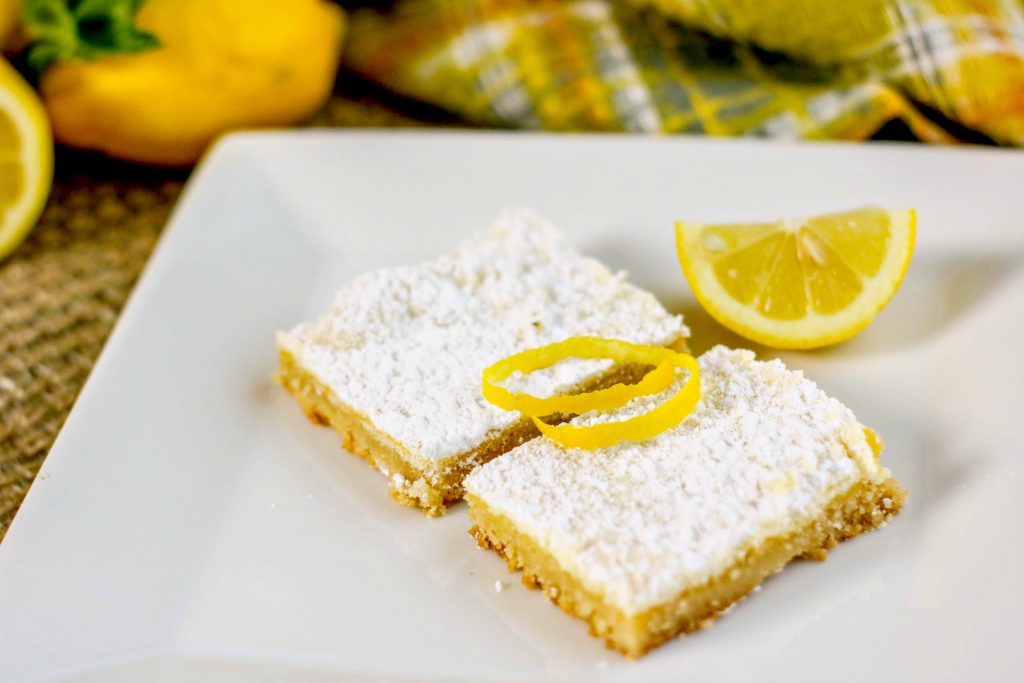 If you're not counting carbs, you'll love this lemon poke cake and lemon cheesecake dip.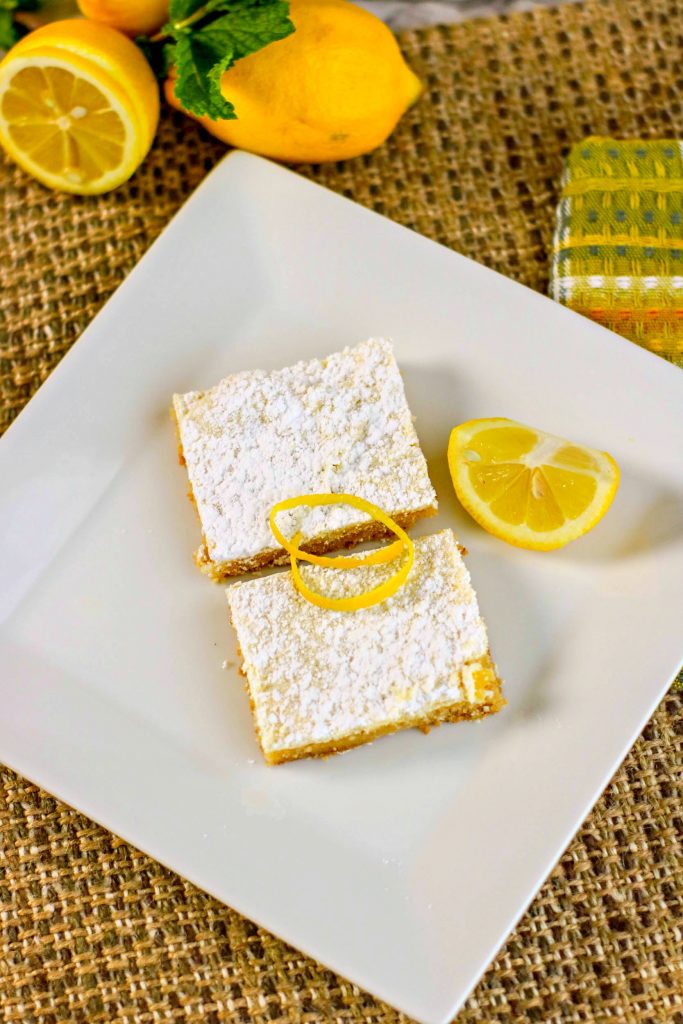 These healthy low carb bars also make a sweet gift! I've wrapped them up in a pretty box and bow and gifted them to friends, family, and even neighbors! Low carb bars also make a great low carb food gift to bring to all your holiday parties! They'll not only be a hit with everyone but you'll also ensure you have access to a low carb treat! Win-win!
More Low Carb Recipes You'll Love
Keto Blueberry Muffins
No-Bake Keto Blueberry Cheesecake
Low Carb Crustless Pumpkin Pie
**If you're new to the low carb lifestyle here's a little info on this recipe.
Are Lemons Keto Friendly?
Most fruits are known to be high in carbs, but with the right picks you can definitely enjoy them! Lemons are a keto-friendly fruit but in moderation. One wedge of lemon has an estimate of 0.5 net carbs and only 0.2 g of sugar, so you can enjoy a splash of lemon in your water, in your salad dressing, and even in recipes like these low carb lemon bars!
Can You Make these low carb lemon bars ahead of time?
Absolutely! In fact, these lemon bars are perfect to make ahead of time and given a chance to chill. You can also store them in a container for up to 3 days.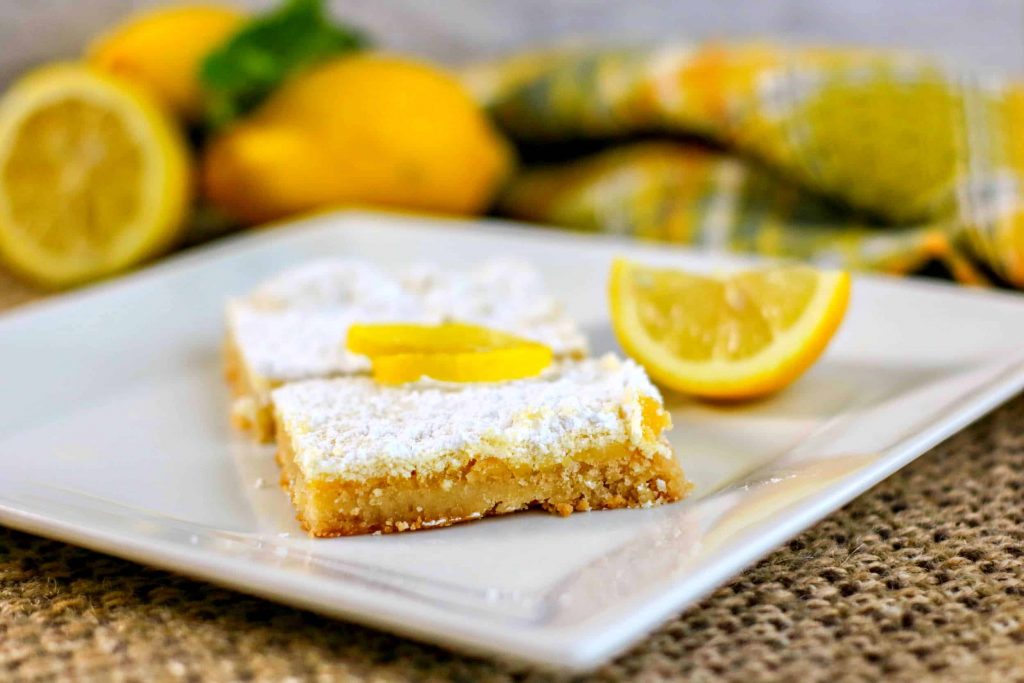 You can also make these low carb treats and freeze. Simply follow the instructions below, allow to cool, cut and freeze on parchment paper and them move slices to a container with a lid.
Ingredients in Low carb Lemon Bars
Almond flour
Powdered erythritol
Butter
Eggs
Granulated erythritol or ½ cup monk fruit
Lemon juice
Baking powder
Coconut flour
How To Make Low carb Lemon Bars
1. Preheat oven to 350 degrees. Prepare a 9×9 square baking pan with nonstick cooking spray.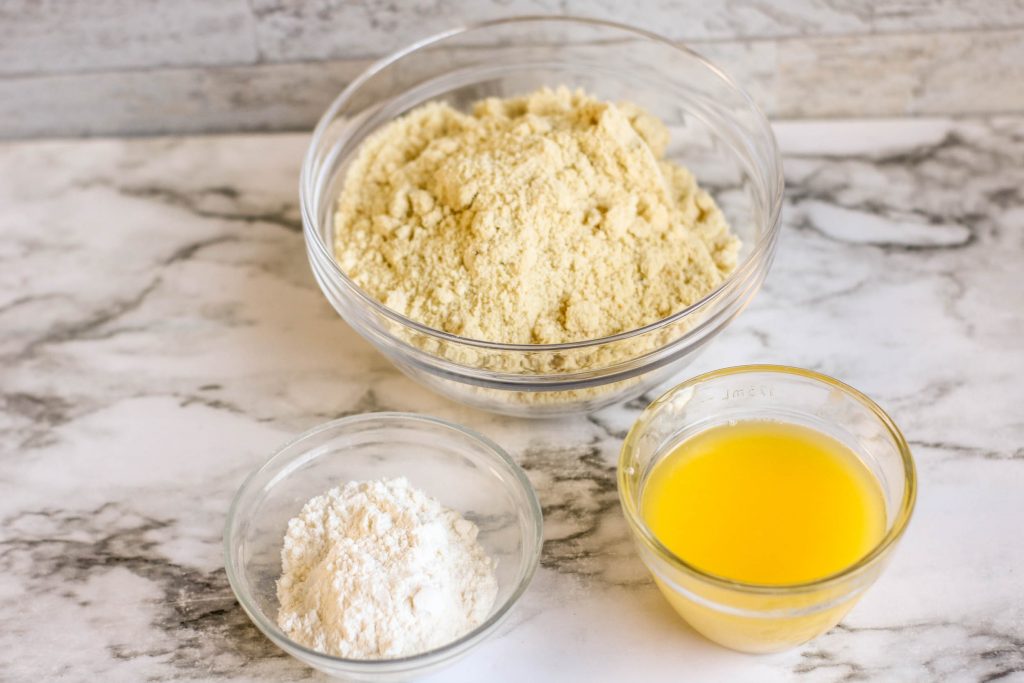 2. Whisk together the almond flour and powdered erythritol. Stir in melted butter. Press the crust mixture into the bottom of the pan.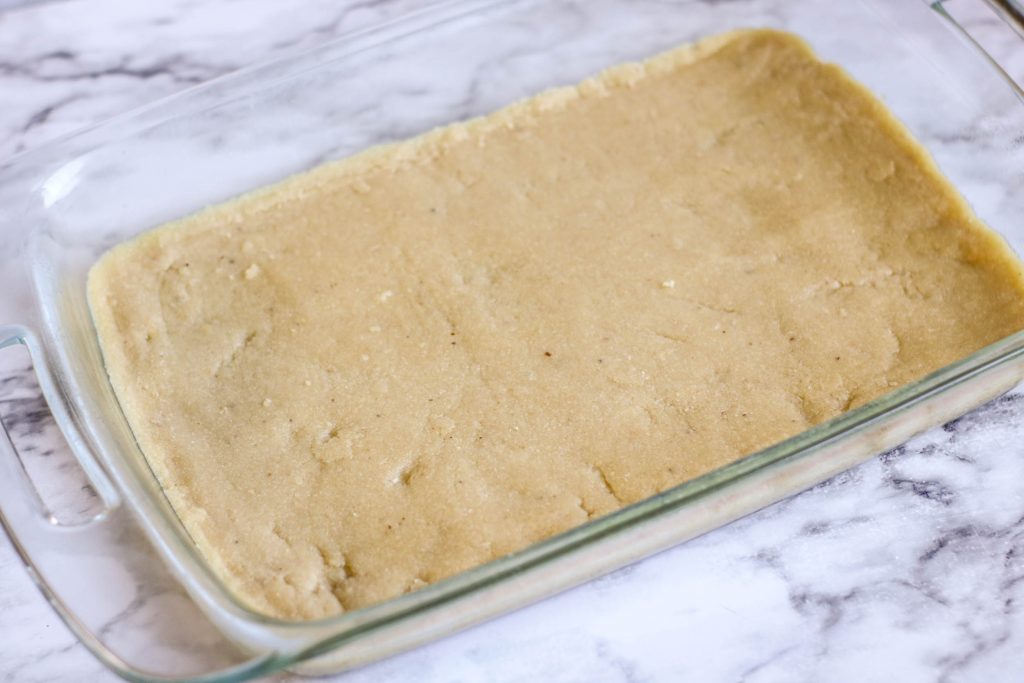 3. Bake for 15 minutes. Remove from oven and cool slightly.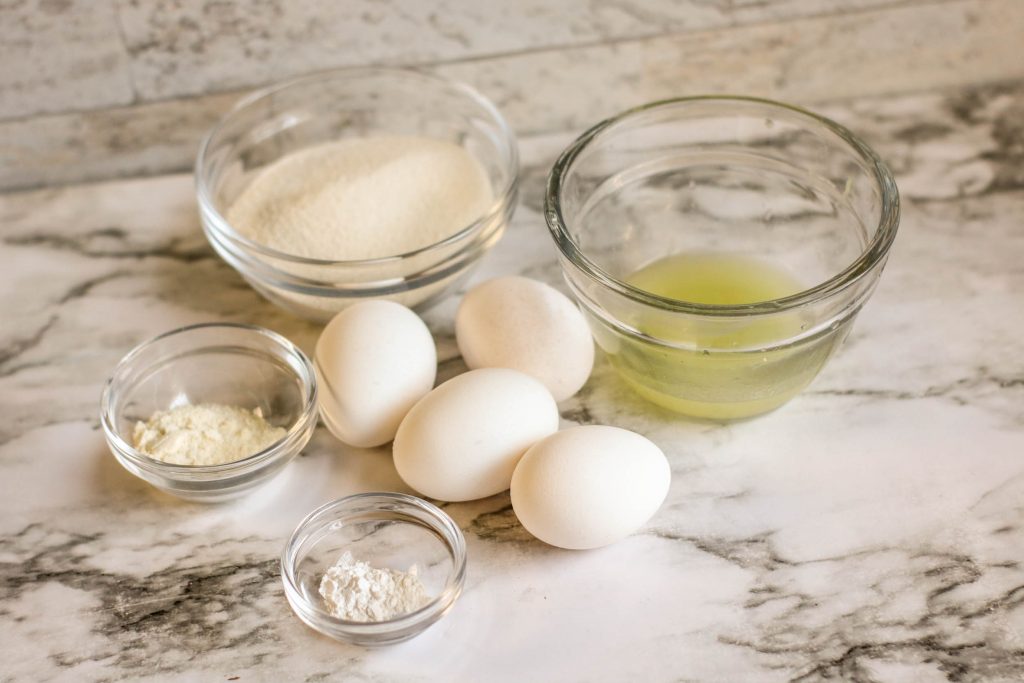 4. In a food processor, blend eggs together with granulated sweetener. Add lemon juice, baking powder, and coconut flour. Pulse to combine. Pour over crust.
5. Bake for 20 minutes or until the center is set. Cool completely before slicing. Sprinkle with additional powdered erythritol if desired.
Pin for later!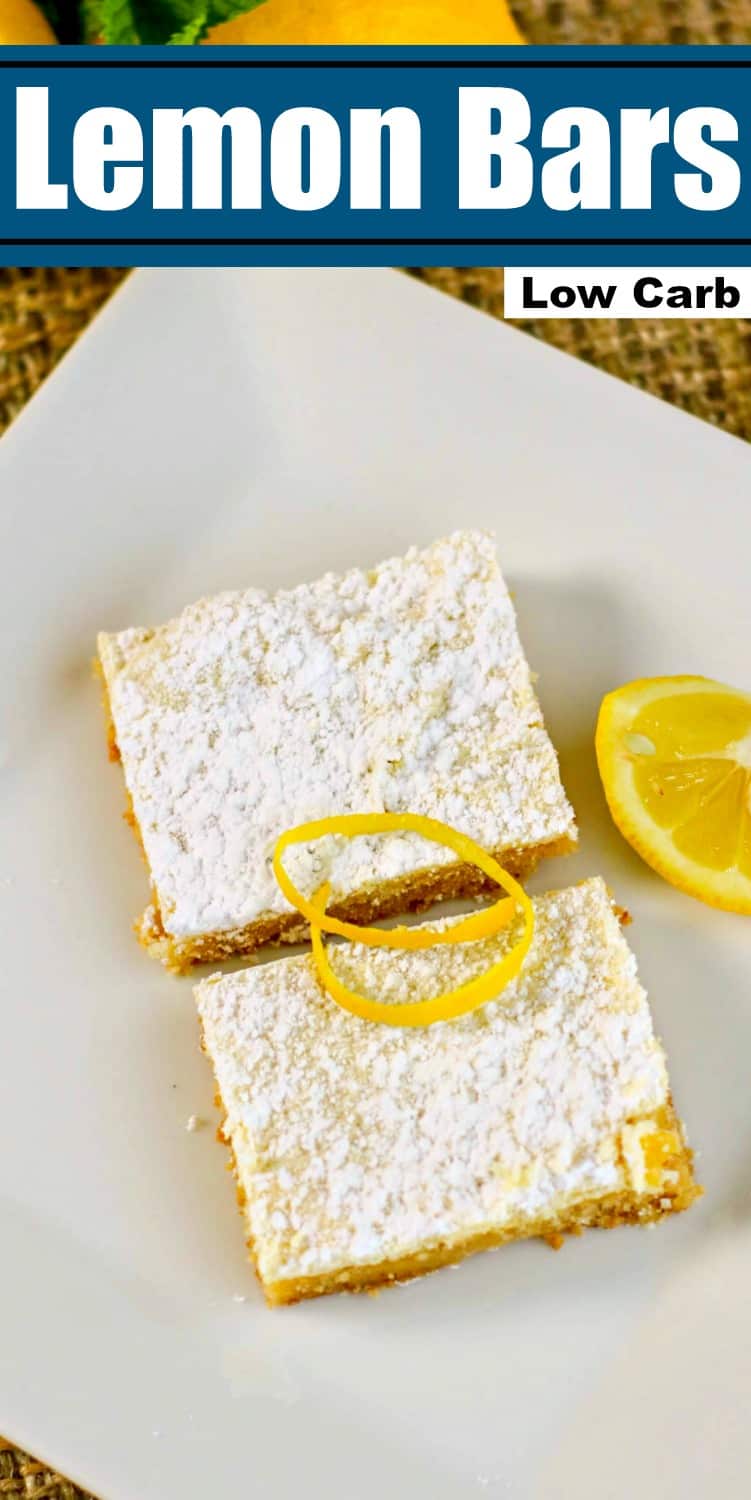 Follow me on Pinterest!